Let's take a look at some more Peruvian spots! First up, the new(er) location of Ceviche, Armenia 1880 on Plaza Armenia in Palermo. I'd reviewed their original location on Costa Rica, originally back in 2008, and then again in 2011, and then last year, they closed up. Then they popped back up nearby at this location, as well as opening a quintet of "provincial" spots, in Tigre, Pilar, Rosario, Canning, and Pinamar. Time to check them out once again and see what, if anything, has changed.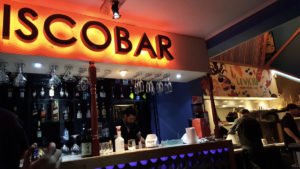 First off, it's not the loungy sort of spot that the original was – it's a brightly lit, small space on the plaza, with a sushi/ceviche station open to the room where two guys are working, and a kitchen behind them for the hot food, along with a "Piscobar" dominating a big section of the back wall. We ordered a couple of cocktails, a pisco sour and a chilcano, which took almost 15 minutes to arrive, despite there only being two other people in the place – the bartender kept fiddling and seemed not sure what he was doing. Still, the drinks were good, if a little light on the pisco.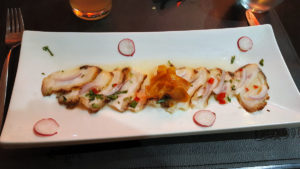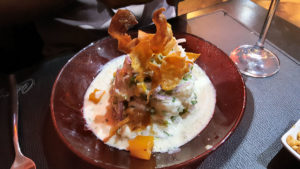 A couple of appetizers from the cold station. A pulpo al olivo reimagined as a tiradito.  The traditional dish is cooked octopus, thinly sliced, and served with a black olive mayo. Here, it's done as a cured ceviche style octopus, heavily salted, and instead of  a black olive sauce, the whole thing was drizzled in olive oil. Seems to miss the point of the original dish. And, way too much salt. The ceviche clasico, likewise, was anything but classic. Here, things went to a sauce that was laden with cream, no chilies, almost no salt, and only a hint of citrus that seemed to do nothing more than sort of curdle the cream. We said something to the waiter about it – he said something to the ceviche/sushi guys, they sent over some hot sauce, and also a small dish of a somewhat more classic ceviche, though it still wasn't all that close. Disappointed.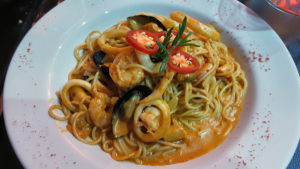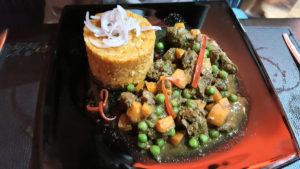 These guys like their cream. A plate of Tallarines a lo Macho, which would normally be a mix of shellfish in a tomato and aji panca and often a splash of white wine sauce came out as a creamy, heavy plate of overcooked spaghetti with a few calamari rings, three shrimp and three mussels, and two slices of rocotos on top, but no spice in the sauce – then again, aji pancas are pretty mild, so this is not generally a real picante  dish – still, the hot sauce got a workout.  And, the seco de cordero, too, was just a departure from anything recognizable, which would classically be lamb braised down in a chili and cilantro sauce. Here it was more or less like a lamb, pea, and carrot stew, with no evidence of the usual flavors of cilantro, cumin, and aji panca. Again, some hot sauce came to the rescue.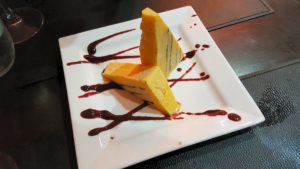 We decided to split a dessert – well, Henry decided to have dessert, and I took a taste – a sort of semi-freddo of passionfruit with lines of chocolate running through it. Not bad.
Overall – disappointing. Some of that is that it's just a pale imitation of its former self on Costa Rica. But more of it was the uneven seasoning, lack of spice, lackluster service, and that it's not cheap, coming in at close to 1500 pesos for the above.
---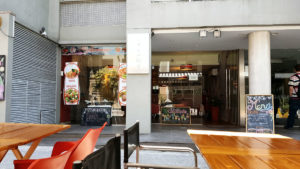 Next up, a new spot that opened up along a little side street adjoining the Abasto, Larco-Mar, Pasaje Carlos Gardel 3131. We heard about this one from friends who swore by it, as the next new hot-spot of inexpensive Peruvian food. Now, to date, we've only tried el menú, the prix fixe lunch….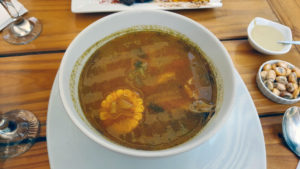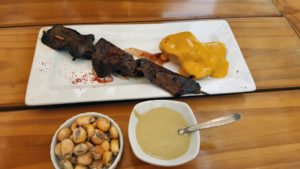 Two menú options at lunch, the criollo, which is sort of the basic one, which started with a watery, bland soup that had way too much shredded carrot in it, or the peruano, the premium version, which started with a skewer of anticuchos with a little papas a la huancaina on the side – the anticucho was heavily, heavily salted, and almost refrigerator cold, and the huancaina sauce was sugary sweet – we quickly picked up that it was actually some sort of puree of butternut squash, which is not at all what huancaina is (aji amarillo and cheese being the defining flavors).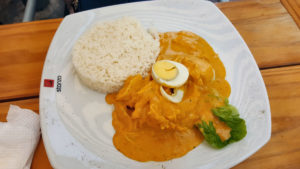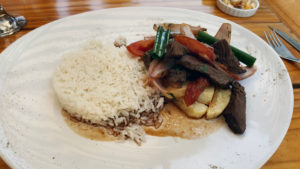 The basic menu was followed up with an ají de gallina, but suffered again – the sauce isn't a yellow chili and cheese sauce, as it should be, but the same sweet squash puree. The premium menu had a relatively good lomo saltado, but given that it was the only thing we even sorta kinda liked, we wouldn't bother again, and especially, it's more expensive than most, with the two menus running 110 and 130 pesos, respectively.
---
Slightly closer to home, another recent opening, Antojitos, at Pasteur 750 just off the plaza by the Facultad de Medicina. We popped in a couple of weeks ago and they had no seats available – there are only about a dozen in the place – this is a real "hole in the wall", and a bit drab and dingy for some place that has only been open a few months, and we decided to head elsewhere rather than wait. A return visit solo to try the menú…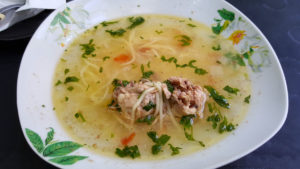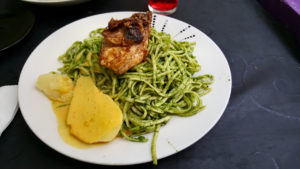 The soup seemed, at a glance, to be pretty much dishwater – almost nothing in it but a few strands of spaghetti, a chicken neckbone with barely any meat on it, and some parsley. But the broth actually had some great flavor – it's just not much more than broth. The main course took forever. Part of the idea behind a menú is that it's not just a cheap prix fixe for the day, but it's basically stuff that's already to go and you get it quickly. It took 40 minutes after ordering to get it, and it finally arrived with numerous apologies – it seemed like they were focusing on getting a bunch of delivery orders done and just got sidetracked. Again, some good flavors, but not great cooking – the noodles so over-cooked they were basically mush, they wouldn't even hold together to twirl them onto a fork, they just fell apart, and, the worst, the chicken was cold and raw on the inside. Told them, they didn't seem to care. I paid the 60 pesos and left, wouldn't go back.
---
And, wrapping up the new spots, just opened, Mi Cajamarquina, Lavalle 2853 near to the Abasto.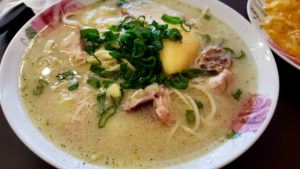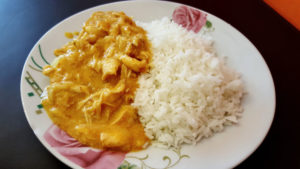 Little hole in the wall, maybe twelve seats, looks a bit like a hospital lunchroom – kind of lacking in decor. Timing-wise, the reverse of the previous place, both soup and an ají de gallina served at the same time (two other options for main course that day were a seco de cordero, the braised dish mentioned above, and a pork chop with white beans), and within five minutes of ordering. I have to admit, given the look of the place, I wasn't holding my breath, but in a surprising up-note for wrapping things up this time, it was excellent. Fantastic soup, well spiced with a lot of ginger and garlic, and packed with chicken, potato, and noodles. And, one of the best ají de gallinas I've had, anywhere – very reminiscent of the version Henry's sister Maria showed me how to prepare so many years ago – perhaps not surprising given that Cajamarca is the next closest city to Trujillo, so it's a version from the same region. Great spice, and, one of the best hot sauces I've had in a Peruvian restaurant here in town offered up on the side. This one is a definite for some return visits! Oh, and cheap at 60 pesos!
---
A little double tap here, with sort of a re-review: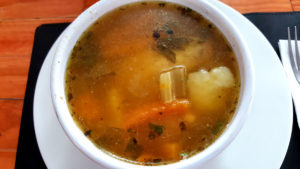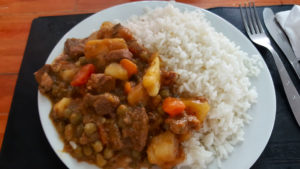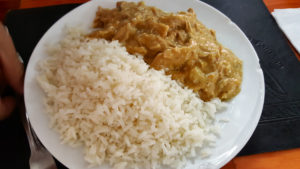 One of our longtime favorites, though it's gotten a bit touristy and pricey, is Mamaní, corner of Lavalle & Agüero behind the Abasto shopping center. I reviewed it way back in 2009, and other than price increases, nothing has really changed. One thing we hadn't done is tried their lunch menú, so a week or so ago we stopped in and gave it a shot. Good soup, lots of vegetables, a little meat. Choices of a picante de carne, a quite good stew of beef, potatoes, peas and carrots (I find myself wondering if that's actually what the first place, above, Ceviche, was really offering rather than a seco de carne, simply because the style fits that dish more); and, an ají de gallina – this one a little weak in the flavor department. It wasn't bad, it just needed more umph. And, Mamaní's 100 peso price for their menú puts it up in the higher priced ones.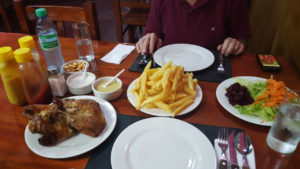 They've also opened a second location, Mamaní San Telmo, at Defense 873, with the same menu. It's a much smaller location, seating maybe 60 people versus the 200+ at the original spot. I've only been once and we tried the pollo broaster, and it was as good as the one at the Abasto location, and the pricing seems to be the same.
---
The map continues to populate with new spots, I've changed it around a little bit to add in Bolivian restaurants, which, while different from Peruvian, fall into a closely related slot, and also to separate the traditional, more home cooking style spots from the modern, more Nikkei fusion spots.