...burgers to the South (in a future post), here I am…
St. January's Burger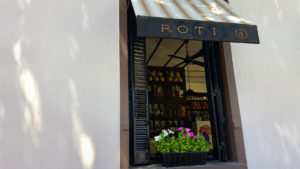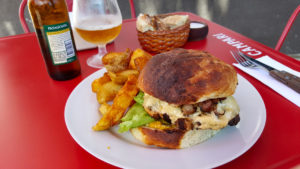 I wend my way to that little haven of gastronomy in Bajo Belgrano – neighborhood between Barrio Chino and the river, where we have well known foodie attractions like Sucre and Bruni. But there's far more to explore in this part of town, and perhaps one of these days…. But I'm here to check out a burger I've only heard murmurings about, one that changes on a near daily basis. I set myself down at an outdoor table at San Gennaro, Sucre 898. The menu just lists "hamburger of the day", and then underneath the day's offering. I don't know how often it actually changes, but there's an intimation that it really does change often, and certainly the different photos and descriptions I've seen now and again bear that out. The day I'm there, it's loaded with crisp bacon, melted provolone cheese, lettuce, pickles, and mustard.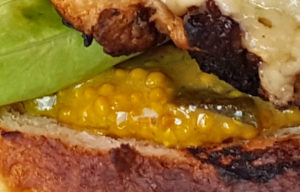 I want to get in a close-up there of the mustard, because as to the toppings and condiments, it's the star. It's a housemade, whole grain yellow mustard that's tangy, spicy, sweet, and I want to take jars of it home with me. But even better, it's backed up by a juicy, deliciously seasoned patty of what seems more like a chopped steakburger than a ground hamburger, at the very least it's quite coarsely ground, and on its own, one of the best patties I've encountered in the city. It's cooked a tad past my requested medium rare, entering into medium territory, but it's so good I don't mind. The bun, a toasted brioche that only has a hint of sweetness, but packs so much buttery, eggy flavor that it just makes it all better – and, it holds up through the entire burger, never gets soggy or pasty. On the side, thick, crunchy on the outside and soft and creamy on the inside potatoes that I could make a meal on their own. This easily makes it as one of my favorite burgers – the question is, given the process, would tomorrow's burger be as good?
Down by the River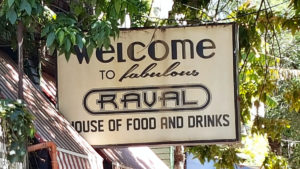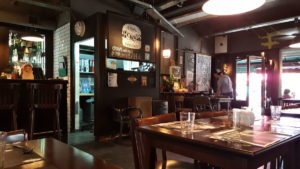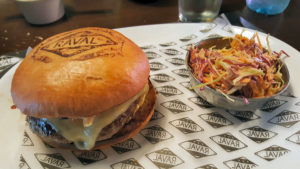 It's not that easy to get to. I take a bus from Recoleta to the Retiro train station. Thankfully there's not a long wait for the next train headed to Tigre. I ride it to San Isidro, and from there, it's a 20 minute walk (it would be a shorter walk from the Tren de la Costa, but that requires getting to Maipú station first, which takes longer and is more expensive). The place is cavernous, as befitting somewhere called Raval Warehouse, Tiscornia 935, San Isidro. There are a few outdoor tables, but they're all filled. Indoors, just a couple sitting at a table off to the side, talking quietly. I grab a seat and peruse the menu. It lists a baker's dozen of burgers, though that includes two pork burgers, one chicken patty, a salmon patty, and a veggie burger. I settle on the Fifty-Fifty, a blend of half beef, half pork, topped with danbo cheese, bacon, and chipotle chili sauce.
When I stop to think about it, this is one of the simpler burgers in presentation and toppings that I've tried, which means, they have to get it right. There's no lettuce, there's no tomato, no onion. It's the patty – a spectacularly delicious blend, and both perfectly seasoned and perfectly cooked to medium rare. A simple slice of cheese, melted and bubbly and browned, a rasher of bacon, crisp and salty, and a simple swipe of moderately spicy, smoky, chipotle sauce. The toasted bun is housemade and seared with the restaurant's logo, and tastes a bit like a great potato roll. It holds up beautifully through to the last bite. I opt for coleslaw rather than fries, and it's surprisingly good – so much of the coleslaw here is too sweet. The bartender makes a recommendation from a trio of beers on tap to match with my burger (all three are from Cerveza Arrecifes), and the red Scottish ale is a great pairing with the spice of the burger (plus he gave me samples of the other two to try). It is a little pricey for burgers, at 175 pesos, mostly because there's a 22 pesos per person cubierto charge tacked on, effectively making it a 197 peso burger. Still, another winner!
At the Fork in the Road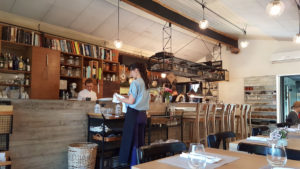 For a couple of years I've heard good things about Alo's Café & Bistro, Blanca Encalada 2120, in La Horqueta (the town name translates as "fork in the road"). Strangely, given my bent for wandering hither, thither, and yon, I kept resisting the trek there – it seemed to not be all that near to anything, and was going to require a lot of walking. Why, in my brain, it hadn't registered that each little town and 'burb around the province has its own local bus services, I don't know – or maybe it's because there was no map of the services available. But now that Google Maps has incorporated local transit lines into its directions feature, there it was – take the train to either San Isidro or Boulogne and hop on a local bus that would, it turned out, literally drop me across the street from the restaurant. [For those who want to head out there after reading this review, Mitre train line to the San Isidro stop, then the 407 or 707 bus from a block away on Av. Centenario, or the Belgrano line to Boulogne and then the 371 from outside the station. I tried both, one to go, one to head home, figure on just over an hour from or to Retiro depending on wait time for the next train/bus.]
Cute spot, lovely little garden out front, nice and airy inside. The burger changes seasonally, and rotates over the year between beef, pork, lamb, and duck. I arrived in the last week or so of duck season. But… the burgers weren't ready yet, the duck, which is braised first in a mix of spices, was not yet ready, and wasn't due to be ready for an hour. It would have been a waste to leave and head home, so I decide to wait and try a couple of appetizers first, relax, read a book, drink a beer…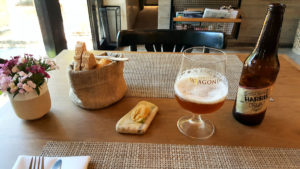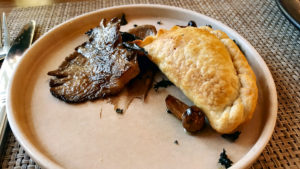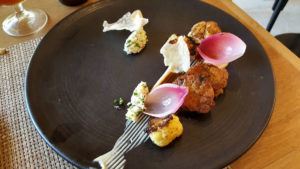 First off, while they have a few of the more well known brands of beer, they also have a trio of beers called Harris. This is craft beer at a whole different level than we usually talk about, it's actually made by one of their neighbors in his house, and I got the impression that they're the only place that has it available commercially. Red ale – excellent! Empanada, light and flaky and filled with a mix of mushrooms and potatoes and accompanied by a mix of sauteed and pickled mushrooms of different types. Sweetbreads in little pucks, perfectly cooked inside and with a crispy shell outside, along with pickled onions and a trio of cauliflower – puree, char-grilled, and raw "couscous", delicious. Now, I was set to relax and finish off the beer, and then try another one with the burger – I still had half an hour to go, but then the burger landed on the table – I don't know if they pushed it through and took some duck out of the braising pot early, or it was just ready sooner, but, only 28 minutes had passed since ordering.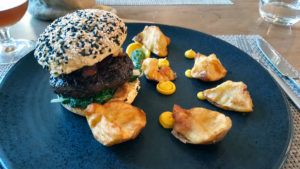 So, plump, juicy burger. The texture is a little… different, but then, it's braised duck, not ground beef, and obviously having been braised, it's well done, but they've maintained enough fat in it that it's not dry. It was a tasty burger, but maybe a few too many condiments – there was a mango and sweet chili salad, sauteed Chinese cabbage, little lardons (perhaps duck, I forgot to ask) that tasted almost more like pastrami, an orange sauce, a chili sauce, and at least a couple of more things I'm forgetting. Not that I didn't enjoy it, nor that I wouldn't have it again, but the burger/duck part of it sort of got lost in the other flavors. The housemade seeded bun (the bun is also changed to match with each burger) is sturdy and holds up through the eat. Lovely crisp roasted potato shards with more of the orange sauce. All around, I enjoyed everything (and, they sent me a dessert, by way of apology for the "wait" that didn't actually happen), and I'd go back again – maybe to try the next seasonal burger, pork, which starts in two weeks…. A little pricey at 240 pesos for the burger, but then, it's duck.