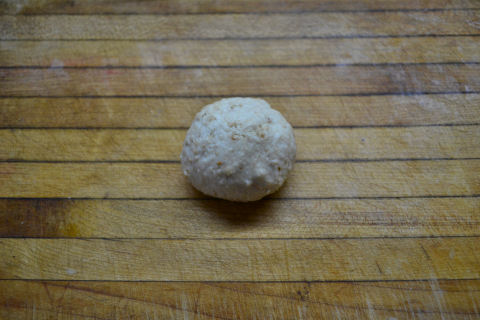 That's not going to be too distracting, is it? (For those reading this outside the blog, I'm not sure if the animated display above will be animated, but on the blog, it is.) Those are our new dinner rolls at Casa SaltShaker.
When I started SaltShaker in 2005, it was still relatively early days in the world of food blogging. It wasn't the beginning, by any stretch – the book Digital Dish, on the rise of food blogging, points out that in 2003 there were about 50 food blogs in the world, by 2004 there were a few hundred, and the author's prediction was, that by the time of publication in 2005 there would be a few thousand, though whether that was 2000 or 20,000, who knows? My guess is, closer to the former. These days, it's anyone's guess – there are close to a quarter of a billion blogs of all types out there, and undoubtedly, some large percentage of that number are dedicated in whole or part to food.
There were no fancy themes for blogs – most of them were put up through one or another of the free blogging services like blogger or wordpress. They were simple diaries, with photos. Even running SaltShaker on my own with wordpress software installed, there were limits to how I could make it look. I changed it a couple of times over the years, but, in general, it's remained more or less in a simple text and photo diary form. Anyone who looks out there at the changing landscape of the blog world knows that that has changed radically. Even our Casa SaltShaker page is technically a blog, also based in wordpress, but with a theme that goes well beyond what the one here can do, and that was a, relatively speaking, simple redesign – mostly by just getting rid of 90% of what was on the previous CS site and starting more or less from scratch with some cut and paste and then new stuff.
So now that the big cookbook project is mostly in the rear view mirror (I should be getting the final proof this week, after making changes to the previous proof that I announced a couple of weeks ago), I'm turning my attention here. So first, the assessment, and I'll try to make this quick and painless….
There was a time when the blog was getting several hundred readers a day – it was the only food blog in English covering Buenos Aires – these days there are a dozen or more, plus local online columns from our English language newspapers and magazines. These days, it gets around 100-110 actual visitors a day (as opposed to automated 'bots and people who click on and spend less than 15 seconds, clearly not having arrived where they wanted to). And roughly a third of those do nothing more than hit the listing of underground dining spots and then spend time clicking on to those links. At the same time, I have no way of knowing how many additional people are reading the blog via some sort of blogfeed reader service – there could literally be thousands and I'd never know – it's the way I read other blogs myself.
Around half of the visitors look over the main page, and maybe twenty of them click on to read one or more of the articles shown there. A fair number check out my listing of favorite restaurants in town. A few each day click on over to the Casa S site. The most popular post is far and away the one on the humble zapallito redondo, the globe zucchini – I guess there's not a lot of info out there on these local vegetables. For the rest, it's random. There are over 2500 posts, and around 6000 comments on the blog – but it's actually pretty rare these days that anyone comments here – I do get some comments on the feed that shows up on Facebook, but not many.
So that all leads to a sort of "is it worth it?" Or, is it just, more or less, textual masturbation for me? Just using that word is going to drive a whole bunch of google traffic to this post. Basically, is there enough interest in what I write about to keep it going? I'm not suggesting a complete cessation of activities, but, what on the blog piques your interest? What do you find useful? What don't you? I'm actually asking for some real, constructive feedback, either via comment or email or facebook or however (not telepathic beaming, I still haven't got that one down).
I'm considering a complete redesign of the site as I did with the restaurant site, and basically removing all the old stuff – reviews from years ago that haven't been updated, or of places that no longer exist; getting rid of the musings and random fluff of my brain (kind of like this post); stuff on moving to and living in BA that are either no longer accurate or are just dated, etc., etc. What's worth keeping? What's not? (I'll always have my backup of everything, it's not like it will be lost to posterity should someone one day want to research my archives.) Or, I could just continue as I have, randomly posting whatever occurs to me. Maybe make it look prettier. Maybe not.
What say you, my long-term, short-term, regular, irregular readers? (Did anyone even read through to this point?)