The Onslaught of The Burgers Continues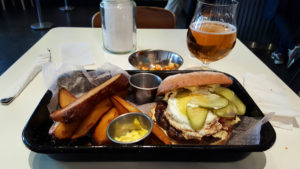 Williamsburg, Armenia 1532, Palermo – Named, presumably, after the hipster haven of NYC, this spot has become the talk and buzz of the hipster burger movement here in BA. There's a lot to like about this gleaming new spot, but I'm afraid I'm not going to be in the camp of declaring this one of the best burger spots in the city. Here, the namesake Williamsburger is a decent enough patty, well seasoned, but despite being assured that cooking it rare was "no problem", it arrived well into the well-done range. The bun fell apart practically as the burger got to the table – it's far too small and thin. Pluses for a perfect fried egg, good pickles, crispy bacon, and, what might be one of the coolest things – crispy cheese. Yes, crispy cheese – they've basically gone and made little tuiles of cheese and then broken it up into shards atop the burger. That's an idea worth stealing. The fried sweet potatoes were not at all what one would expect – instead more like baked, and only halfway – still raw and crunchy in the center, and the rest just sopping in oil and soggy. Good craft beer on tap, with a side of cancha, the little crunchy fried corn kernels popular in Peruvian restaurants – these coated with spicy chili flakes. Not a winner for me, but not a loser either.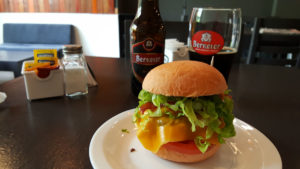 Malé Bar, French 2923, Recoleta – This place is all about the buns. They offer a trio – regular, yellow, and red, the latter two respectively infused with whopping amounts of turmeric and paprika, respectively. I ordered up the yellow burger, due to come with a fried egg and bacon on a sunshine yellow bun, but the one that arrived was vividly red, and missing the egg. On questioning the waitress, she said, "well, you ordered the yellow burger, that doesn't come with an egg" – I pointed out on the menu that it did indeed, and that my bun was obviously red, not yellow, to which her response was, "well then clearly you ordered the red burger", and she walked away. Not worth fussing about, the burger itself was nothing special, the cheese a single sandwich slice, and way too much lettuce draped over the whole thing. Top it off with the bun being stale, this one didn't earn any points. Neither did the "craft beer on tap is only available in the evening, at lunch we only serve by the bottle". Pass on this one.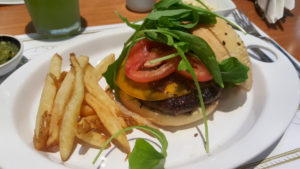 Schwartz & Berg, Fitz Roy 1617, Palermo – Awhile back, I hit this place up for its pastrami sandwich, and have been back several times for both that and the corned beef. Sooner or later, the burger, the Schwartz & Burger, had to get its due. Made from chopped roast beef, it's got a flavor and texture a bit different from your typical burger – for me it was a little too finely ground, bordering on the texture of meatloaf. It's nicely seasoned came out basically medium rare on an order for rare, which was better than most manage. I do wish they'd use something other than a plain sandwich slice of cheese, the tomatoes are fine, as is the arugula in place of lettuce, though I'd probably remove the stems from the arugula to put it on a burger. The pickle relish, as I noted in the past, is a little sweeter than I like, but still good. A sort of meager helping of fries accompanies, but they're good ones. Overall, a respectable effort.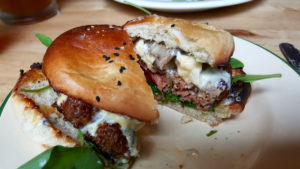 Abocado Cantina, French 2316, Recoleta – Just recently I raved about the Sr. Beef sandwich at this relatively new spot here in the 'hood, and a return visit to try one of the burgers was a clear must. And, well worth it. Delicious burger, this is the Amsterdam, which comes with grilled mushrooms, arugula, sun-dried tomatoes, and gobs of tasty blue cheese. Cooked a decent medium rare, as well. The bun held up through most of the eat, which is a plus. Craft beer on tap and by the bottle. As I said last time, this place is going to be a regular spot for me. The one negative – a long wait time. The place wasn't busy, there were two of us, a single person at the bar, two young women next to us, and the owner's wife and kids with a couple of her friends at another table. That latter table seemed to get all the attention, getting a couple of rounds of food while no one else got anything. A sandwich and a burger took 50 minutes to get to our table from the time we ordered it – that's not really acceptable for a neighborhood lunch spot.
Tube Steak…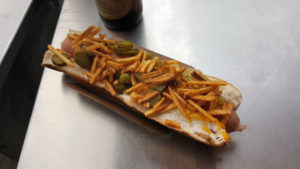 Peter's, Nueva York 4010, Villa DeVoto – Every now and again I get the urge to go out to the far northwest of the city and visit either Villa DeVoto or Villa del Parque. I have some history there, having taken classes out that way, and spent some time exploring. I thought I'd go and check a couple of the pizzerias around the main plaza, only to find that most of them are gone. There's a branch of Kentucky where there used to be a cool little dive bar pizzeria, DVT, and there's one other spot that had a line so long I decided it wasn't worth the wait. I stopped it at this spot, often touted as one of the best hotdog places in the city (a new branch is soon to open in Palermo). And, it's not bad – decent dogs, good toppings (spicy mustard and pickles for me, along with the BA standard of shoestring potatoes). The bun could be a little better quality and not quite so much of it in relation to the dog, but I wouldn't kick about having another one if I were back there.
The Wrap…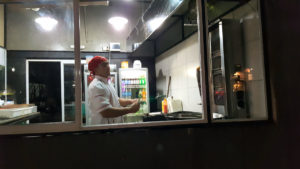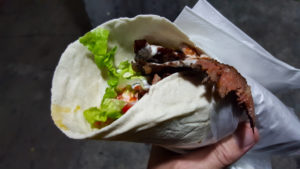 The no name shawarma spot at the carwash, Gorriti 5001, Palermo – Pegged onto the side of the Serrano Lavadero, a corner carwash, is this little room where five evenings a week, shawarma is offered up through the window. A few chairs are under an awning on the side facing the carwash entrance, where you can sit and nibble away. Well packed with juicy meat that tastes a bit more like roast beef than your typical shawarma, it's also laced with lettuce, tomato, onion, and great yogurt and hot sauces (the latter only on request). And it's cheap, especially for the size and quality! This is the spot to hit when you're in the midst of bar hopping in Palermo and don't want to pay out the price of typical greasy bar food.
And Wings…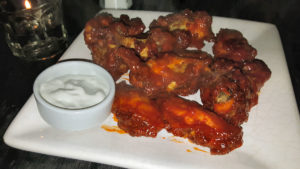 The Steve, El Salvador 4968, Palermo – Lots of dark, distressed wooden beams line this spot, reminiscent of some sort of tavern to be found in the dwarven lands of Lord of the Rings. Decent craft beers both on tap and by the bottle, a full bar stocked with an impressive array of booze. But what attracted me was the promise of super spicy Buffalo wings. In fact, my waitress asked me twice to confirm that I really wanted them, because for her, they were inedible they were so spicy. Figuring on that as a typical porteña overstatement, I went for them. All I can say is, what a disaster. First, the wings are breaded in a some sort of gloppy batter that's only partially cooked through – and the wings themselves bordered on pink. The sauce? Pure, sweet barbecue with nary a hint of heat to it. I thought, perhaps, I'd gotten the wrong sauce, but no, she assured me, there's just one, and it's way too spicy to eat. Not. I made it through three of the wings and gave it up as to sickly sweet and to underdone to continue. A shame, because it's the sort of tavern I'd love to hang out in – of course, there are plenty of other things on the menu to try, and one could always just hang out with a pint.
Remember the Scramble?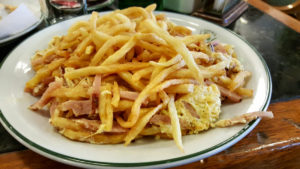 La Biela, Av. Pres. Manuel Quintana 596, Recoleta – We're going back about five years to The Scrambled Story of the classic local dish, Revuelto Gramajo. In the interim, I've tried very few. It's still a dish I like, but too many of them are like the one here at the classic café in the Village Recoleta strip – just a huge mound of fries with little egg, ham, or anything else to it. And to boot, La Biela is just ridiculously, touristy, expensive – let's face it, it's basically french fries, with roughly one egg, and maybe a couple slices of lunchmeat ham slivered up, and ran nearly 200 pesos. Pass on this one, go next door to Munich and have a good one that's worth the extra freight!
Let's Finish in Perú!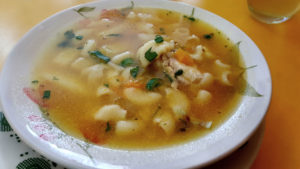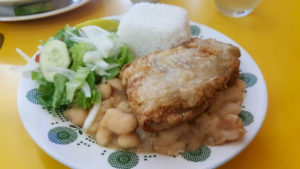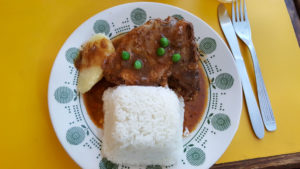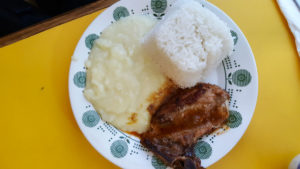 Al Fondo Hay Sitio, Junín 553, Once – Another quite new spot near to home, we spotted this one a couple of weeks ago on our way to Casa Andina. I was solo on the first trip. It's a simply decorated, almost cafeteria looking space, but clean and new. The menu comes with the ubiquitous soup – quite good, laden with chicken and pasta, and a choice of pollo broaster, the also nearly ubiquitous chicken with french fries and salad, and this more unusual dish, fried fish with pallares, big white butter beans. Excellent! And, the hot sauce on the table was fiery as can be. On a return visit with Henry, the chicken remained, and two pork dishes were on offer – a pork chop with mashed potatoes, and an estofado of pork (it was supposed to be of beef, but they ran out of beef and offered to do it with pork). Problem was, they were basically the same dish – they used the estofado sauce on both plates, so the only real difference was mashed versus boiled potatoes, and a quintet of peas decorating one plate – and while both were good, neither was of the quality of the fish dish the previous week. The name is unusual, meaning basically, "There's room in the back", and is the name of a very popular Peruvian telenovela that's been running for about seven years now.