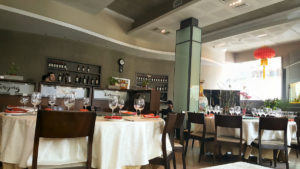 Long, long time readers, locals, and expats will likely remember the restaurant Shi Yuan, located right by the Biblioteca Nacional here in Recoleta. It was certainly the most elegant of Chinese restaurants in town, and for a long while, one of my top five in terms of food. We always enjoyed it, though among some of my regular readers it seemed to be hit and miss. I stood by my assessment and it was a place we ate at roughly once a month, for almost eight years. Roughly two years ago, they closed up shop and were replaced by one of those steam line mixed Chinese/Argentine pay by the weight of your food places.
I'd heard rumors that the chef from Shi Yuan had moved to a new spot in Palermo (and, it turns out, looking back at the comments on the followup to the review, one of my readers even told me about it). Somehow or other, I just hadn't made it to Beijing, El Salvador 5702, until last month. Indeed, it turns out – same chef, and several of the same staff who came along with him. Apparently it actually opened before Shi Yuan closed down (different owners, here, the chef is actually one of them), which might explain why during my last few visits to the place I didn't know any of them, and why some folk found that the food had gone downhill towards the end. The new place is even more elegant. The menu has been paired down – it includes many of the best dishes from the previous spot, but has eliminated most of the ones that seemed to be there just to cater to lowest common denominator expectations. We've been a couple of times now.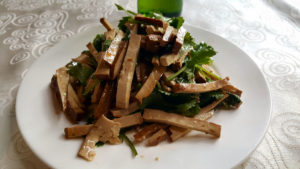 I was delighted to see that one of my favorite cold appetizers is still on the menu, and as good as ever – a dried, pressed tofu dressed in a soy marinade and tossed with cilantro.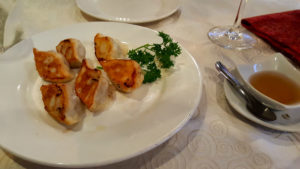 Great potstickers – easily some of the best in the city – and better than they used to be!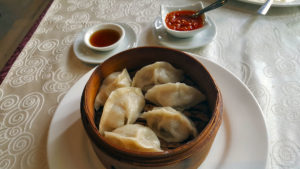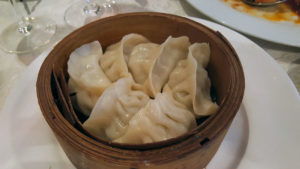 Mixed feelings at this point on the steamed dumplings, which several people have lauded them for. They are delicious, no question, but they're also inconsistent. On the first visit, they were small, and a bit thick and chewy. On the second visit, they were plump, juicy, and delicate. Just based on the photos, I'd say that they didn't have the real steamed dumplings available that first visit and they used some of the smaller, thicker dough potsticker ones and just steamed them.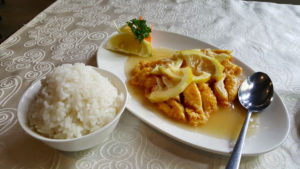 An absolutely delicious lemon chicken. One note though on the menu is that they say it's a grilled chicken breast with the lemon sauce, and we were looking forward to a variation on the more classic fried – but we weren't disappointed to find it fried, either.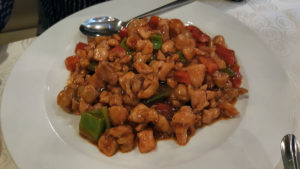 Quite good kung pao chicken – for us they could have gone spicier, but with a dish of fiery chili oil provided on request, we took care of that immediately.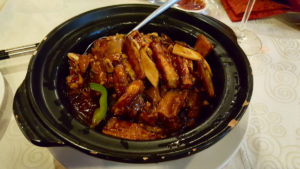 A tasty, though overwhelming in size, eggplant yu xiang,  a spicy, sweet, sticky braised eggplant dish that's typically made with a fair amount of ground pork in it, here just a very small amount of ground beef – we'd have preferred a little more, and probably the pork. It was just too much eggplant as a single main course – it'd make a great share dish for a table of four or more. We managed about half of it.
So, overall…. Love the room. Great service. Very good food. Pricing is high, but really not bad – it ran us about 15-20% more than our typical neighborhood take-out/delivery places, but the quality and quantity certainly makes up for that. (Figure on main courses running between 150-200 pesos.) Several thumbs up, and going on my list of favorite Chinese places in town!