There are days when I consider that life would be far easier if we just cooked casually and opened the doors for people to drop in and eat whatever the plate of the day is – Casa de Comida style. Because while we don't tend to eat the way that our guests eat at Casa SaltShaker dinners (we'd both be enormous by now if we did), we do eat well, be it at home, or checking out things like food festivals….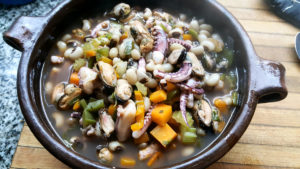 Black Eyed Pea and Shellfish Stew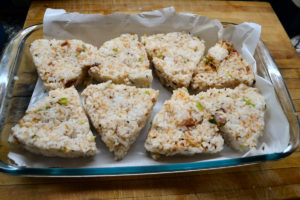 Onigiri with Pickled Ume Plums and Bonito Flakes
(first time trying to make them, so a bit rough)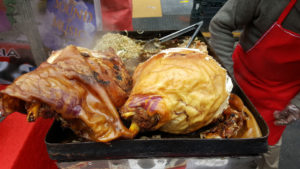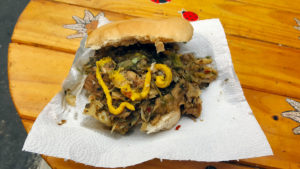 The BA Celebra Austria Festival – Amazing Roast Pork & Sauerkraut Sandwich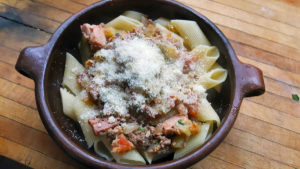 Rigatti with Bolognesa Sauce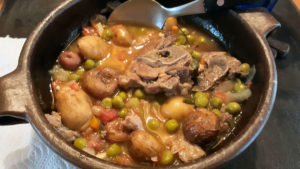 Lamb, Pea, and Potato Stew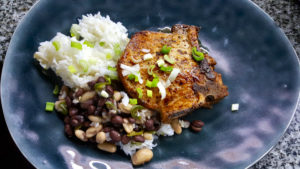 Chipotle Rubbed Pork Chop, Spicy Black Beans & Rice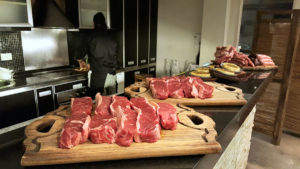 An evening out at Steaks by Luis – a whole lotta food, and delicious!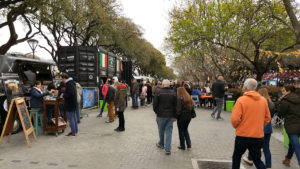 The first Apetito Festival – billed as a Pizza and Beer Festival
These festival organizers need to learn how to plan something like this – with one exception, none of the beer purveyors were offering anything smaller than a pint, making tasting a variety of beers ridiculous, and out of 20+ stands, only a few offered pizza, and only one of those by the slice, everyone else was selling full sized pizzas only – same problem as with the beer.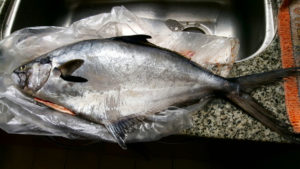 Palometa
It got itself filleted and then baked with a variety of vegetables – I just like the look of the whole fish.
Calf's Liver and Onions, Creamy Polenta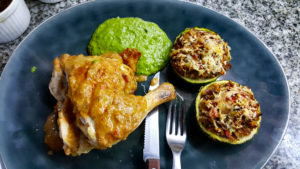 Roast Chicken, Pea & Watercress Puree, Stuffed Globe Zucchini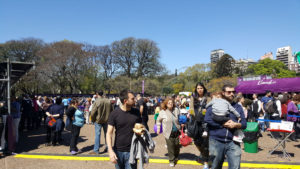 The Rosh Hoshana Urbana Festival
We ate a lot of pastrami… little of it worthwhile.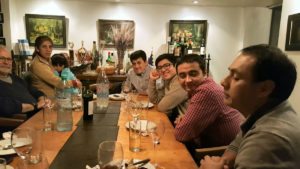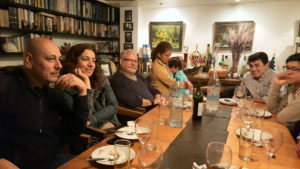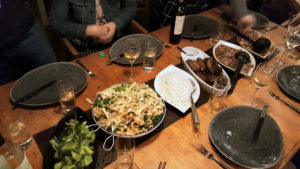 My Birthday
I decided I didn't feel like going out – invited a bunch of friends and cooked up a half dozen Szechuan dishes. Braised bok choy in oyster sauce; warm sesame noodles; rice; 5-spice and chili rubbed spareribs; kung pao chicken; chili-orange beef.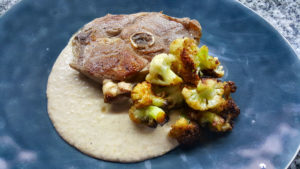 Lamb Leg Steak, Hummus, Charred Cauliflower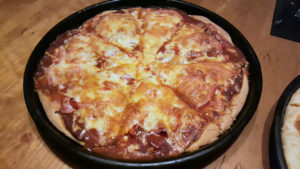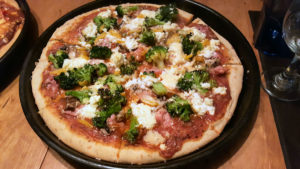 Pizza Night at Home with Friends
First one – marinera sauce, ham, tomatoes, peppers, four cheeses (mozzarella, cheddar, gouda, parmesan). Second one – bolognesa sauce, broccoli, sausage, mushrooms, ricotta and romano cheeses.
And geez, that was just September, spaced around all the various eating out on my different quests, and the dinners at Casa S! I am just imagining if we offered up that plate of the day in place of longer five course tasting menus… hmmm…. Thoughts? (Actually, I'm not sure we could get away with the more casual come and go approach with our building management.)