Amazing how time flies. It's been almost four years since I launched the 92 Bus Pizza Trek, and while it went along "great guns" for awhile, it then sort of slipped into oblivion after a bit short of two years. But in that time, I managed to get about 2/3 of the way through the project. And the landscape, so to speak, has changed since I started it. It wouldn't have surprised me that here and there a pizzeria had closed after being added to the list, nor, likewise, that a new few had opened. But even just a short jaunt recently and I spotted four closed spots, and a dozen new ones, and I didn't even cover a stretch of more than a quarter of the route.
So, I'm going to wrap this up with this post, and, I think, convert the map on the main page linked above to an all encompassing "Pizza in Buenos Aires" map – and go back and add in those from the rest of the city, bit by bit. For the moment, however….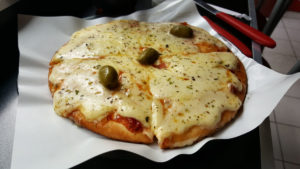 #75 – Morita, Av. Ángel Gallardo 88, Villa Crespo – I had visited a branch of Morita way back at the beginning, when I made a navigational error in the bus route. That particular branch was pretty awful, but it seemed pretty specific to the individual spot, which was, as I put it, dingy and dirty. Here, a gleaming, brand new locale, with new, working equipment. Unfortunately, the pizza itself isn't much better than it was at the first place – it's at least cooked through, with a nicely browned crust, and the sauce is hot and cheese nicely melted. But it's still pretty tasteless and uninteresting, and I'd just pass-by.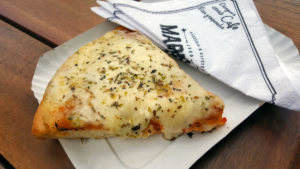 #76 – Maricel, Av. Honorio Pueyrredón 1101, Villa Crespo – Taking over the spot vacated by the supremely awful Sabores de Pizza, this spot has the air of folk who know their business. I think it's the second branch of a longtime pizzeria in Caballito (or perhaps they just share a name). While awaiting the warming up of my plain slice, the pizzero offered me a triangle of their freshly baked pizza bread, which rocked. The slice itself was pretty darned good – nice crust, with some flavor, and cooked right. Decent, lightly zesty sauce. Perhaps a tad too much cheese for my personal tastes (he heaped a handful of more cheese on top of an already existing mozzarella slice before sticking it in the oven), but it was good quality mozzarella, so I can't complain. Worth a visit if you're nearby.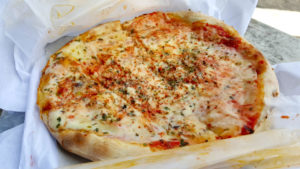 #77 – Salteño, Av. Juan B. Alberdi 4633, Velez Sarsfield – This is a brand spanking new takeout and delivery only place (okay, they have four bar stools along a counter where you can eat, but they were all occupied, so we went and sat in a nearby park). And, yum. Great crust, excellent, garlicky tomato sauce, a modest amount of cheese, and, in a rare display of courage for an Argentine pizzeria, they offer a dusting of chili flakes along with the usual oregano, if you wish. If you live close enough to enjoy this one, this should be your new neighborhood pizza spot.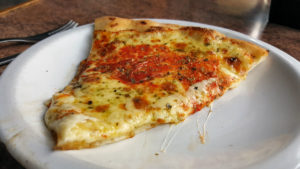 #78 – Pizzeria Moreto, Av. J. B. Alberdi 4501, Velez Sarsfield – A long existing spot in the 'hood, just for some reason, every time I'd passed by it back during the heyday of the project, it was closed for one reason or another. Nice thin crispy crust, though without a lot of flavor. No sauce direct on the dough, just a thin swath of it circled around near the perimeter. Where the sauce is, it's a decent if not exceptional pizza, where it's not, it's not all that interesting, with mediocre quality cheese. Given the above entry, just a block away, there's no contest.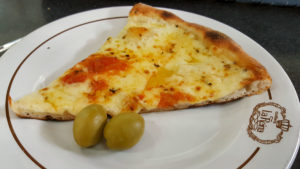 #79 – La Reina de Floresta, Av. Juan Bautista Alberdi 4302, Parque Avellaneda – Given the name, you'd expect the place to be in barrio Floresta, and perhaps there's another branch of it there, but it's not (and all three of these last pizzerias straddle the border between Parque Avellaneda and Velez Sarsfield, just depends which side of the street they're on). Another very thin, crispy crust, with even less sauce dabbed about, and a very, very oily mozzarella. Again, given the options, I'd pass on this one.
And, so, although I didn't get to 92 pizzerias on the trek, I may still at some point, adding them in now and again, but I'm going to just go to a general pizza sampling of the city. Nature's most perfect food doesn't need to be limited by a bus route.