So first, the book update.  The first Casa SaltShaker cookbook is in to the publisher and ready for a galley proof to be printed up and delivered to me. Assuming all goes well, I should have that sometime next week. On screen, it looks great, so my fingers are crossed that on paper it looks as good!
Second, I've been so busy with that, and things have been quiet here at the restaurant, though starting to pick up again, that I've been eating out a lot and letting the little mini-reviews pile up. Let's start with the hamburger and sandwich scene, both of which seem to be burgeoning at a rate that no one person can probably keep up with.
"We've simply come to expect more of our hamburgers these days."
When J. Kenji López-Alt of The Food Lab wrote that simple phrase a few years back, he was pointing out that many of the venerated spots in New York for a great burger no longer measured up against the onslaught of great burgers being produced. Here in Buenos Aires, the timeline has been compressed – there really are no longtime heroes of the burger world – as I, and others, have pointed out, a decade ago when I first started checking out burgers in town, 99+% of them here were simple frozen patties of unseasoned, overly lean, over-cooked beef slapped between doughy supermarket buns with some lettuce, tomato, onion, and maybe, if you were lucky, a condiment that wasn't served on the side in a plastic packet. These days, it's like Field of Dreams, if you grill it and put it on a bun, they will come. Unfortunately, while there are some amazing successes in that field, most are, while better than a frozen patty, just kind of ho-hum: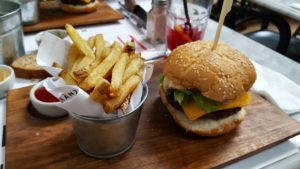 Brandon, Fitz Roy 1722, Palermo – It doesn't even look all that appealing when our burgers hit the table. The bun looks to be right out of the supermarket aisles, and although it tastes slightly better than that, not by much, and it doesn't hold up, forcing us into knife and fork realm by the time we're halfway through. The reasonably plump patties have potential, but despite having ordered one very rare and one medium rare, they're delivered the same (the food runner doesn't even pretend to know which is which, because there's no difference) – both are cooked somewhere between medium and medium well. They're decently seasoned, but the "singles slices" of orange cheese slapped on top and not even melted pretty much sum up the care taken in putting these together. The fries are soft and oily.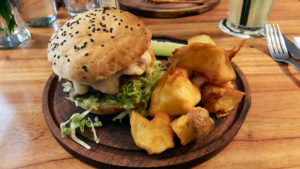 Shout Café & Espresso Bar, Maipú 979, Microcentro – It looks good on arrival, stacked up tall with a bulging patty in the middle. But the concern is, that rare burgers took over half an hour to hit the table, and the concern is borne out – there's only the barest hint of pink in the very center of the burger. Still, it's well seasoned, and on a decent bun that holds together well. And, smartly, it's constructed with the greens below the burger, protecting the bottom bun from getting sopping wet with the juices – but then, there aren't that many juices left in the burger, so it was probably an unnecessary effort. Instead of fries, the "broken potatoes" are actually quite good, nice and crunchy on the outside, pillowy soft in the middle.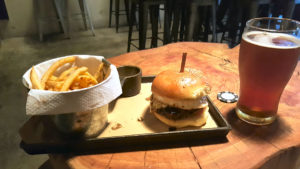 Crafters Drafter's, Vicente Lopez 2205, Recoleta (changed their name after about two months open) – Oh, we had high hopes when this new craft beer spot opened up just a couple of blocks from home, just down the block from Village Recoleta. And some of it is borne out – roughly a dozen and a half beers on tap, with a rotating selection, though after several visits, we've found that they seem to often be out of at least a couple of the taps. The place, however, being the first real craft beer spot in the 'hood (we had Buller's, but they only had their own beer, and the atmosphere is more of a touristy restaurant), is wildly popular, and if you get there anytime after about 8pm, you can count on it being jammed with folk. In fact, it gets so busy, and the limited (and weirdly designed) seating is so minimal, that people are sitting on the floor and the sidewalk outside to eat and drink. If you plan to eat, go early. The burger, unfortunately, barely merits mention, a skimpy, thin little patty that they proudly note is 100% tenderloin, a bad move already, since the cut has roughly 0% fat, is tasteless and so overcooked it could be used as a hockey puck, on a stale, insipid bun, and how they got a salsa criolla to have no flavor is beyond me. Surprisingly, their fries are actually pretty good – crispy outside, soft inside.
"Somewhere early in life, my epigenetic switches got flicked to 'likes sandwiches'."
It's been awhile since I headed out searching for something between slices of bread that wasn't a burger on a bun. I'd sort of despaired of finding more good sandwiches, the first rounds had taken such an effort to find anything worthy of even being in the pantheon. But, as the burger craze has taken hold, so too has the idea that a sandwich can be more than a slice or two of flavorless ham and cheese stuck on a pebete roll. I'm still despairing at finding a decent chicken sandwich, so far, with one exception, every time I find one, the place goes out of business shortly thereafter! The quote above is from author Tad Williams.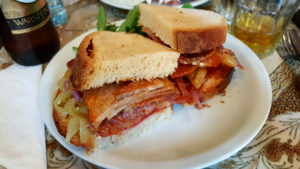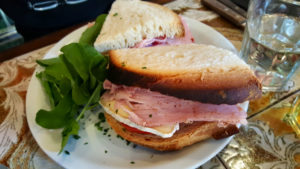 El Refuerzo, Chacabuco 872, San Telmo. Who knew? I've passed this little hole-in-the-wall by so many times and never really gave it a second glance. I just sort of assumed it was a place serving up the ubiquitous fare of milanesas and the like. Turns out that no, it's an amazing little sandwich shop, with, bluntly, some of the best sandwiches I've encountered in town. This is one of those, what are you waiting for, get thee to San Telmo moments. Fantastic house-made bread, thick-cut and delicious. We ordered up a duo – at the top, peceto, or top round, melting tender, with its roasting juices and tangy pickled peppers – which has made its way to the top of my beef sandwich heap; and a nearly as good slow cooked ham sandwich with brie and tomatoes. The former makes its way into the pantheon of greatest sandwiches in town. They've got a nice selection of wines available, not the usual suspects, so someone's put some thought into it, and, it'd be nice if they'd do the same with beers, for which the selection was limited to Warsteiner in 600ml and Imperial in liter size.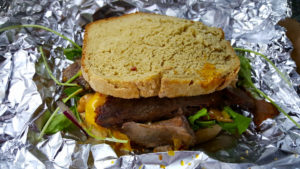 Abocado Cantina, French 2316, Recoleta. A recent opening in our 'hood, originally they were only open in the evenings, but now they're open for lunch as well, serving up sandwiches and burgers for the most part. I grabbed one of their Sr. Beef sandwiches to go. It has a whole lot going for it – it's jam packed with tender, well seasoned beef, house-made ginger pickles, house-made mustard, and house-made hot sauce. On just those strengths, it could easily be one of my favorite sandwiches. The two flaws, though not enough to disqualify it from my list of best sandwiches in town – the bread, while delicious, is cut a little too thin for the filling and falls apart way too quickly – just cut it thicker, and toast it a little more, so it stays together, and, use a better quality cheddar than the all too common sandwich slices. Change those two things and this could be the best sandwich in the city. They also have a selection of craft beers, both by the bottle and on tap. Given that this place is two blocks from home, it's about to become a regular hangout – and certainly merits a return to check out their burgers!
In re the last two spots… thank you to the sandwich gods for listening!