Sorry I'm not posting much other than mini reviews in recent weeks – I'm focused on getting the Casa SaltShaker cookbook shepherded through it's final stages so that it can be published "in time for the holidays". Because I know you all plan to buy multiple copies as gifts for all your friends and family….
But, one still has to eat, so, more mini reviews!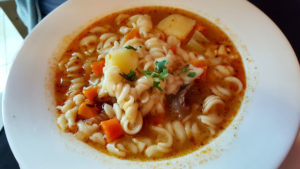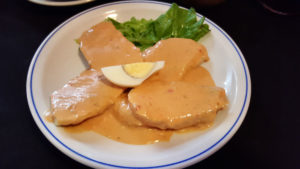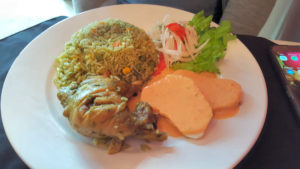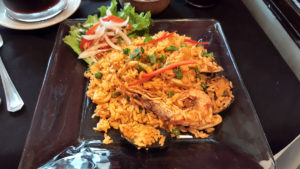 Pasamayo, Tte. Gral. Juan Domingo Perón 1307, San Nicolas – A bit of a hole in the wall that has more of the feel of a local bar than a place for food. Still, a roster of the usual suspects for Peruvian homestyle cooking, and, at lunchtime, the ubiquitous menú. More options than many, particularly to start, where we were offered a choice between soup (delicious meat and noodle soup, with great broth, and a huge portion), potatoes in a rocoto cream sauce (could have been spicier, but very tasty), a green salad, or empanadas, the latter two probably nods to the neighborhood Argentine business clientele. Half a dozen main course options. We went with arroz con pollo and arroz con mariscos, chicken and shellfish with rice, respectively. Both quite good, and again, decent portions. The menú runs a pretty typical 85 pesos, though doesn't seem to include a beverage, we ended up ordering a pitcher of chicha morada, and a good version of this purple corn and fruit drink. There is a supplemental charge for the seafood dish, the only one, of 30 pesos, which is a little steep (even if it's only $2) considering that the shellfish consisted of a prawn, two mussels, and half a dozen calamari rings. At the same time, it's all rather good Peruvian food, and, one of the few spots for it in that part of town (though, given it's only a few blocks away, we'd probably go to Rawa. And, another pin in the map!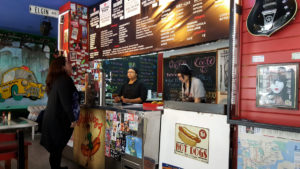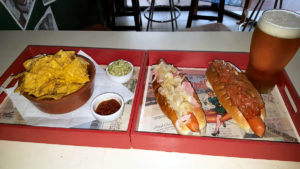 New York Dogs, Montevideo 667, San Nicolas – Stumbled across this one purely by chance, while looking for something casual to eat. The menu offers up close to a dozen hot dog combos, plus tacos and nachos. No tacos available the day I was there, and only one of the beers on tap was actually available. Nachos – meh. Cold supermarket corn chips with a trio of sauces served arrayed around them – guacamole, "hot sauce" with almost no kick, and melted cheese whiz style cheese. On the other hand, they have a pretty darned good, and reasonably spicy hot sauce in one of the condiment bottles available, and I used that liberally. The hot dogs? Nothing special themselves, the toppings, however, are well made and flavorful. The buns, too big and too doughy for the size of the dogs – I ended up sort of eating these corncob style, leaving half the bun below. I'd not bother to go back, other than maybe to try the tacos just to add to my list. Not inexpensive – the hotdogs run 50 pesos and up.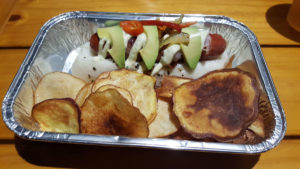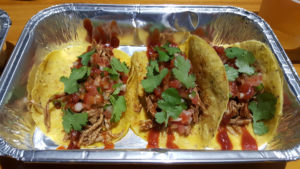 Kombinaciones, Gorriti 5578, Palermo – staying in theme, I guess, and actually, later the same day, I met up with a friend at this new spot from a duo of former cooks from Fukuro Noodle Bar. Taking some of the ideas that they picked up for Asian inspirations and such, they've opened what amounts to a hotdog and arepas food truck inside a commercial space – you order at a counter, the food is cooked back in a kitchen, but is then brought out to a food truck mockup where the finishing touches are applied. In concept, kind of fun, and there are some really nice touches, like a super hot sauce they call La Chilindrina, that you have to ask for, and several decent beers on tap. The hotdogs themselves, excellent, as are the toppings, and even the side of mixed vegetable chips. But, the bun. They decided to go with the steamed Taiwanese hua gao style buns – but instead of making a larger, thin bun, steaming it and folding it over the dog, they made a huge blob of a bun that mimics the shape of a large hotdog bun, with a mere depression in the top in which sits the dog. As such, it's doughy, not fully cooked through, and makes eating the dog with bun near impossible – after a couple attempts to stop the dog from just falling off when I picked it up, I just ate the dog on its own and left the bun. A shame, because if it was formed right, it'd be a cool novelty – and it's an easy fix they could do. They had tacos on offer as a special, for Mexican independence, and we gave them a try – the tortillas are okay, soft corn tacos, the filling a decent shredded meat with some pico de gallo that needed the "pico" – no spice to it at all, but hey, there was plenty of La Chilindrina left in the jar. I hope they play around a bit more with getting things right – at the moment it seems a bit too much of a work in progress that's not quite ready for primetime.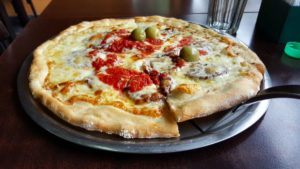 Mandiyu Uno, Gallo 1391, Recoleta – So there I was in an Uber, coming back from a night out with friends. As we came across Gorriti, we were passing NOLA (from, wow, back at Bite Marks #1) which was it's usual hopping self with a zillion folk enjoying beer and fried chicken. The driver turned to me and said, "that looks like fun, I wonder what it is?" I told him he wouldn't find better norteamericano  fried chicken anywhere in Argentina, and he should make the visit. He thanked me, and we got to talking about food – he's from Galicia in Spain and has been here for 20 years, and loves food. A few blocks further on, he pointed down Gallo and said, "just down there is a place called Mandiyu – it's the best Argentine style pizza in town, and believe me, I've tried a whole lot of them – don't confuse it with the other pizzeria Mandiyus, this is the only one to go to." So, a couple of days later, I did. And, while I wouldn't give his unequivocal and enthusiastic top of the heap, it is a rather good pizza, and better than a slew of the Argentine style ones out there. Really good crust, and properly cooked in a wood burning oven, decent cheese and not way too much of it, still not enough sauce, but what there was of it was really good, and I imagine one could ask for more, and the longaniza sausage had a real kick to it. A real nice plus is that all of their pizzas come in large, small, and individual (so many places just have one or two basic ones available in the individual size) – though, the one pictured is a small. I'd go back. Prices moderate – the individuals run in the low 100 peso range, the chicas in the mid to high 100s, and the grandes in the high 100s to just over 200.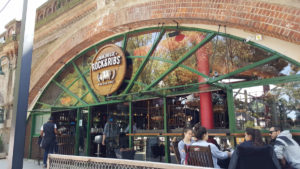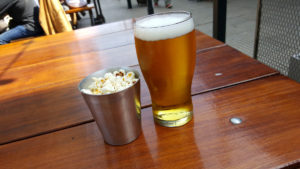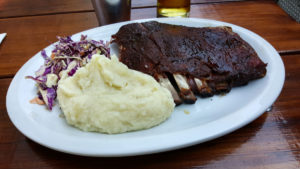 Rock & Ribs Smokehouse, Libertador 3883 – Arco 12 (in the relatively new outdoor food court, Paseo de la Infanta), Palermo – who can pass up smoked, barbecued ribs? I mean really. Until now, there were basically the commercial duo of Kansas and Hard Rock Cafe (I decline to even think about the TGI Friday's offering), both of which are fine for that norteamericano fix, though nothing to get excited about. And the king of the hill, of course, has been (and is) El Tejano. But hey, one must go where the ribs call, no? No. Seriously, no. It's one thing to cook meat until it's falling off the bone. It's quite another to cook it to a mummified desiccation. What passes for barbecue seemed to be not much more than a crackling coating of sugar atop, much like one might more happily encounter over a creme brulee. And a "full rack of ribs" consisted of six, while the half rack, I assume is a mere three (for, respectively, 290 and 210 pesos). The waiter said that was because it's by weight, not by how many ribs… okay, then call them a full and half order, not a full and half rack. The coleslaw was thinly sliced cabbage that seemed to have been tossed with vegetable oil and nothing else. The mashed potatoes were left unseasoned and seemed to have been mashed with water rather than milk, cream, or butter. The offerings of a half dozen beers on tap was brought down to two – Warsteiner and Grolsch – because the other beers have, according to my waiter, "never shown up and probably never will". I will say that, not being a particular fan of popcorn, their lemon-salt popcorn served with the beer was actually quite good. It may be difficult to see, but there's a small "1973" split on either side of the word Smokehouse on the sign – since this place has only been open a month or two, I asked – and was told that that's when "the concept of smoked barbecue was invented in Texas". Uhhh… right. I'll pass.