Let's start off this round with more fixed price lunch menu deals in Peruvian restaurants!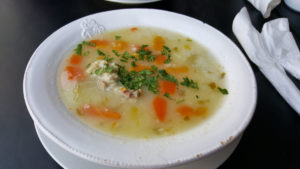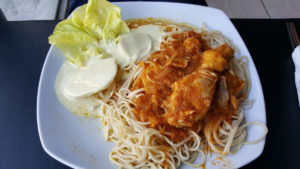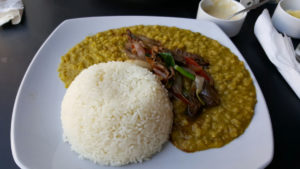 Lucas Restaurante Peruano, Sanchez de Bustamante 608 (corner of Humahuaca), Once – fairly big, open room, minimal decor. Slow, really slow service – we waited so long just for the one waitress to come to our table (and there were only two other tables of diners in the place) because she was chatting with one of those tables, that we almost walked out (two guys behind the bar, and a manager, and none of them stepped in to help her). Menú fairly basic the day we were there – decent chicken and rice soup, and a choice of three dishes – we tried the tallarines con pollo (chicken in a mildly spicy sauce based on carrots and chilies, over linguini), lomo saltado con arvejitas (stir fried beef over split peas), and an ají de gallina (chicken in a yellow chili and cheese sauce). We went with the first two. The pasta and chicken dish pretty mediocre, the beef dish pretty good. Overall, an okay experience, there are better in the neighborhood. 70 pesos/menu.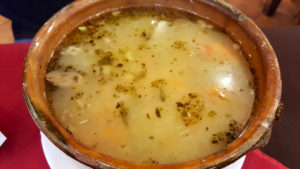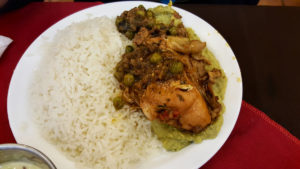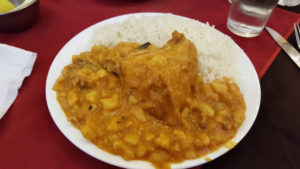 El Rincón Criollo, Matheu 16, Once – Fairly rundown spot, it could use a serious cleaning and spruce up. Big bowl of beef, yuca, and rice soup that was mostly broth, but good flavor. Half a dozen choices the day we were there, Henry went with the adobo de pollo y arvejitas (spice marinated chicken with peas and split peas), and I went with carapulcra (chicken and dehydrated potato stew, classically – actually, traditionally it would be pork, not chicken). Although service was quick and efficient, the kitchen wasn't. The soup took almost 15 minutes to arrive, all they have to do is ladle it out into bowls, and there were two cooks in the open kitchen, just, not really doing much of anything. The main courses took forever. Henry's arrived a good 20 minutes after the soup bowls were cleared, at 30 minutes I finally went up to the kitchen and said that if the carapulcra wasn't ready, I'd take one of the other dishes – they assured me it was coming right out. It took another 10 minutes. And seriously, these are dishes of the day that all they have to do is ladle something out onto a plate – there's normally no cooking involved (I think mine wasn't quite ready yet, they hadn't finished cooking it, and shouldn't have been offering it yet). Both dishes quite good, though the carapulcra was made with diced fresh potatoes, not with chuño, the dehydrated potatoes, and the texture and flavor were both very different from the traditional. 70 pesos/menu.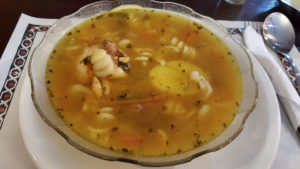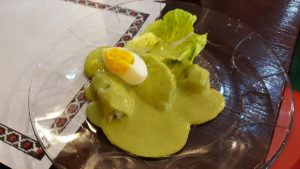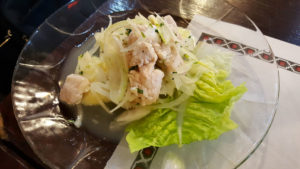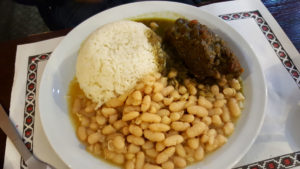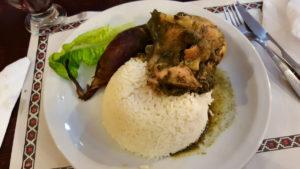 Chabuca Grande, Anchorena 571, Once – This might be the sort of queen of all the menú spots in BA, at least to date. They have two different level prix fixes, the regular, and the special. We should have asked the price differential, as it turns out the special is double the regular, which was a little jarring at the end. Both start with the same chicken noodle soup, excellent. Then the regular offers a choice of papas a la huancaina or ocopa, both cold potato dishes, almost the same, the latter adds huacatay, Amazon black mint, to the sauce, while the special offers either ceviche or a causa. We went with, respectively, the ocopa and ceviche, both really good. And then for main course, each had half a dozen options, they should have just written out a whole menu, because having to try to remember the list for both the waiter, and us, was daunting. Me, having the regular, had the pachamanca de pollo, a slow cooked chicken in herbs with potatoes and sweet potatoes, and Henry had the seco de carne, slow cooked beef in a cilantro and chili sauce, with rice and white beans. Again, both excellent. 80 pesos/menu regular, 160 pesos/menu special.
And, let's wrap up this round with a couple of new shawarma for The Chronicles!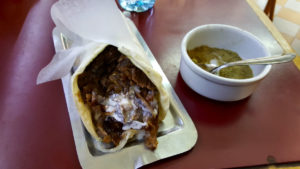 Ali Baba Kebab, Ayacucho 931, Recoleta – I have no idea how I've missed this one over the years. It certainly looks like it's been around for awhile, and I pass by that block regularly enough (it's between M.T. Alvear and Paraguay), but somehow until just before heading out on vacation, I'd never spotted this place. So it went on the list to check out pretty much as soon as I got back. Nice, thin, flatbread that the cook sops up a bit of the meat drippings in and then lightly chars against the rotisserie. Good flavor on the meat itself, and well roasted. Lacking in much of anything else – there are a few strips of shredded lettuce, and a julienne or two of tomato, and a bare teaspoon of yogurt sauce on it. Asked for hot sauce and got a little powdered mix, which, on asking, turns out to be the mix that the Bolivian women sell out on the sidewalks – basically cumin, thyme, oregano, chili flakes. For my tastes, too heavy on just meat. Good, but not one to rush back for.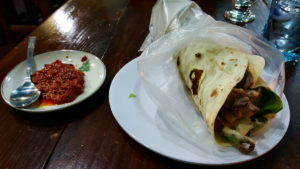 Al Fares, Aráoz 1047, Villa Crespo – A couple of chef friends have been recently raving about this place as the most authentic Syrian food around (much seems to be also being made of them being Syrian Catholics who are, I gather, refugees who recently arrived). Now, I've only tried the shawarma, so I can't say anything yet about the rest of the menu. I like the flatbread. I wasn't so thrilled with the meat – it's not rotisserie grilled, it's not grilled at all – they're doing all their cooking off in one corner of the room on a couple of hot-plates and microwaves, and raw meat was just tossed into a saute pan where it stewed away for about 15 minutes. I found it basically unseasoned and a bit chewy. The flip-side, generous amount of lettuce and tomato, and one of the best tahini sauces I've had – with a deep, roasted sesame flavor. I asked for hot sauce, was brought a little dish of a fiery red paste, along with three warnings about how picante it was. The fiery part only extended to the color – it had nice flavor, but really wasn't much hotter than, say, hot paprika. The young man who'd warned me seemed shocked that I'd used about half the dish of the sauce. Flavor-wise, just from this dish, I'm intrigued to go back and try more (everyone seems to be raving about the hummus and the falafel, in particular), and hey, support some folk trying to make a go of starting up a new business! Maybe they'll be able to afford some better kitchen equipment!