It's been awhile since I just posted a whole dinner, to see what we're up to. One thing you don't know, unless you're a close friend, or connected on Facebook to me personally, is that we're not cooking with gas for the moment. We woke up a couple of mornings ago to find that the local gas company, Metrogas, has decided that our block is due for an infrastructure upgrade. No advance notice, nothing. They just showed up around 8 in the morning and cut off the gas and started digging up pipes to replace them. Their estimate of timing – 6-8 weeks, could be longer. Why so long?
Because part of the upgrade process is that they want access to every building on the block to replace the pipes leading from the gas mains into the buildings, and being the paranoid lot that many Argentines are (with some justification from the past), apparently every time they do this, at least one or two buildings' associations refuse to allow them access – and until they complete every building, everyone's out of luck. So there's a scramble here to make sure no one on the block is a holdout – we have friends in another neighborhood who were without gas for almost six months because one building's owner on the block simply refused access until forced to by a court. In the meantime, we're adapting….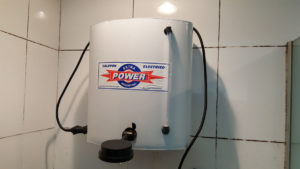 No hot water means no heat (thankfully we're approaching spring, but we bought a couple of space heaters to cover us until then), no hot water in the sinks, and none in the shower. So we bought an electric shower – it literally just screws into the pipe where the shower head was with a plastic bolt, you fill the tank (20 liters) from that pipe using your cold water tap, plug it in and wait about 20 minutes for it to heat up, then unplug it, and open the shower head and shower.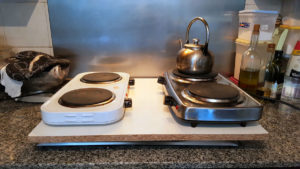 No gas burners – thankfully our oven is electric – and with the generosity of a couple of friends who've been through similar situations, we have two two-burner electric hot plates. I have the feeling these just get passed around from apartment to apartment in different neighborhoods as this happens. I wonder if the original owners ever get them back? And my, hot plates have come a long way from the little coil type one that I had in my dorm room forty years ago, that even when it got glowing red hot had trouble boiling water. So this whole dinner was cooked on the hot plates and in the oven.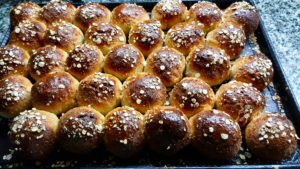 New bread roll recipe that I've been playing with. Part whole wheat, part toasted wheat germ, part potato, and a touch of olive oil and honey. Yum, yum, yum!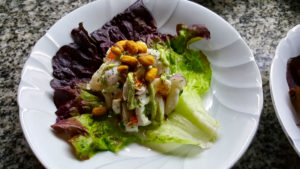 Lenguado (sole) ceviche, fairly classic other than a dusting of poppyseeds and a drizzle of guacamole puree.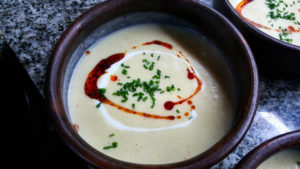 Cream of lima bean soup with a kick from smoky merquén chili.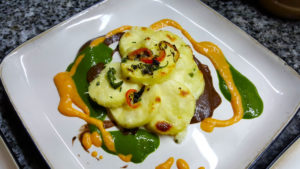 Semolina gnocchi bathed in jalapeño and herb butter and coated with Romano cheese, then broiled. Served with a trio of sauces – basil puree, black olive puree, and sauce vierge (tomato, shallot, thyme).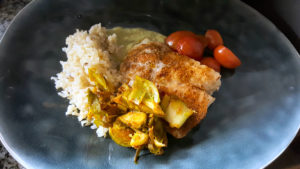 Our spice rubbed and broiled grouper, with spicy artichoke puree. We've done this one before, but changed it around a bit as to the accompaniments – in this version, cherry tomatoes simmered in dashi, caramelized brussels sprouts, and yamani brown rice cooked in fish stock.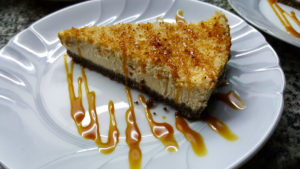 And, a completely new dish in the repertoire, inspired by "tobacco cookies" from chef Edward Lee's cookbook Smoke and Pickles: Recipes and Stories from a New Southern Kitchen (highly recommended if you're interested in creative southern US cuisine), I'm calling this our "Bluegrass Cheesecake". Chocolate tobacco crust; cheesecake filling made with our own homemade cream cheese and flavored with cola and tobacco; topped with toasted grated coconut; and a bourbon molasses caramel syrup. I know, the first reaction about the tobacco is a sort of "WTF?", but think of it like a dried herb – in small quantities it's just an elusive, spicy note.