As you may have noticed, I've gotten a bit behind. Madrid has been a bit of a challenge – nothing to do with the city itself. Henry has a sister who moved here about 15 years ago, and she has three kids – he hasn't seen her since she moved, and two of the kids (who had remained behind for a few years in Peru before going over to join her) in about 10 (the third we saw last year in Peru when she was back for a visit). So for him, it's meant pretty much not getting to explore any of Madrid, because they (and he) want to visit and catch up, and, despite having lived here for over a decade, they seem to have no interest in exploring the city or sightseeing, and have no interest in food other than what they're familiar with, inexpensive Peruvian food.
I've had to basically skirt the edge of offending them by simply declining to spend all day, every day, sitting around in their homes and/or only eating at their neighborhood Peruvian restaurants (two of which his nephew-in-law owns – you'd think a chef would be at least a little interested in exploring another culture's cuisine, but not really). I've not been entirely successful in getting out to just sample local fare, nor in avoiding offending them, but so be it. I didn't fly 10,000 km to eat casual Peruvian fare in Spain and see nothing of the city. Thankfully, Henry's been pretty good about it, and we've just spent most of the time here apart.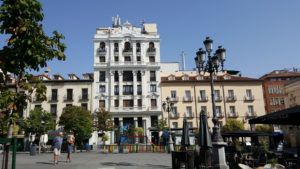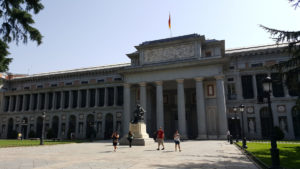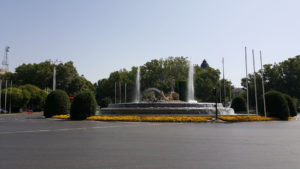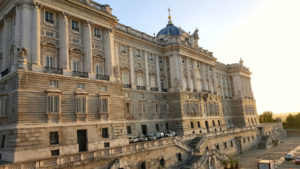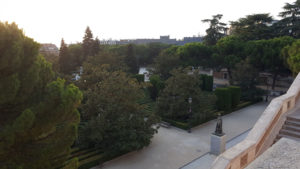 I'm just picking out random shots that I like – again, once back home and rested up I'll put together a little video of the trip with more of them. Here, mostly wandering the area of Barrio de las Letras, Museo de Prado, and the Palacio Reál.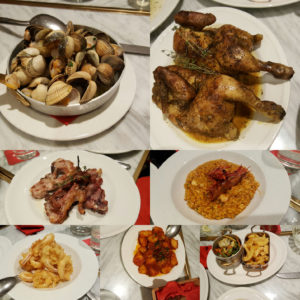 Managed to get some of his family to go out one night to Taberna Puertalsol, Calle Preciados 1, the newest restaurant from Alberto Chicote, the head judge on the Spanish version of Top Chef. Good, traditional local food, presented nicely. We found most of it a little saltier than any of us liked, but not over the top. Toss up as to a favorite between the grilled clams and the risotto with the giant red cardinal prawns, carabiñeros.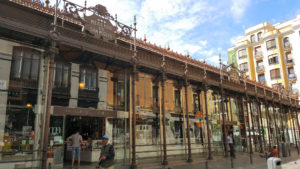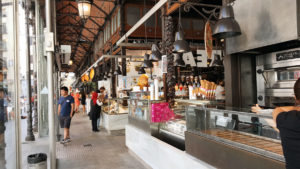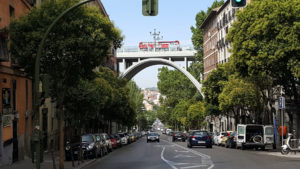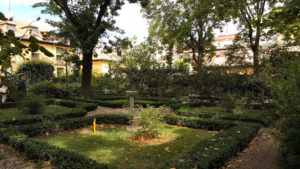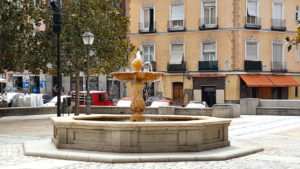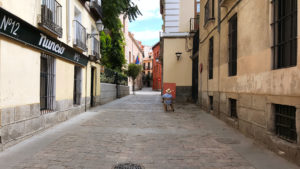 Headed south, checking out the gourmet market, Mercado de San Miguel, although more options than Mercado de San Antón where I've posted about eating twice, the food here is basically double the price, and the market is clearly oriented around tourists rather than local foodies. Then wandering the areas south of the market, just exploring little nooks and crannies.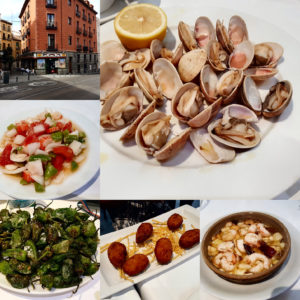 Lunch with the two students of Henry's who had come with him to dance in the folk festivals, at Bar Gallego, Calle Cuchilleros 2, with really excellent steamed clams – we ended up ordering another round of them!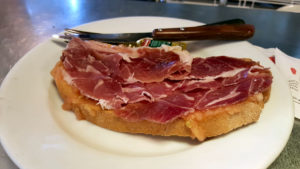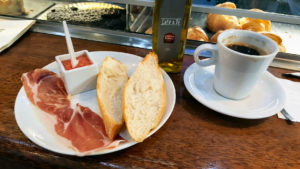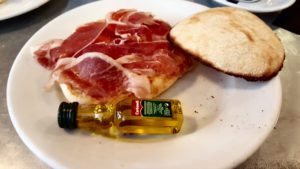 Let's finish up this part of catching up with my new breakfast passion, the pan con tomato y ibérico, which is some form of toasted bread, slathered with grated tomatoes, olive oil and salt added to your own tastes, and then jamón ibérico, the local cured ham, atop. You can also get it without the ham, which is nearly as good. It's the kind of thing that if we had it in Buenos Aires, I'd make a quest out of finding the best one. So far, the version on the local round soft bread, mollete, from a little bar down the block from the hotel, Cañas y Tapas, Plaza Celenque 1, is my favorite. I love the little individual bottle of olive oil – nice touch!
More to come….