One full day in Bilbao was all I had, and it was a Sunday, so not a lot open. I did get to the Guggenheim and wandered through for about an hour and a half. No pictures allowed inside, so the exterior shots from the previous post will have to hold. Wandered the center of town, it's pretty. A lot of Bilbao is an industrial, port city, so not a whole lot else of interest to go see.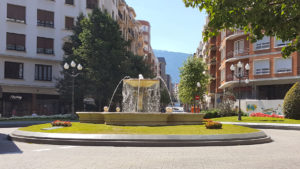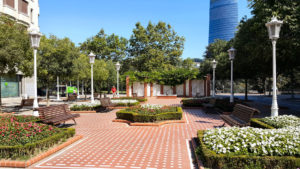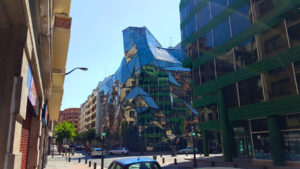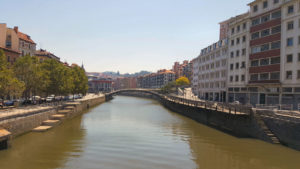 One thing it turns out, on Sundays, many of the restaurants don't open until 1:30 in the afternoon, and then only stay open until about 4:00. The tapas bars and such in the old town are open in the eves, mostly for tourists, but the rest of the city seems to close up. There were two very traditional spots I was thinking about, and had hoped to hit one for lunch and one for dinner, but neither was open for dinner, and when I arrived at the first, Restaurante Guria, at only about 12:30, they were so rude about not being open until 1:30 that I decided to pass anyway, and walked my way back to old town and Mandoya, Txakur kalea 3.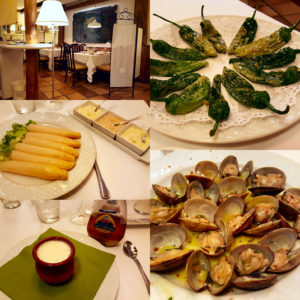 A little more food than necessary, but I had no idea the appetizers would be so big – a platter of perfectly grilled, salted padrón peppers, which I ate all of, a whopping half dozen of the biggest white asparagus I've ever seen, each the size of an average carrot – I managed about half of them before turning my attention to the delicious, but disappointingly small "grilled giant clams" – nothing giant about them, not even particularly big. But damned tasty. Waitress insisted I try a local dessert, mamia, or cuajada vasca, which is basically a clotted cream, or "set" milk, often of sheep's milk, topped with local honey.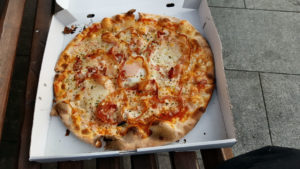 Dinner, I just didn't feel like tapas bars again, and they seemed to be pretty much all that were open. So I went for the highly recommended pizza at Pizza Via, Santa Maria 1 – a place that locals seem to swear is the best pizza in the Basque country, and even tourists touted as one of the best pizzas in Europe outside of Italy. Let's just say, not. I sat along the river (the pizzeria is take-out only), ate a slice and gave the rest to a homeless guy on another bench.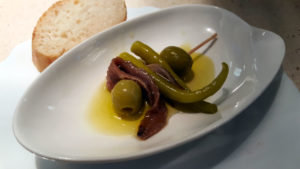 On my way back to the hotel, I spotted a sign on the door at Negresco, Nueva Plaza 10, that asserted that they'd won the award two years running for the best gilda in Bilbao. That's the little skewer of olives, mild chilies, and anchovies that I've sampled at several places on this trip. I'll just say that if that's the best in Bilbao, someone needs to go to San Sebastián, or even here in Madrid, to figure out how they ought to be.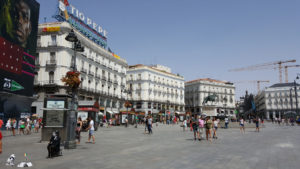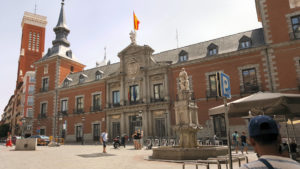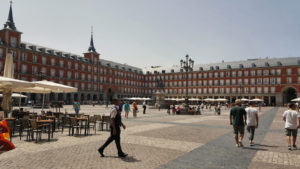 And, up and out early yesterday morning and onto the bus for Madrid. A little over four hours and in our hotel (Henry arrives today from his festival tour) in the Puerta del Sol neighborhood. A little wandering… but hey, it's lunchtime, right?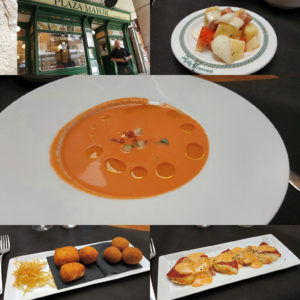 I have numerous places on my list to check out in Madrid, unfortunately, it turns out that many if not most of them are closed for the month of August for vacation, and some were just closed yesterday because it was a holiday. I settled in at a reasonably well regarded tapas bar (here in Madrid, they don't seem to do the displays on the bars of tapas, it's mostly ordered off of a menu, at least from what I've seen so far). Salón de Tapas Plaza Mayor, Calle Gerona 4, is a cute little spot just off the Plaza Mayor, and a lovely outdoor table let me people watch while I had a decent gazpacho, some croquettes of bacalao and veal, and some piquillo peppers filled with bacalao. Nothing to get excited about, but a decent lunch.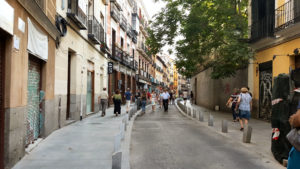 Met up with friends Jorge and Lucho from Buenos Aires who, on a whim, packed up and headed to Madrid for a few days (then on to Bonn), to visit family. Unfortunately, they didn't realize we weren't in Madrid for most of their time here, and Henry not at all, so we just got a few hours in the evening before they had to head out. We headed to Calle Cava Baja, the famed street of tapas bars, only to discover that probably 2/3 of them are closed for the month, and the few that were open seemed pretty mediocre.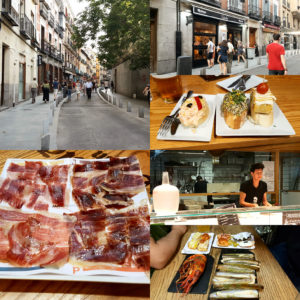 We tried one, Taberna Txakalina, but after nibbling at three pintxos that were big yawns, we decided to head back to where I'd had such good tapas at the Mercado San Antón. Enroute we happened across Enrique Tomas, Cruz 25, a specialist in the various types of jamón ibérico, the local cured hams, and we split a sampler plate of four different varieties, as the saying goes, each one better than the others. And then back to the Mercado for a bit of seafood and eye candy. They headed off for their continuing ventures, and I headed back to the hotel to start binge watching the second season of Madam Secretary…. and catch up on some reading.