There were three options when I was considering my last day in San Sebastián. First, was to walk, or take the bus the 4km, around the bay to the other side, and go to the top of Monte Igueldo,where I could get lovely scenic views of all the city laid out in front of me. But, you know, it's snapping photos of the scenic view of the city. The second, was to take one of the little glass bottom ferry boats out to the isle in the center of the bay, Santa Clara, and hike around on it, and then come back – the tempting part being the glass bottom boat and seeing what's there, the hiking about on the isle, meh. The third, was to hop the EuskoTren, the regional "subway" (though it's about half underground and half above, locals refer to it as El Topo, The Mole) that connects a good chunk of the northeast's towns with each other. The line heading east actually crosses the border into France, so, why not?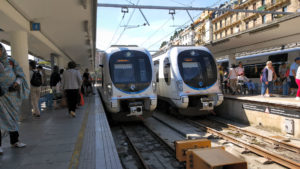 It's a whole 37 minute ride – it takes that long many a day to get from the World Trade Center to Midtown, or home in Recoleta to San Telmo.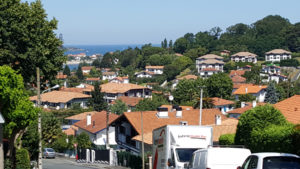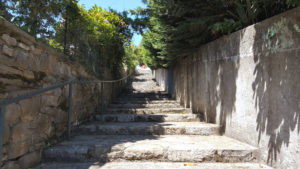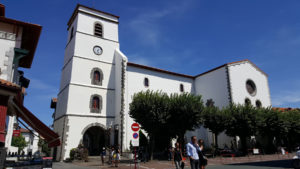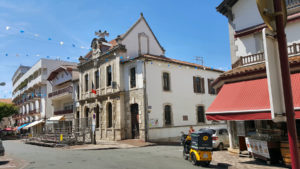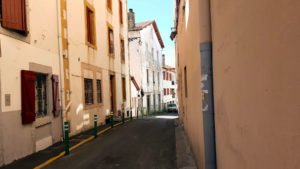 Hendaye, the border town, is a pretty little place, and I spent a couple of hours wandering. Much of it is "same same", whitewashed walls and red tile roofs, with little variation. And, in retrospect, not surprising, that despite being so close to here, it is across the border in France (which, given the EU, has no border controls, I didn't need to carry my passport, in fact, the old border crossing offices at each end of the bridges and at the train stations on either side are boarded up), and the languages spoken are French and Basque. Not Spanish nor English.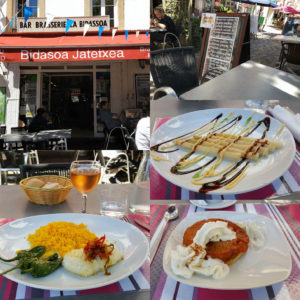 Given the gastronomy nature of this trip (which trip isn't that the nature of with me?), I was looking for a little brasserie or bistro, to have some local fare. Right in the center of the town plaza I found Bidasoa, 24 Place de la Republique, a classic little one of the former. Charming but bustling waitress who's probably been there for decades. I settled in at an outdoor table for a starter of overcooked white asparagus prettied up with three sauces – mayonnaise, reduced balsamic vinegar, and vibrant green syrup made from Get 27, a creme de menthe from the Languedoc. Then a decent, though still salty griddled salt cod with fried peppers and saffron rice; and finally, a classic, if under-caramelized, tarte tatin. A glass of plonk rosé, and with tax and tip, all in for a 25 euro lunch.
A simple return on the train (2.40 euros, by the way, roughly the same as a New York subway ride, but 20km) and headed back for a bit more wandering in San Sebastián.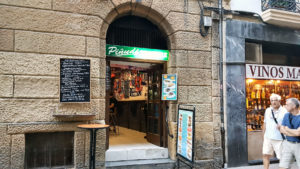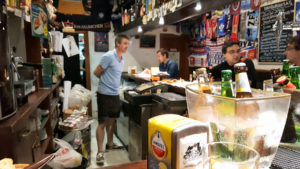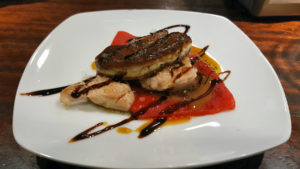 The other night, already full from a trio of tapas bars, I'd passed this little hole-in-the-wall, Piñudi, Narrika 27, and spotted a menu item on the chalkboard that caught my attention. I was too full to think about it, but thought I'd wander back by and see if it was still there, and sure enough, there it was, Taco Ibérico con Foie y Piquillos. Now, who doesn't like a taco? And with Ibérico pork, and foie gras, and fire roasted piquillo chilies? Except, you see, "taco" also means "heel", as in the heel of a shoe, or, as it apparently is used here, quite a bit, a sort of medallion cut of meat that's shaped a little like the heel of a shoe. So no tacos, at least not the sort I was envisioning (and still am…). At the same time, for this little tiny soccer-memorabilia filled bar, it was a perfectly cooked piece of succulent pork, topped with a lightly charred slab of foie gras, and served over the aforementioned chili. What's not to swoon over?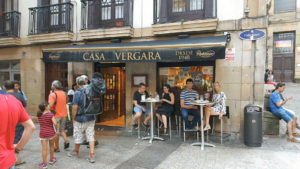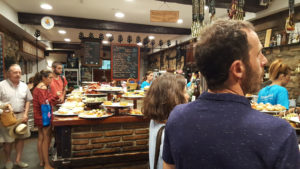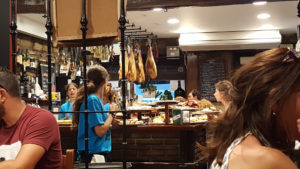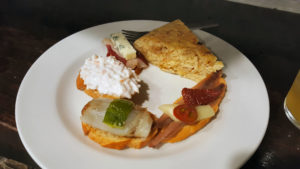 I truly do appreciate the couple of dozen of you who sent me your "must eat at" tapas bars in San Sebastián. Amazingly, very few of you overlapped in recommendations. I also had, of course, various online and print listings. And I had, in essence, two days here (because of dinner at Mugaritz and lunch in France) to check out tapas bars. I wasn't going to get to all of them you recommended. To begin with, not all of them exist anymore – in fact roughly a third of the ones recommended to me don't. Some of you haven't been here in years, you know? I managed ten spots between two dinners and two lunches. Sorry if I didn't get to yours. It's not personal.
I decided to finish off at Casa Vergara, Mayor 21. Actually, I didn't decide to finish off there, I planned on at least one more, but by the time I finished my foursome of pintxos plus a slab of tortilla de papas (potato tart), my stomach began signalling defeat. I mean, eleven posts, some covering multiple days – it's been two solid weeks of eating. Throwing in the towel was the right move. Had it been my last night in Spain I might have soldiered through another, but I've got another nine days to go…. My vote goes for front left and the thin sliced raw cod wrapped around perfectly caramelized onions and topped with a ribbon of mild chili.
Okay, signing off to pack, head to the bus station, and on to the next port of call!