Just a short moment in Madrid – I flew in from NYC, arriving early afternoon. By the time I got settled in, I was hungry, you know? (I just can't, any more than necessary, eat airline food, I'd rather just be hungry on arrival most of the time.) So it was out for a little tapas, then back to the hotel for a nap, then out wandering about the Chueca and Salamanca neighborhoods, and a bit more tapas!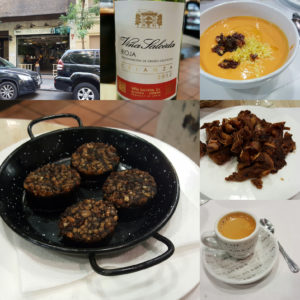 Tapilla Sixtina, Calle de Ayala, 84 – old school, classic. They offer a "menu" with a choice of app and main, but I wanted to try a couple of things from the menu. More of what here are called raciones, small plates – a salmorejo, which is sort of like gazpacho, but just tomato, garlic, and bread to thicken it, no other vegetables, and generally topped with diced cured ham and grated egg; morcilla de burgos, the local style of black sausage, packed with rice, which gives it a really nice texture and makes it easier to grill them up; and crispy pigs' ears, way too big of a portion, but kind of like eating a pile of bacon (I did not finish that plate, it was just too much). Glass of young Rioja. Set me up perfectly for my nap, even with the espresso.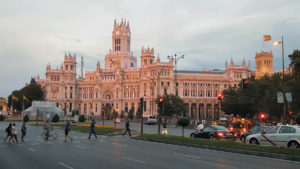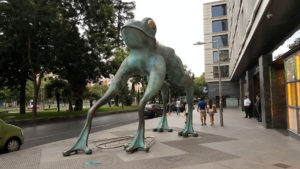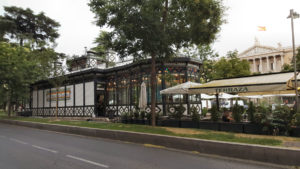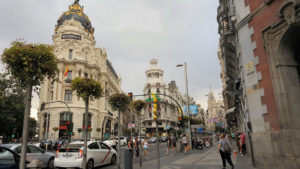 Just a bit of wandering and a few of the photos I particularly liked.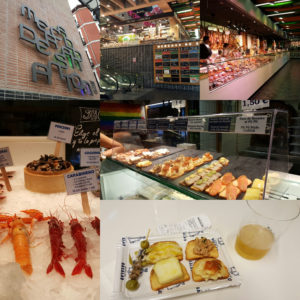 Mercado San Antón, Calle de Augusto Figueroa, 24B – three level market – the first level is mostly just shopping for various gourmet ingredients, though a couple of the stores have small counters you can sample things at; second level, more or less a food court, but all high end tapas and seafood, and a wine bar – kind of foodie heaven; and the third level, a rooftop restaurant with wraparound terrace, they have two options, you can order from their own menu, or, you can bring up ingredients from the first level and ask for them to be cooked for you, in the style you want (for a mere 5 euro charge for the cooking)! That's impressive. Sat at the seafood counter and ordered a quarter of different bacalao preparations, all just perfect, along with what's called a gilda, a skewer of cured anchovies, olives, and mild chilies. Glass of cider tapped right from the barrel. Yum all around.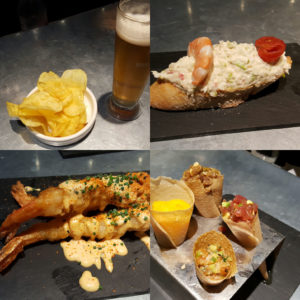 Unfortunately for my timing, because it's August, a lot of the places I'd heard about in Madrid are closed for part or all of the month – this is the standard vacation time for Spain. So I missed out on several tapas bars that came highly recommended. Ah well, I'll just have to come back (I'll also be back next week, after a few days in San Sebastián and Bilbao). Settled in at a bit more touristy spot, Lobby Market, Calle Gran Vía, 10 – and dug into just a few of their specialties, a quartet of delicate, crispy, crepe cones filled with tuna, salmon, and beef tartares, and the last with foie gras and mango; a fantastic pintxo of crab salad topped with a prawn; and a trio of prawns done up tempura style, doused in mayo that's spiked with the spice paste that goes into making kimchi. I notice there's a lot of Asian restaurants in this part of Madrid – probably more than any other ethnic food around, maybe even more than classic local fare – I assume that's specific to the 'hood.
To bed early, both to catch up on sleep and because I had to be up around 6:30 to make it to the train station for the direct train to San Sebastián (all the later in the day trains go via other locations, with transfers, and take anywhere from 7-9 hours, versus the 5 hour direct trains at 7:39 and 8 in the morning).