There are some limits, self-imposed I admit, to these gastro-tours. My stomach, and jeans, need a break at moments. So Saturday involved a single meal at Cosme, and then later just some bar snacks with friends at a couple of spots, but no real eating (sharing a bowl of blistered shishito peppers and mini-bacalao fritters at The Lambs Club; some prosciutto, cheese, and figs at the bar at Felidia where I used to work). Sunday, a nice brunch with one of my sisters, brother-in-law, and nephew at Cookshop. And then I was trying to arrange a dinner at some place fun for a last night out with some old friends from Nueva Jersey, and when I suggested Italian, she said, "why don't you just come here, I'll make gravy" (for those who aren't from around these parts, that's marinara sauce for Jersey Italians). So I did, and we had a great time with, you know, an Italian dinner she "threw together" with fried artichokes, caprese salad, cold cuts, pickled peppers, pasta with gravy, meatballs, sausages, braised meat (for the gravy, of course), bracciole, and salad, cocktails, and wine. And we even pulled out old photographs….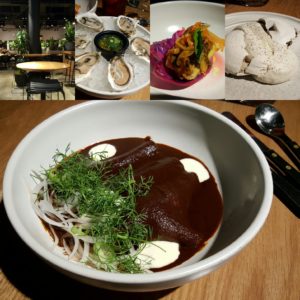 Cosme, 35 E. 21st St., Manhattan – So this is the NYC offering from chef Enrique Olivera, the chef behind Pujol, where I had a fantastic meal in Mexico City a few months back. I already mentioned that atmosphere-wise, it's clearly a very different sort of place. The young hostess at the stand that night had suggested a return at lunch or brunch, when it's far more tranquil – and it is, with only maybe a couple of dozen people spread out through the room or at the bar. I have to admit, I'm a little surprised at the overwhelmingly amazed and breathless writing about this place. It's not that it's not good, they've got quite delicious food, but from what's been written about it you'd think it was the same sort of intricate, elaborate, delicate preparations that his team is turning out for tasting menus at Pujol. Instead, it's just prettied-up, really tasty, versions of the same sort of dishes you could see at any Mexican spot in town – tamales, enchiladas, burritos, tacos… not even with particularly offbeat ingredients. I'd heard rumors of things like "cricket taco", but no such thing seems to be on the menu. Still, I had a lovely platter of oysters (I had to get in one last one) with a spicy sangrito sauce, a tamale made from purple potatoes spiked with kimchi, which was a nice twist, and some shredded duck enchiladas with an excellent mole sauce. The dessert was, at least, something a bit different, a meringue flecked with charred cornhusks, sandwiching a sweet corn custard. And while I realize that NYC and Mexico City are in different economic zones, that these four dishes along with an iced tea cost basically the same as the entire degustación menu (food only, not the wine/spirits pairing) at Pujol, makes it a pretty expensive proposition.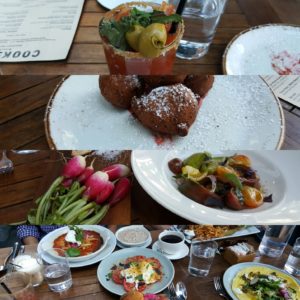 Cookshop, 156 10th Ave. in Chelsea is a place I pretty much always seem to make it to on visits here. I've written small bits and pieces about it, and it's probably deserving of some major write-up, I mean, every visit, you know? We wanted something sort of comfort food, new American for brunch, and they fit the bill. A little finagling with a friend who works there to get a last minute table, also garnered us some extras. Lovely beignets with a rhubarb sauce, some fresh radishes with herb butter and sea salt, a bold heirloom tomato salad, and an array of filling dishes from a squash blossom fritatta, to their excellent burger, huevos rancheros, a pulled pork bbq sandwich, poached eggs with tomatoes, and absolutely killer cheese grits. All delicious, all too much to eat. We braved our way through most of it. The BLT Mary rocks as a brunch cocktail, you even get a slice of thick cut bacon soaking up the mix. If you've not been, this is really one of the places I recommend to always get to when in NYC.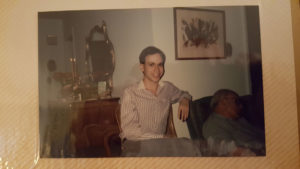 And just because… this was me, roughly 30 years ago, at my friends' house for Thanksgiving! Young and pretty, no?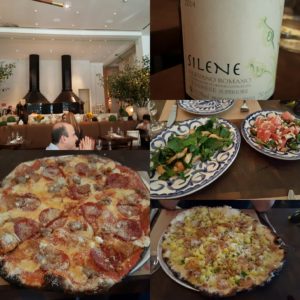 Marta, 29 E. 29th St. – I couldn't leave New York without having pizza at least once. It may not have been classic New York style pizza, but then, that's not my favorite – instead, a dive into the paper thin crust Roman style pizzas at this new spot, and a last lunch with one of my closest friends here. It would be hard to pick a favorite between the appetizers and the pizzas, so let's just say it was all delicious!
And so ends the New York chapter for this saga. On to… well, you'll just have to wait and see.