I'll bet you didn't know that August 5th is National Oyster Day. We certainly didn't. It popped up in a friend's Facebook feed, I checked it out to be sure it was legit, and suddenly, all the best laid plans of mice and men were sent topsy-turvy. How could we not participate in a festival of such high import? Besides, we'd kinda, sorta had enough dumplings and dim sum to last us for at least 48-72 hours.
The internet is a wondrous place, and it takes little time for those who are reasonably savvy in its nooks and crannies to, oh hell, we did a couple of google searches and came up with the top five spots recommended repeatedly for oysters in one form or another (that were open during the daytime, rather than just the evening). The route was mapped in and we set out on our arduous trek.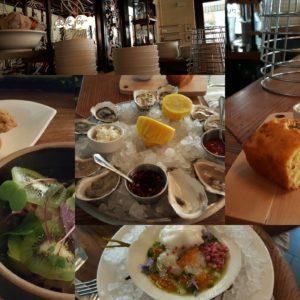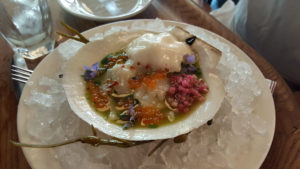 We began at The Dutch, 131 Sullivan Street, in SoHo, sitting at the oyster bar itself. Pretty room, pleasant service, and the guy behind the bar was a whiz at opening mollusks. They had five kinds of oysters, we got one apiece on the half-shell, I do believe the Glidden Point oysters took the prize for both of us. But even better, the Oyster Sandwich, or, as some have taken to calling it, the Oyster Slider, a fried oyster sandwich for a mere $6, won the moment in the oyster world. Even that, however, was topped by a fresh, raw diver scallop with lemonade foam and trout roe that we saw him making for someone else and just had to try. A bit pricey at $14… no, make that a lot pricey at $14, for a single scallop, but damn….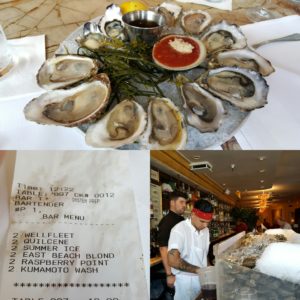 Next stop, more or less around the block, and old favorite for shellfish, Aquagrill, at 210 Spring Street. Here, there were 27 different varieties of oyster available for the day (had we not planned on going further, we could have opted for the "1 of each" $84 platter), where we left it in the hands of the guys behind the bar for a selection of half a dozen. Shucked with aplomb, accompanied by shots of caraway intense aquavit from Brennivin. I think the Raspberry Point oysters won that round, or was it the Summer Ice?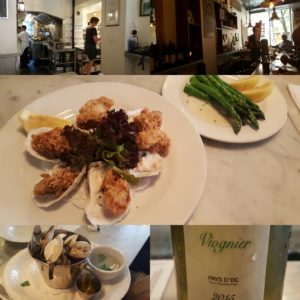 Up to the West Village, and a stop in at Pearl Oyster Bar, 18 Cornelia Street. Now, while they do have a half dozen oysters available on the half-shell, that's not what Pearl is known for, nor do they have a selection of different oysters, just, I think, Blue Points. Truthfully, everyone goes there for either their lobster roll or the fried oyster roll. But those things are huge, and accompanied by a mound of shoestring potatoes. I suppose we could have ordered one and split it, but instead, I went for a simple half dozen fried oysters atop their house tartare sauce (or is it a remoulade, hmmm), just to change things up, with a side of asparagus, and David pimped for a "small bucket" of steamer clams. Departure from the theme on his part, but close enough, and we did swap some. All good, though I think overall, the asparagus won the round. Should have gone for one of the sandwiches.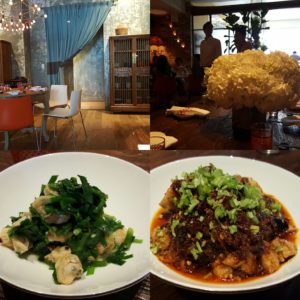 We do, at times, go on tangents and get distracted, it's the nature of the game. I've been messaging back and forth with friend and chef Pichet Ong for ideas of good new Asian spots to check out, and he'd highly recommended Hao Noodle and Tea by Madam Zhu's Kitchen, at 401 6th Avenue in the West Village. We'd not intended to go there on this quest, but suddenly we were passing it enroute to our next stop, looked at the menu, and decided, what the heck, let's at least try it. Pretty room, really interesting modernized Chinese dishes. I made a vague attempt at staying in theme with a bowl of chilled fresh clams and garlic chives, as no oysters graced the menu, and David went with a spicy dish of szechuan peppercorn and chili imbued le shan chicken. Both excellent!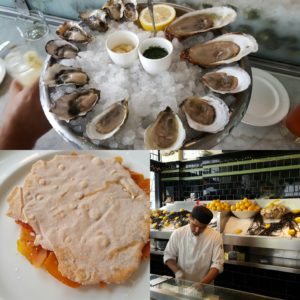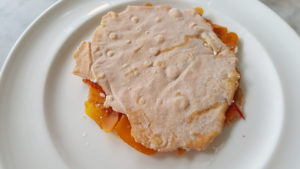 Back on track, we continued up 6th Avenue to the high 20s, and then cut across to The John Dory Oyster Bar, 1196 Broadway. Here, another half dozen raw oyster apiece awaited us, I do believe the East Beach oysters took the silver – because the gold went to the non-oyster dish (hmm, that seemed to be a theme of the day) of the amazing, I'd like to eat it again and again little dish of Sardinian carta di musica flatbread sandwiching a layer of shaved bottarga (cured mullet roe) and chili threads. Besides, the oyster bar counterman was being a bit of a sourpuss… no, that's not fair, he, and everyone else working in the place all seemed to be rather dour, and while service was "correct" for a casual environment, it seemed like they'd all rather have been anywhere else.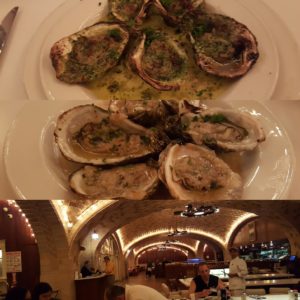 A tour of this magnitude wouldn't be complete without a visit to the grand-daddy of them all, the Grand Central Oyster Bar in the lower depths of Grand Central Station. Here, we were joined by longtime friend Andrew, who, however, is allergic to shellfish and just chatted with us while we made a last brave foray, deciding on two plates, one of broiled oysters with anchovy butter, and the other of roasted oysters with pesto. Neither one was anything to get excited over, but neither of us was up for one of the GCOB's famed oyster pan roasts, a small cast iron skillet filled with a slab of toast and a cream and butter laden oyster stew ladled over it.
And thus ended the National Oyster Day tour…. Oh, and don't feel bad about not having known about it. Not one of the five oyster bars we ate knew about it either.
Now one might think, and so did our day of eating, but remember, this wasn't our original plan, and we already had a locked and loaded reservation for the evening. Long, long time readers may remember that I had a favorite neighborhood sushi spot in NYC, Shima and here. The sushi chef, Toshio Oguma, had headed off to the Caribbean, making sushi at a resort there, and just last year I found out he was back in New York and had opened up a new spot.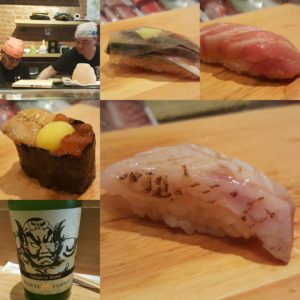 And, to make the visit even better, his old assistant from Shima, who had taken care of me on subsequent visits after Toshio's departure, has now joined him at the counter. Tanoshi Sushi NYC, 1372 York Avenue, way on the Upper East Side in the 70s, is a cute little place. There are two sides to it, the sushi bar itself (they're BYO, at least for the moment, which we hadn't realized, luckily there's a small liquor store a half block south, which has a small selection of sake, and wines) is, apparently, the place to sit, and is omakase only. There's a small dining room next door, where you can order a la carte, I think, though no one was seated there that evening. Write-ups note that the food is still prepared at the sushi bar, and then carried over by waiters by taking outside to the sidewalk and then into the other space.
There are several omakase options and you pick the one you want when you make the reservation. There are only 12 seats at the bar, and three seating times – 6:00, 7:30, and 9:00, and the waiters come out and retrieve you by name at the appointed time, and you are seated where they tell you – each of three sushi chefs handles just four people for the roughly hour and a quarter raw fish extravaganza. It's relatively classic sushi, no sashimi, no weird modern fusions. Some of the fish is cured "edo style", a type of curing from the early days of sushi in Tokyo. Really, just a fantastic experience, and I highly recommend it – favorite pieces, the kelp-wrapped cured mackerel, the thin-sliced fan of o-toro fatty tuna, the "XXX" of sea urchin, salmon roe, and quail egg, and my favorite of the night, a fish I wasn't familiar with, the black throat, or nodoguro, a fairly rare type of sea perch.
And thus ended a day that had one hell of a lot of raw seafood in it.