On to the first full day in New York City…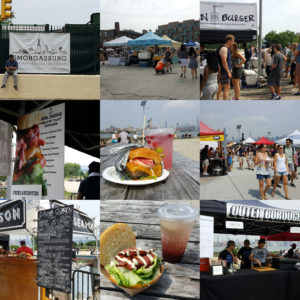 It was a double trip to Williamsburg, starting out with a mid-day snacking fest at Smorgasburg, a weekend street food celebration – Saturdays in East River State Park and Sundays in Prospect Park. Lots of fun looking stuff, and I sampled through a few different stands with a friend.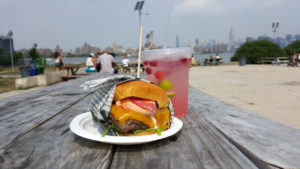 Bon Chovie – although their nom de plume might suggest that the bowls of deep fried anchovies are the draw, and perhaps they are, we didn't try them, what we did try was the Surf n' Turf Burger, something that if it's not "a thing" should be "a thing", and right now. "Martin's Potato Roll, Lobster, Old Bay, Cheddar Cheese, Fresh Beef Patty, Lettuce, Tomato, Secret Sauce". With a fresh squeezed limeade packed with fresh cranberries, and a skyline view of Manhattan, it was the winner for the day. Did I mention that lobster topped burgers should be "a thing"?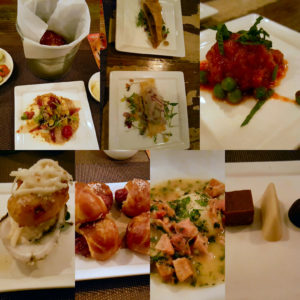 Dinner was back to Williamsburg to pop in on an old friend, Patti Jackson, at her now just over two year old Delaware and Hudson, 135 North 5th Street. They've just recently added on a space that used to be a neighboring restaurant, and turned it into a "tavern", a spot for a mix of bar snacks, as well as dishes from the main kitchen. It quickly became a nibble fest sitting with Patti at the bar….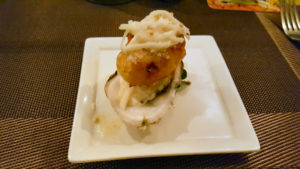 But the winner for me was the deep fried spicy oyster with kohlrabi slaw. I could just sit at the bar and eat a platter of those with one of the ample selection of on-tap regional beers from, not surprisingly, the Delaware and Hudson river basin areas.
There, I kept it short for you!