Second day in Santiago, Chile, a lot of wandering around, and eating.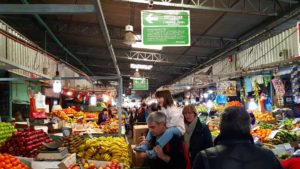 Started off with revisits to the Mercado Central, and Mercado La Vega. More detailed writeups on those links from my visit seven years ago. What I hadn't realized then is that I'd only visited Vega Chica, which is where all the spots to eat, and, particularly, meats and things like spices are shown off. I'd not even realized that there's a several square block complex behind it called Mercado Vega Central, which is just massive – fruits and vegetables, spices, fish, meats, household goods, it just goes on and on, you could easily get lost in the space as it extends out in so many directions.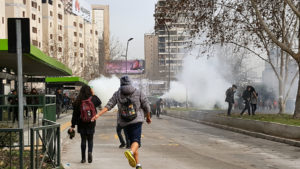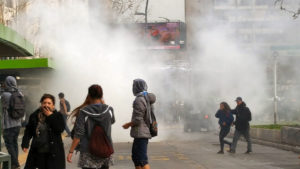 I decided to walk along the Costanera Norte, the north boardwalk along what is ostensibly a river cutting through the city. Stumbled across a student protest going on at Plaza Italia, mostly it was just a gathering of students and young adults, chanting, singing, hanging out, and lots of onlookers. The entire area was under the watch of the military, decked out in riot gear, and with armored vehicles, but other than one small armored car cruising back and forth, they were staying well back. That one car, however, attracted the ire of some of the protesters, who kept darting out and throwing sticks and stones at it – the only effect being that now and again the officers in the car would let loose with blasts of water spray. Although people were covering their faces, it didn't seem to involve any tear gas or anything, I was close enough at one of the points when it happened that I'd have gotten a bit of that – instead, it just seemed to be water. The protest has something to do with students being kicked out of school, but I don't know the details.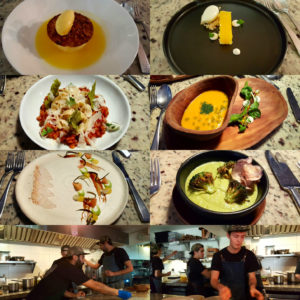 99 Restaurante, Andrés de Fuenzalida 99, Providencia, Santiago – I have to admit, this was not at all what I expected. I don't know if the menu is significantly different at night, but I had the impression that this was a very "modernist" sort of spot. I mean, just looking at the photos they have out there, and the video on their website, I didn't expect a six course lunch menu consisting of two cream soups, some cured fish with bits of fruit, fettucine bolognesa, an egg custard dessert, and a flan. Nor, quite, the whole laid back, California circa 1980s feel. It was all good, and prettily presented, but all a bit neighborhood hangout.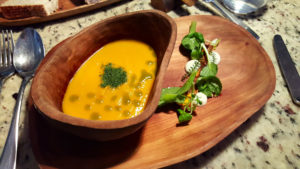 I do love soups, and have to admit, their cream of squash soup was quite good, I don't know that the little dusting of spirulina or dots of herb oil did much for it, but they were pretty, as were the greens on the side with a little piece of roasted pumpkin and some yogurt. All told, the menu is quite reasonable, at 18000 pesos, about $27, so figure $30 with tip (plus if you order any additional beverages besides the included filtered water). They have an option for selecting three of the six courses and having them in larger size, but it's less food and costs more, so not sure that it's a worthwhile option.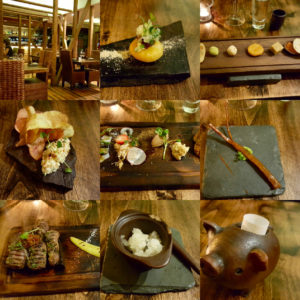 Peumayen Ancestral Food, Constitución 136, Bellavista, Santiago. Very tranquil room on a strip of noisy, boisterous restaurants in the heart of Bellavista. It stands out for both being different in ambiance, and for its devotion to using traditional ingredients of the indigenous folk of Chile. The foods are not necessarily, obviously from the photos, presented as they would be traditionally, but the ingredients are highlighted. Mostly what stand out are unusual herbs and plants, for the most part there were no unusual "proteins", other than that one of their most well known dishes is a grilled horse (lower left of the composite photo). Before you get all "ewww, you can't do that", people have been eating horse for eons. I've had it at restaurants in New York, I"ve had it at restaurants in Italy, it's not that unusual. It's lean, and tasty. Service at the place is friendly, a bit long-winded in explanations, and at turns completely inattentive and at others, too attentive – they really need to get a balance to their rhythms.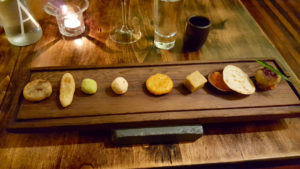 In some ways it may be telling that the most interesting thing to eat is what they call their bread selection. It's served automatically to all, and consists of eight small bites that cover the "breads" of various indigenous groups from north to south (right to left in the photo). I don't know that I could really call these breads – only two of them fall into the sort of "ground grain mixed with something liquid and baked" type of things, others are things like two different versions of a potato pancakes (the first one on the right being identical to the amuse bouche that they serve only a moment or two before the bread service… why?), a cube of deep-fried sweet potato, a couple of balls of different legumes made into pastes and rolled up. So, not really breads, but tasty, and interesting. The appetizers are only served in a similar fashion – a quintet of "bites", designed to be shared by two, so a little much for one, and, honestly, while interesting, not much more than that. Main course, good, but basically, a couple of pieces of grilled meat with a chimichurri type sauces, a grilled pepper, and some root vegetable mash with an egg. A couple of in-between courses – a deep fried cochayuyo (kelp) stalk, a hierbaluisa sorbet, were actually more interesting than the ordered food. An experience to be had if you just want to try something different. With a glass of wine, 33000 pesos, $50.
After dinner it was back to the hotel, grab my bags, and head to the airport for an overnight flight to Panama City and then on to New York, where I am now. Not surprisingly, no interesting food during the trip part, I generally just avoid eating airplane food, and limited myself to the salad and fruit cup parts. Met up with a friend for some bread and cheese and wine tasting, and then, wandered my old haunts in the East Village/Lower East Side. Realized that I was close to Sushi Ko, 91 Clinton Street, which has a bit of a reputation as an "experience" in the sushi world. Let's say, excellent sushi, expensive but worth it (omakase menu only, $165, but it goes on, and on, definitely enough food), though the ambiance is, shall we say, a bit regimented, everything having to proceed "just so". It takes a little effort to relax into the flow of it, but I'm glad I tried it once. No photos being one of the rules, I don't have any to share, though in the end, it was a simple parade of really well prepared nigiri so there wasn't a lot to look at. Most interesting piece, a trio of uni tongues, one each from Chile, Japan, and California, all lightly smoked over Japanese birchwood (several other pieces featured house smoked or cured fish of one sort or another), and served in the traditional "cup style" piece of nigiri. I've seen pictures of more creative presentations of things from Chef Daley, but at least the menu last night, was all nigiri and maki, in relatively normal presentations.
Okay, I got a little long winded in covering three spots to eat. Live with it.