Last post before vacation…. (coming to you next from… well, you'll have to wait and see).
More Peruvians checked off the list. Henry's on-board for this quest!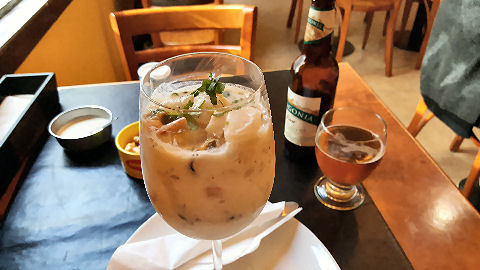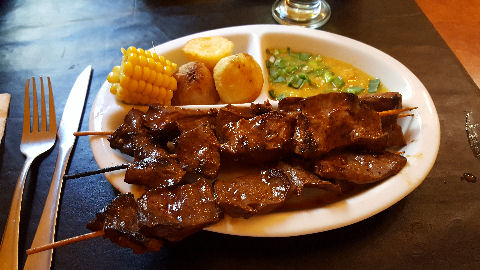 El Cocoroco Sabores del Perú, Olazábal 2571 Amenabar 2301, Belgrano – one of two Cocorocos, the other a half block away. This one is their traditional homestyle spot, the other, their "novoandino", asian-peruvian fusion spot. Bustling spot, noisy, tables jammed together. Service fairly inattentive, but friendly when it happened. I was solo on this one. Waiter avowed that the main courses are huge (they were, looking around the room), and best for sharing, so I just ordered a couple of appetizers – a leche de tigre, good flavors, though no real kick to it, solved with the addition of hot sauce. A little packed with onion on the bottom, and then a layer of fish and shellfish on top – would have been nicer if it had been better mixed, but still quite good. Anticuchos de corazón, initially I thought these were just completely bland. I'm used to the meat being well marinated before grilling, and having the flavor sort of charred in, like a barbecue. Here, instead, just lightly brushed with it, and the meat as tender as possible. Aside, one of the most fiery hot sauces I've encountered in a Peruvian restaurant here, and dipping the meat into that – nigh on perfection. A bit pricey for homestyle Peruvian – two appetizers, a beer, and a tip coming in at 350 pesos ($24), but the great quality makes up for it.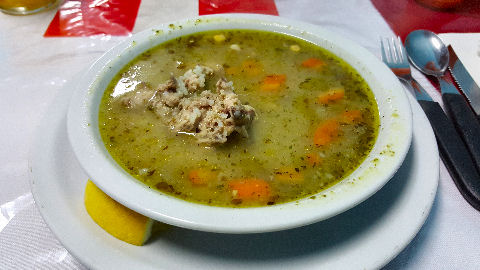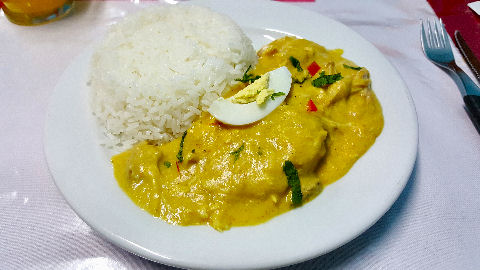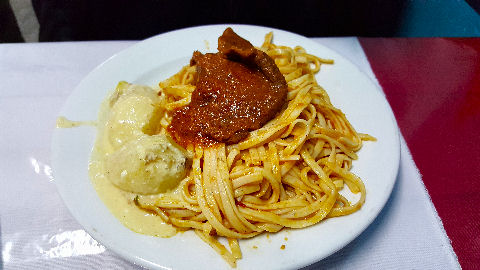 Los Norteños, Tucumán 2688, Once – We've walked by this place many a time and never even realized it was a restaurant. From the street, it looks like an Omnilife supplements shop, but turns out, that's just the window display. Inside, a true hole-in-the-wall, with just a few tables, crammed in a space not much more than 2 meters wide. At lunchtime, pretty much there's just "el menú" available – the day of our visit, chicken rice soup (decent, if a little greasy), and a choice between ají de gallina (bland, almost no chicken, mostly just potatoes, sauce, and rice), tallarines rojos con carne (even blander, over-cooked linguini, potatoes in a watery huancaina sauce, and a leathery piece of beef in a sauce with little flavor), or mondongo italiano – a tripe dish that we didn't try. The menu includes a beverage (some sort of orange drink) and a dessert (what seemed to be a gelled version of the same orange drink). Best thing about the place, excellent hot sauce. cheap at 70 pesos/person, rounded up with a tip, let's say it's a $5 lunch, but it's not much more than just filling.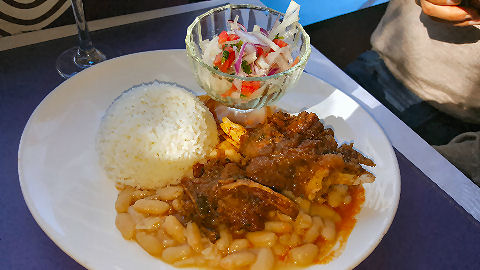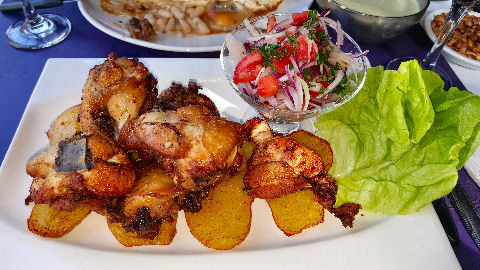 Petro Chifa & Chiken, Lavalle 3502/Billinghurst 785 (same building, two different addresses at the corner, and yes, that's how they spell "chicken" in their name), Almagro. This place took over the space that used to be El Principe. The place has a little more decor to it than it used to, most of it related to music stars, and apparently in the space that used to be a private dining hall for hire, they now have live shows several nights a week. The waiters are cute, really cute. The menu is a little more basic than it used to be – there isn't quite the range of dishes, but, overall, we both felt they were more nicely presented and had more flavor to them, at least the two that we tried. [And… this one closed too. Replaced by La Canoa.]
Henry got a quite good seco de cordero, his favorite slow braised lamb dish with white beans and rice. Great flavor, maybe a little chewy, it could have used some more time braising, he didn't leave a shred on his plate. I ordered up my test dish, chicharrón de pollo, which is usually more or less fried chicken, but in smaller pieces, boneless, and with more spice to it, usually it's marinated in a mix of spices first – versus pollo frito, which is more like what we think of as fried chicken. At Petro, although smaller pieces, they're not boneless, and it's been marinated in a delicious spice blend, but then fried without a coating – the first time either of us have encountered that for chicharrón. It's missing that nice crackly crunch of a crust on it, but at the same time, the spicing was fantastic, and hey, it was probably better for more waistline. Love the slightly crispy roasted potatoes under it too, in lieu of the usual boiled ones. Two main courses and a pitcher of chicha morada ran us a bit over 300 pesos with tip. All in all, we were happy!