Spin the wheel, bet on 00, let's see what we get…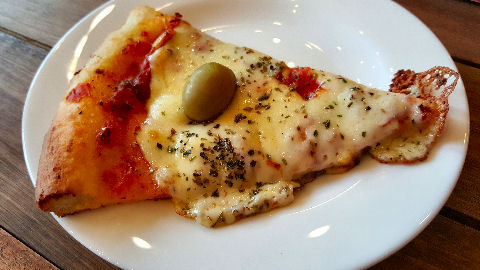 (74) Stazione della Pizza, in the Retiro Mitre train station. This place wasn't open when I passed by here early on in the 92 Bus Pizza Trek. It's not a little spot either, for a train station, I think it took over a space that used to be a sporting apparel shop, on two levels. And the pizzas, while not amazing, are decent. Good crust, nicely browned, a flavorful tomato sauce, and more than just a whisper of it. The cheese is a little oilier than I'd prefer, but at least had some flavor, and the whole thing seasoned well. Not a bad option when you're in the station, especially in comparison to the mediocre Mitre, which was the only option prior, unless you wandered into the next door Belgrano station where La Barra serves up a decent slice as well.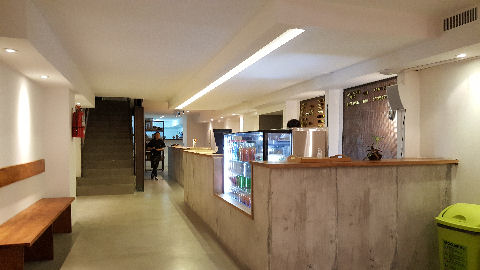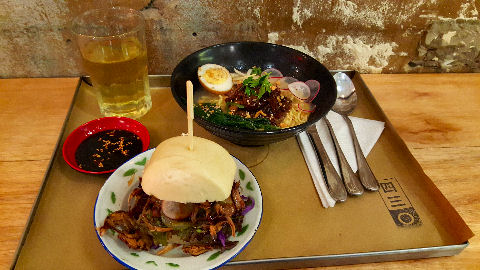 430, San Martín 430, Microcentro. Brand new spot in the heart of downtown, this paean to distressed wood and metal came onto the radar by jumping onto the bandwagon of the two hot Asian concept foods of the moment – ramen and bao. I dutifully made my way over and ordered the two. Now first off, it's immediately obvious that we're not talking about gua bao, the folded over taiwanese steamed buns made famous by Eddie Huang and David Chang out of NYC, and until recently here in town only available at Fukuro Noodle Bar (and now also at Cantina Sunae Asiatica, Bao Kitchen, and El Quinto). And, it should be noted, the menu lists them as Bao Sandwiches or Sandwich Baos, I don't recall which. And that's what it is, a sandwich. The bread has a similar internal texture to steamed buns, but not quite, and given the browning, they're clearly baked (perhaps steamed first, then browned?). The filling is relatively classic, a sort of sweet, sticky pork, though served up more like a pulled pork sandwich. It's packed with shredded veggies, and a nice, contrasting scattering of crispy fried red onion rings. For my tastes, maybe a touch too sweet, almost like barbecue, but delicious all the same. And sandwich or folded bun, it's not like I left anything on the plate. The one disappointment – the hot sauce, brought over on request, wouldn't give Taco Bell's mild sauce a run for heat. 65 pesos.
On to the ramen. Available in pork, chicken, or vegetarian. There are two things that make for good ramen, when it comes down to it – the broth, and the noodles. They've more or less nailed the broth. It's a lighter style, but still packed with flavor. Unfortunately, they haven't nailed the noodles. They're soft and gummy, way over-cooked to the point where they have virtually no texture and just sort of clump together in a gooey mass in the bowl. And they're not saved by the various toppings – more of the same barbecue sweet pulled pork, a decently cooked egg, and vegetables. And while the 130 peso cost includes a drink (sweet iced tea), it's still a teeny portion (maybe thankfully given the noodles), easily the smallest ramen I've had on this quest (edging out Sintesis, which, although small, is one of my favorite ramens for flavor in the city). But let's give them that they're brand new, and cooking the noodles less so that they stay al dente is an easy fix (assuming they do so). For now, I'm putting them in the middle of the pack, but plan to come back and check them out again in a month or so. (And, I note, other reviewers have mentioned al dente homemade noodles, so it may just be inconsistent, also easily fixed.)
[See my comment below for a follow-up.]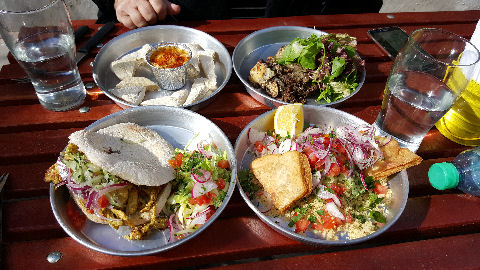 Benaim, Gorriti 4015, Palermo. So, wandering back home from an afternoon spent at BA's first Festival de Picante, one of the best food fests I've been to this year (more down below), walking with a couple of friends, and we stumbled on this wildly decorated patio done up with camels and pyramids and other vaguely middle eastern looking things. Turns out it's, how did someone describe it… a Tel Aviv Gastro Pub. Open in the evenings, plus weekend only lunches. At night apparently it's a raucous drinking party, and in a way, the food sort of fits – it's more or less Israeli snack food for sopping up alcohol. Unfortunately, it's not the food quality level of a decent gastropub, but more of a gastroenterology ward. (Did he just say that?) The kitchen, which is where you have to go to order your food, and then come back to pick it up when a doctor's office take-a-number display clicks over to your number, reeks of old oil. That wasn't a good sign. But we gamely ordered up a quartet of snacks.
The 50 peso hummus comes in a little tin foil ramekin that can't hold much more than a third of a cup of the stuff. That turns out to be a good thing, because all that's in it is some slightly watery, pasty, coarsely ground chickpeas, with no lemon, no garlic, no seasoning, no oil, no nothing (yes, there's a faint dusting of paprika on top, but that's it). It was semi rescued by squeezing some lemon from another dish, and a drizzle of olive oil (I went back to the kitchen and one of the cooks "allowed" me to have two tablespoons of oil in another tin foil cup). No salt or pepper available, in fact, the only condiments on offer were mayo and ketchup. The pita triangles were stale and floury. The "Israeli Salad" was over-boiled couscous with some chopped cucumber, onions, radishes, and cilantro in it. No dressing, no seasoning, a couple lemon wedges were it. Oh, and two bizarre squares of the same pita bread that had been deep fried until rock hard and were dripping with oil. 90 pesos.
For our "main courses", a moussaka which was an oily, sludgy mass of ground meat and zucchini, at least had some flavor to it, but not a pleasant one. 110 pesos. And the chicken shawarma (the only type they had) was another stale pita, filled with salad and a scoop of dry, stringy white meat chicken that was doused in turmeric. 100 pesos. The salads (as an option to french fries), while fresh lettuce and tomato, came with no dressing, and the kitchen had none available (we managed to split our two tablespoons of oil between two salads and the hummus). Quite simply, there was nothing about this place other than the outdoor patio (which has a great heating system that allows you to sit outside in cold weather, comfortably), that we even remotely liked.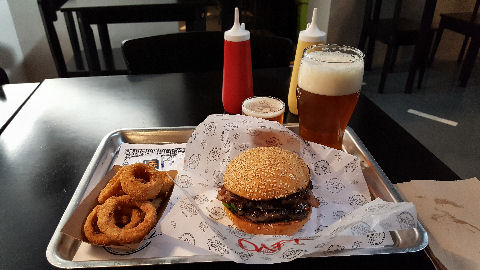 Urban Burgess, Gurruchaga 1417, Palermo. No, it's not a misspelling of Burgers, it's apparently a tribute by the owner to someone he knows, or so the counter-person awkwardly explained when I asked. Just short of a dozen burger selections available, I went with the "Urban Daft"… no idea… that included the requisite 140 grams (each burger on the menu notes that) of meat, blue cheese, bacon, arugula. Asked for it rare, came out more like medium, but still a touch pink in the middle. Well seasoned, nicely formed, juicy. Really good bun – one of the few I've had that held up through the whole burger as I ate it. Option for onion rings or fries, obviously I went for the former. Nice and crispy, not the best I've had, but good. Craft beers from Darwin on tap. And not a bad combo price – they run around 150 pesos for burger, side, and soft drink, or a little more with a beer. Certainly falling into the Very Good category.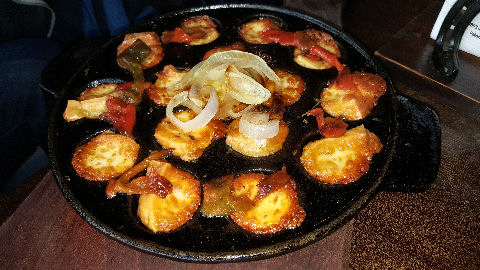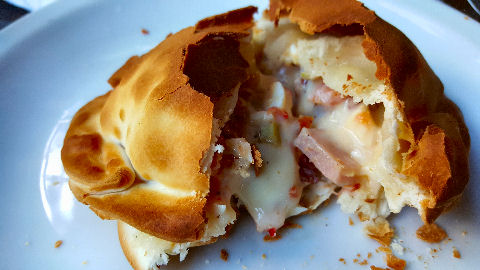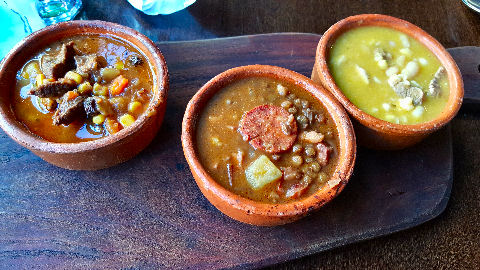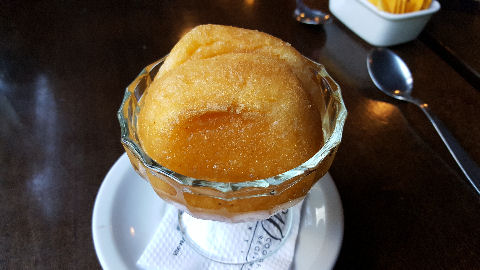 1810 Cocina Regional, Julian Alvaréz 1998, Palermo. One of three locations of this restaurant group, specializing in the classic dishes of northern Argentina, somehow or other, I've managed to not eat at any of them over the years. Maybe it's because there are just so many spots out there serving up local fare, it just never got on my radar. A shame, as it turns out, because it's pretty darned good. Not the best, but still well worth a visit if you're in the mood for that sort of fare, and near to one of them. Instead of a single large provoleta, they offer up provoletitas, delicious little browned bits of cheese with roasted peppers and onions. A nice selection of empanadas, decided on the "money shot" of the insides of a calabresa, filled with spicy sausage, ham, mozzarella, and peppers, delicious!
The four classic stews of the north – locro, carbonada, lentejas, mondongo – are the featured items on the menu (they also have tamales, humitas, pasteles), either individually, in combo with an empanada and beverage, or, as we decided to go, a tasting of your choice of three of the four. Here – all but mondongo (tripe stew), which I'm not a fan of, though Henry tried it in his combo and it was actually not bad – he liked it a lot. Decent locro, not great, but good. Same with the other two – for me the carbonada was a little too sweet, with both dried peaches and raisins in it. Reasonably priced – the tasting is 135 pesos, about the same as getting the combo of one of them with an empanada and beverage.
I'd seen on menus in the past, now and again, a dessert called huevos quimbo, but had never tried one, and for whatever reason, never inquired as to what one was. Despite the name (eggs machete – I have to assume there's some other colloquial translation for quimbo, since it makes little sense otherwise), it's not really an egg dish. It is a whipped egg sponge cake, or two rounded domes of sponge, just sopping up sugar syrup. Sort of like something you'd do in your dorm room late night after drinking with a package of twinkies and some syrup….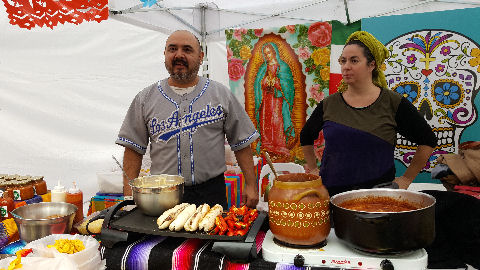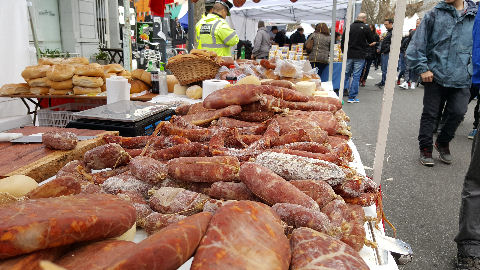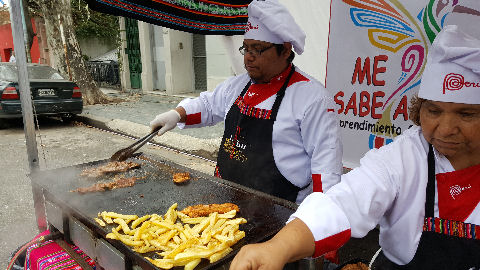 When I first heard about the Festival de Picante, the first spicy festival to be held in Buenos Aire, I had high hopes. I wasn't figuring on anything really picante, after all, the festival was being put on on the old Little Italy stretch of Gorriti, and hosted by the Calabrian Accademia del Peperoncino, the academy of those little dried Italian peppers – hot, but not overly so. Still, I figured on some good nduja sausages, and a few other spicier Italian dishes. Maybe someone would be offering up spaghetti all'assassina. And then the festival was cancelled, no other info given. But then suddenly a couple of weeks later I heard it was back on. And then it was postponed for potential rain, which didn't happen. And then, again, the same. And finally, about ten days ago, it happened (on a day when it did indeed rain, but not until later).
A two block stretch of Gorriti, about 30 different stands offering up food that wasn't just Italian as it turned out, but a variety – Italian, Mexican, Peruvian, Indian, and more. Met up with a friend (and ran into several more), and we managed our way through a spicy homemade pork sandwich with roasted jalapeños and hot sauce that was, simply, "the bomb" – one of the spiciest things I've eaten in Buenos Aires (from the folk at Mexican restaurant 5ta Esencia up in the suburbs, I've got to get up there) that started our day out perfectly. I even went back and bought a second one to take home to Henry, who, through tears of chili induced pain in his eyes, proclaimed it delicious. Slow cooked pork (there was a lot of pork) leg with a mixed chili relish from one of the Italian stands. Nduja sandwiches from another. Chili from Max Carnage, winner of 2014's BA Chili Competition. And some of the best anticuchos I've had, anywhere, from a Peruvian stand.
This is one festival I hope they repeat!