More RamenQuest! I go adventuring around the city in my everlasting quest for a decent bowl of slurpable noodles.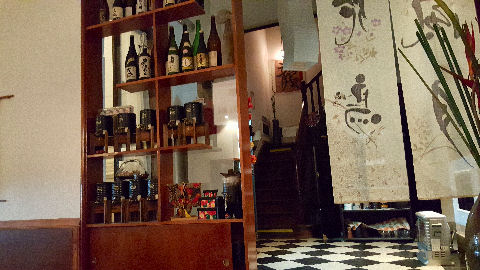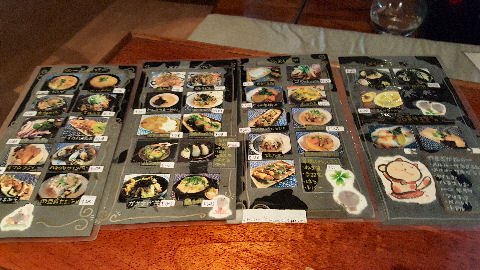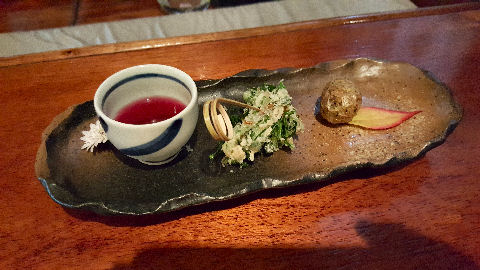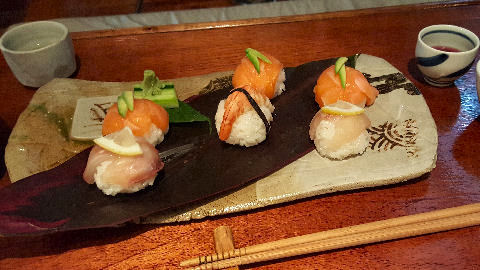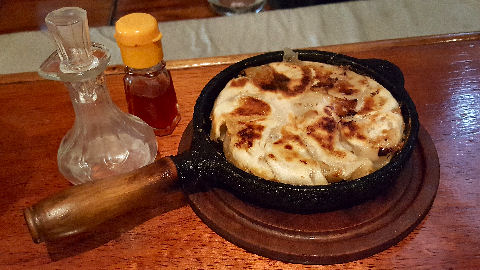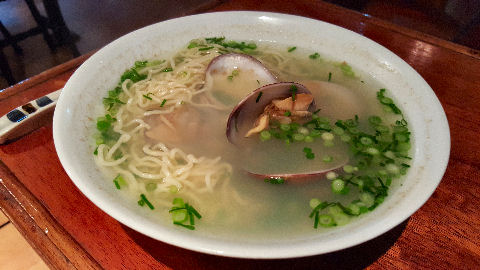 I had this impression that Niji, Iberá 2424 in Nuñez, was in some ways similar to a puertas cerradas, i.e., in a private home, with the family serving you traditional Japanese dishes. I'd tried to make reservations on and off over the last couple of years, and somehow always hit on a night that they were closed for a private function, or had no space. Finally, scored a seat, imagining myself in someone's living room. An oddity, on making the reservation, I was asked if I would want sushi, because that had to be decided in advance, and was only available in a portion of six nigiri pieces, no other options. I opted yes. For ease of getting there, this place is literally around the corner from the Congreso de Tucumán stop on the D train.
On arrival, indeed a beautiful old home, but not what I'd imagined – it's been completely converted to a restaurant, both on the ground level and the level above. They even sell sushi rolls from a window onto the street. Odd that, given the requirement to order sushi in advance and a nigiri only option. There are several rooms, each with a few tables. As best I could tell, there were two Japanese businessmen sharing a bottle of wine and some nibbles as the only other people on the ground floor, and what sounded like a small party above, with kids, who sometimes ran up and down the stairs. Not exactly teeming with guests for a Saturday night. The menu is only in Japanese. I've seen photos from past reviews that showed Spanish translations scribbled onto the menus, but the waitress told me those are no more. She was happy to help me through the menu (the pictures were pretty self-explanatory anyway).
I decided to go pretty straightforward for a first time. The sushi, pre-ordered, came to the table after a small amuse bouche of a fried papine (little Andean potatoes) and a tempura leaf with a plum dipping sauce. Tasty tempura, but I didn't quite get the fried potato. The sushi arrived, six of the largest nigiri I've ever encountered, with round balls of sushi each about the size of a half-tennis ball, and each topped with two slices of fish. Excellent quality, just a whole lot more rice than seemed necessary. On to gyoza, cooked as a pinwheel of several, a technique I've only seen before at Maido in Lima. Spot-on, perfect, delicious. And, I ordered the traditional pork ramen – but they were out of it. However, she ventured, they did have their clam ramen. Wait, what? Clam Ramen? Hell yes. Beautiful, delicate broth – a mix of chicken and shellfish I'd guess, lovely, al dente ramen noodles, and three huge clams, perfectly steamed and floating languidly about in the broth. A little green onion for seasoning, along with a dash or two of togaroshi spice, and I was, well, happy as a clam. Overall: Not to be missed, and I'll be back.
Not cheap – sushi, gyoza, ramen, sake, and a surprising cubierto charge of 40 pesos, plus tip, 1000 pesos, $70 and it's cash only.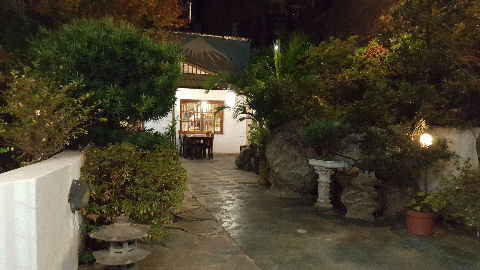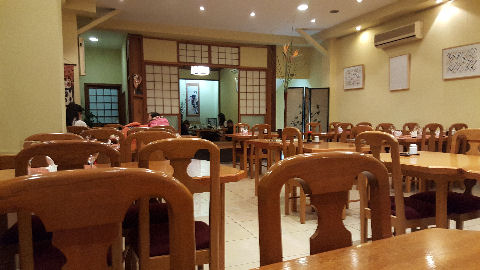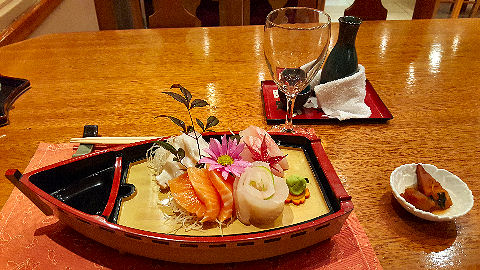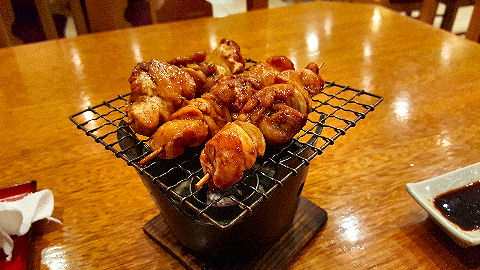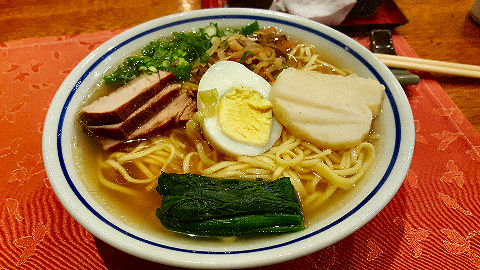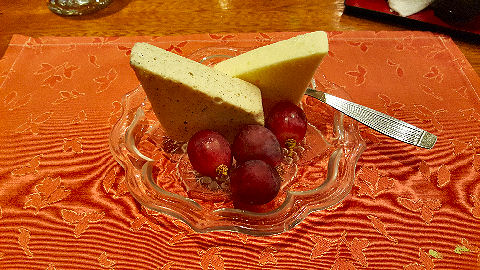 Remember the last ramen post, when we had a bad experience at Kitayama, Virrey del Pino 2448 in Belgrano? It wasn't the food, it was the lack of welcome. But, I decided to brave the waters once more and ventured back on my own one evening. Same waitress, she looked at me quizzically as I was settling at my table, and asked if she'd seen me before… there was something… I reminded her of the night that I'd been with my friend and had the kitchen refuse to serve us, only offering sushi. She blanched, gave me the apology that she should have given that night, and rushed off to talk to the owners. I settled back in with the menu. The place, inside, doesn't fit the outside at all, feeling a bit cafeteria-ish. We hadn't even noticed on that last visit.
I decided to start with some sashimi, the menu only lists large selections, of 18 or 24 pieces, but it turns out the latter is available in a half portion, at not too much over half the price. Honestly, some of the best sashimi I've had in Buenos Aires, rivalling Yuki and Club M Omakase. I was feeling a little gyoza-ed out, so decided to try something different, the yakitori, which arrived sizzling away atop its own little charcoal brazier. Excellent, perfectly seasoned and cooked. We then turn to the ramen. I have to admit, I was disappointed. It certainly wasn't up to the quality of the sashimi or the yakitori. It has a decent enough broth – chicken, but the noodles were way over-cooked, near to falling apart, and the egg, likewise, with a solid grey ring around a borderline chalky yolk, and again, the same with the meat – thick slices of grey, chewy, hard, unseasoned meat. The accordion folds of spinach, the sprouts, the little bit of fried shallot, were all nice touches, but didn't make up for the rest. As an apology for the previous incident, the owner brought me over some housemade ice cream for dessert – orange and sesame – a bit overchurned and kind of, hmmm, chewy, but decent flavors. Overall: I'd come back for the sushi if it was a lot closer to home.
Half order of sashimi, an order of yakitori, a ramen, a sake, bottle of water, and tip – 835 pesos, or roughly $58, credit cards accepted.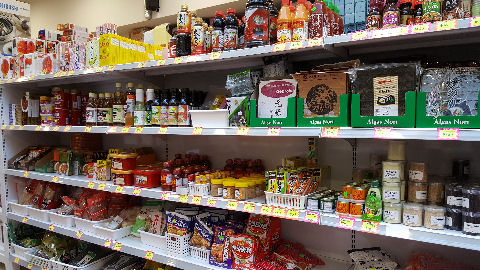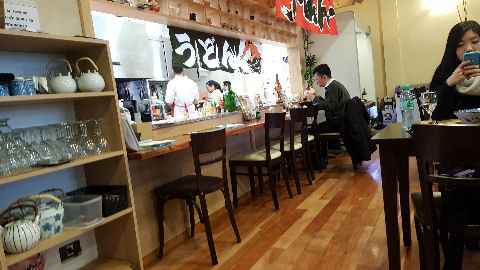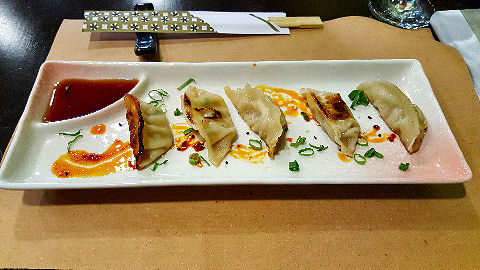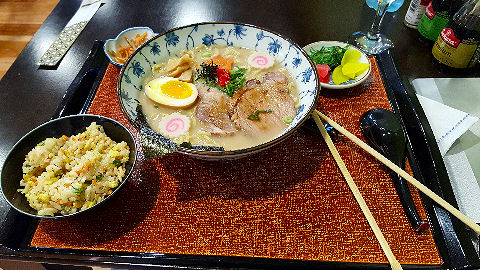 Okay, a foodie heaven-find, kinda sorta. Just opened, Nueva Casa Japonesa, Humberto I 2357, San Cristobal. It's not immediately obvious from the street, looking like a garage, with cars parked in it and everything. But walk to the back, where you can see some signs advertising some Japanese sounding brands, and you find yourself inside a gleaming hallway. To the rear, a real, honest to goodness, Japanese supermarket, with all those sauces and ingredients that the expat community has been longing for, and which only some of, show up sometimes, in someplace, in Barrio Chino. If you don't go to the back, follow the arrows pointing up the stairs (or elevator for those who are stair climbing challenged), the equivalent of two flights to the dining room. Here, a ramen bar at the back facing into the kitchen, and an array of cheap tables scattered around the room where you can watch the massive wall mounted, blaring television set – the day I was there, it was tuned to episodes of the first season of The Mind of a Chef, starring David Chang.
The choices are basically different kinds of noodle dishes – ramen, udon, soba, and several varieties of each. I ordered up a plate of gyoza, a little disappointing, only half filled, limp dumplings, albeit nicely charred on one side, and what there was of the filling was delicious, as was the dipping sauce. Among the choices, the waiter recommended the tonkatsu ramen, what I probably would have gone for anyway (there are also a regular and spicy miso ramen, a shoyu ramen, and a vegetarian one. They're all available solo, or as a "set", which comes with a side of plain or vegetable-egg onigiri rice, pickles, a little sprout and sesame salad, and a beverage (120 or 180 pesos, respectively). Excellent broth, beautifully deep and rich, perfect al dente noodles, mochi, a sous vide style egg with a still runny yolk (be-still my heart), bamboo shoots, sprouts, vegetables, and spicy-sweet char siu pork that was braised until it was borderline falling apart at the touch. One minor negative – there was a weird metallic tang to the noodles – I don't know if they make their own, or use a commercial brand, but my guess is that the measure of the bicarb element that makes ramen noodles slightly chewy and alkaline was too high – like tasting the same in a cake that has too much baking soda. Still, it wasn't unpleasant, just noticeable, and I finished every bit of the bowl.
Gyoza, ramen set, and tip – 265 pesos, $18, and they take Visa as well as cash. Definitely a spot to go back to, and very conveniently located (for both the store and restaurant), just a couple of blocks from the Humberto I stop on the new H line subway – I can be there in under 20 minutes door to door, which beats out going to Chinatown and searching for the ingredients that may or may not be there.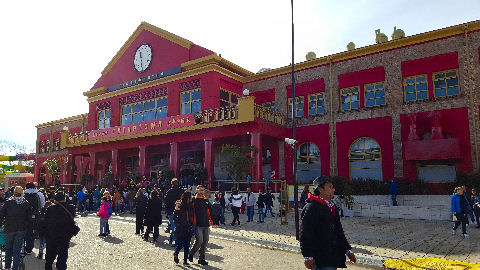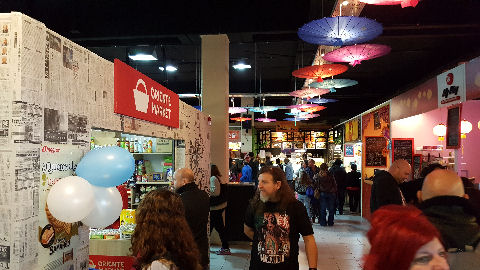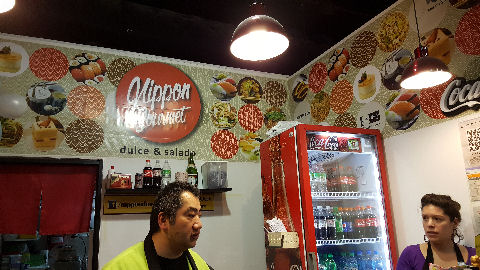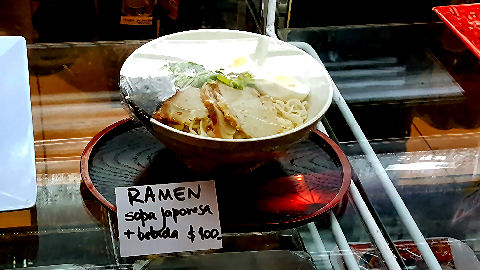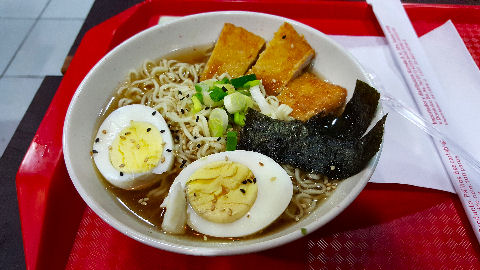 Out of the blue, I spotted a note about a Japanese festival being held up in Tigre, in "China Town", right next to the Tren de la Costa's Delta station, along Av. Mitre. Now, I've been to Tigre many a time, and never saw a chinatown. Turns out it's brand spanking new – it's not so much an area as it is a large shopping mall. The festival itself was sort of a bust, mostly just little shops selling trinkets that ranged from Hello Kitty to bonsai to refrigerator magnets, along with some packaged foods. Ever hopeful, I headed into the food court of the mall. Not surprisingly, given that it's a "chinatown", virtually all the food stands were offering various chinese foods. Only one Japanese stand, Nippon Gourmet.
Now, I know it's a food court. And while I don't expect things to come out exactly like the photos, in this case it wasn't a photo, but a sample bowl of ramen sitting in a refrigerated cabinet (sorry about the lighting), with three lovely slices of roast pork, some seaweed, and greens. What came out was a package of instant chicken ramen to which had been added a couple of strips of seaweed, some green onion, a hard boiled egg, and a couple of slices off of a chicken milanesa (more or less a wiener schnitzel). Let's just say after trying it, I returned the cafeteria tray to the counter and left. 100 pesos, or a bit under $7, I suppose isn't a bad price to pay for a package of instant ramen with additions, beverage included, but still…. I wouldn't bother to return, even if I was in China Town Tigre again.