I read somewhere recently that there are now over 200 Peruvian restaurants in Buenos Aires when you take into account everything from the chifa, hole-in-the-wall style to the high end nikkei fusion spots. While we've certainly eaten at a good number of them, there are plenty we've never gotten to. Here's a trio to add to the map.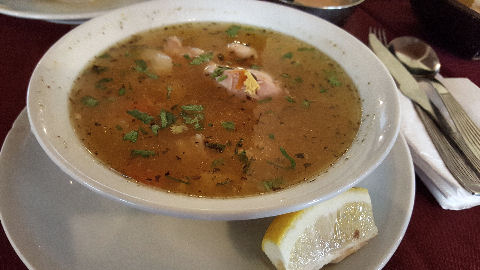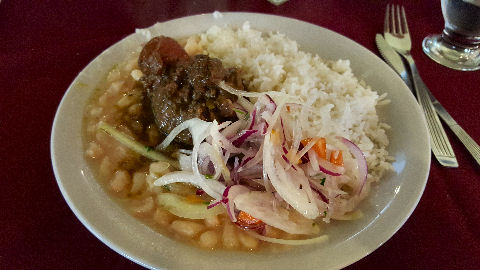 Chifa Lung Fung, Humahuaca 3302, Once (across from the side of the Abasto Shopping Mall) – as the name suggests, it's a chifa. The word comes from the Chinese influence in Peruvian culture, and is, more or less, a contraction of the words chi fan, the term for a casual restaurant (literally, "eat rice"). Most chifas offer up a selection of fairly basic, homestyle dishes, usually a mix of Peruvian and Chinese plates. One thing you can count on in these places (and most more homestyle Peruvian spots) is the menú, the lunch prix fixe special, which almost invariably consists of a bowl of soup followed by a choice between 2-5 main courses of the day. You can pretty much count on the former to be some sort of chicken or beef noodle soup with some potatoes and carrots in it, with the exception of Mondays at northern Peruvian spots when it's shambar.
Lung Fung goes classic chicken noodle. There were a quartet of main course choices on our visit, but we both thought that only one sounded interesting, the classic seco de carne, a slow cooked beef and cilantro dish that's one of our favorites (even better when it's seco de cordero, the same dish made with lamb), and always served up with rice, white beans that have been cooked with the meat gravy, and a red onion salad. The soup was great, the flavors on the beef were, but it could have definitely used longer cooking to get more tender. Still, for 90 pesos apiece ($6), not a bad lunch, and we'll drop back in and try some other dishes one of these days.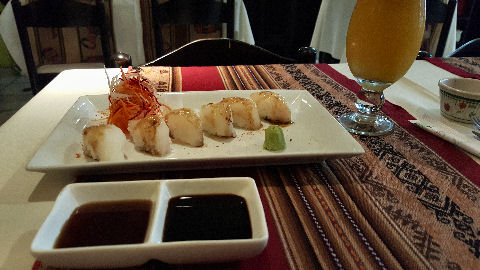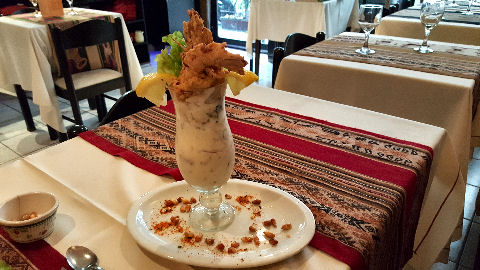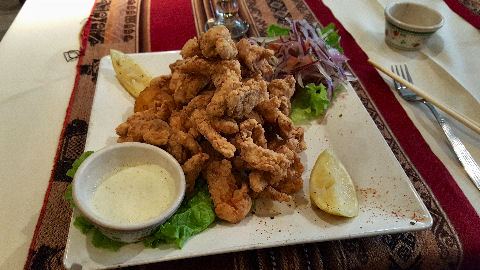 2020 Nikkei, Lavalle 2020, Once – Nikkei cuisine, the fusion between Japanese and Peruvian, is all the rage these days, around the world. Most places seem to take advantage of that and menus are priced high, often far higher than they deserve to be. This spot, while not inexpensive, and certainly more upscale than most places in the neighborhood, tries to tread a line that still keeps meals affordable, even offering a menú at lunch for those who want to dine more cheaply, and at the same time offering an array of dishes that in other venues around town would probably garner anywhere from 25-50% more pesos. Edit: I realized later on that I'd actually ordered sushi from them for delivery about a year earlier.
One thing I'm not fond of is feeling a little bit cheated. Not by the restaurant, but at the least, misled by my waitress. I knew I wanted to try some of their sushi, and went for a house special, a sextet of white fish nigiri brushed with sesame oil and then lightly torched. Delicious. But I was also curious to try their leche de tigre, subject of one of my quests a few years back. I asked her if, ordering the sushi, that, and a main course, would be too much, and she assured me that it wouldn't be at all, that the tiger's milk was just a small tumbler of liquid, and that the main courses were just a perfect lunch size. Unfortunately, the former was a whopping sundae glass, packed with fish and onions, and topped with two fried jumbo prawns and a fried fish fillet, and the latter, a chicharrón de pollo, my favorite style of Peruvian fried chicken had to be a full chicken breast – both sides. Both, delicious, and high marks for everything here, other than the response when I pointed out that it was a lot more food than I expected, "But now you have enough for a second meal, you can take it home with you." True, but not what I'd asked, nor been told, upfront. Great food, and the three dishes plus a fresh passionfruit juice came in at 665 pesos with tip ($45). Worth it, just order less.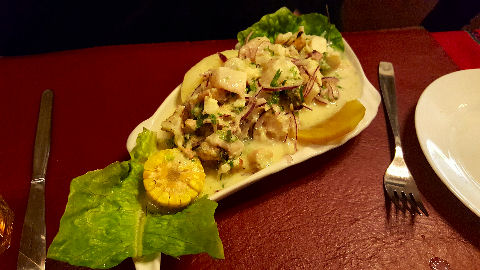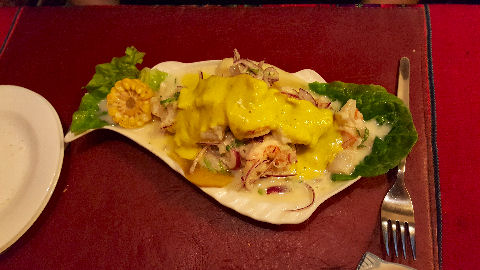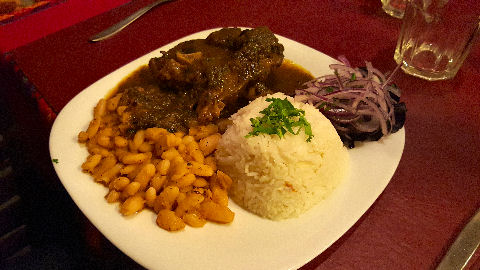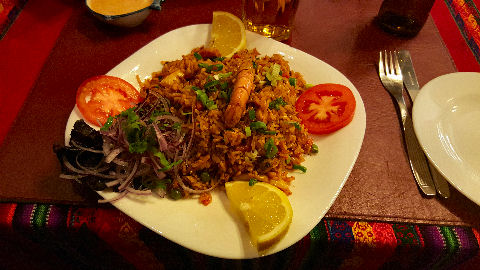 Inka Wasi, Franklin D. Roosevelt 1695, Belgrano – I'd wandered into this spot almost two years ago when I was on my hunt for ajiaco de conejo, the chili rabbit that I love. As noted then, it turned out not to be them who had the dish, but their sister restaurant down the block, Primavera Trujillana. But it was in the back of my mind to come back and check it out one day, and we met up with a couple of friends for dinner there earlier this week. (Sorry about the photos – weird lighting apparently – didn't realize it at the time, but everything came out very orange.)
None of us were famished, so we just ordered a round of main courses and some beers. Two excellent ceviches, their classic fish, and the house specialty which was napped with an ají amarillo sauce. Quite good seco de cordero, the lamb version of the dish I mentioned above, though this too needed more time in the pot to tenderize. And an excellent spicy arroz con mariscos made with wine infused with achiote. We loved it all and will definitely be back. Four main courses, a couple of rounds of beers, and for four of us we came in at 1200 pesos including tip ($80). Not bad at all.