It's been quite awhile since we had one of our online cooking challenges in the Reinventing the Whisk series. Episode #12 was back in December, and here we are, going on seven months later with Episode #13. This time around, four randomly selected ingredients (we put together a spreadsheet of about 120 ingredients that between the three of us involved in picking, we wanted to play with – we picked about 40-50 each, and then there were overlaps, and then we use a random number generator and picked three or four for the challenge). This time up, Radicchio, Smoked Fish, Mascarpone, & Lemon. Actually nothing too offbeat in the combination of those, they all sort of work together already, sounding sort of French or Italian en masse. Jen wasn't available for the evening, and although a few people expressed potential interest, in the end, no one else opted in, so it was just Kevin and I.
I decided to get all modernist on the quartet – it's fun to play with the techniques and, as those of you who've followed along on the blog have seen, over the years I've even now and again incorporated some of them into Casa S dishes.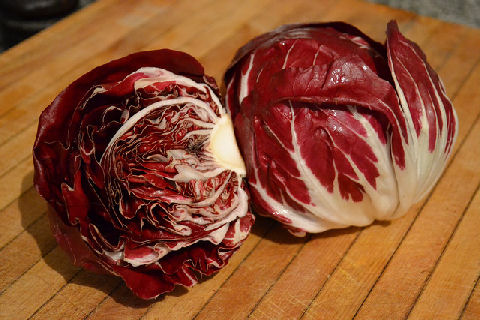 I decided to more or less make the radicchio the star of the dish.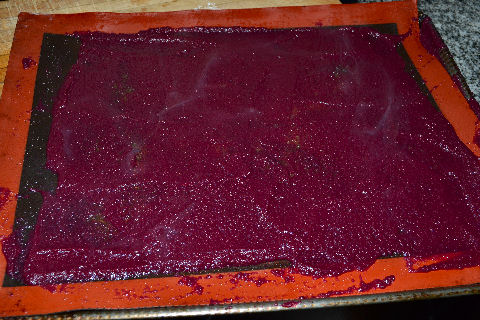 Took most of it, blanched and shocked it, then pureed it with an apple, some lemon juice, salt, a little glucose for a touch of sweetness and some flexibility, and some cornstarch to bind it. Simmered them all together to thicken it up, and then spread it out on a silpat. Into the oven on low temperature (60°C) with the convection fan on and the door open a couple of inches, to dehydrate it over a few hours – took about 4½ to get the texture I wanted.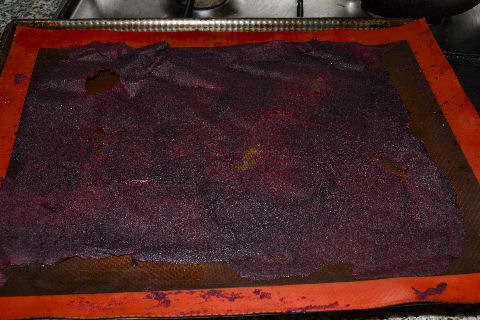 And this is what it looked like. It was still flexible, and chewy, sort of like a fruit leather, which is what I was going for.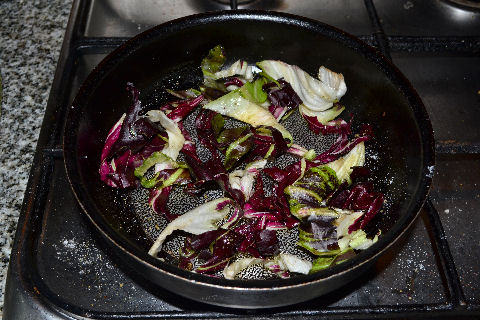 I took the remaining radicchio, including some of the green outer leaves, tossed them with olive oil, salt, and crushed green peppercorn, and threw them in the oven for about 15 minutes to crisp up.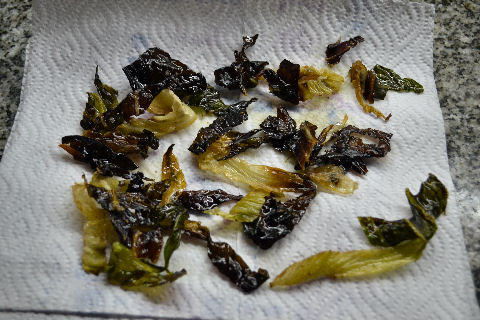 Nice, crispy shards of radicchio!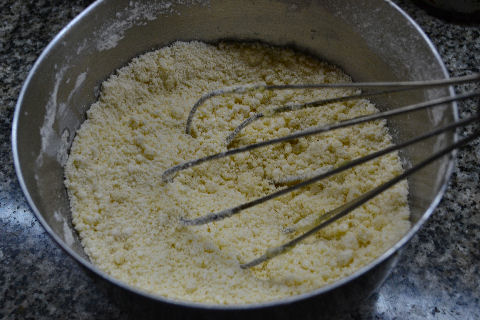 Meanwhile, whisked together some of the mascarpone and a little olive oil with tapioca maltodextrin, a tapioca starch that can turn fats into powder. (Made way too much of it.)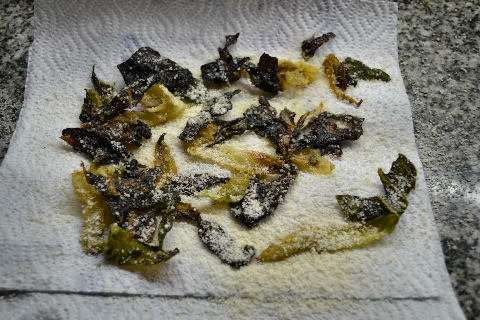 And dusted the crisp radicchio leaves with it.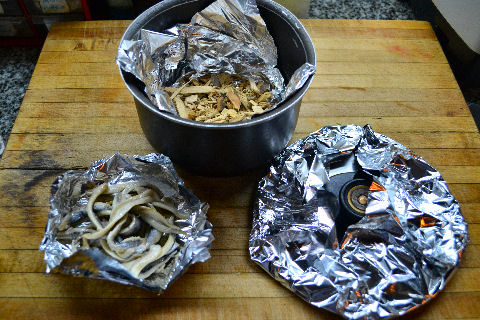 While all this was going on, the smoked fish component was in the works. I'd started with boquerones, vinegar and salt cured white anchovy fillets. Made a little smoker in a pot with olive wood chips, started them on fire, set the little foil "basket" of boquerones over the top, which quickly extinguished the flames and started the smoke rolling, and capped the whole thing off with a pot lid. About 15 minutes gave me the smoke level I wanted.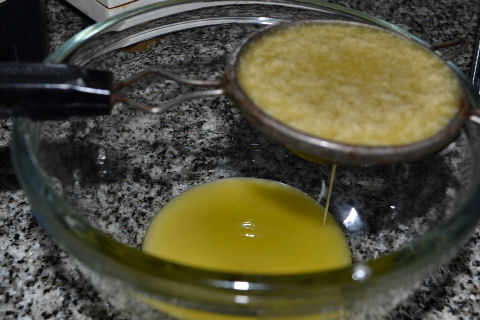 Half of the smoked boquerones got pureed with the rest of the mascarpone and some salt, and the other half pureed with olive oil, left to infuse, and then strained. (Smoked boquerón oil is going to become a pantry staple – damn that's good.)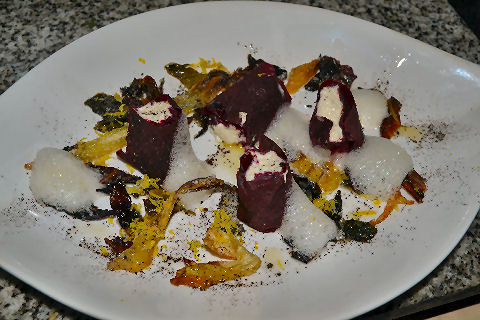 And here's the final dish. I took the radicchio leather and rolled up the smoked boquerone mascarpone in it like a sushi maki and then stuck them in the refrigerator to firm up. Sliced them in sections (had I had a little more time they'd have been firmer and stayed rounder). Scattered the crisp radicchio leave around the plate. Drizzled with the smoked anchovy oil. Dusted the plate with powdered lemon ash (I know it will sound strange, but I always have some in the pantry since I discovered it), and finely grated lemon zest. And the final touch, the juice from the now zested lemon, mixed with water and a little soy lecithin, and turned it into a lemon foam.
Delicious, by the way! Too much work for one of our dinners, but I might find ways to use one or more components…. Although, I guess when I think  about it, most of the components could be made in advance, and it's more a matter of plating than it is of making things in the moment. We shall see.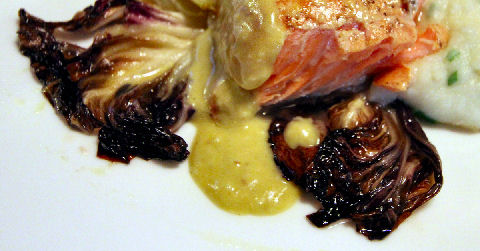 Kevin's done his own writeup of his dish (above) over on the Creative Kitchen facebook page. He took a different approach, focusing particularly on the smoked salmon and caramelizing the radicchio to reduce its bitterness. Check it out, along with daily postings from other members of the group on their kitchen experiments!