There didn't seem to be many more places in town to continue RamenQuest (yes, that's what I'm calling it now), so I'd figured they'd just make a now and then appearance. But then, a trio came onto my radar, so off and running, chopsticks and spoon in hand. Hey, they're not scissors.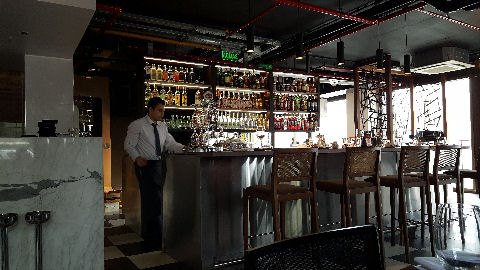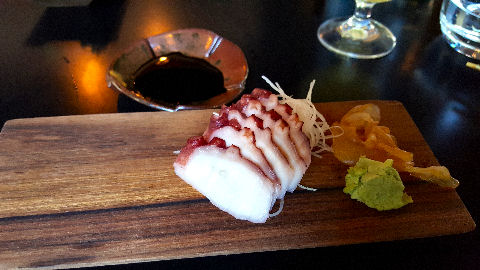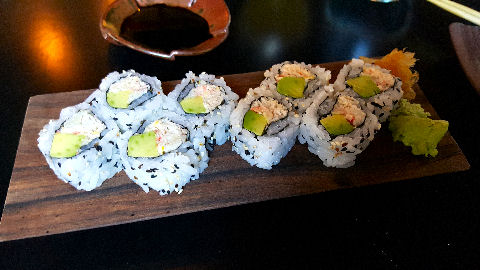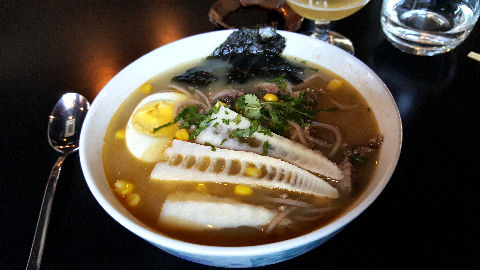 I'd heard murmurings about a couple of Japanese spots in Puerto Madero Este and thought I'd check them out. First up, Mizuki, Juana Manso 1519. Very sleek, chic, and a touch hipster feeling. Not cheap. Really, not cheap – coming in at about the same prices as nearby Osaka Puerto Madero. Then again, it's the Buenos Aires outpost of a successful nikkei restaurant in São Paulo. The gyozas were lovely little dumplings, and with a nice, albeit just a touch too vinegary dipping sauce, but still a very promising start. Decent octopus sashimi, if just a touch on the chewy side. A "king crab" maki that tasted watery, and with mealy avocado in it (probably kept in the refrigerator too long). And a tonkatsu ramen (available regular or spicy, I ordered the latter), that was wrong in so many ways I'd be at a loss to enumerate them all, from a broth that had less flavor than dishwater, to clearly packaged buckwheat soba noodles, to a few desultory bits of vegetable and meat. Given the lack of flavor and spice, I asked for something picante and got a tiny dish with maybe a quarter teaspoon of togaroshi mix in it, not enough to really add any interest to the bowl. Top it off with a beer and tip, and it rounded out at almost 1200 pesos, $85, for food I wouldn't have been happy to get in a shopping mall food court Japanese spot. Definitely didn't live up to its reputation, which given how much I've heard about it, from people who know what they're talking about, was extremely surprising and has me wondering if it was just an off-day (it was a Sunday lunchtime).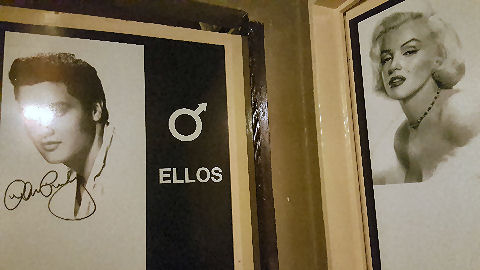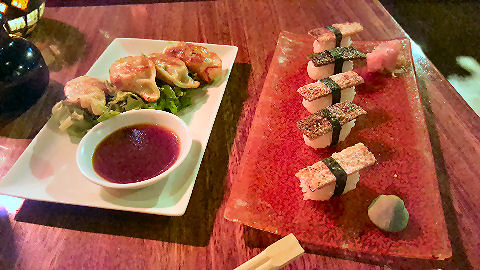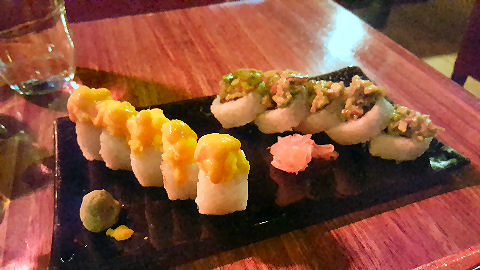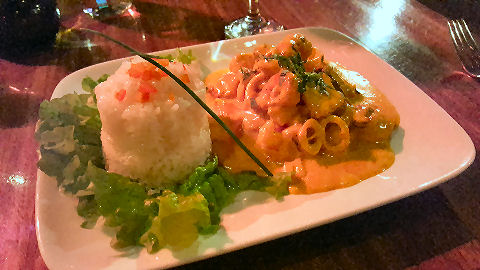 Just down the street is the less hyped Patio Japonés, at Juana Manso 1616. I decided to check this spot out after a night at the opera. Have you seen the inside of Teatro Colón?
Back to the Japanese Patio… they do actually have a patio in front of the place, consisting of two lounge tables… this place is just weird. Seriously weird. From Elvis and Marilyn gracing the bathroom doors, to a continuous stream of rap music that's been turned into a sort of elevator muzak, to a menu that's a mashup of local fare, Peruvian fare, and Japanese as well, and despite having heard it on the street, no ramen to be found. A trio of waitresses for the whole four of us in the restaurant, but none of them willing to actually talk to a customer for more than a few seconds to take an order, spending all their time clustered together near the bar chattering and looking at their phones. The food – mediocre. The prices – high. A quartet of thick, chewy gyoza (really, just 4 of them, making them 34 pesos, or $2.50 apiece, making them probably the most expensive ones I've had in BA) with little to no flavor, so I guess 4 was more than sufficient. Salmon skin nigiri missing that lovely flavor of lightly charring the skin with a bit of meat still on it, instead, a wafer thin wisp of scraped skin that seemed to have been simply dehydrated, leaving no flavor, just texture. A couple of half rolls of sushi – I asked, and the waitress said, "we do half rolls, but charge a little more than 50% for each" – that's fine, that's typical – only it turns out that "a little more" is 90% of the normal price (a 178 peso full maki is 160.20 for a half, and a 213 peso full roll for 191.70) – waitress' response when I got the bill and asked, "I told you it was more than half price". And while the ají amarillo sauce on the mixed shellfish plate was good, most of what's on the plate isn't shellfish, it's some mealy, overcooked white fish, with just a few shrimp, mussels, and calamari rings decorating it. All told, with a flask of hot sake and a water, 1027 pesos, $73 (thankfully discounted because I'd booked the reservation through Restorando, which gave me 25% off, bringing it down to 770 pesos, or $55), and honestly, given the attitude and inattentiveness of the waitresses, I left next to nothing in tip, and wouldn't go back.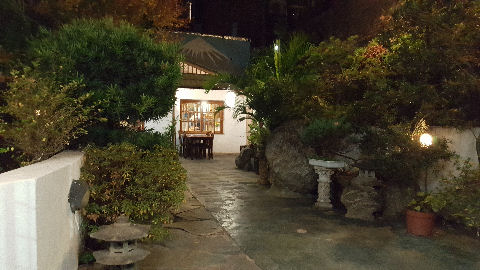 Lovely, no? We went here. Kitayama, Virrey del Pino 2448  in Belgrano. I made a reservation in advance – it's a hard place to get into, and rarely seems to be open – I've tried before. I confirmed the reservation a couple of hours beforehand. I confirmed they had ramen on the menu, two kinds. And we arrived, to find that most of the room was taken up by a party of 30 some folk who were gathering for a dinner. Our waitress informed us that we needed to order quickly because once the kitchen started cooking for them, they wouldn't cook for us. Really? You couldn't have told us when we made, or confirmed the reservation? We could have come earlier. We could have come later. But we quickly went through the menu, after all, we knew we wanted the two ramens, and just some appetizers – a little sushi, a little tempura. We put the order in within five minutes. Five later, she came back to inform us that the only thing we were going to get was the sushi, the kitchen refused to serve us anything hot, but we were welcome to order more sushi. No apology, no nothing. We walked. On our way out, we were thanked for our visit by what appeared to be the owners and hoped we enjoyed, I stopped and told them what I thought (wanna guess? I didn't curse or anything, I just told them), and got a couple of shrugged shoulders, no verbal answer, they just turned their backs on us and walked away. I've heard that the place is "quirky", and I've heard it has amazing food (it did look good). I just have to decide if I want to ever set foot in the place again.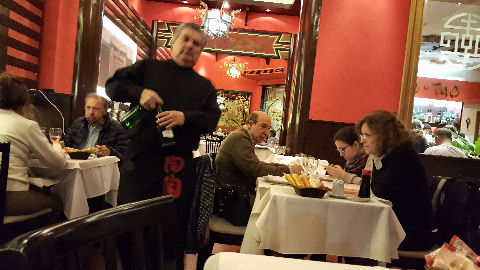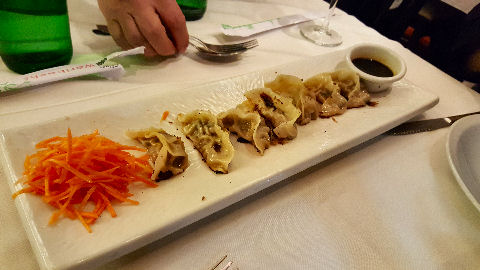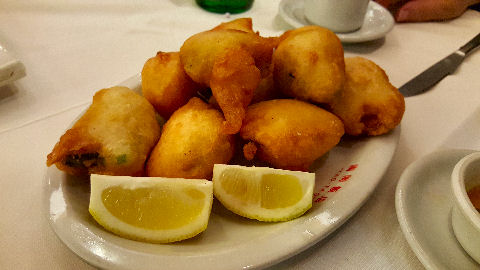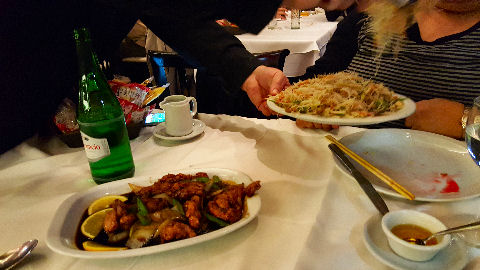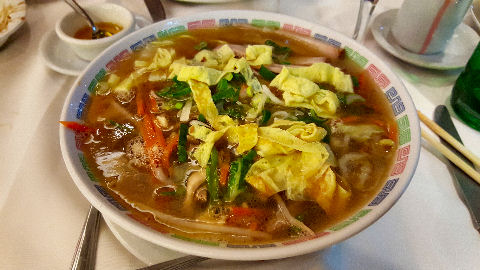 So outside, at the corner, not having a clue what else was around and my companion not up for a whole lot of walking, I made a quick search on Foursquare and found we were a block and a half away from a Chinese-Japanese place, Táo-Táo (diàn fán), at Av. Cabildo 1418 (the name translates as "joyful and contented (restaurant)". We decided to give it a shot. Up a few stairs at the entrance, lined with glass cases housing those fake plastic food models, and lo and behold, "Lamen". Yes, "Lamen", every bad Chinese stereotype passed through my mind in a flash. But, truthfully it shouldn't, as ramen noodles are just the Japanese version of a traditional Chinese noodles that are actually called lamián. Still, the place looks like something out of a bad movie set. The waiters are charming. The menu is mostly Chinese dishes, including some that I've not seen anywhere else here in town (like egg foo yung, which I considered, but the waiter told me that the way they make it it's just a plain omelette, no sauce or anything else added). The menu also includes about a dozen Japanese dishes. We decided to order a mix. The gyoza were excellent, and a great start, as was the fiery chili oil they brought to the table on request. Unfortunately, it was downhill from there. The "tempura" were  greasy, fat beignets of dough, each with a postage stamp sized piece of vegetable inside. My companion ordered two main courses ("oh, these are going to be small bowls, see how cheap the prices are?") – a sauteed rice noodle mixto that was bland as could be, and a "picante" General Tao's Chicken [I'm assuming that's just a play on General Tso's Chicken, given the name of the place] that was anything but spicy, instead sort of sickly sweet and chewy. My Lamen wasn't a bad soup, it just wasn't really ramen, anymore than the tempura was tempura. It was a bowl of plain chicken broth like you'd get with wontons or egg-drop, packed with julienned vegetables, a few pieces of chicken, shrimp, and pork, a paucity of chow mein noodles in the bottom, and some thin strips of egg on top – a vague Chinese imitation of ramen. So overall, pretty mediocre, though, relatively speaking, cheap – two apps, three main courses, two waters, a cubierto charge (the first time I think I've ever seen that in a Chinese restaurant here), with tip coming in at 720 pesos, $51. "Joyful" for a nice night out with a good friend. "Contented", not so much.