Another round of new plates. Interestingly, I think that over the last little stretch, these are some of the more experimental dishes that I came up with, and while they weren't universally liked by everyone (nothing ever is), they were the ones that got some of the biggest thumbs-up responses in feedback from guests.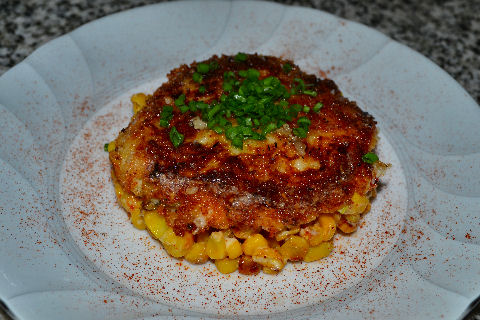 Not by any stretch the prettiest plate coming out of the kitchen, and a few people kind of kept turning their plate around in circles, like they were looking for an angle from which it might look different. But once they dug in, not one person didn't mop their plate with this one. Inspired by the Mexican street food elotes, a grilled corn on the cob that's slathered with mayo, then rolled in crumbled cotija cheese, and finally dusted with chili salt and chopped chives…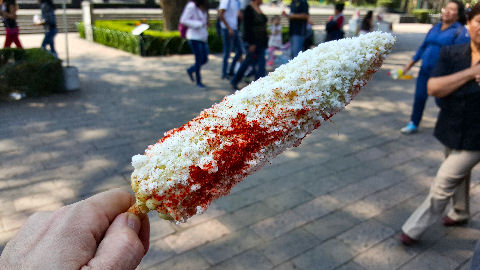 I took corn off the cob, and cooked it dry in a skillet over low heat until it was golden brown, then mixed it with our new spiced mayo (lime juice, smoked mustard, sesame and prickly oils), placed that in a round mold. Topped with a caramelized leek and feta cheese fritter, or croquette, or whatever you want to call it, and then dusted the whole thing with chipotle chili salt.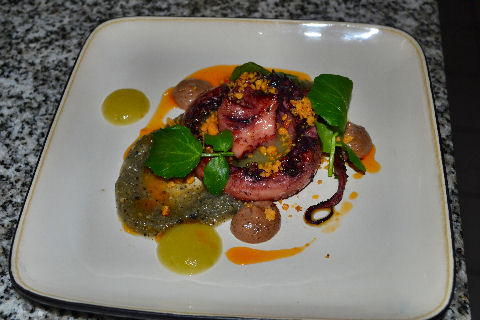 Braised jibia, a tentacle of the Humboldt Squid, charred briefly on a stovetop grill, served over smoked eggplant puree, with salsa negra, lemon puree, chorizo oil, watercress, and a fontina-fennel crumb. This is a wide tangent springing off an octopus dish that I read about from chef Enrique Olvera (Pujol) at his NYC restaurant Cosme.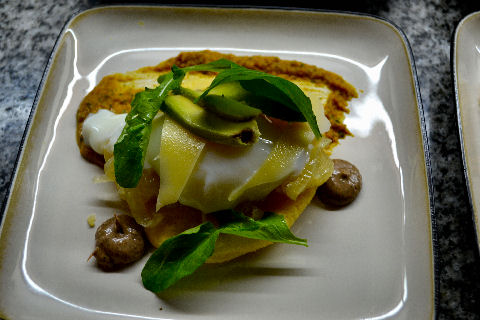 When I read an article, or a tweet, or a post, or a whatever, that mentions a dish that sounds intriguing, I make a note of it. That's what Evernote is for, right? So a little over a year ago, Australian food writer and cravat-wearer extraordinaire Matt Preston tweeted out, "Breakfast at Hemelhuijs in Cape Town – chermoula hummus, onion jam, avocado, rocket & Parmesan", and a link to a rather blah looking sort of avocado-toast-ish thing. The picture wasn't all that inviting, but the description struck me as interesting.
So here we have chermoula hummus first down on the plate (my chermoula, also noted in my various spice and herb mixture notes: "into the blender with a good bunch of cilantro, stems, roots and all, 4 cloves of garlic, 2 tablespoons of hot paprika, 1 of cumin, a teaspoon or so each of salt, ginger, and red pepper flakes, a 1/4 teaspoon of ground saffron, the juice of a lemon, and just enough neutral oil to get it to all blend smoothly". That mixture folded into pureed chickpeas to create the hummus, a polenta and parmesan crisp topped with caramelized onion jam (cooked down in butter, salt, and sugar and finished with a Torrontés vinegar), a 63°C egg, our salsa negra, shavings of avocado, Romano cheese, and arugula (rocket) leaves.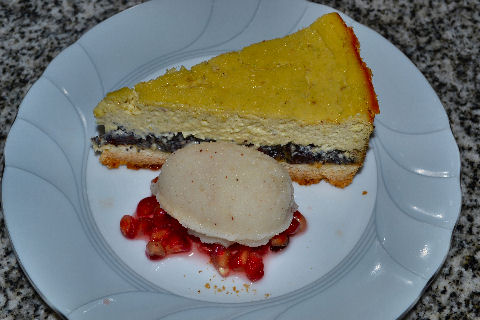 I had no idea until I started playing around with this flavor combination that there existed a Polish dessert called seromak, which is essentially a plain cheesecake baked over a poppyseed filling. It's not what would come to mind first when I think "poppyseed cheesecake", but I was already playing with the idea of a layer of hamantaschen filling under or over some sort of flavored cheesecake. Nothing is really ever new, right?
Here we have a cornstarch based, vanilla-scented crust (we had a couple of gluten-free requests that I decided to go with); then a layer of classic poppyseed filling for hamantaschen, then our own cheesecake base flavored with lightly caramelized fennel, licorice root, fennel seeds, and white chocolate; accompanied by pomegranate seeds in grenadine syrup, and a lime and star anise sorbet. It needs a prettier plating and maybe some sort of syrup to tie it all together, but the flavors come together brilliantly, if I do say so myself.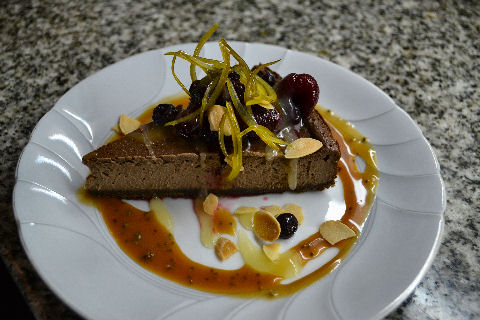 And, another place where I intended lime, licorice and poppy to come together, though more subtly. A dark chocolate and licorice root cheesecake over a chocolate cookie crust; topped with a mix of berries steeped in anisette; a chia-seed caramel (I went to the local dietetica and asked for poppyseeds, but they gave me chia seeds, and I didn't realize it until too late to go back and do anything about it, and I tried them out, and it worked); toasted almonds; lime puree; candied lime peel.
And, just an outside of Casa SaltShaker moment, a local friend asked me if I'd make him a batch of English muffins, something we don't have available here (I don't understand it, I think locals would love them). He only wanted a dozen, my recipe makes 16, so I had a few for me leftover.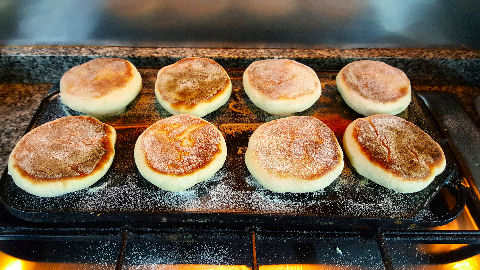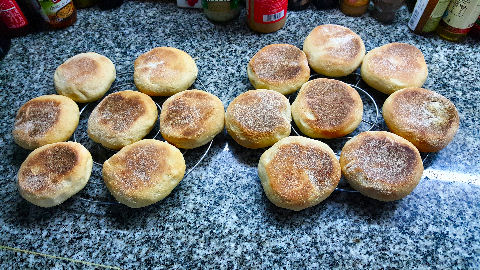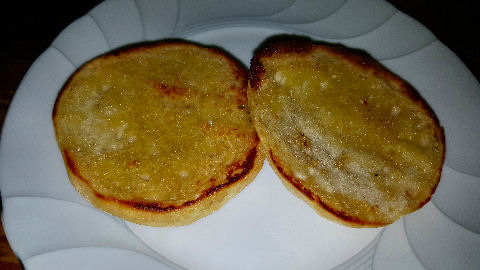 And on that note, I'll wrap it up for now.