I'm going to go kind of simple and straightforward on this one, as there are a whole lot of shawarma to get through, and this post brings the current total of shawarma tried to 53. I decided to just sort of blow out the entire list of the pending ones over a few weeks (more than one post though). If you know of any others… keep on sending the recommendations.
I started off in Retiro, the first place recommended was an "unnamed spot" at Marcel T. Alvear 450, or thereabouts – only there just doesn't seem to be any shawarma spot anywhere within a block or two – the address itself is a sandwich shop that's clearly been there for eons.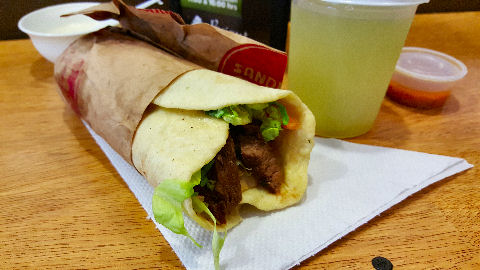 Beirut Lebanese Fusion, Viamonte 347 – Fast food style, a mix of takeout and eat in at high counters around the room. Line-up to order, which is a tedious, and long process at weekday lunchtime. Choice of beef or chicken or mixed shawarma, or falafel, solo or in combos with various salads. 50 pesos got me a mixed one, with gristly bits of beef and dried out bits of chicken, some lettuce, tomato, no sauces (tahini, yogurt, and hot sauce available on the counters to add yourself), and, hold on, the "fusion", one supposes, half the insides are filled with soggy french fries. Didn't make it past a couple of bites, tossed it in the trash and walked.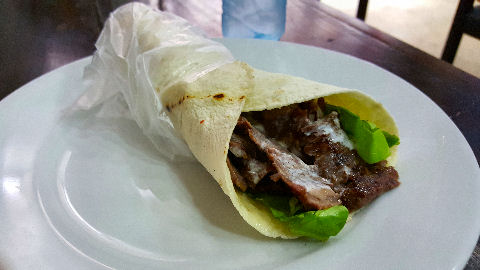 Shawarma Dubai, Tucumán 969 – small, casual spot, shawarma spit right at the entrance with someone waiting to whip one up for you. I suppose there's a menu of other stuff available, but it seems like no one comes for anything but. Really well seasoned beef, absolutely delicious, but very little of it, and the thin, wispy wrap had nothing else in it but two little ribbons of lettuce and a splash of yogurt sauce. Hot sauce brought to the table on request. It really was tasty, and for a mere 45 pesos, it's not badly priced, but it's a size I could easily eat three or four of at a meal.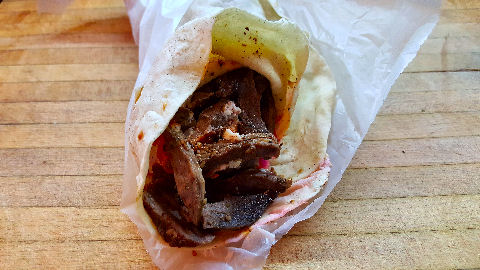 From Retiro, it was off to San Cristobal – a quick and easy route now with the still relatively new H line on the subway, taking me right to the corner where the whole restaurant supply district starts. On a small side street, what looked like an equipment salesroom in some ways, turned out to actually be Shawarmania, Saavedra 1235. The posted price of 110 pesos for a shawarma initially sounded a bit steep, but it's footnoted with an assertion that it contains a whopping 400gm of beef, near to a full pound – and, it easily does. Huge wraps, probably 16″ across, piled with meat, and a choice of various of the usual accompaniments – lettuce, tomato, onions, pickled cabbage, tahini, yogurt, and hot sauces, all added generously. It's really just a takeout spot, although they have a small table on the sidewalk out front if you want to sit and eat. I decided to have it wrapped to go and brought it back home to share with Henry. Truthfully, one of the best I've had in town.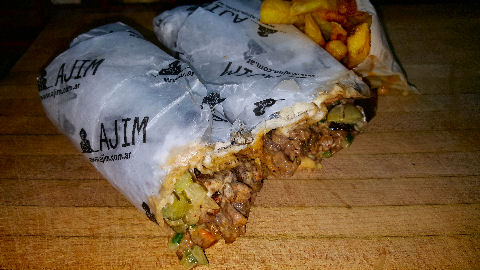 Apparently, El Jaial, one of my least favorites of the shawarma spots from past editions of this chronicle, shuttered a few years ago. It was replaced by Ajim, Tucumán 2620, and conveniently reached from the last spot with a hop right back on the H train and then a couple of block walk, grab another to go, and while I could have hopped back on the train to home, I walked. Updated takes on Israeli cooking seems to be their schtick. A couple of rather cute brothers running the spot. Very modern, sleek. Kosher. Another whopping shawarma here, with wraps that are maybe 13-14″, and jam packed with beef. It doesn't seem to have been spit-roasted, having more the texture and cut of strips that have been pan-sauteed, but perfectly seasoned and tender. One note, to be careful, I usually ask for my shawarmas with "the works", but here that turns out to be a stretch of a salad bar, and my shawarma had not only the usual lettuce, tomato, and onion, but some sort of cucumber salad, sweet and sour eggplant, some sort of spicy vegetable salad, coleslaw, hummus, and more, making it a bit over the top – obviously, given that the place is kosher, no yogurt sauce (dairy and meat and all that). They fold it up burrito style, and then cut them in half (wish they hadn't done that given that I was getting it to go, as it just made the bag soggy). Comes with fries, on the side. Absolutely delicious, and given that it's walking distance from home, I'll go for more – and the place (and boys) are clearly deserving of more scrutiny.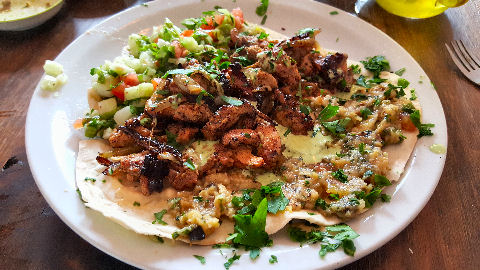 When I first tried Eretz, Malabia 1583 in Palermo, I'm pretty sure there wasn't a shawarma on the menu, or I'd likely have ordered it. Now, there are two. Sort of. There's this, the shawarma meal, which comes with all the fixings – a trio of nibbles with pita bread (yes! a change from the ubiquitous cottonball white bread miñones that were on the table the last time) – this time, chopped liver, a lovely carrot salad, and couscous with beans; followed by the main event – a dinner plate sized wrap topped with a mix of nicely seasoned beef and lamb together – I'd say chargrilled rather than rotisserie, just as a guess, slathered with hummus, smoky babaganoush, and cucumber salad, and, of course, more of that great hot sauce on the side. It's at a steep price though, 180 pesos, making it not so much of a deal for someone looking to just have a quick shawarma and be on their way. The other option is from their "sandwich wraps" menu, where for 60 pesos you can grab one that the waiter says is "a bit smaller" and comes without the initial nibbles, and without the slatherings on the inside – just meat and some lettuce and tomato. I will say that the former is absolutely delicious, and one of my favorites so far on this quest, it's just not snack food.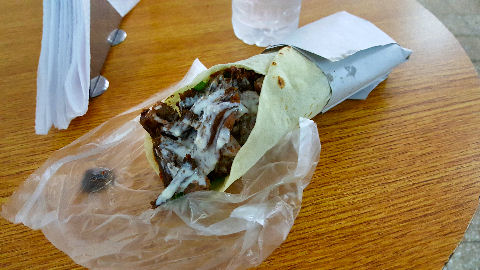 Headed out to Caballito, where I'd been assured that one of the best shawarma spots was to be found just a block or so behind the Mercado del Progreso, Aldim, at Av. del Barco Centenaro 274. Unfortunately, turns out that it's relatively recently been replaced by a branch of the expanding small chain of Ararat. I reviewed what I think is their original location about five years ago and liked but wasn't wowed by their shawarma, here in Recoleta. I could pretty much echo what I said about it then – nicely seasoned meat and a decent amount of it, good pitas, properly dredged in a bit of the meat drippings and then plastered against the rotisserie on both sides to heat and crisp it a little, a little skimpy on the lettuce, tomato and onion for my tastes. One plus, this spot (and maybe now that spot, who knows?) is far more liberal with the harissa sauce, and actually offers it up front without having to ask for it. A shame I never got to try the shawarma from Aldim, my curiosity will have to remain unsatisfied.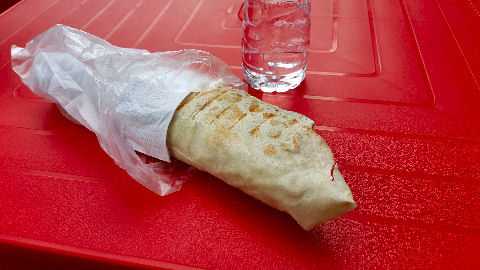 I've been hearing rumblings in the foodie world about a fairly new spot, Casa Armenia, Kaükaz (name change), Honduras 5867 in Palermo. And the rumblings, positive all, are well justified. This is basically a takeout only place – they have a small bench inside where you can sit, sans table, or a couple of small plastic tables and chairs outside on the sidewalk where you can set yourself, which is what I did, despite the chilly day. Another spot with a range of fillings, both condiments and salad-y sorts of things that you can add to your shawarma – I selected the classic lettuce, tomato, and onion, the counterman highly recommended I add a little bit of their cabbage and carrot slaw, so I did. Hummus, yogurt, and hot sauce. The first place I've seen that presses their shawarma in a panini press. I still kind of prefer that the flatbread get heated up with some meat drippings and slapped against the rotisserie grill, but this gives it a nice toasty flavor, a different sort of dimension. And, absolutely spot-on, great shawarma. I'd happily eat this one anytime, anywhere. 80 pesos.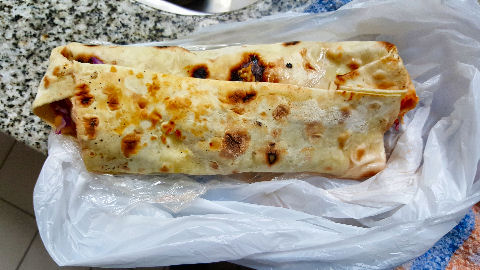 I have to admit, this one surprised me when someone recommended it. Somehow or other I had the impression that Fitz Roll, Fitz Roy 1841 in Palermo, was a takeout sushi roll spot. No idea why, it just somehow or other was in my mind. Now, this is one that I have mixed feelings about. I'll say upfront, I don't really consider it to be a shawarma (nor, by the way, does it seem that Fitz Roll does, they just call it a wrap). True, they have beef or chicken on a rotisserie spit (also tuna and eggplant options, though not rotisserie, clearly), but, there's no seasoning to them that could be remotely considered middle eastern, and flavor-wise, and condiment choice-wise, there's nothing that leans that direction either. You may as well consider a burrito filled with al pastor meat to be a shawarma. As a guess, the beef version was simply seasoned with salt and lemon, and nothing else. The condiment choices are those that are much more towards what you'd expect in a typical "wrap" place – arugula, tomatoes, potato salad, rice, chickpeas, raw cabbage, carrots, etc. (and bizarrely, I thought, the only onion options were pickled cocktail onions, or chopped scallions). Panini pressed as well. Negative – after pressing it, they wrap it in several layers of commercial grade plastic wrap before sticking it in a paper bag for takeout, which means that unless you unwrap it to eat it within a couple of minutes, the flatbread steams to a sort of soggy mess – I ended up taking it home and re-grilling it to give it a little drier texture and make it "pick-up-able". It was delicious, but, although I'll include it here since I tried it, had I known, I probably wouldn't have bothered, and I'm not going to put it on the Chronicles of Shawarma list, nor map. 55 pesos.