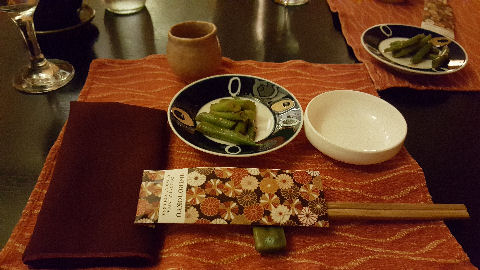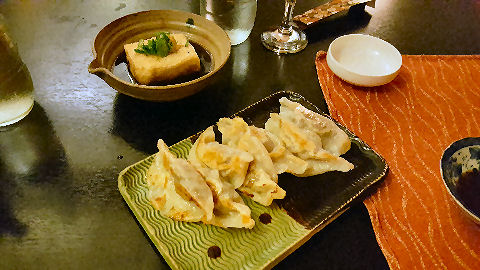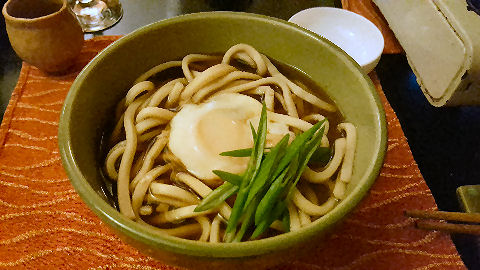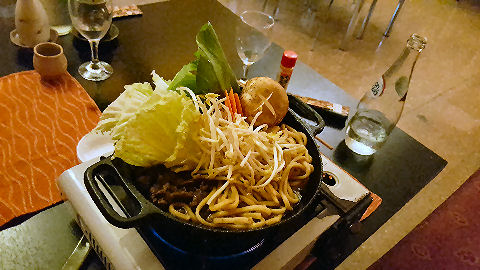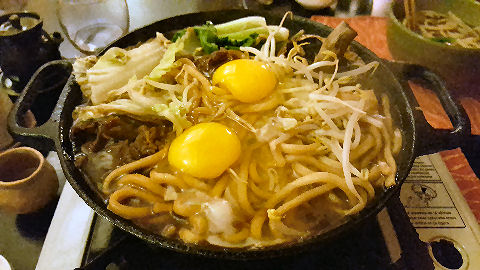 The plan was to add to the slowly growing list of spots for ramen in town. Rumor had it that Bistro Tokyo (variously spelled with Bistro or Bistrot, and Tokyo or Tokio, depending on whether you're looking at the sign out front, the chopstick holders, the menu, or the bill), Virrey del Pino 2551, Belgrano, had a rolicking good one. So Henry and I headed off one chilly eve for a couple of bowls of our favorite Asian soup. Unfortunately, it turns out that they don't have ramen on the menu, never have had ramen on the menu, and have had to field this request more than once since they've been written up in various internet spots for having it. Maybe they should just add it to the menu.
The place is kinda sorta cute, in a let's decorate the cafeteria to look like it's not really a cafeteria way. No one's particularly attentive when you come in, we sort of stood around waiting – it's not that they're not there. Two guys behind the sushi counter, two waiters popping in and out of the kitchen. They just didn't pay any attention – none of that usual friendly greeting one gets when entering sushi bars and the like. When one did pay attention, he just sort of gestured to the room and said to take any table for two. We did, he brought menus, we asked about the ramen, etc. Settled on ordering a couple of apps – moderately good albeit greasy gyoza, quite good agedashi tofu. For main courses, a tsukimi udon – plump udon noodles and an over-poached egg in a fairly good broth, and sukiyaki chico. The latter so overfilling the pot that we ended up with a mess on the table just trying to get it all cooked – and starting from ambient temperature broth, which meant it took forever to get it hot enough to start cooking. It was okay, nothing special. A small flask of sake, a couple of waters, and a bill that with tip topped out over 1000 pesos, or about $75, which is up there given the quality.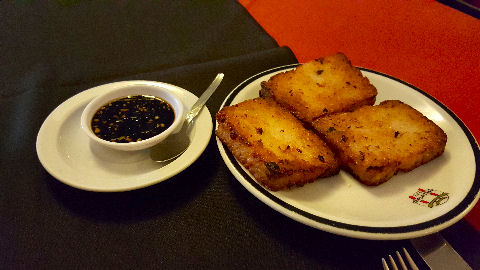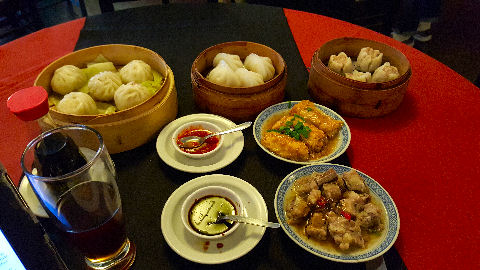 You would think, given how much I like dim sum, that I'd have made the effort some time during the last eleven years to go to the one place in town that actually serves it, Hong Kong Style, Montañeses 2149 in Barrio Chino. (There was another restaurant that offered quite a few dim sum dishes on their menu, Cinco Corderos, but it closed awhile back.) Somehow, though, I just never made it – the place always seemed to be closed – turns out they only open for lunch on Friday, Saturday, and Sunday, and we rarely go to chinatown at night. But I've heard good things about the place over the years, though been told it's a bit on the pricey side.
Mostly, they have a regular menu of Hong Kong style specialties, and I do want to go back and try some. The dim sum menu is a separate one, with six pages, one dish to a page. I can handle six plates of dim sum by myself, right? I ordered the sextet, earning me a series of raised eyebrows from the waiter. But he dutifully brought them, first one, then the other five all together. And, I finished every bit of them. Not bad either. Not the best dim sum I've ever had, but certainly great quality and flavor and well worth dropping in when I need a fix. Six plates, plus two iced teas, with tip 620 pesos, $45. I'm not complaining.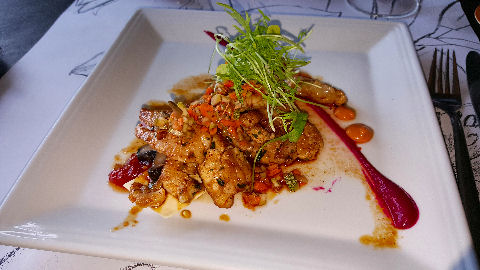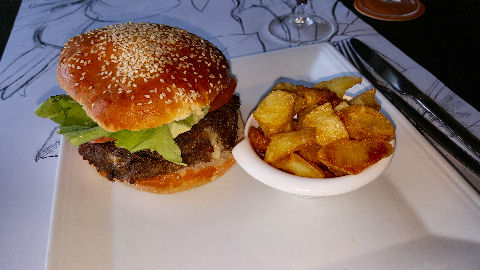 Another spot that I've just never made it to, i Central Market, corner of P. Dealessi and M. Güemes, in Puerto Madero. Actually, this one is understandable, I just rarely cross over to the Puerto Madero Este side of the canal, there just never seems to be much reason to do so. But, I was taking a wander that way one day recently and spotting that the place offered up both beef and lamb burgers, I decided to add it to the list.
Started off with a pleasant little (not so little) appetizer of properly cooked sweetbreads. Too much sweet stuff on the plate, from a honey dressing to beet and carrot purees, but interesting. It was listed on the menu as a coca, which is a sort of flatbread pizza typical in Spain – not so much here, it was just an inch-wide strip of flatbread shoved underneath it all.
Oh, the lamb burger, or lamburger as it's noted on the menu. Is it a burger or is it not a burger? It's slow cooked lamb – the menu says four hours, I'd bet even more. It's been shredded, and then packed back together into a thick patty, and placed on a bun with blue cheese, lettuce, tomato… but it doesn't hold together well as you eat it, with the shreds of lamb falling about in clumps. Still, it's amazingly good, and if they want to claim it as a burger, I'll give it to them. The little fried potato cubes seem a it of an afterthought, and a kind of skimpy portion to accompany a burger of that size (I think it was 200gm, which is close to a half pound). Burger was 230 pesos ($16), the rest, plus tip, bringing the total to 565, or about $40.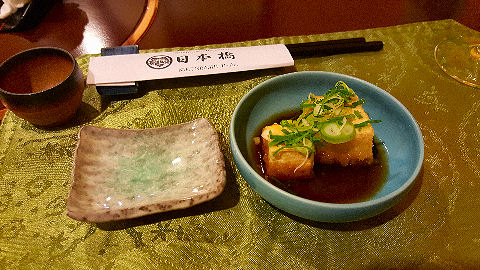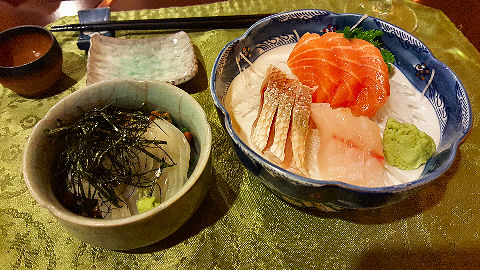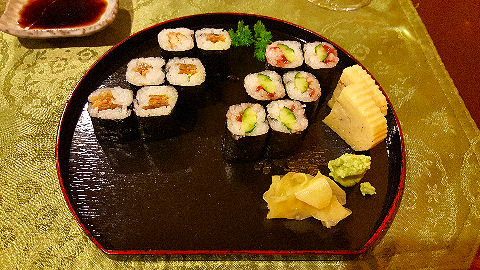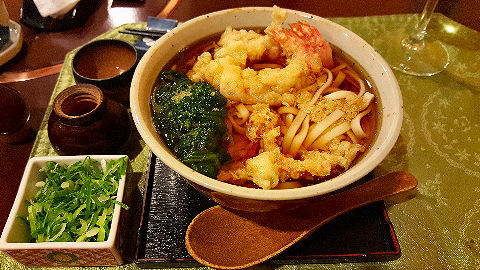 It's been a few years since I dropped in to Nihonbashi, Moreno 2095 in Congreso, and even more since I originally reviewed it, way back in 2007. It's the sort of place that requires pulling out a credit card that has a decent limit on it, so it's not the first place I think of when we're going out. Besides, as you've seen, Henry's not a big fan of Japanese food, and won't eat sushi at all. So it's a solo venture, or with friends of like mind, now and again. I ended up with a table for 4 to myself, in a small side room where a mixed Argentine-Australian couple were at another table for 4. They were switching back and forth between Spanish and English, I'm pretty sure, given the content of their conversation, the English was so that I wouldn't understand them as they talked about personal things they probably didn't want me to understand. That's progress on my end, I wasn't assumed immediately to be a tourist!
The food is, simply, as good as ever. I decided against the shabu-shabu, the specialty of the house – that's really more of a sharing dish, even though they offer an option for one person. A little agedashi tofu to start, compliments of the house, then a mixed sashimi bowl with salmon, porgy, and sole, with a side of calamari and natto. A couple of maki rolls – actually, half rolls, which is a nice option when you're solo and want to try more than one – salmon skin and ume plum. And, finally, a mistake on my part, I didn't catch that the tempura udon was in broth and thought I'd be getting a bowl of the noodles and some crispy prawns on the side or atop. The crispy sort of goes away when it's under liquid. And the noodles weren't the thick , round udon noodles I usually think about, but rather sort of thick fettuccine style ones. Still, great flavor. Oh, they don't have ramen either, I checked. All delightful, though, as noted – it gets up there, total, with tip, a bit over 900 pesos ($66).