A historic part of Piemontese cuisine, stradette is a pasta made from a blend of cornmeal (coarse polenta) and pasta flour. It stems from a period of time when cornmeal was simply cheaper than wheat flour, and was a way to stretch the dough, so to speak. Most traditionally, it's made into a simple tajarin shape – a long, narrow, flat pasta similar in size and width to fettucine, and was sometimes known as tajarin de granoturco. Although that was its most common form, stradette, as best I can determine, encompasses any traditional pasta from the region made with cornmeal.
Corn was introduced to Spain and Italy by Columbus, on his return from the new world, and by the mid-1500s had become a staple of northern Italy, where it was consumed by peasants as a mainstay of their diet. Why it was referred to as granotruco, or Turkish wheat, is lost to history – there's some speculation that there was a common belief that the lands of the Turks was its origin, though where that belief came from, who knows? Interestingly, the Turks referred to corn as "Roman wheat".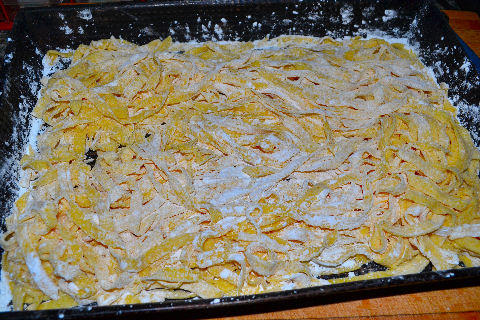 The general ratio of cornmeal to pasta flour seems to be 1:3, and a quick and simple recipe that makes enough stradette for a family dinner is 1 cup of cornmeal, 3 cups of pasta flour (I used finely ground semolina, though it's likely in Piemonte, historically, that it was simply plain milled flour), 4 eggs plus 3 yolks, and a large pinch of salt. I'm not making that much of the stuff, and I settled on ½ cup of cornmeal, 1½ cups of semolina, 3 eggs, and pinch of salt.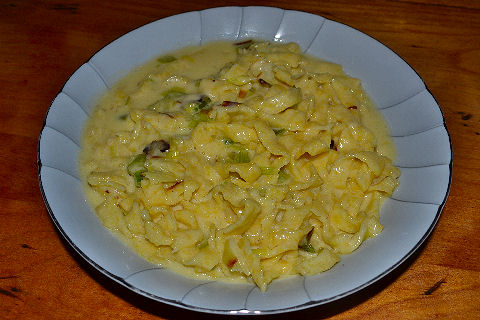 Probably the most traditional recipe for stradette is with a leek cream sauce. Chopped leeks slowly cooked down in olive oil, about 20 minutes until soft and just barely starting to color. Add some cream and a splash of broth, and crumble in an unaged goat or sheep's milk cheese and whisk until thick. Season with salt and pepper and toss with the pasta.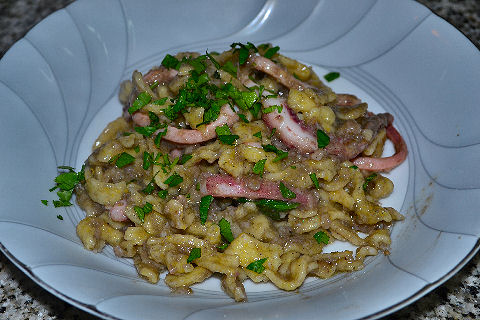 An oddball one that I was just playing around with based on a flavor combo that I read about in a totally unrelated dish. The sauce, onion, garlic, rocoto chilies, a touch of squid ink, all cooked down and then pureed. Cooked squid rings and arugula in it, and separately tempura fried the tentacles, tossed it all together and scattered it with parsley and grated pecorino. It was good, but not quite what I'd envisioned.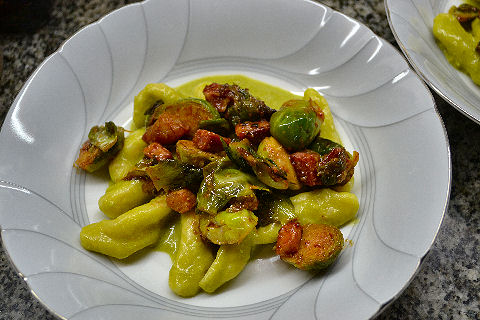 More successful, making cavatelli out of the stradette dough, and serving it tossed with a leek green emulsion, and topped with sauteed pancetta, brussels sprouts and the leek whites, finished with a touch of smoked mustard, tomato paste, and sherry.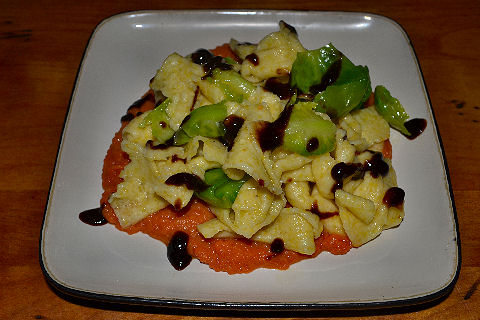 And finally, a more "modernist" approach that I spotted on the internet, though plated very differently. Here, wider noodles, almost like short pappardelle, tossed with good olive oil and blanched brussels sprout leaves, served over a caramelized carrot puree, and dotted with a fig infused balsamic vinegar. Flavor-wise, this, and the traditional creamy leek version, were my favorites of this playtime.
One note, stradette comes out a little on the chewy side, which is probably a reflection of the cornmeal not having time to cook to a completely soft state – it hydrates a bit while the dough is resting, and then cooks in water while the pasta is boiling, but traditional polenta takes a lot more time to really cook to a creamy consistency. I'm musing as to whether using the modern innovation of instant polenta might give the flavor, but a much softer pasta. Also, using a softer fine milled wheat flour in place of the semolina. Replacing one or more of the whole eggs with just yolks could also have a similar effect. More experimenting to come….