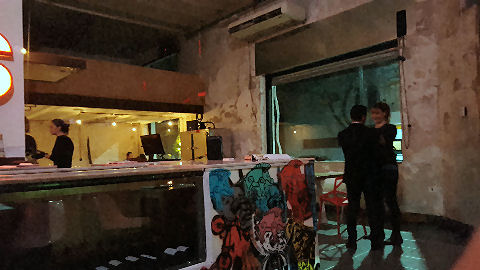 I debated. A lot. I mean, we've all read about and heard about the "New Nordic Cuisine". And sometimes it sounds fascinating. Other times, not so much. It's one thing to forage about when your restaurant is out in the wilderness and you have access to amazing natural products, it's quite another in an urban setting. It's not new, nor unique to this whole Nordic hotflash though, after all, Michelin starred French chef Michel Bras has been foraging the area around his acclaimed restaurant for decades, as have many others in various parts of the world. And I had a great meal at Gustú, the Bolivian offspring of famed restaurant Noma, though, it wasn't Nordic, it was just inspired by the style.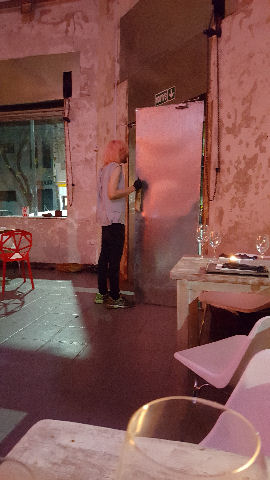 And the new spot here, Söder ("South"), Honduras 5799 in Palermo, was getting such mixed reviews. Some people love it, some hate it. The chef, Isidoro Dillon, an Argentine who spent 20 years working in Stockholm, seems to have almost as much of a dichotomous fan/not-fan club, from both diners and colleagues alike. Curiosity won out, and last Saturday, while Henry was off to a dance troupe event, I ventured out solo (not planned, but a last minute cancellation of another curious friend) to see what all the fuss was about. [Closed in August 2016, with hints of a future reopening in another location.]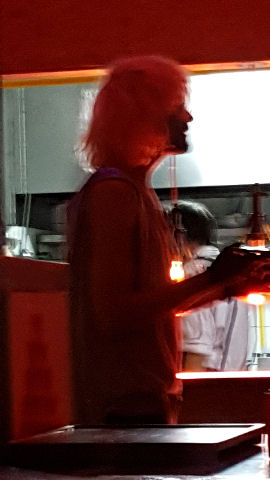 Let's start with the usual stuff. The room. I kind of hate it. Sorry, but there it is. There's a point where all the exposed brick and concrete and pipes gets to look just a little too contrived, and at the same time, just not attractive. And it's cold. There are no warm or soft surfaces anywhere, and the heat was certainly not keeping up with battling the ambient temperature outside – something they're going to desperately need to fix before winter hits full on in a few weeks. On the other hand, a truly warm greeting, and a great, lovely surprise in the person of one of my favorite sommeliers here, Pablo Colina, who we last saw at Astor (now closed and in the process of moving to San Telmo), is handling the wines here. The waitresses, and at least the night I was there, they were all "esses", are dressed down, and seem a little befuddled by the whole thing. My waitress in particular, was coming off of a couple of weeks out sick, still had laryngitis to the level I couldn't hear a thing she said, and she finally gave up and turned things over to someone else, who I could at least hear. The menu changes constantly, so, more than once, either or both of them had no idea what was on the plates they were serving, and Söder doesn't offer up a printed menu (they apparently did, for a time, but at least the night I was there, no). And the tasting menu only option changes in number of courses daily – I'd looked at their Facebook page for the previous evening and seen a listing of 15 courses (not detailed, just each with a one word name), but there I was being told there were only 13 courses out of the same 15 being offered on Saturday, same price (a flat 600 pesos for food, 300 pesos for the wine pairing option). That's all a little weird. And the place was not busy, despite their page saying they were completely booked, far earlier in the day – I don't know if they had a lot of no-shows, the chef kept coming out and staring out the door forlornly.
So let's get to the food. To paraphrase the infamous line that we all have heard, "This is the sort of food that will be liked by people who like this sort of food." I will say that I was intrigued, and fascinated, by each and every course, and wish I'd had the opportunity to chat with chef Dillon just to get an insight into what goes into his ideas. And I ate almost everything – albeit that most of the plates were no more than one or two bites of food. But I'd also say that out of the 13 courses, there were only 3 that I was excited by, at least in toto. Some of them had components that I really liked, but not necessarily the whole dish combined, I'm sorry to say. Let's take a look (upfront – I was scribbling notes and trying to get info out of the waitresses, mostly to no avail, so the descriptions are going to be "succinct" to say the least):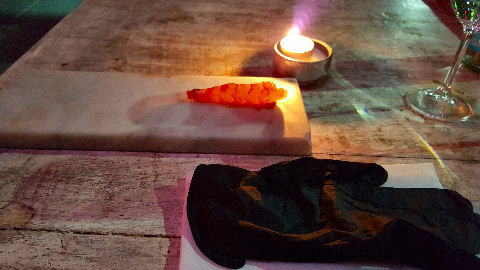 Unseasoned raw prawn over a teeny schmear of peanut butter. Seriously? Oh, the glove. All the waitresses, and the chef, seem to be wearing a single black glove, and each diner has one in front of them. Why? Because they don't give you silverware, you're expected to eat everything with your hands, as the glove gets messier and messier. You can, however, ask for silverware, and they will bring you fork, knife, and chopsticks. That's what I did. Wine served – Bressia's "Sylvestre" Rosé 2014.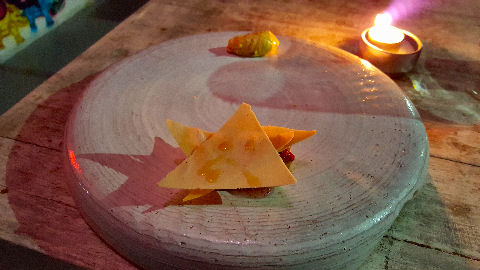 Some sort of delicate crackers over a sweetbread in orange honey, served with a blob of white chocolate mousse. A bit too sweet overall for me, but intriguing flavors in general.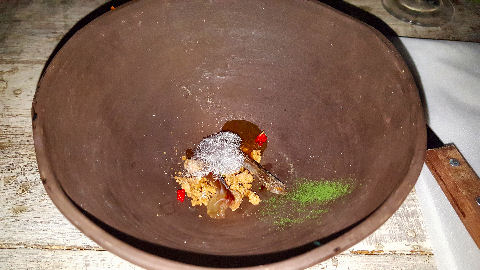 Cured bonito with breadcrumbs and cotton candy, fish eggs, and spirulina powder. The bonito was cured to basically a jerky, and I didn't get this dish at all. Wine served – Patritti's "Primogenito" Extra Brut sparkling.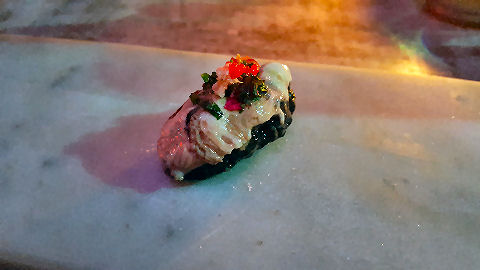 Black rice nigiri with creamy brains on top – no one knew what animal the brains came from, or they weren't saying – given how much of it shows up on the menu, I'm going to guess lamb. But I have to admit, this was my second favorite bite of food.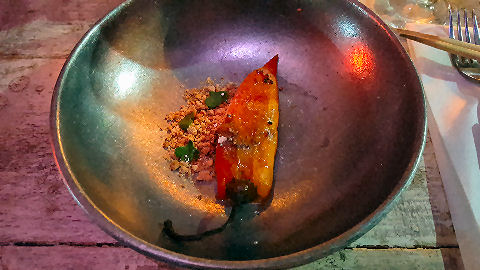 A roasted ají amarillo that tableside is then charred lightly with a glowing coal of quebracha wood by one of the cooks. Filled with a mix of caramelized white chocolate and dulce de leche, some sort of sesame crumb (dehydrated tahini?), and cilantro. Far and away my favorite course of the evening – somehow, despite the filling sounding overly sweet, it all balanced beautifully. I'm stealing the idea sooner or later. Wine served – Punto Final's Sauvignon Blanc 2015.
At this point, I've been in the restaurant for exactly 18 minutes, and I've already been served five courses and three wines. They'd actually brought out that first course before my first wine or my water had been served, and before I'd even really settled at the table. I guess given that there are no options, there's no assumption that you might want a minute to relax and "get there" before food starts arriving. I asked if they'd slow things down, and they did, thankfully, or I'd have had 13 courses and six wines in under an hour….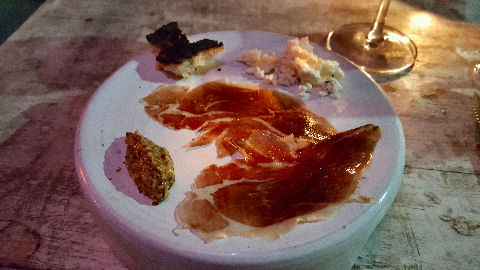 Lamb proscuitto, salted ricotta, whole grain mustard, and charred bread. The prosciutto and mustard, delicious. The charred bread, not so much. The salted ricotta, fine, but if there was salt in it, I don't know where. I left part of the quenelle of mustard on the plate and my waitress chastised me for not finishing the dish. Apparently not having eaten a full two tablespoons of mustard is insulting to the chef or indicates that I didn't like the dish. I'd note, too, that every single time I took a bite of something, one or the other of the two waitresses would come right over to the table to ask my thoughts about the dish. Just let me eat.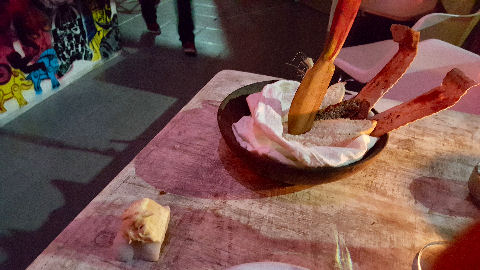 Bread was now served. (It didn't count as a course. I don't think.) A trio of different breads, quite good, and a white chocolate orange butter – the chef seems to have a thing for white chocolate. I took one piece of bread and put some butter on it, and the waitress returned and not only asked if I liked it, but then tried to clear the bread, as I was now done with it. Apparently. I asked if she'd leave it, and she grudgingly agreed to, but every couple of minutes, either she or the other one came over and asked again if they could clear it yet. That's just a WTF?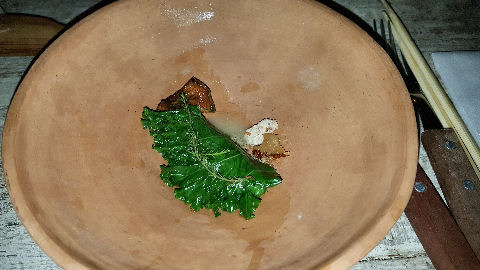 A piece of a fillet of pejerrey, extremely salty, supposedly encased in crispy kale that was as limp as wet tissue, fermented almond cheese, pine mushroom and branches of pine (those don't look like pine to me, they look more like fir, or some other evergreen, but okay), and a "pan de tierra", which literally means dirt bread, and it was gritty as could be. I think, my least favorite course, and the only one I didn't finish (not counting the mustard blob). Wine served – Bressia's "Lágrima Canela" 2013, a blend of Chardonnay and Semillon – best wine of the night.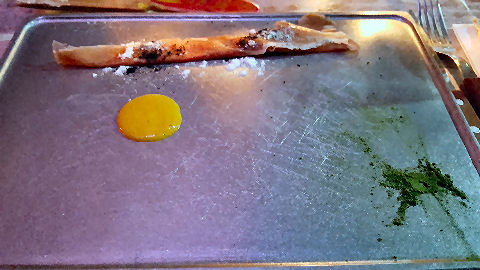 20-Day cured rib-eye rolled around a sweetbread mousseline, with an egg yolk, more spirulina powder (another ingredient he seems enamored of), citrus ash, and a rice starch powder made from dehydrated cooked sushi rice. Another dish that I did actually like quite a bit.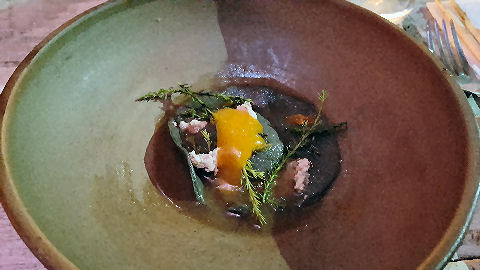 Pine infused pasta ravioli filled with "ragu" (no one seemed to know of what), another yolk, and, lots of those pine branches – I sort of assume they weren't for eating directly, they were, well, branches. The pasta was too thick a bit tough, and the ragu was indistinct. A meh of a dish. Wine served – Finca Las Moras' "Paz" Syrah 2014.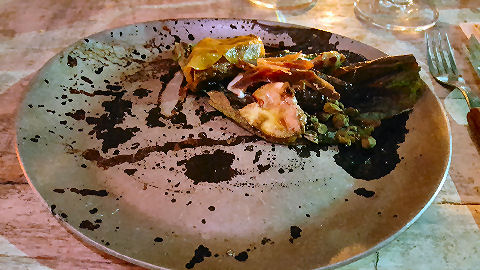 Lamb, lamb sweetbread (he does like those sweetbreads too), beet, beet greens, capers, potatoes cooked in lamb fat, more lamb prosciutto. Flavorwise, a decent dish, and texturally and visually interesting. The one negative, the dish was basically room temperature – I don't think that was intentional, I think it just sat too long before being served.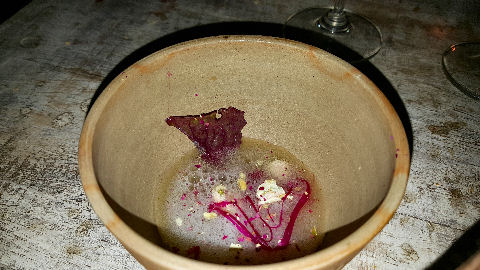 A cold herb broth made with cilantro, mint, and fennel, with fennel meringues. Just plain weird. Apparently the palate cleanser, pre-dessert.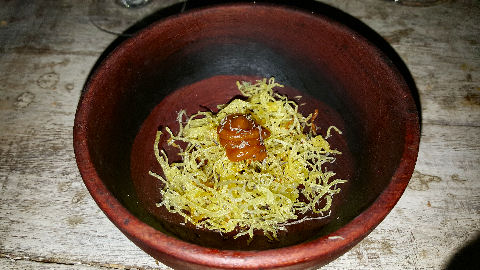 A crispy potato "nest" with thyme and dulce de leche. Actually, kind of intriguing. I don't really get it as a dessert, it was more savory than sweet, but it would make an interesting snack food…. Wine served – Renacer's "Enamore" 2013, an Amarone style wine of 45% each Malbec and Cabernet Sauvignon, and 5% each Bonarda and Cabernet Franc.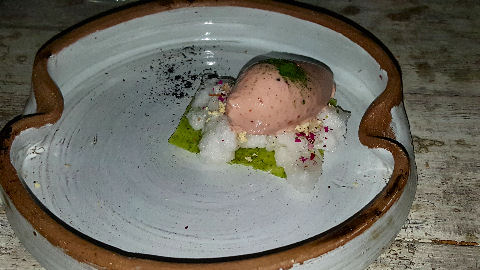 Fermented strawberry ice cream, triple sec and vodka marshmallow, pink peppercorns, fennel tuile, spirulina powder. Good components individually, but all together, just odd.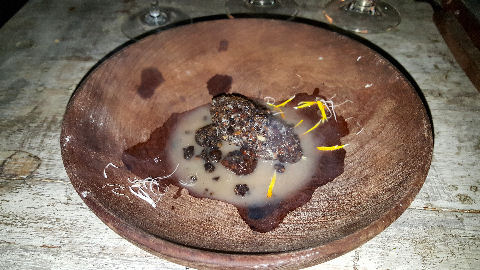 Chocolate and sesame "soil", dulce de leche soup. The soil, chewy and gritty, the soup, thin and watery. It was kind of like eating Grape-Nuts cereal without as much pleasure, and if you've eaten Grape-Nuts cereal, you'll know just about where that falls on the pleasure scale.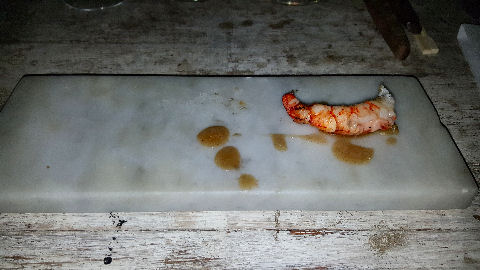 And hey, let's end up sort of back where we started, though this time, the prawn had been smoked, and was doused in chocolate vinegar. I will say it was better than the opening prawn. That's what I'll say.
So, the overall? Hate the room. Service – weird, pushy, and not overly helpful, except Pablo's wine service, which was as impeccable as always, and a completely different character from the rest of the staff interactions. Food – mixed. I like some of it, didn't like some of it, most of it was kind of in the middle, though, all of it was at least interesting on an intellectual level. Would I head öster to Söder again? I'm not sure. I think maybe the place needs some time to get its rhythm. The staff certainly need better training for how to explain dishes and how to interact with customers. I think they need to go back to having a printed menu, at least given at the end of the night so you have a reference to what you ate. The chef needs to stop coming out into the dining room in a sleeveless tee and standing around staring at customers and/or holding the door open while peering out wistfully. I have heard that at their weekend brunch they serve up a great venison burger, so I might at least go back and try that for the continual quest for burgers here.