Let's jump right in, there's lots to cover and you all know how this goes….
The Pasta is Inn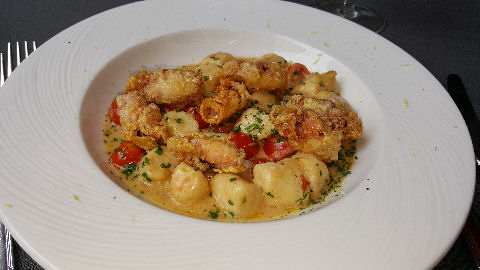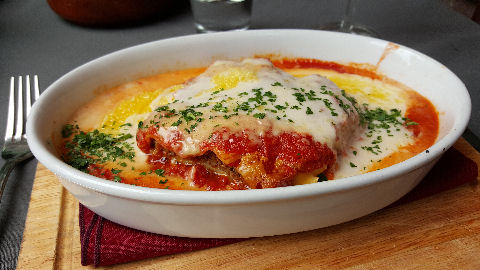 Jumping off with La Locanda, José León Pagano 2697, here in Recoleta. It's an Italian restaurant that's the darling of many aficionados. I'd only been there once before and had an odd experience, so I'd never written it up, and somehow, just never went back to try it again, despite all the raves. I'm happy to say, finally having gotten back there, that the pastas, of which I've now tried two, are all they're cracked up to be. Great malfatti with little crispy chipirones (baby squid), walnuts, lemon, cherry tomatoes, and herbs were just fantastic, and one of the best pastas I've had out and about in a long while. The lasagna was quite good – and certainly among the better ones I've had here in BA. We'll be back to try more dishes and give the place a full writeup down the line.
Pizza at the Pearly Gates?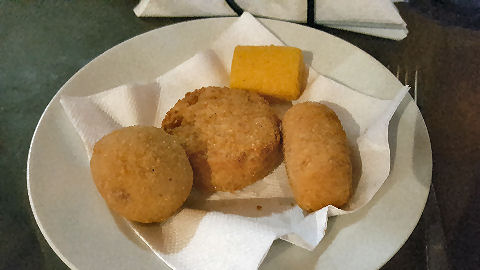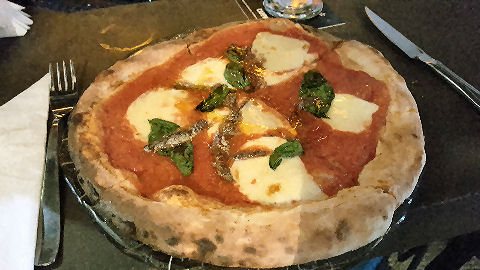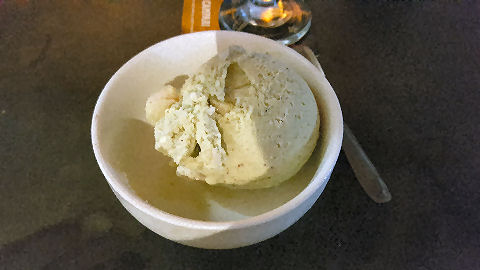 One of the problems when multiple people suddenly open similar styled restaurants at the same time, is the inevitability of comparing and contrasting them. A long time colleague and friend from New York, Maurizio de Rosa, moved down here a couple of years ago and is one of the partners in Partenope, a pizzeria up in La Lucila, a little north of the city, a pizzeria I like quite a bit. And now he's teamed up with Chef Dante Liporace of Tarquino, offering pizzas, I gather, at the hotel in which the restaurant is located (edit: that, I assume, has changed, since Tarquino closed a month or so later), and also having just opened up San Paolo Pizzeria, Uriarte 1616 in Palermo. The Neapolitan style of pizza is a bit different from up at Partenope – it's a softer, more pillowy dough, and a notedly thicker crust. Still a great tomato sauce, albeit different. And a range of different toppings to satisfy a variety of tastes. There's a dinner special that includes a little selection of fried goodies, then an individual sized pizza, and finally dessert – an excellent pear, pistachio, and gorgonzola gelato. It's a bit much food all in one – I'd probably just get a pizza on a return visit. And, much as I like the place, it comes on the heels of the opening of Cosi Mi Piace, which I wrote-up in my last Bite Marks, and which serves up my favorite style of pizza – Roman. And, of course, there's Siamo nel Forno, another Neapolitan style place in the same 'hood. Decisions, decisions. Something for everyone, no?
In Praise of Sushi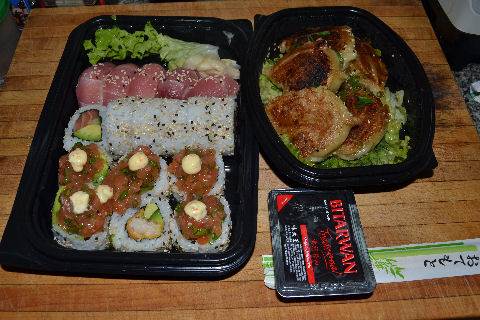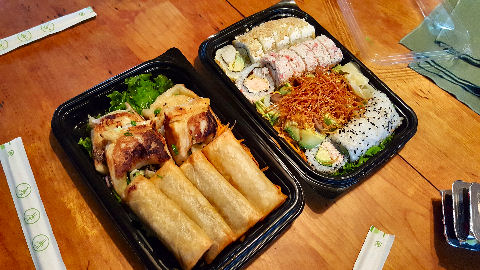 And a new (I think) sushi delivery spot, Tanizaki, French 2989, here in Recoleta, with a pretty decent selection. Focus is more on moderno and vanguardia, than classic, but they have some interesting combinations in their rolls, and not all of them, thankfully, include cream cheese. Some of the better (and bigger) gyoza that I've had in town – almost more like small empanadas that have been griddled – I guess another modern twist. Overall, from two deliveries we've tried, quite good.
The Gods Love ZaNubia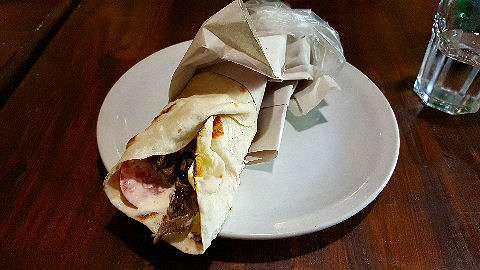 A new shawarma spot to add to the ever lengthening Chronicles – Zanubia, Tucumán 1579 in San Nicolás. Intriguing is the what I'd say for now – I literally wandered into the place the day after it opened, and they only had a couple of menu items available, and not all of their sauces made, and no waiter yet, it was just the owner, both in front and in back, running between the dining room and the kitchen. But it was a quite tasty shawarma – good seasoning, generous, with lots of onion and tomato as well, and a great flatbread, and overall well worth planning a return visit soon.
An Uphill Roll Attempt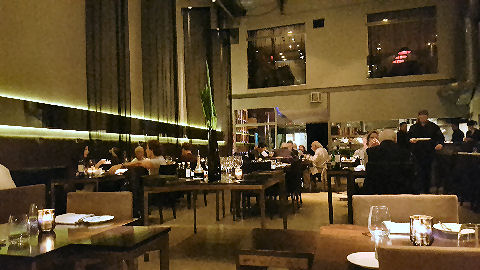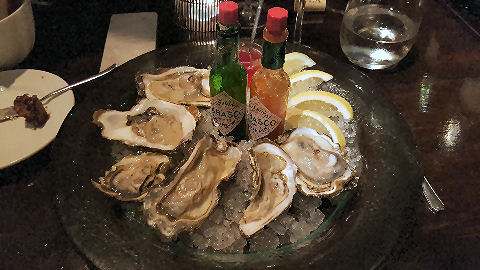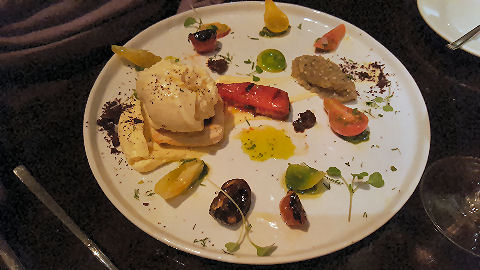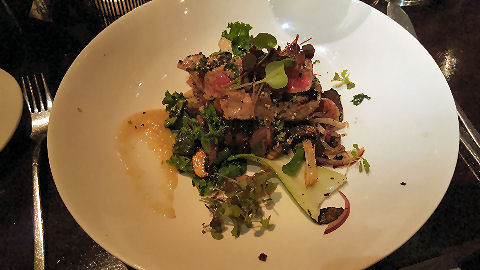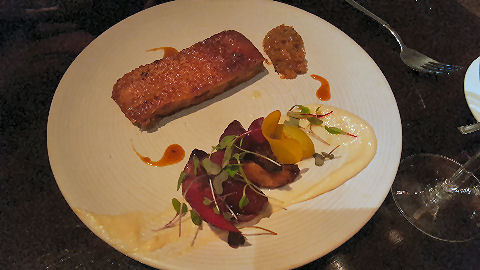 And we'll wind up this round with Crizia, Gorriti 5143 in Palermo, a place that's been on my list to check out for their mixed seafood grill, and that was the plan, but on arrival Henry declared it wasn't what he wanted to eat, so that'll have to wait for another time. Pretty room, very loungy. A bit of attitude, and no reason for it, the place was near empty the whole evening, yet service was pretty much non-existent, and a bit abrupt – at no point did we feel welcome, it was more like we were intruding on their space and their evening. The food was good, but nothing exciting. The oysters on the half shell were filled with grit, and three of the six hadn't been detached from their shells. The burrata with various tomato preparations was far better, and actually the best thing we had. The seared tuna turned out to be more or less a warm salad, not quite what we expected from the menu description and was dressed in a very sweet lime and ginger vinaigrette, and the confited suckling pig was a small block of oily meat with lots of sweet accompaniments as well. Portions are small, and ridiculously priced – for these four plates, a couple of bottles of water, a bottle of wine priced at more than double retail, and whopping 96 peso cubierto charge, dinner with tip came in at almost 1600 pesos. Other than just for the completeness of the mixed seafood grill project, I'm not sure it's even worth going back for that.