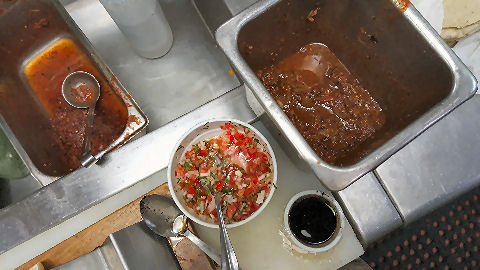 You may or may not remember the group of sauces that I learned to make one day while in Guadalajara, one of which was a salsa negra. There are various versions of Salsa Negra, or Salsa Baja, in Mexican cuisine, most come from dark roast or deep frying chilies or tomatoes, or adding soy, or, well, pretty much anything that gives a dark, black color. While in both Guadalajara and Mexico City, I tried various different versions of it, it seems to be the sauce darling of the moment. Or, maybe it's always been that way. I decided to play with the version I learned from Chef Iván.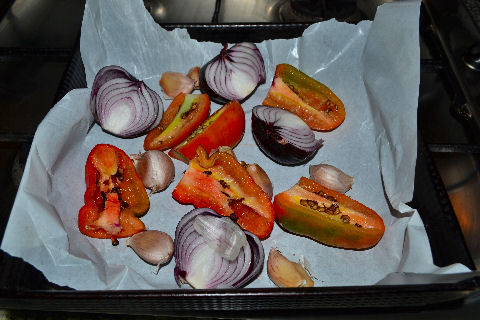 First off, we don't have habaneros here, or at least rarely. I decide to go with rocotos, which will also give it that little Andean touch that we like to have in our food here. Into a roasting pan with some of them, some red onions rather than white, and some garlic cloves. Under the broiler, turning them now and again, to char them.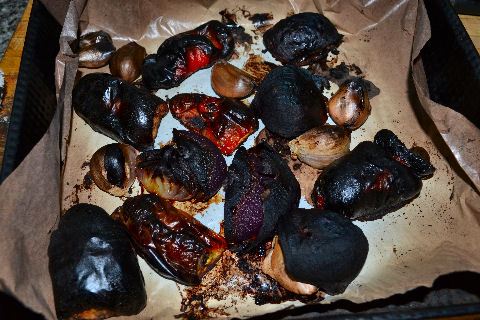 Now, the way they were doing it in his kitchen, they were charring them all the way down to a point they were completely dehydrated. I tried that once and although good, I though that a lot of the flavor of the vegetable trio was lost, so I'm now doing it to about this point. In their version, the dehydrated veggies are essentially ground down to a powder, and then mixed with lime juice, oil, and salt, which creates a sort of vinaigrette with a suspension of the particles.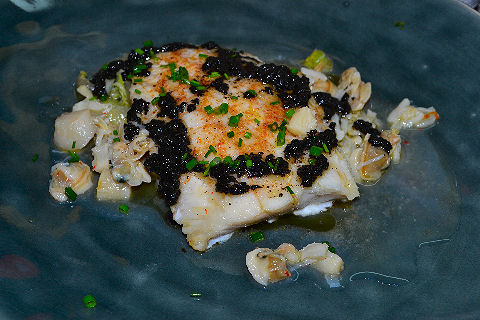 And on the trial run with completely charring them and drying them through, that's where we ended up. Here, served up with spice rubbed grouper that's over sauteed Chinese cabbage and onion confit, with a buerre blanc, butter sauce, with cockles and bay scallops, and then the salsa negra. It was an homage to one Chef Nico's dishes I tried at Cortéz in Guadalajara.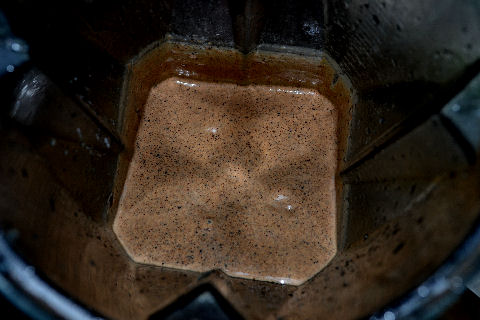 As I've been playing with the sauce, though, I wanted to try turning it into something more emulsified, and part of that was not dehydrating it all the way through so there's still some vegetable matter that will help create that emulsification. And, the flavor ends up less charred and more smoky, with the intense flavor of roasted vegetables. Basically, all the same ingredients, just blended until really smooth, and then just a little bit of xanthan gum to help it hold the emulsion. It's become our new favorite hot sauce around here. It's perhaps more of a salsa gris, grey sauce, than a black one, but we're still calling it salsa negra.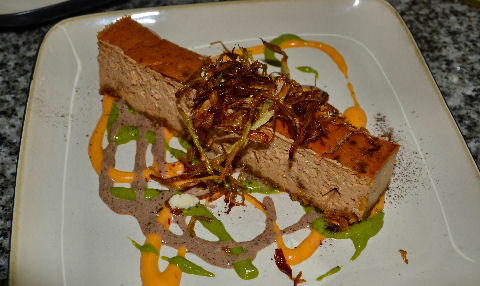 So far I've been using it in conjunction with a couple of other sauces – here, in a dish that was all out about smoke – a savory smoked mozzarella and smoked sun-dried tomato cheesecake, deep-fried leeks, toasted almonds, and the salsa negra along with a sauce vierge (uncooked tomato, shallot and thyme sauce), and guacamole.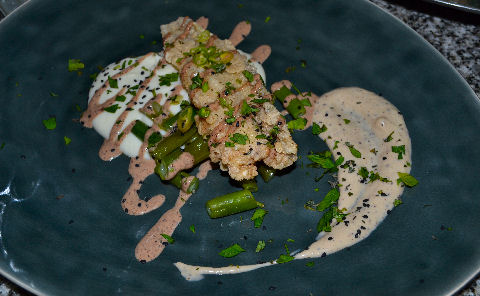 Another round saw it paired up with our spicy tahini sauce and a tempura of freshwater pejerrey.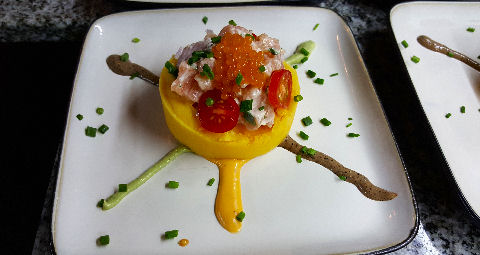 But here, I think my favorite so far, from this weekend, a salmon causa. The same trio of sauces as the cheesecake dish. Base of potato with lemon, ají amarillo, olive oil, and salt. Salmon tartare mixed with a mayo that's made with lime juice, smoked mustard, sesame oil, prickly oil (szechuan peppercorn oil), olive oil, and chopped cilantro. Garnished with cherry tomato rounds, chives, and a little spoonful of pseudo-salmon eggs (near impossible to get the real thing here, these are made with algae).
More experimenting to come – trying out some different chilies perhaps, different citruses, and/or different additions.