The street food festivals continue, seemingly year-round these days. The last two weekends they kept going despite inclement weather. When you gotta party, you gotta party.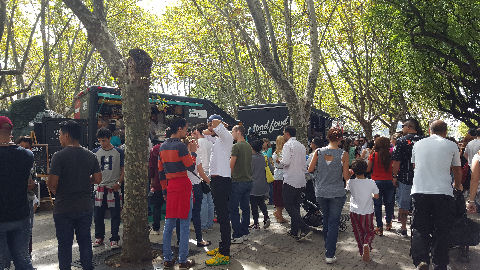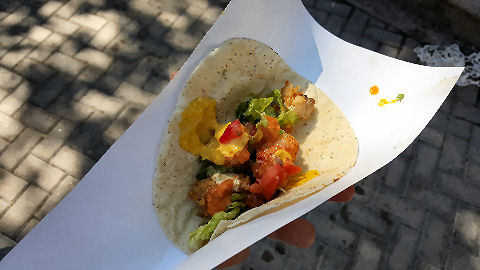 The regular BA Market turned itself over to a full-on Food Truck Festival at the Palermo hippodrome last weekend, with dozens of tricked out trailers offering up global cuisine, and even a full-on craft beer truck and a wine by the glass truck (great idea, wish I'd thought of it). Best thing we tried, fish and prawn tacos served up by the team from Paraje Arévalo.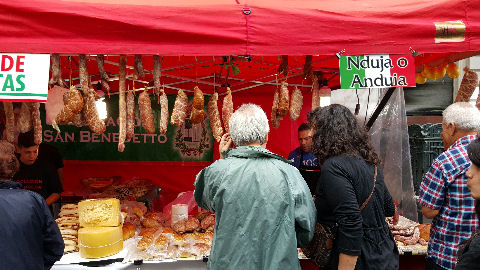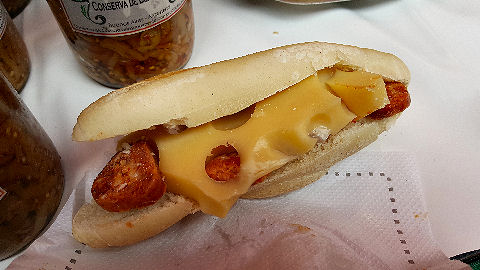 Last weekend also saw another entry in the regular BA Celebrá series sponsored by the city government, with Calabria, from southern Italy, taking its turn. Two full blocks packed with food stands and plenty of music and dance happening. Best spot – wandered up to a stand selling Calabrese sausages of various types, and also offering plain sliced roast pork sandwiches. Said to the kid attending customers that it was a shame they weren't making sandwiches out of 'nduja, Calabria's spicy, spreadable pork sausage. He lit up like a little bulb on a tree and asked if I'd like him to make me one. Hell yes.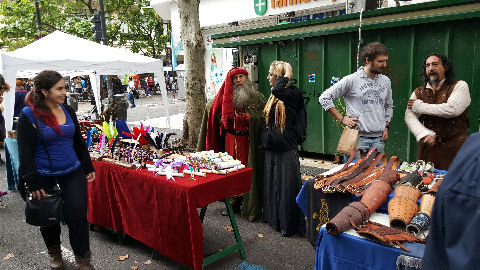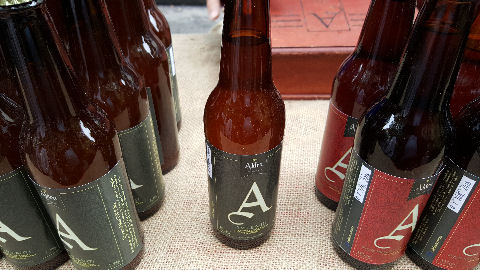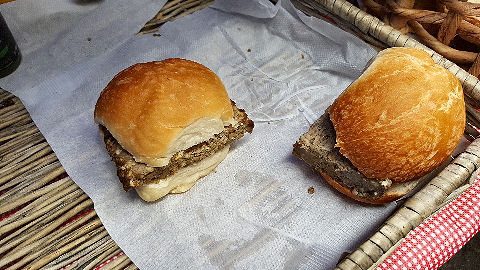 This weekend, along the usual Avenida de Mayo stretch, Scotland got its turn in the spotlight of the series. Mostly it seemed to be an excuse for a lot of medieval cosplay, having little to do with Scotland – there were booths with costumed characters dedicated to Game of Thrones, Tolkein, Medieval Combat clubs, and more of the same ilk. Even the food went astray, with the fifteen or so food booths offering up three dedicated to shawarma, two to middle eastern pastries, one to Danish pastries, three for choripanes and/or other sausages, a couple of roast pork sandwich places, and several empanada stands (calling Argentine empanadas forfar bridies but not changing anything about them from the classic Argentine turnover doesn't make them forfar bridies), and one, count it, one, stand offering actual Scottish food with meat and ale pies, and the winner of the day, haggis sandwiches! Pretty much like an offal meatloaf on a burger bun, but delicious. Wish they'd had some sort of traditional sauce rather than chimichurri, mustard, or barbecue being the only offerings, but so be it – it works with chimichurri. Several craft beer spots and homemade mead booths offering their wares – best I tried was Aldea's Tyr Santi smoked ale.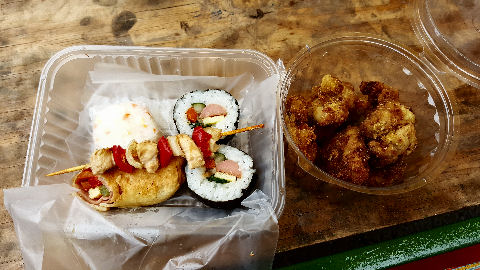 Same day, yesterday, Japan also got a turn on the BA Celebrá schedule, out along Av. San Juan just off Av. Jujuy. Given the size of the Japanese community in town, this was a big disappointment, not even taking up a full block, and mostly just souvenir booths offering, inexplicably, a huge number of Minions related paraphernalia. Food was relegated to three stands, one serving some sort of stewed meat tacos, one offering deep-fried ground beef sushi rolls, and one offering a prepackaged combo of dried out flavorless chicken skewers with hotdog sushi, and ham and cheese in a tempura – all cold and tasteless. And, curried fried chicken that was probably great out of the frier, hours before, but just served in plastic containers in which it had probably sat steaming until it cooled to ambient temperature, leaving a sodden, unpleasant nibble. Both got tossed in the trash after a couple of bites, and I headed home.
Unfortunately, due to expected rain, today's Tigre food festival and the annual Eat and Read food festival, have both been postponed, the former to mid-May, the latter to next weekend. More installments to come.