Smoked, toasted, caramelized, blistered, scorched, singed, seared, browned, blackened, charred, burnt – we are fascinated in the kitchen with the idea of putting ingredients to the flame, and often taking them not just right to the edge, but well on past it. The idea has come up a couple of times recently, first while in Mexico, not just with lightly charring some of the dried chilies before they go into making various mole and adobo sauces, but then the prevalence of "salsa negra", a concoction of burnt chilies, garlic, and onions that I'm just beginning to explore.
Then it came up again more recently as I was reading through the book From the Source – Italy, which may be one of the best Italian cookbooks that I've read in a very long time. It's not extensive, it's not an in-depth exploration of any one theme. Instead, it's a visit with each of several dozen chefs in different regions of Italy, each presenting a single dish that is near and dear to their hearts. What was particularly fascinating, was that most of them were dishes that in all my travels in Italy and all my time spent in Italian kitchens and dining rooms, I hadn't encountered. And given the theme I'm exploring, the idea of grano arso, grano bruciato, or burnt grain, pasta, pinged my radar. Then it turned out my friend chef Patti Jackson, had a little demo of the modern process of making it up on Food Arts. I was off and running.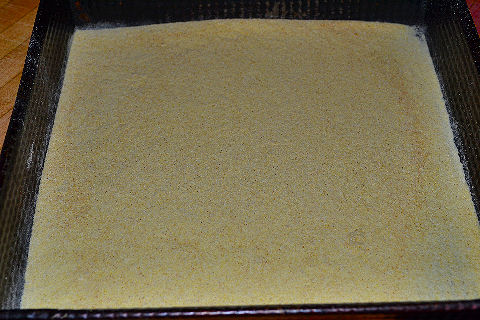 I started off with semola, the coarser version of semolina, and spread it out in a baking pan.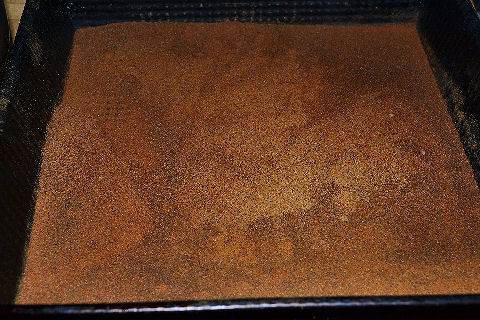 Into the oven with it and let it toast a dark brown. I've now done this half a dozen times and tried out various "toast" levels, this is sort of the mid-range, from the first time out. Over the various trials, I've come to like using it taken even a bit further, more like, as she described it, the burnt edges of a pizza.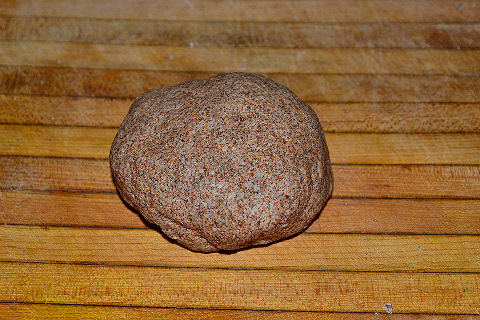 When I mixed the flour, as she suggested, 1:4 with un-burnt flour, I used semolina, the finer, more flour-like consistency that I typically use for making pasta (the coarser stuff I usually use for making gnocchi di semolino, the classic Roman style gnocchi.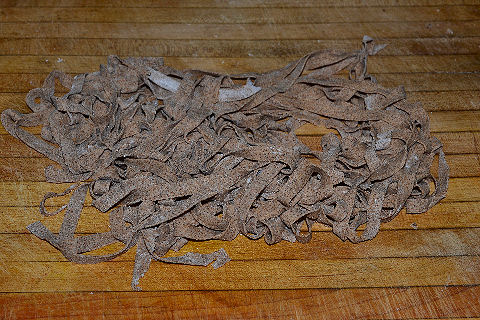 Made into fettucine, or, I'm guessing in the Apulian dialect, where this is a traditional type of pasta, nastrini.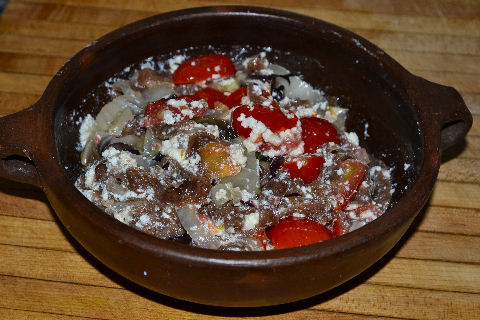 First time out I more or less followed the recipe in the book, other than only having red cherry tomatoes available rather than yellow, and different types of bitter greens here, though in the same family – the pasta here is tossed with a saute of endive and radicchio, cherry tomatoes, and ricotta salata, the salted, pressed version of ricotta. Great intro to the pasta, and I loved it, but it was time to keep going….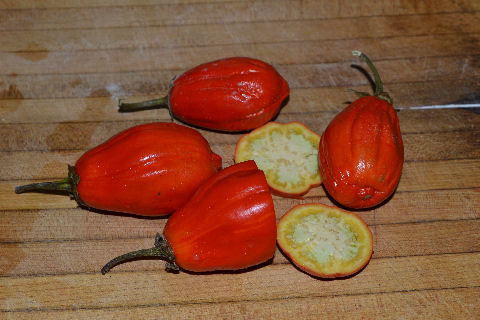 I spotted these in our local organic vegetable market, which opened not that long ago just a few blocks from home. It's a treasure trove of unusual ingredients that the young man running it seems to encounter and has a passion for. Honestly, I looked at these and had no idea what they were, perhaps a squash of some sort? But no, he apprized me, they're berenjenas rojas, red eggplants, something that I'd not encountered before. I grabbed a bunch and brought them home to play with.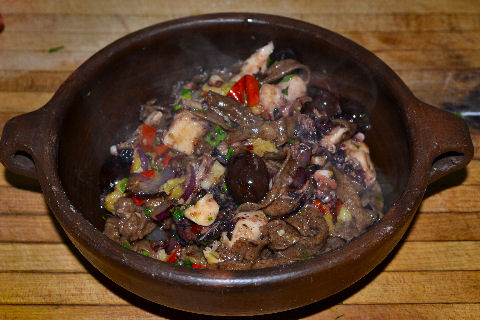 Here, from the same batch of fettucine, tossed with sauteed red eggplants, black olives, red onions, garlic, and slices of lightly grilled octopus tentacles.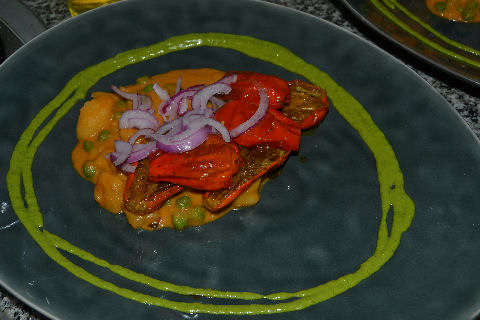 Just a tangent for a moment, last week I was making rabbit with ajiaco, the chili and garlic infused rabbit and potato dish that I did an exploration of awhile back and have since come up with a version that I quite like – it's still in the tweaking stages, but coming up soon in the step-by-step recipes. One advance and one last minute vegetarian request meant coming up with an alternative, and I ended up cooking the red eggplants the same way, to much acclaim.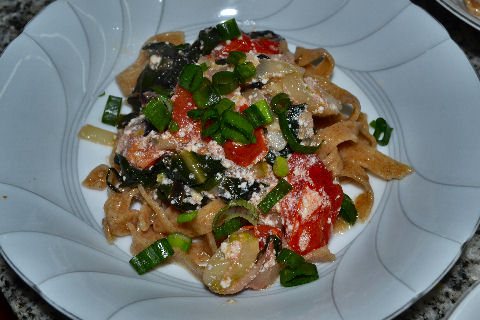 That first dish above I offered up at one of our dinners. Here you can see how the pasta comes out with a lighter toast on it. For me, it wasn't as on the edge as I wanted, and I went back to a much darker toast. The only addition to the dish here is that I added in some chopped chicory and radichetta to the radicchio and endive just to give more complexity to the greens, and finished with chopped green onion. It was a hit.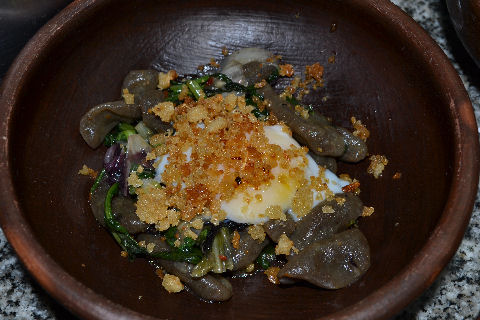 But enough fettucine, I decided to go all orecchiette on the dough. I'm not as good at forming this pasta shape as I'd like to be, but they came out a reasonable facsimile. I also went even darker than my original, and instead of Patti's recommended 1:4 ratio to untoasted flour, I went 1:3. At the suggestion of the chef in the book, Gigi Giustizieri, from Salento, I add a little bit of very finely ground espresso to the dough mixture too. The same greens, but without the cherry tomatoes, and then topped with a sous vide 63°C egg, and fresh breadcrumbs sauteed in olive oil with chili and garlic. Now that's more like it. I think that I'd put the cherry tomatoes back into the mix though, they'd add just a bit of acidity and sweetness that would really balance out the dish. Plus some color.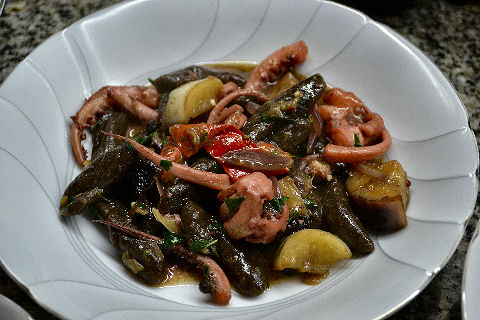 The second original dish got a remake too, here I went with cavatelli, something I'm much better at forming, and brought it down to a 1:2½ ratio and the touch of espresso to boost the bitterness. I decided to incorporate a quartet of eggplants – the red ones, traditional Italian purple ones, the lighter violet ones, and white ones – probably if I'd have found some of the thin Asian eggplants I'd have gotten them into the mix. Sauteed with red onions, black olives, garlic, and chili, and at the last minute I added in pre-cooked calamari tentacles (simmered them in a mix of olive oil, water, salt, pepper, and bay leaves for about an hour) with some of their cooking liquid, and tossed with the cavatelli and some chopped parsley and oregano.
I have no doubt there will be more. On the Burnt Offerings front, there's that salsa negra exploration ongoing, and on the Peculiar Pastas front, I see stradette in the near future.