There have been, as best I know, three bands called The Quails. Since I can't decide between them, I present you with a little music from each. You can pick which one gets you in the mood for a little quail cookery.
1957-1963, Originally called
The Five Quails
, later just The Quails, a Cleveland based swing band produced by Harvey Fuqua.
1999-2003,
The Quails
, are variously described as a San Francisco "riot grrrl" or "punk rock" band, depending on who's doing the describing.
2006-2011,
The Quails
, a UK indie rock band from Devon. How could I pass up a song titled "Argentina"?
Now that we've got your choice of music playing in the background, let's talk quails, the ingredient.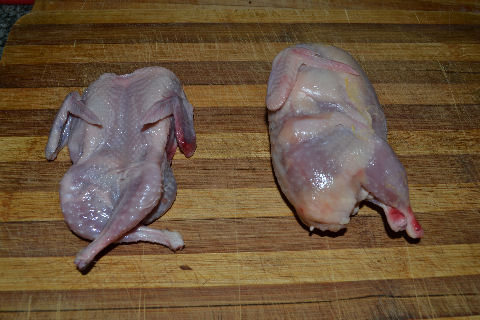 A new supplier contacted me, a specialist in raising quails. They offer up both cleaned whole birds, as well as cleaned and boneless (other than the wings and legs). The woman who contacted me offered to drop by samples, which turned out to be one of each. So I had to play, you know?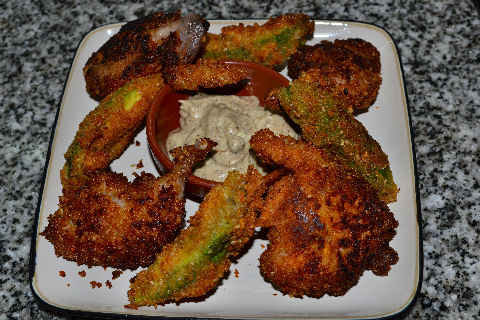 As it happened, I'd just finished reading Adam Richman's delicious romp across the US of A, America the Edible: A Hungry History, from Sea to Dining Sea – inspired, of course, by his recent visit to Casa SaltShaker (did I mention that?) and filming an episode for season 2 of Man Finds Food. At one point in the book, he mentions these amazing fried shrimp and avocado wedges at a place called Mighty Cone, in Austin, Texas, and I thought… hmmm… So the boneless quail found itself quartered, and breaded in a mix of almond flour, sesame seeds, habanero chili powder (I didn't have any de arbol chili), crushed corn flakes, sugar, and salt, inspired by the breading he described. The same with an avocado. The description had the shrimp and/or avocados stuffed into tortillas and topped with a mango and jalapeño slaw and an ancho chili sauce – I ended up making a dipping sauce of mayo with chipotle chili and Indian sour mango powder (amchar). Bar snack of the gods. Just sayin'.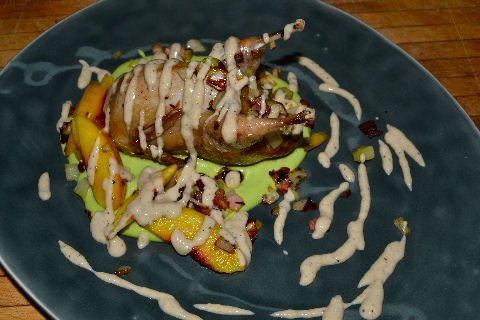 I decided to go something vaguely pan-mediterranean for the bone-in quail – I stuffed the bird with a mix of sauteed bacon, fennel, and cabbage spiked with a touch of smoked paprika. Served over a broad bean hummus (fresh beans pureed with olive oil, garlic, tahini, lemon, white pepper, toasted cumin, and salt. Accompanied by more of the stuffing that I sauteed a bit longer with some sliced nectarine. And drizzled all over with my favorite tahini sauce (tahini, sumac, apple cider vinegar, lemon juice, ginger, maple syrup, olive oil, water, salt, pepper). Am I allowed to say, "da bomb"? That's going to show up on a menu sometime soon.
I like getting free ingredients to play with. Send more.