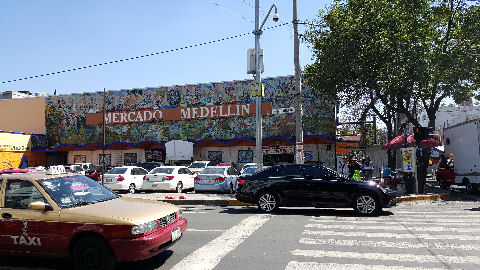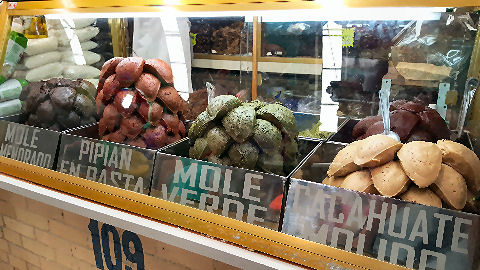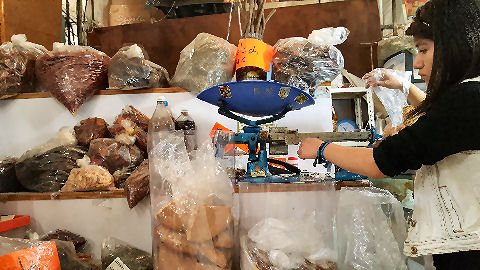 Last post on Mexico City and then back to our regular programming. The last day, not surprisingly, a major food day. Started off early at the Mercado de Medellín, which turns out to be my favorite of the three markets I made it to. Cleaner, brighter, more variety, things from not only all over Mexico rather than just nearby, but also from Central and South American countries. I found the dried chilies, chilhuacles, that I'd looked for to no avail in the other markets – and in negro, amarillo, and rojo (did I bring any back? silly question.). And, to top it off, more interesting looking food stands to eat at.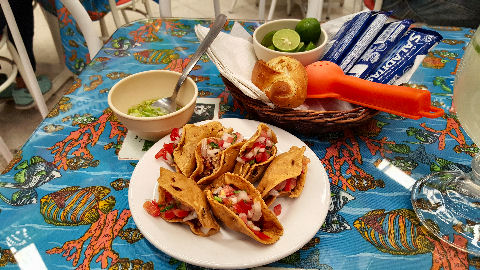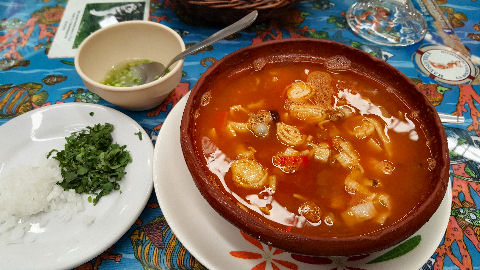 Nicholas had highly recommended a couple of dishes at Las Morinitas in the seafood section of the market, and he didn't steer me wrong. Mini-quesadillas of cazón, a type of smoothhound shark, so good I wanted another half dozen (I resisted). And a steaming, flavorful, rich bowl of mixed shellfish soup with a solid hit of chili in it.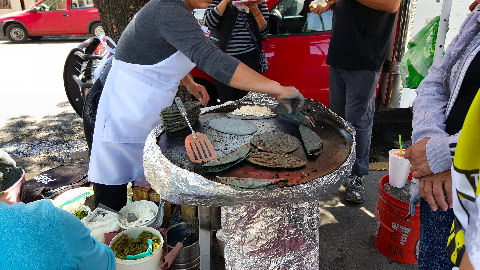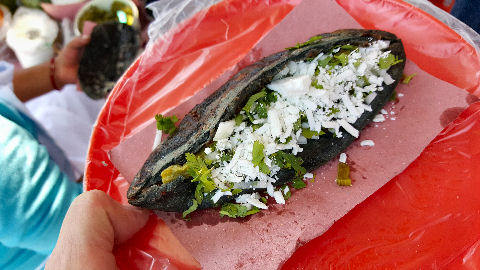 The market is also surrounded by a neighborhood filled with small restaurants specializing in various Mexican regional cuisines, and again, quite a few international spots featuring the cooking of Central and South American countries. There are also quite a few street vendors, and I couldn't pass up some freshly made blue-green corn tlacoyos, stuffed with chorizo, vegetables and cheese, and a choice of hot sauces.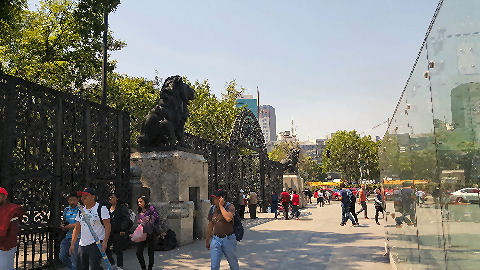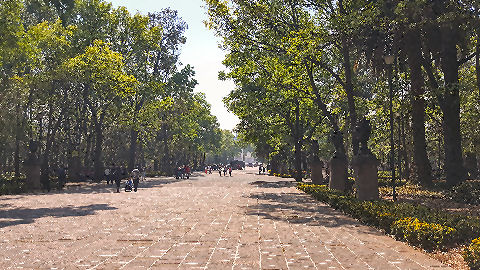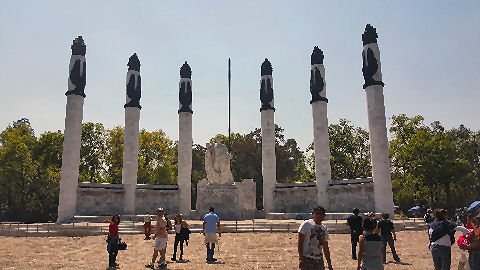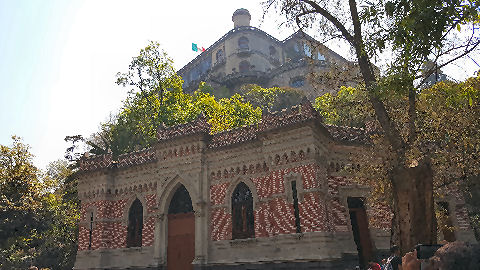 On to a walk through the beautiful central park of Mexico City, Chapultepec. I remember us hanging out in this park many a time, and I recall it with lots of artesanal markets and little individual food stands scattered about. Now that's all been shoved together with long stretches of tacky souvenir carts, and much more "same-same" feeling food carts, one after another offering the exact same thing, and not being prepared on the spot.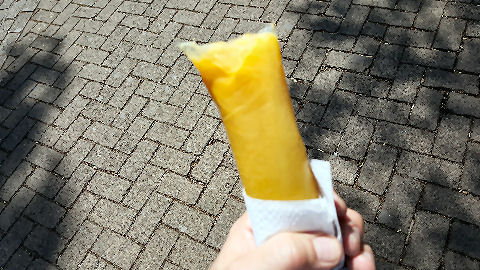 Remember rompope, the thin rum eggnog that we prepared in one of the classes? Well freeze that up and serve it in a plastic bag tube as a popsicle for a hot sunny day and I can be very happy.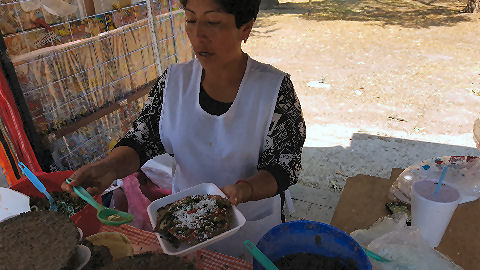 And remember that folded over tlayuda from the last post? This is more what I was expecting from one – a very thin, crisp tortilla, in this case blue corn, topped with beans and herbs and cheese and spices, and, of course, hot sauce. They were huge – roughly 12″ x 6″, really for sharing, and I was about to walk away and search for another person making them fresh, when she offered to make me a half portion – perfection!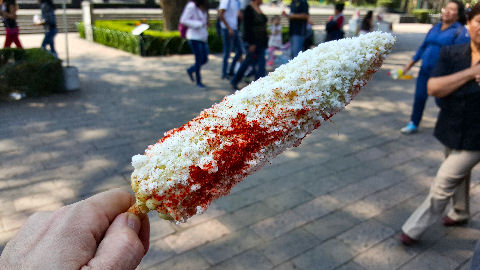 And, one of my favorites, that I remember fondly from so many years ago, elotes – corn on the cob (they used to grill it on little hibachi type grills, the woman selling them told me it's been years since they've done that and she's one of only two sellers of these, there used to be dozens. So, boiled corn on the cob, slathered in mayo, rolled in grated cheese, and sprinkled liberally with chili salt. I could eat one of these every day. I probably would, too, if I lived there.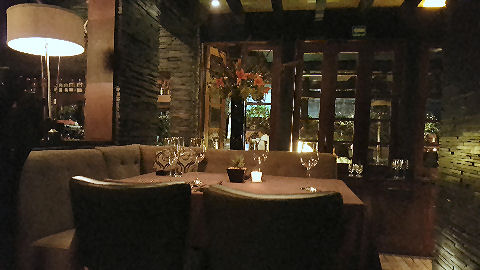 On to my last real meal, and knocking down one more of the top 50 list, Sud 777, Boulevard de la Luz 777. Gorgeous room and garden. There's sort of a complex here of several restaurants, all attached or next to each other, all higher end.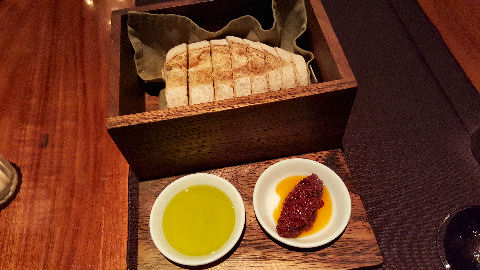 Nice bread service, with olive oil and tapenade.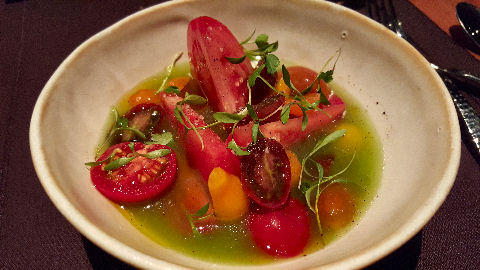 Okay, Nicholas had let the chef know I was coming, and he popped out to the table (kudos, before I drank too much, which I didn't anyway) at the beginning and introduced himself. He highly recommended the tasting menu, but I don't know, it just didn't intrigue me. I know he was probably disappointed that I didn't follow his lead, but sometimes the stomach wants what the stomach wants. Started off with a stunning little mixed tomatoes salad of these gems direct from the restaurant's garden. Delicate and light, a perfect start.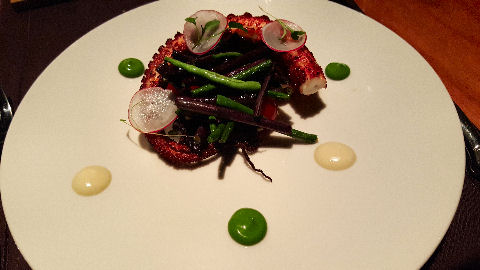 Two lovely grilled octopus tentacles, coated in achiote, and served up with a xtatic chili puree and mayo, and purple and green beans. Yum.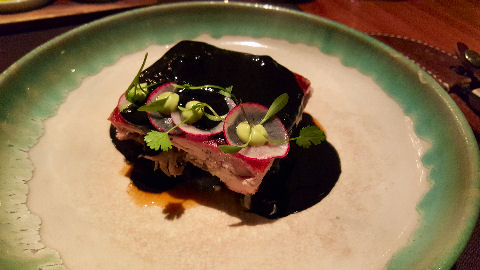 Tender as butter suckling pig in a black bean and pork sauce. Only disappointment, the skin wasn't crackling and crisp, just sort of soft and gooey. Flavors, amazing.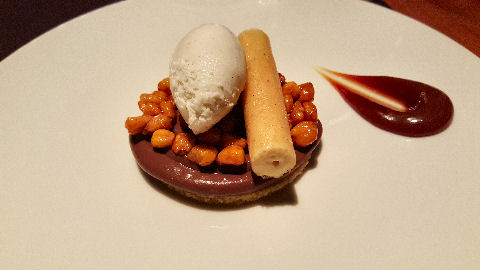 Corn brittle; bourbon "cigar"; buttered caramel; chocolate cream – I'm not sure what the ice cream was, and it doesn't say on the menu – something lightly flavored, perhaps even just a "cream" ice cream.
Room – beautiful. Service – friendly but weird – too many waiters, runners, busboys, managers, all milling about constantly, often passing through the room in single file, over and over again, for no apparent reason. And three times someone came to my table to ask if I was ready to order – first a cocktail, then for food twice – I had yet to receive a menu or cocktail/wine list, and each time I asked, and each time, they walked away and didn't bring it. So I sat for almost 15 minutes with nothing but some water in front of me. Food – more than makes up for all that – elegant, delicate, beautifully presented, great flavors – not as bold as some of the other modern Mexican spots I ate at, but in a sense, more refined.
And – the chef turned out to be heading to Buenos Aires, where tonight he's doing a tasting menu "popup" at Tegui. I'm tempted, but it's really pricey. At his own restaurant, for 4 courses, two glasses of wine, and tip, it ran about $67. For a five course tasting menu, with three wines, here they're charging $124, before tip. Interested as I might be to try more of his food (and there are spots available, I checked), that just seems a bit heftier than I want to pay tonight. And I could use eating a bit less for a week or two. Besides, I have so much experimenting to catch up on!