A short (relatively speaking) post today – needing a bit of a more relaxed day yesterday. Morning spent writing and then headed out closer to noon to meet up with friends Amy, of Nomadtopia, and Roberto who happen to be in Mexico City this week as well.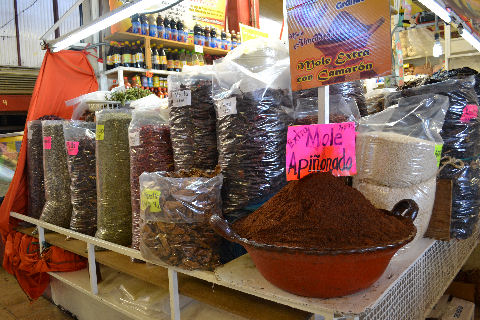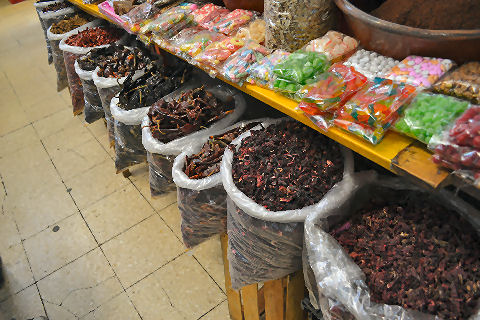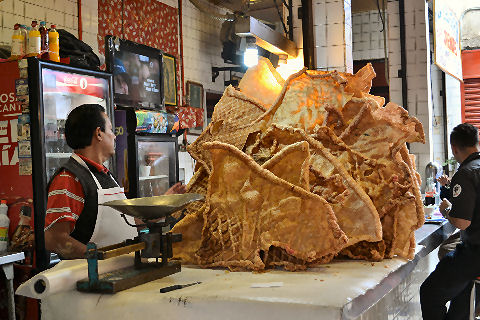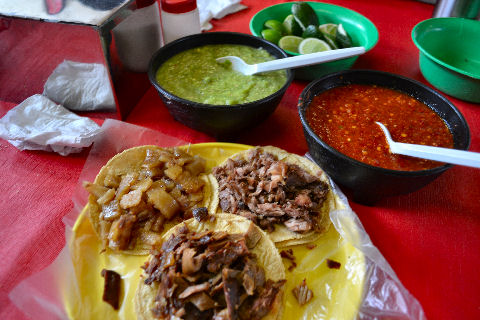 I know, I know, not more market pictures. But yes. A visit to the Mercado de Coyoacán in the southern part of the city, famed mostly for its food stands, the two most recommended of which seem to be Tostadas Coyoacán for, not surprisingly, tostadas, which we didn't go to, and El Charro for its carnitas tacos – I got a trio combo of cueritos, buche, and maciza, respectively, pork rind, jaw/cheek, and "mixed lean meat", generally a bit of leg, shoulder, and/or loin. Some of the best carnitas tacos I've had, anywhere. I wish I'd felt more up to eating and tried the other place as well, Nicholas swears they're the best tostadas in the city.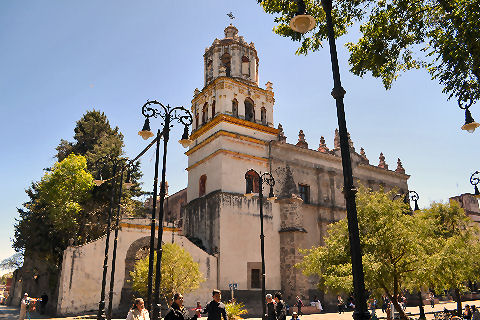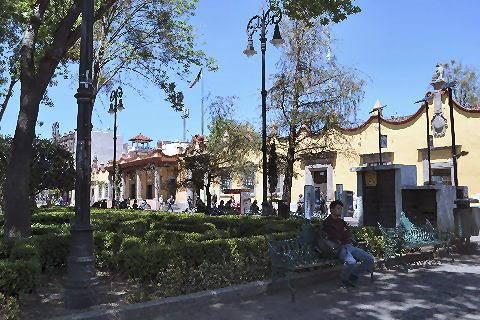 We wandered around the nearby central plaza of Coyoacán, which I assume, at one point, was it's own town, but has gradually become engulfed by the ever expanding juggernaut of Mexico City. The population of the city proper is just under 9 million, but beginning in the middle of the last century the city began to expand its reach to incorporate 60 other municipalities that once were independent, adding just over 20 million people more to what's considered the metropolitan area. I did duck back into the market, planning to grab a tostada after all, only just as I was approaching the stand, the power in the market went out, plunging it into darkness. After waiting a few minutes to see if the lights would pop back on, I decided to head out and back to the apartment to just "chill" for a good portion of the afternoon.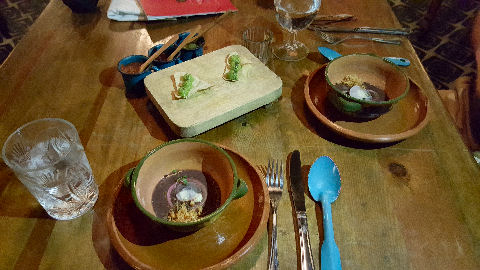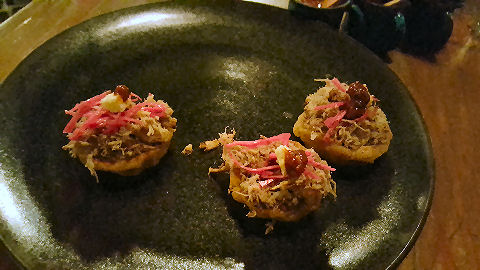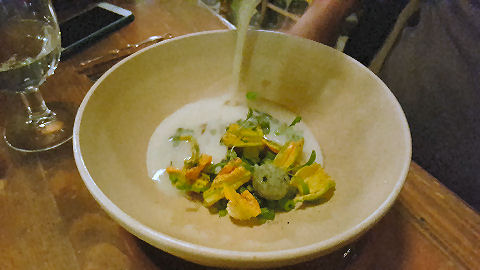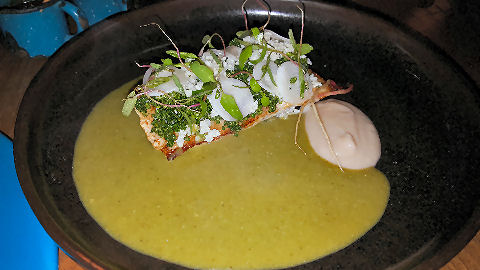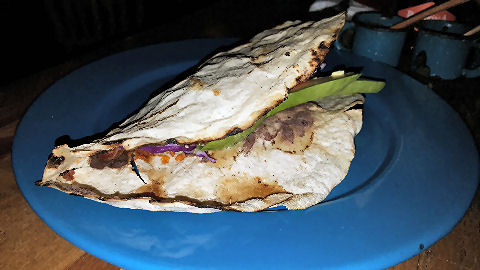 Later in the evening met up with Nicholas for a last meal with him, at Yuban, Colima 268, a sort of hipster vibe hangout of modernized yet traditional Oaxacan cuisine. The place apparently became very well known under a previous chef, and a new chef has recently taken over the reins and revamped the menu completely. This was a first visit for both of us, given that. The room is, well, hipster, lots of distressed wood and furniture that looks like it was picked up at a flea market and treated to a vague amount of refurbishing. Another place where they leave the front walls/doors open to the elements, making it a bit chilly as the evening progressed. Servers a bit overwhelmed, there seemed to be only two trying to take care of a few dozen tables, which made for long waits (strangely, mostly for stuff from the bar, where there were three bartenders working away, but really slowly).
Food, just plain delicious. We started with a double amuse from the kitchen, little thin wafers of dough topped with guacamole, and mini bowls of tasty beans; then on to little garnachas, basically plump little mounds of tortilla masa, fried, and topped in this case with shredded, slow cooked beef, and red cabbage; and a soup made from the vines of squash plants, with bits of the vines, the squash flowers, and tender baby corn in the mix. Then we shared a tlayuda, a very thin, crisp tortilla that's coated with refried beans and then grilled like a pizza, and in this case folded over and filled with chorizo, tasajo (which is sort of like a shredded and rehydrated beef jerky), avocado and tomato; and, an unfortunately overcooked fillet of fish that was surrounded by a fantastic green mole, the Oaxacan version of that packed with the flavors of hoja santa, epazote, and parsley, tomatillo, a little bit of shredded pork, and a puree of white beans. The chef came out to chat with us. I'd eat here again in a heartbeat. And total, apiece, with all the food, splitting a large beer, a shot of mezcal (not for me), and tip, 400 pesos apiece, or about $23.
Today – more markets, and then an evening in the far, far south reaches of the city at the last of the top 50 I'm going to get to. Because I'm leaving early morning on Sunday, next and probably last post for this trip will likely be sometime on Monday, after I'm back home and gotten caught up.