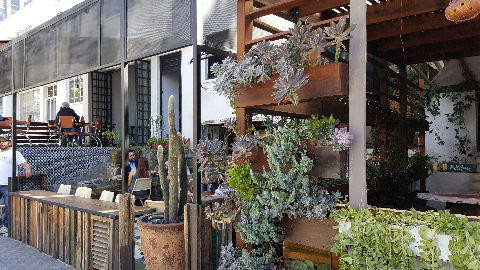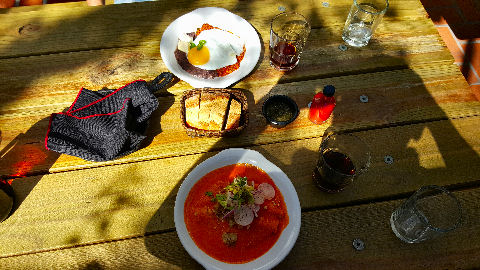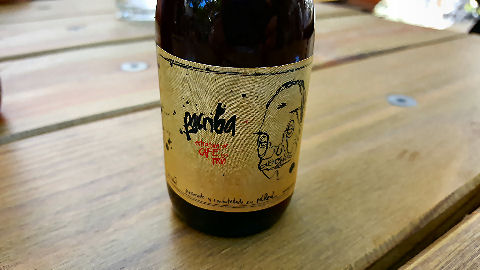 The chef of Cortéz, Nico Mejía, where I've eaten twice, gave us some recommendations for places to eat. Two of them were for breakfast, Jeff's favorite meal of the day. I normally don't eat breakfast, just have coffee, but part of that's because breakfasts in Buenos Aires, bluntly, suck, consisting of coffee and overly sweet pastries, or ham and cheese on vaguely sweet pastries, and I don't have the will first thing in the morning to prepare my own. We headed off to P'al Real, Lope de Vega 113, where they offer up coffee in a variety of forms – we both picked cold brew, but they offer everything from espresso to chemex to french press to… more. Sorry about my shadow in the photo – Jeff ordered up a plate of chorizos and eggs, I ordered up ricotta filled tortillas with shredded pork belly and hot sauce. That kind of breakfast I can get behind.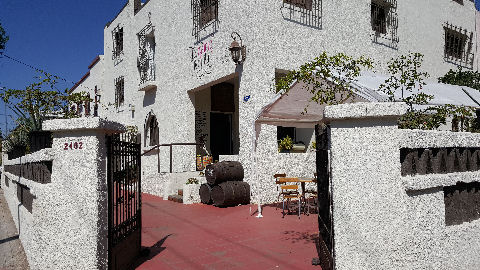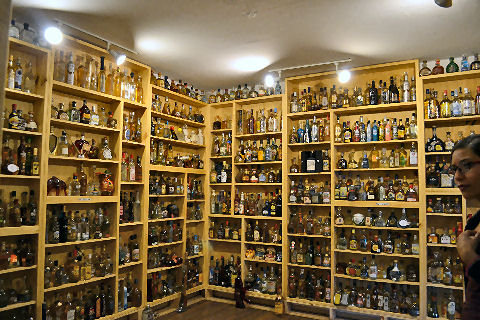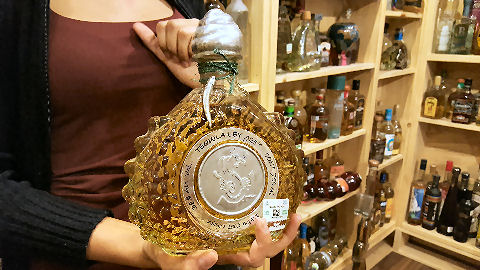 Before heading to our intended plans for the day, we thought we'd see what was close by, and Google maps showed a tequila museum, Te Quiero Tequila, just over a block away at Av. La Paz 2402. Couldn't pass that up! Cool little place, with a guided tour available in either Spanish or English, covering the history and making of tequila. Display room with 1500 different tequilas lining the shelves, including a bottle of the most expensive in the world (actually, a replica), where the $1 million price tag, yes, you read that right, is not for the tequila, but because the bottle has dozens of diamonds embedded into the glass. Such nice people that when we found out that they offer a private, guided tour service to the town of Tequila, something we were already considering, we booked with them on the spot.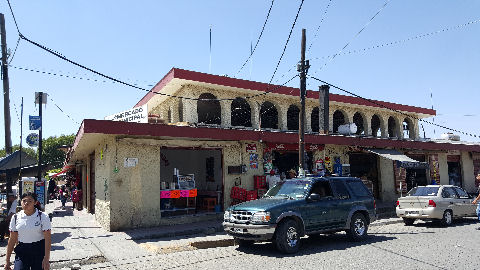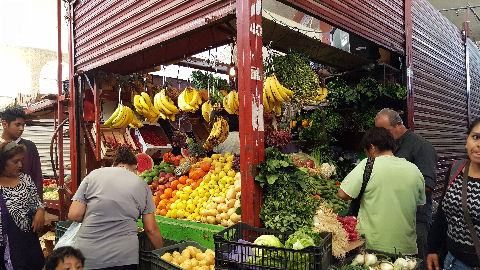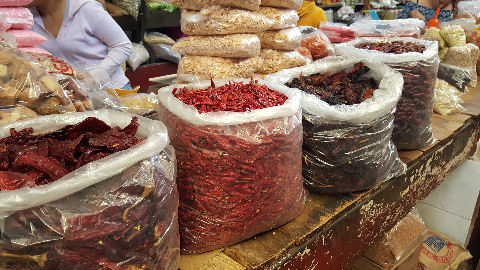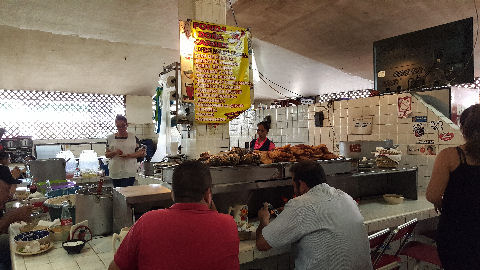 We headed to the nearby suburb/town of Tlaquepaque, where the chef I worked with earlier in the week had recommended a visit to the municipal market as being a more "real" experience than visiting the market we did the day before in Guadalajara, and with more interesting food. "Real" is one of those things that one could debate for hours, or days – sure, it was grittier, more rustic, fitting the image one might have of a Mexican town right out of the movies, but why is that more real than an urban setting? It's a really small market, and while yes, interesting, there wasn't anything on offer that we hadn't seen at the Mercado de San Juan de Dios. The food was different from anything we'd seen, and for that it was kind of cool, with a caveat. First off, yes, some dishes I've not even heard of before, and we certainly didn't see them on offer in the city market's food stands. The caveat, however, is that everything that was on offer was fish… which seemed strange, and it wasn't until later, when we went in search of a classic torta ahogada, the traditional "drowned" beef sandwich of the region, that we discovered that this whole area still subscribes to the Catholic tradition of no meat on Fridays. We did find out that that has been relaxed somewhat in "the city", where restaurants will offer up chicken and pork dishes, just no beef, as a nod in respect to tradition.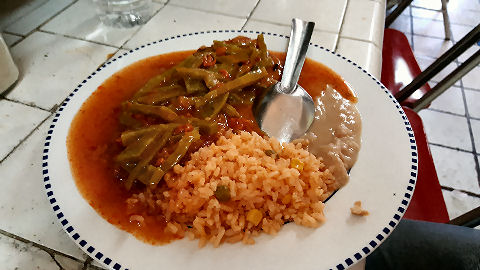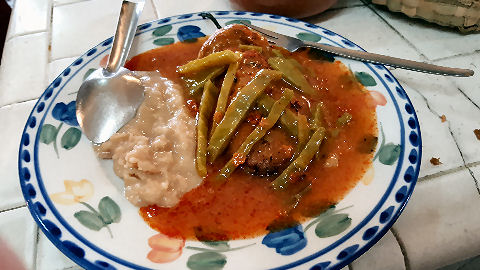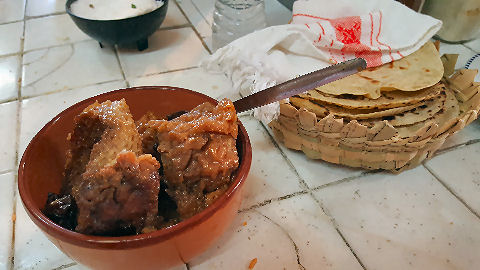 Jeff ordered up a torta de camarones – torta is a word that means both cake, pretty much everywhere in the Spanish speaking world, and sandwich, specifically in Mexico. We were expecting some sort of the latter, a shrimp sandwich, topped with sauce and nopal cactus from the description, but it turned out they meant the former – the "bread" was actually an oblong shrimp cake, and rather than a cactus salad type topping, it was stewed cactus drowning the whole thing, with rice and beans on the side. I ordered a chile relleno, filled with cheese and tuna, and also ended up with the same stewed cactus over the top, and just beans on the side. I misunderstood the description of a third dish, capirotada, and we thought we were getting a little savory plate of a local bread and meat dish – I thought she said picadillo, ground meat cooked with olives and raisins, but she said, apparently, piloncillo, the dark, pressed, raw sugar. We had "Lenten" bread pudding for dessert. All the dishes rather bland – almost no salt, and no spice to them, though there were bowls and bottles of hot sauce available, as well as a dish of salt to add. Interesting, but a bit "meh". The question would be, how different the offerings are on any day of the week that isn't Friday.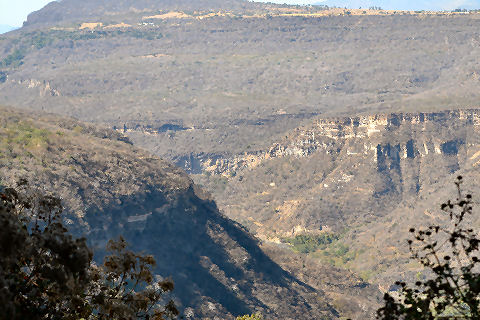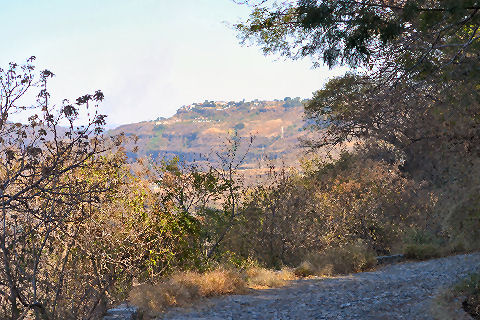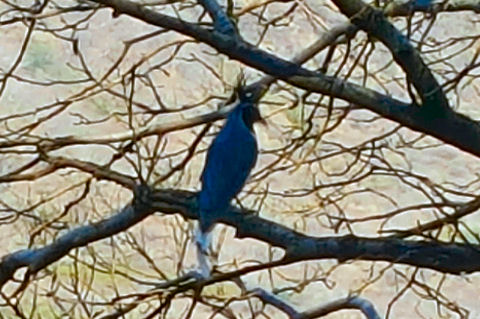 Back into town, for our fruitless, though enlightening, search for a torta ahogada. Jeff had read about an area on the north side of town, Barrancas de Oblatos, with trails out into a canyon area, and a cool bridge or two along the trail. We hopped in a taxi and got dropped off at the entrance to a trail – which unfortunately turned out to be the wrong trail, and while we had some pretty views, the area that we wanted turned out to be a couple of kilometers away. By the time we found that out, we weren't quite up for trying to figure out the logistics of getting there and the walk involved. Spotted a pair of very blue birds calling to each other from some neighboring trees – no idea what kind they are – perhaps one of my readers can help with that?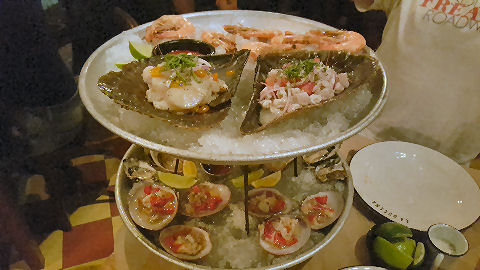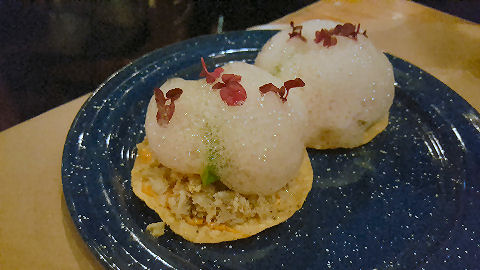 We were going to go to the little taco stand that I went to on day one, as a sort of dinner precursor, but they weren't there – apparently carrying the "no meat" thing further than just no beef, given that pretty much all they serve is pork, they're not there on Fridays. We started to think seafood, and decided to go back to La Docena, where I'd had great oysters and grilled octopus on day two – it's not particularly traditional local fare, but it's influenced by it. We ordered their huge seafood platter that included oysters on the half shell, clam ceviche, scallop and crab salad, a clam salad, and peel-and-eat prawns. Plenty of local hot sauces and such to go around. We followed that up with another of the grilled octopus, and also a plate of mini-tostadas of fresh crab topped with habanero foam – how very molecular of them. Delicious!
Off to Tequila!