And, on to day 3, the last day of classes. Tons of food again, but this time I was really careful, and for the most part, just had a bite of each dish.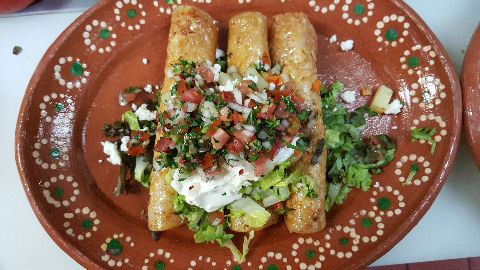 Enchiladas mineras – cheese filled tortillas that have been dipped in adobo and then flash fried in a pan, served over salad, and topped with browned potatoes and carrots, extra spicy pico de gallo, sour cream. Breakfast for the miners, apparently.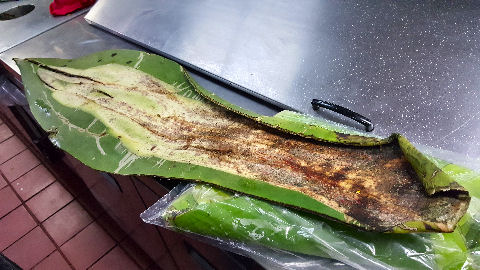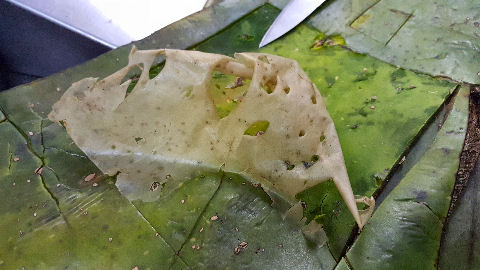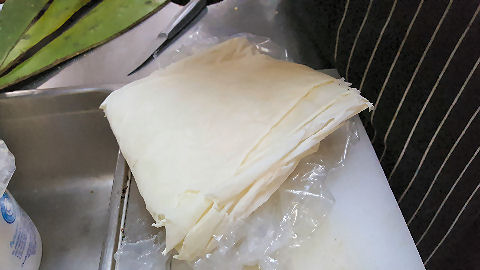 New ingredient to work with, in two forms. Maguey cactus "leaves" – from which, the outer skin can be separated and is used as an aromatic wrap. Chef Iván demonstrated, painstakingly, the removal process, noting that it's far easier to do when the leaves are just removed from the plant, and that's done commercially, leaving big swathes of "skin" to use that have been air dried (rehydrated them to use them).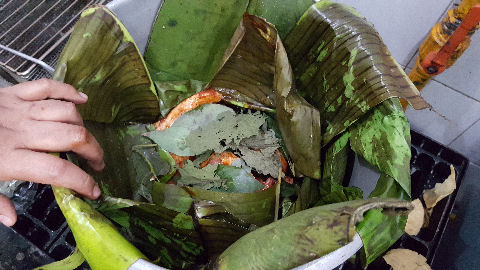 The leaves themselves, along with banana leaves, are used to wrap up lamb (or other meat) for a slow cooked dish of barabacoa, Hidalgo style. Underneath the wrapped up meat (with adobo and aromatic herbs), there's water, with rice and chickpeas in it. The whole thing gets sealed and then slow cooked for about 4-5 hours.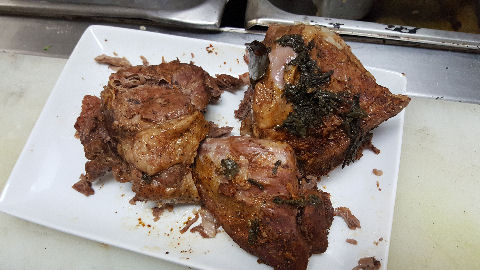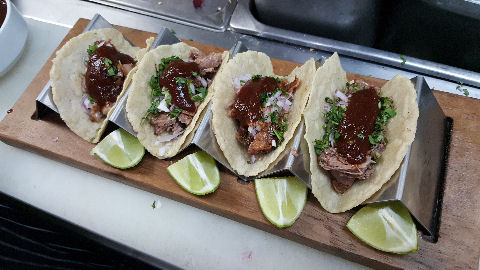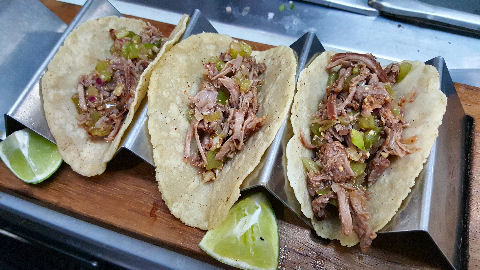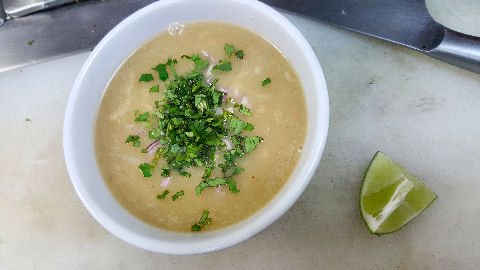 The meat comes out fork tender and delicious. We made two types of tacos – one with onions, cilantro, and salsa borracha, "drunk sauce", which is basically the adobo we made earlier, with beer filling in for the cooking liquid when pureed. The other, sauteed the meat with tomatillos, red onions, and serrano chilies, eaten without sauce. And, the rice and chickpeas end up creating a tasty little sort of gruel that's garnished and eaten on the side.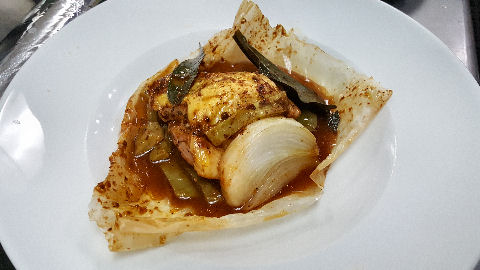 Mixiotes de pollo – The maguey skins are used to wrap chicken, onions, nopales, adobo, avocado and bay leaves, the whole thing wrapped in foil and then steamed for just short of an hour.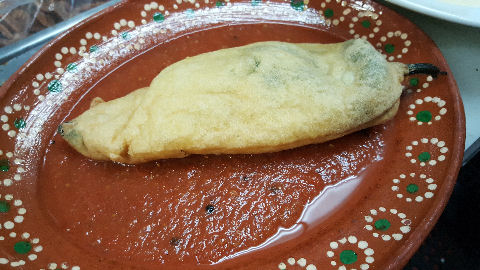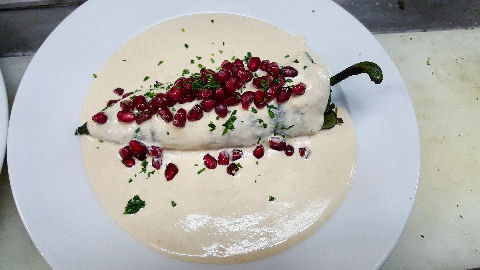 We charred and peeled poblano chilies and then made two preprations – chiles rellenos filled with cheese, floured and then dipped in a savory meringue and deep fried, and then served with a simple tomato sauce; and the classic Independence Day dish, chiles en nogada – filled with picadillo, a saute of ground beef and pork with dried and fresh fruits, topped with a creamy walnut sauce, pomegranate seeds and cilantro.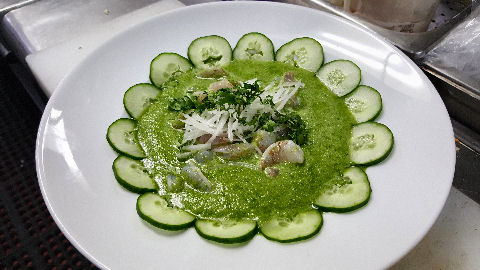 As there was more to do than we had time for, one of the line cooks stepped in and made a dish of aguachiles – raw shrimp in what amounts to a chilled broth of lime juice, cucumber, cilantro, serrano chilies, and onion – so that I could see how it was made.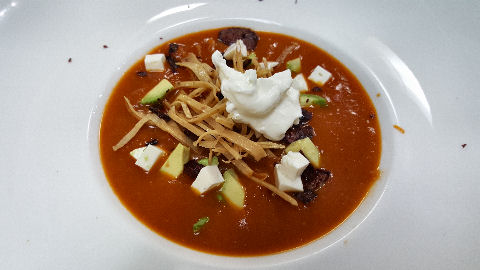 Classic sopa de tortilla – tortilla soup.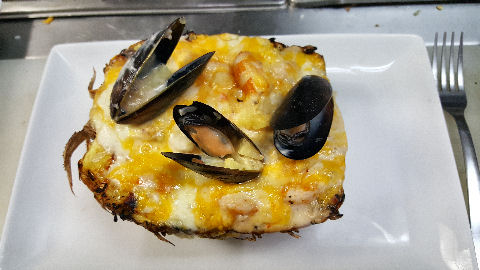 Piña con Mariscos – a pineapple hollowed out, and the chopped pineapple sauteed with various seafood and spices, and then topped with cheese and broiled.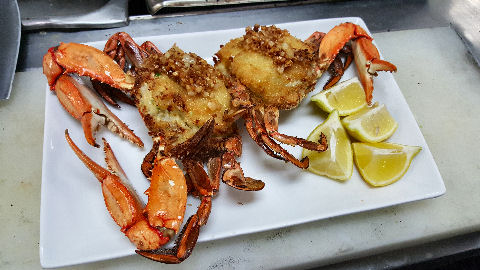 Jaibas rellenas – small crabs filled with what amounts to a crabcake mixture, then dipped in egg, breadcrumbs, fried just to brown them and then finished in the oven. Served with a mojo, a fried garlic sauce.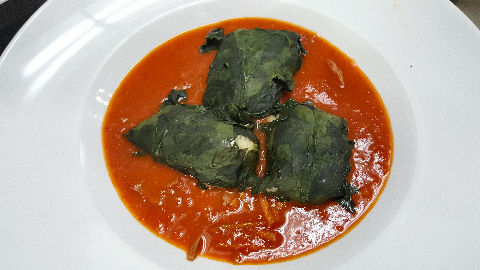 Corundas – corn masa filled spinach leaves, steamed like a tamale, and served in adobo with shredded pork.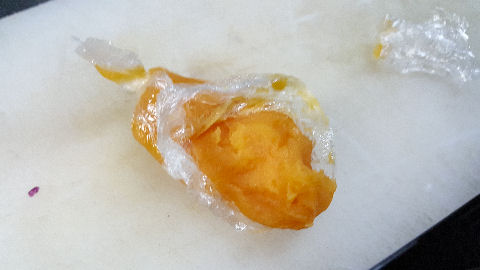 Little traditional sweets, Camote estilo Puebla – a sticky, slightly chewy sweet potato and pineapple treat.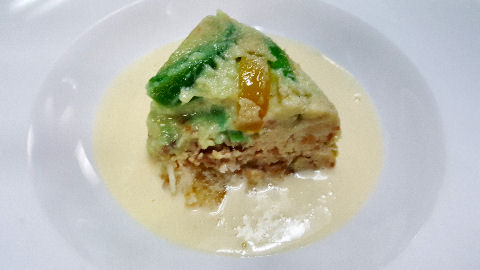 And finally, the dessert I mentioned we didn't have time to finish yesterday, Ante Colimense, a sort of half flan, half cake with candied citrus and a tequila spiked creme anglaise.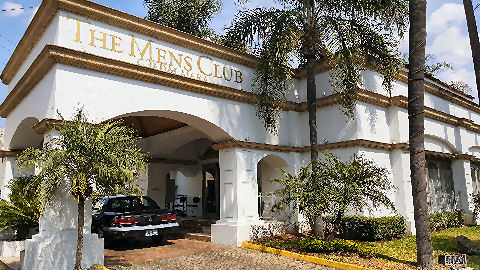 And with that, I bid a farewell and many thanks to Chef Iván, his team, and The Men's Club of Guadalajara.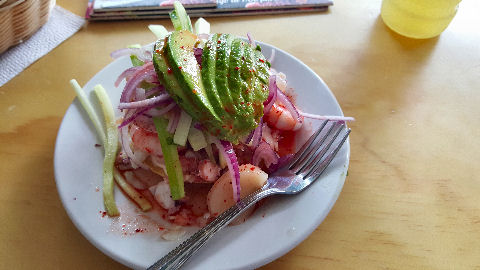 I decided to walk back to the hotel (I've been using Uber for the first time while here – we don't have it in Argentina – it's been great), just to see a little more of the neighborhood that I've been passing through. A short two mile walk, but enough, especially given that I'd just had a bite of each of the above, to feel peckish, and stop in at Cocos Locos, Av Mariano Otero 1408, for one of their highly recommended seafood tostadas – a crispy tortilla topped with crab salad, slices of grilled octopus, sauteed and raw shrimp, and raw scallops, avocado, cucumber, and a selection of hot sauces on the table to accompany it – habanero all the way! A housemade lime water for refreshment. A whole $6.50 with tip.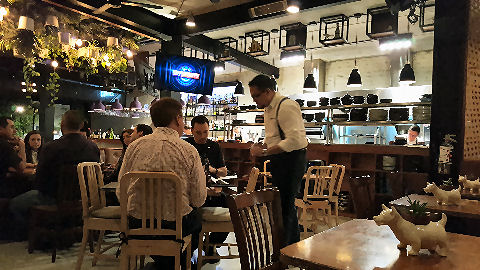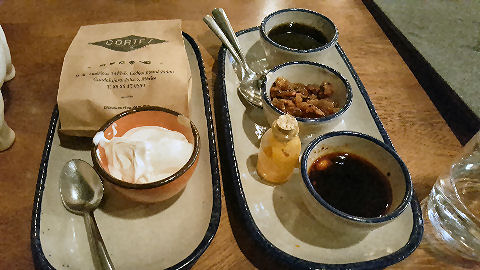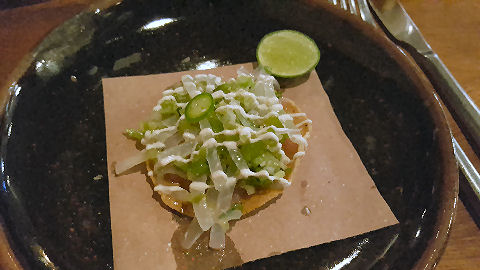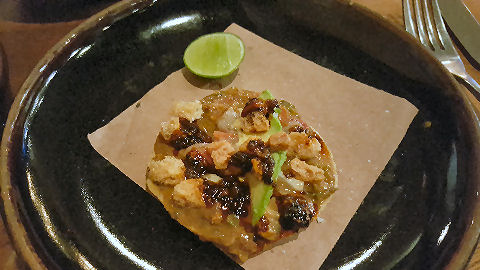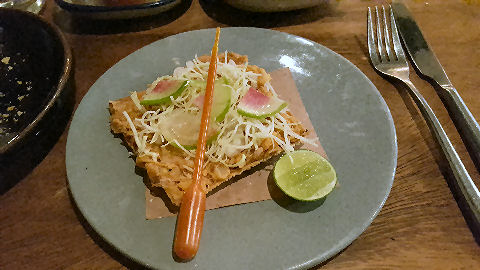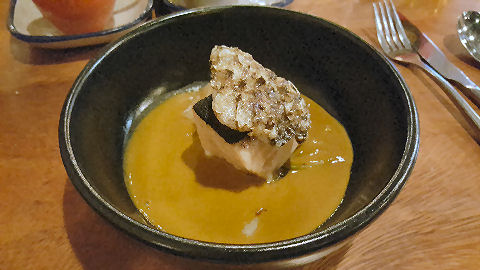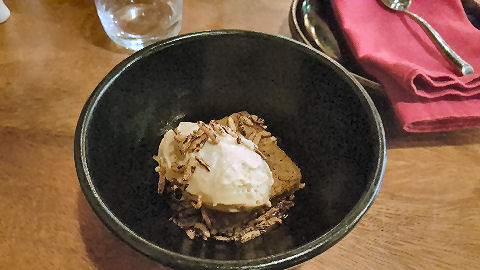 And, a late dinner out at Cortez, cocina autentica, Av. Américas 1417-b, back in the fancy Providencia area – the place I had planned to go last night only to find they were closed on Tuesdays. Pretty room, much more casual than I expected. Selection of hot sauces brought to the table, and some pretty spectacular bread spiked with ancho chili and served with sour cream. I'd heard about a particular tostada that I wanted to try, the waiter talked me into a degustación of three different tostadas. A simple fish and pork skin one, then the one I had come for, the sea urchin and clam with a peanut hot sauce on it (really, sea urchin fans will understand, this was just kind of heaven), and a pozole one – pozole being the traditional bean soup of Mexico, here cooked down to almost a paste, but retaining all those flavors, concentrated. [Closed]
Then on to a slightly disappointing main course – it was good, but not wow, and a bit small for the price, though maybe that was just by comparison to the rest of the dishes. Escolar capped with an onion and garlic ash (ash is the thing here, I'm seeing it on menus everywhere – and remember the salsa negra yesterday at class with habanero, onion and garlic ash). Crispy fish skin on top. The sauce was a concentrated clam broth, and underneath were squares of soft onion that sort of had the texture of pasta.
I wasn't going to order dessert, but then spotted the Pastel Mole. You may recall on day one of class I talked about being surprised at how sweet a mole poblano really is, so it shouldn't surprise me at all that someone's making a dessert out of it. Here, a mole poblano cake, over a little reduced mole sauce, and topped with fresh peanut gelato and puffed wild rice. It rocked. Priciest meal in Guadalajara so far, all of the above plus a cocktail, a beer, and tip – and it still came in at just $40. I'd go back for the sea urchin tostada, or a few of them, and this dessert, and be very happy.
Tomorrow, on to the Festival Internacional de Sabores, the International Taste Festival, here in Guadalajara. And, the arrival of my youngest brother, who lives in Sydney, but has been on business in California the last week and decided to fly down and join me for a few days. Haven't seen him since 2002!