We made so much food today in the second class of the trio…. Let's start with the new ingredients: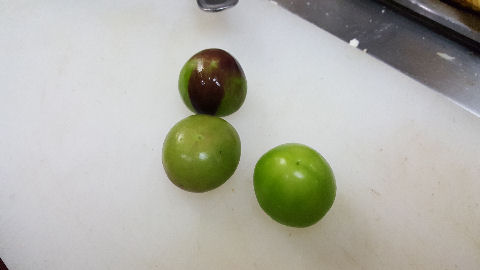 Tomatillos. I've worked with them before, but not much.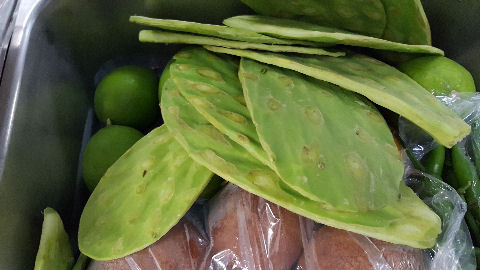 Nopales – cactus pads. I've eaten them, but never worked with them.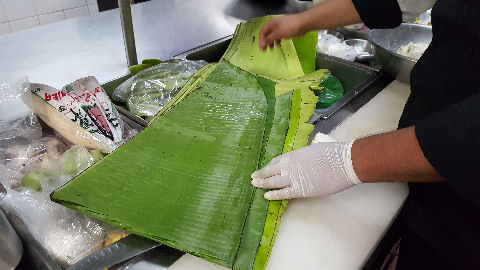 Banana leaves.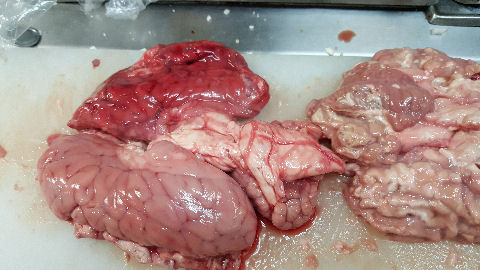 Pork brains. I've worked with beef ones, but never pork.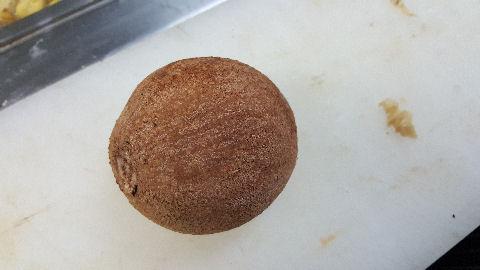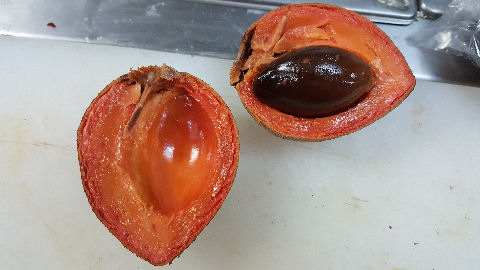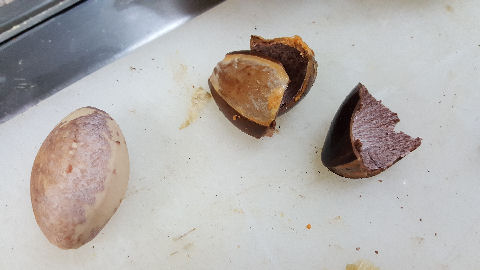 Mamey. Never seen one, never eaten one, never worked with one. And we didn't even use the fruit, which got stuck in the fridge for something else. We wanted the hueso, the "bone", or inner part of the seed.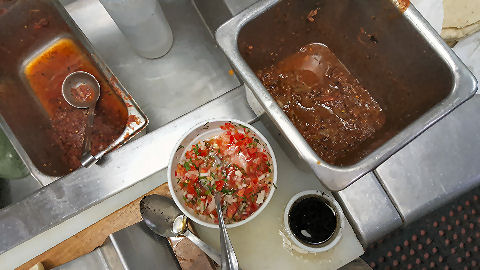 We made sauces. The spicy tomato sauce I mentioned yesterday, a roasted grasshopper and chile de arbol sauce, a pico de gallo, and, a salsa negra made from carbonized habaneros, onions, and garlic in oil and lemon.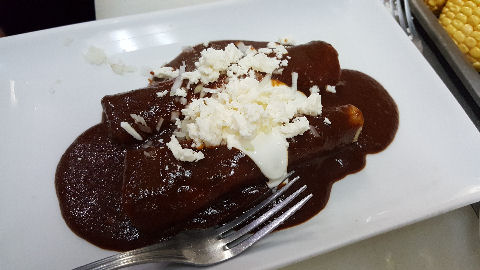 But before we did anything, we made some quick enchiladas for early morning breakfast, filled with grilled chicken and topped with yesterday's mole poblano, cheese, and onions.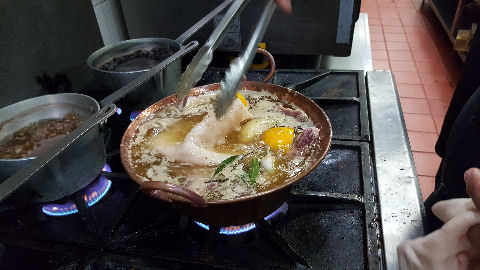 We got a pot of carnitas going on the stove – basically pig skin, meat, and tongue simmered in pork fat with herbs and oranges for a couple of hours.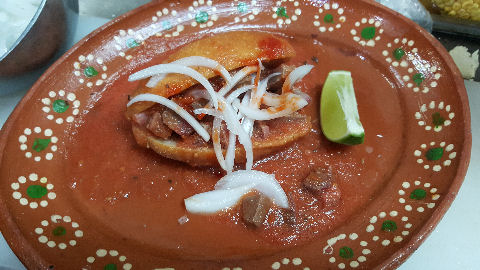 When it was ready we made tortas ahogadas – carnitas sandwiches "drowned" in tomato sauce, topped with onions, lime juice, and chile de arbol puree.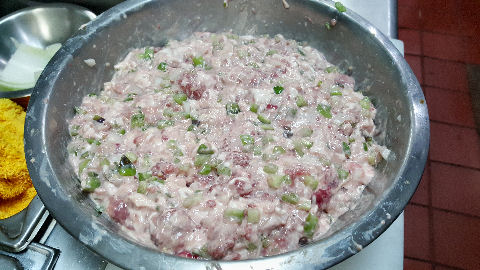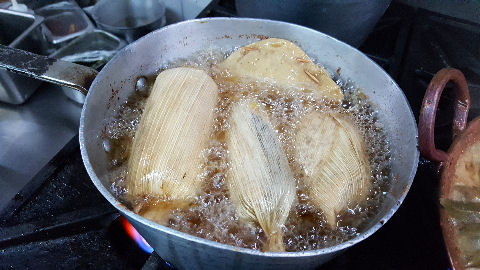 The brains got chopped up with a bit of ground pork, the tomatillos, serrano chilies, and more. Then wrapped in corn husks and fried, rather than steamed. But instead of eating the filling directly out of the husk as with most tamales…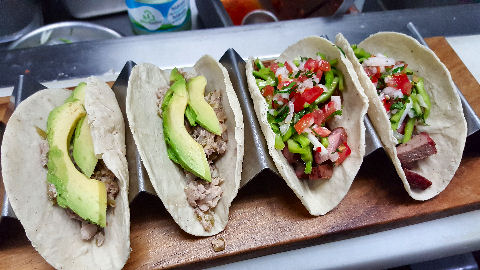 …This is traditionally eaten in a tortilla topped with avocado. The other tacos are the carnitas, with the pico de gallo and some of a salad made from the nopales.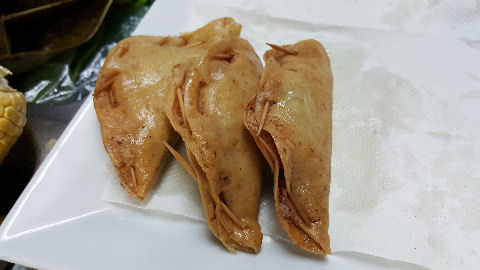 We also took the brains mixture and made it into quesadillas, which got fried along with the tamales – both, by the way, in pork fat, not oil. These were my second favorite thing of the day.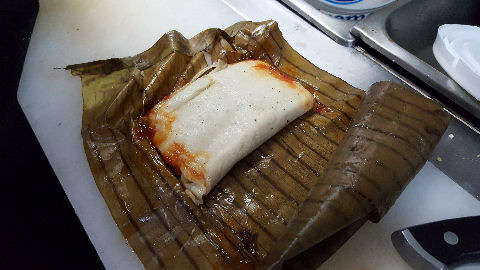 The nopales got placed with shrimp, tortilla masa, and an adobo sauce (oh, there, we made another sauce) inside the banana leaves and steamed to come out as tamales barbones.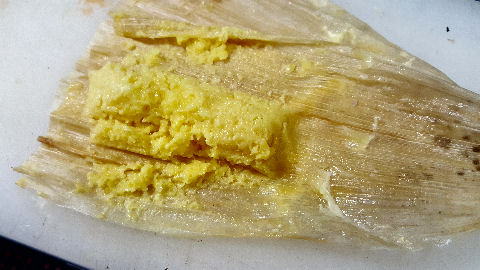 We made fresh corn tamales canarios.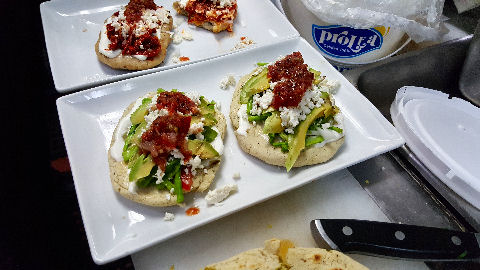 We had pots of pinto beans and dried fava beans simmering away from early in the morning. The fava beans got coarsely mashed, folded inside tortilla masa, and then griddled, topped with sour cream, avocado, cheese, onion, and tomato sauce as tlacoyo de habas. Some of the pinto beans got pureed, likewise folded into masa, only this time fried, and topped with sliced pork (that the restaurant had on hand) mixed with the adobo sauce we made, fresh cheese, onion, and tomato sauce, huaraches de res adobada.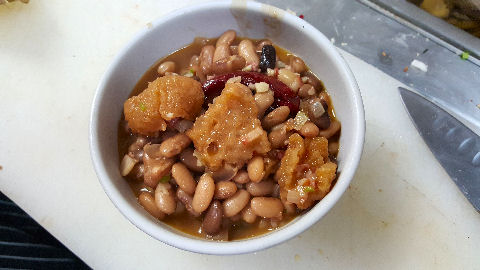 The remaining pinto beans got stewed with some of the pork skin from the carnitas, bacon, chicharrones (pork cracklings), onions, garlic, tomatoes, and serrano chilies, resulting in frijoles charros. My favorite dish of the day.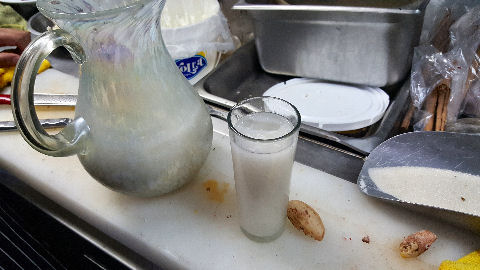 We made agua de hueso de mamey – basically sugar water with the inner seeds of the mameys grated into it. Tastes like amaretto!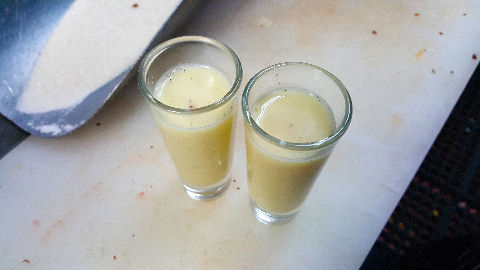 And, we made rompope, basically, the Mexican version of eggnog. We also started on a dessert, but didn't have time to finish it, having hit seven hours of steady work at that point, and so we left it to finish tomorrow.
You'd think I wouldn't eat anything else all day, but again, I only tasted each thing, I didn't eat everything. And, having finished around 3pm, by the time evening rolled around I needed something. A new friend from Mexico City whom I'll be joining shortly, recommended La Docena, Sao Paolo 1491, in the very chi-chi Providencia neighborhood (so I got to see a very different slice of local life).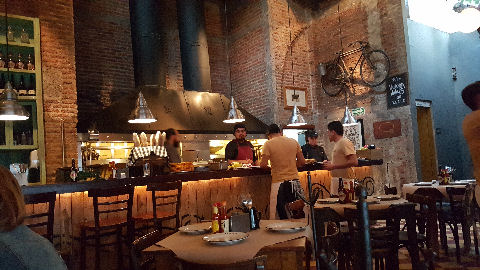 La Docena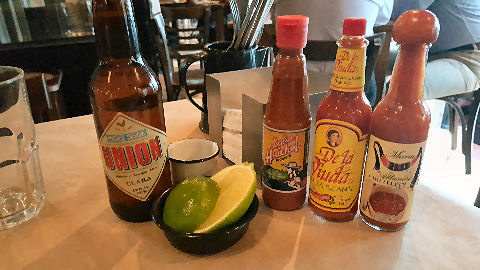 A welcome sight on any table as far as I'm concerned.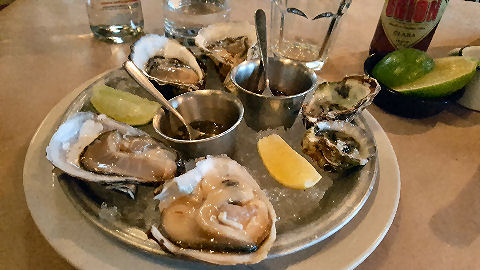 Three different kinds of fresh Pacific oysters. Note, I only had a half dozen, normally I'd order a dozen.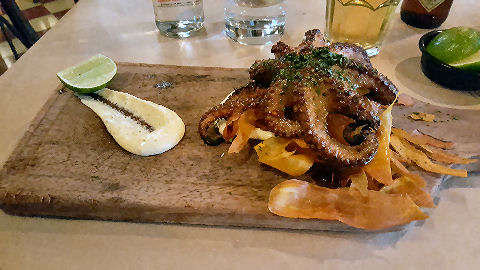 And, a grilled young octopus, which I sprinkled liberally with chiltepin chili puree and went to town on. Two plates, bottle of water, bottle of their own beer, tip, $22.
Last class tomorrow.