Not all the gourmet burgers of Buenos Aires are located in the touristy and expat areas stretching from San Telmo through Centro, Recoleta and on to Palermo. There are actually burgers further afield….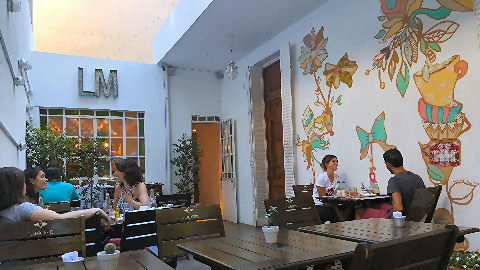 Now that's a good looking burger. Unfortunately, it's all looks. I'm at La Marguerite, a little café at 11 de Septiembre 1888, #2620, pretty much straddling the frontier between Belgrano and Nuñez. But there's a niggling little thought coming to my forebrain – this is a solid, inch-thick burger, and it came to the table in roughly five minutes from when I ordered it. So it's either pretty close to raw inside, or… yeah, there it is, it has no char on it whatsoever. And biting into it it's a dense, grey mass, the same color as the surface. It's cooked all the way through, well into the well done range. And it's refrigerator cold in the middle. So they precook these and probably heat them up in a pan, or maybe even in a microwave. The bun is pale, wan, tasteless, and this place is a specialist in baked goods. It's also too small for the burger. The lettuce and tomato are fresh, the melted cheese is oily goo. The steak fries (not the papas bravas promised on the menu) are soft, squishy, and as cold as the center of the burger. A couple of bites and I push it away, ask for the check, pay and leave. That was a bust.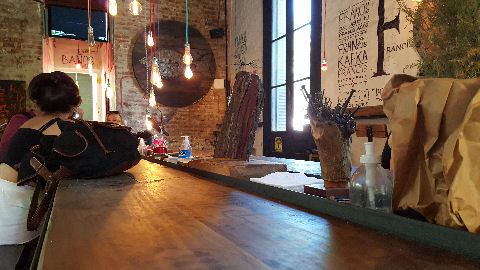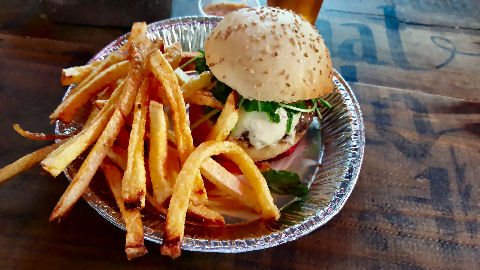 Just a few blocks away I head into the much touted Francis Platz, Quesada 1892, fully into Nuñez now. There's one huge picnic table down the center of the room, and some bar stools at counters around the wall. That wall is covered with the names of every Francis they could apparently think of, and range from the pope, to Bacon, to Underwood, and plenty more in just about every field of human endeavor. There's a register where you order from one of the half dozen choices on the menu. I do so, I'm given my beverage (craft beer on tap is a nice plus), and grab a seat and wait for my name to be displayed on the screen at the end of the room. And I wait. And I wait. And around the 25 minute mark I walk over to the open kitchen, where a solo cook is laboring away – so far I've only seen 3 burgers come out of the kitchen, and there are lots of people waiting. He says it will be just a few minutes and apologizes for the delay, he's working solo today and having trouble keeping up. He's actually having trouble running a kitchen, and perhaps he just doesn't know how – he's cooking 3-5 burgers at a time, but going through the whole process, cooking them completely and then plating them and serving them, before he even puts the next 3-5 burgers on the grill. He's got stacks of orders piling up, and he's clearly out of his depth, and basically putting out around 4 burgers every 20 minutes. At the 53 minute mark, mine finally comes up. The saving grace, it's a truly delicious burger, served with near perfectly cooked fries that come with a mildly spicy "fry sauce". The burger is a bit on the smaller side, but not exceptionally so, great seasoning, great toppings, and one of the better buns I've had. Given that I've not seen complaints about this place having significant delays, I'll chalk it up to a one-off day with poor staffing, and be back to try it again another time.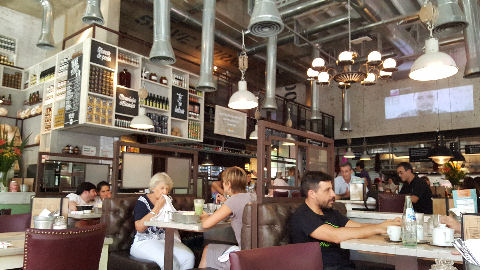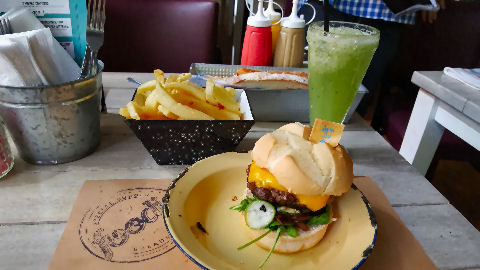 It was off to La Plata, with two spots on my list to check out. Foodie SpecialBurger, Calle 4 #953, at the corner of 51st, has been around awhile and gets great writeups. They've got a build your own burger system – you pick your burger (beef-pork mix, all beef, or chicken), your bun (brioche, actually a hamburger bun, a rustic sandwich roll, or a multi-seed bun), your toppings, either from a half dozen combos on offer, or picking your own, and then a choice of regular or steak fries, and plenty of beverage choices, including a dozen craft beers on tap, and more by the bottle. It's a big burger, coming in at 200gms, or nearly half a pound. The rustic sandwich roll is delicious. The toppings are great. The burger itself, a little over-cooked but nicely seasoned, and quite good overall. The disappointment here was the order of fries – pale, limp noodles of potato that don't seem to have been anywhere near a fryer, despite their claim. But if you're in La Plata, this is a pretty damned good choice for a burger, and a beer. They also have a new location that just opened up in City Bell.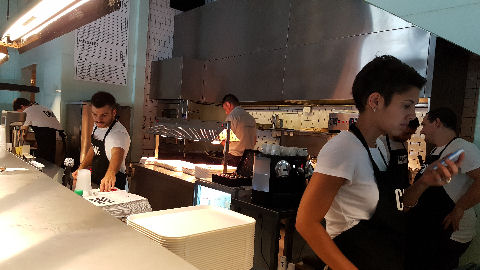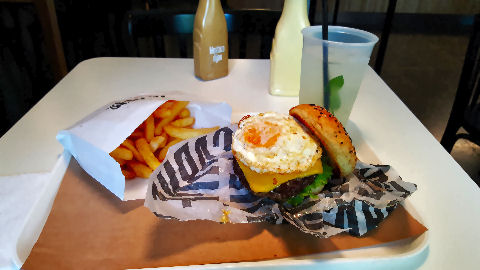 Okay, on to the meat of the matter, at Carne, Calle 50 #452, corner of 4th, opened sometime in the last month or so. Here's the thing, you take a two-Michelin starred chef, Mauro Colagreco, let him pop back from his French countryside restaurant Mirazur to his Argentine hometown, where he puts together a burger joint that meets the standards of his starred restaurant. From the selection of the beef, to the potatoes, to the type and way the buns are baked, to making their own ketchup, mustard, and mayo, even having their own beer made (though it's not yet available, it's apparently coming) there's not a detail left to chance. And the results, bluntly, are spectacular. This might just be the best burger I've had in Argentina. I would go for it a little less cooked (and they don't offer an option for how to order it, the one detail I think they should change), but it was juicy and perfectly seasoned. A bun that not only holds up to a dripping patty, but tastes good enough to eat on its own. Fresh toppings including real, actual pickle slices rather than the sickly sweet bread and butter style that are ubiquitous here. The ketchup and mustard, respectively smoky and tangy, almost bbq sauce-ish, and brown and spicy rather than yellow and sweet, are things of wonder for local fare. I don't know that I've ever suggested that there existed a burger worthy of making a trip to another city for (it's around an hour and a half by bus from here), but I'm suggesting it now.