Somehow or other, over the last few weeks, we've ended up hitting several rather more expensive spots in BA. One of those we were treated to, the other three – maybe it's because of the sudden shift in the value of the peso, they seemed less expensive when I think of them in dollar terms. None of these are places that I haven't been to and written at least a little about at some point in the past, but it never hurts to take another look, and maybe even do a little compare and contrast….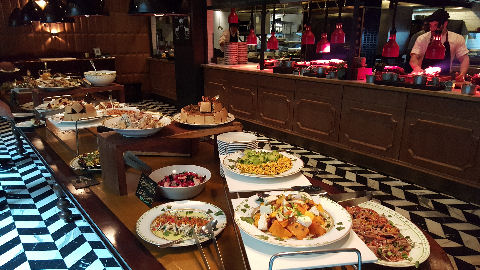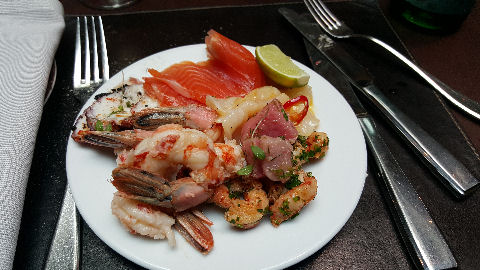 Elena, the flagship restaurant at The Four Seasons, Posadas 1086, and its predecessor, have been famous for Sunday brunch for many years. I've read glowing reviews of omelette stations, waffles and pancakes, fruit dishes, and more, but with a hefty price tag – the last time I checked, it rang in at around us$100 a person. So when visiting friends invited us to join them for brunch there, I stuffed the wallet with extra bills and we headed out (in the end, they picked up the tab, which we didn't expect). I can't tell you what the freight per person is since I didn't see the bill, but I know it's up there.
Here's the thing though – Elena doesn't actually offer brunch. They call it that, but it's not brunch. There's nary an egg in sight, nor a rasher of bacon, nor anything else that might stretch itself to be referred to by the "b" word. It's a lunch buffet. There are salads galore, there are glistening bits of seafood, there are cheeses and charcuterie, there's a pasta station, there's a meat carving station, and there's a dessert bar. Apparently the much lauded egg, pancake, and waffle station became a thing of the past about a year ago.
I'm not complaining, mind you. We had a delightful time, made more so by the companionship. The champagne and wine flows freely. I made my way through at least half a dozen loaded plates – the suckling pig and multiple cheese mac and cheese are things of glory that I'd have been happy to just load up on from minute one. The service is, as always, impeccable. But I have to admit, somewhere in a corner of my mind, a homunculus was pining away for a couple of Bloody Marys, poached eggs, and a jenga tower of bacon.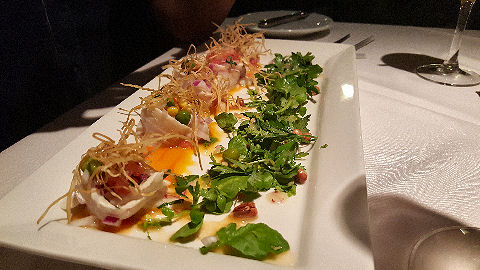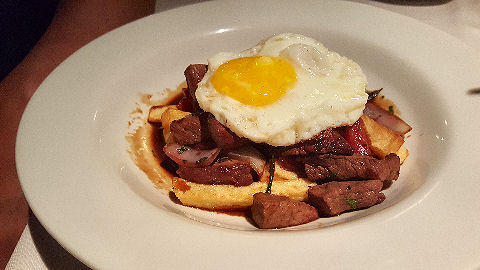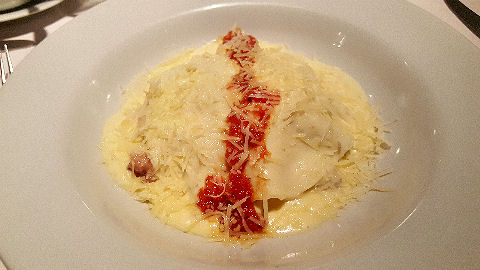 I'm going to go for a trio of nikkei style places – Peruvian-Japanese, upscale. Again, we've been to all of them before, but not in rapid succession. And there was an interesting trend that popped up at each. Let's start at La Rosa Nautica, Av. Alicia Moreau de Justo 254, in Puerto Madero, a longtime favorite of ours. It was a slightly rainy night, but not exceptionally so, and we asked for a table out on the deck, overlooking the water (it's under a canopy). First time I've been disappointed with service at LRN, when the response was, "it's so humid out, none of the waiters want to go outside, so we're not seating out there." We tried to push it, but they were adamant. [Closed in 2017]
We also found that our waiter couldn't seem to be bothered with just basic stuff, like doing his job. Over the course of the meal, we ended up flagging down a manager, a bartender, and another waiter, just to get things ordered or delivered to the table, that we'd already asked him for. He seemed more interested in hovering around the hostess stand than anything else.
On the other hand, the menu has a bunch of new items, including a spectacular chalaco style tiradito (long sliced ceviche), and a rocking good seafood lasagna with ají amarillo giving it some heat. Prices have gone up, though not outrageously – what used to cost us around 400 pesos apiece for dinner now runs a shade over 500 apiece, but given that the peso went from roughly 9 to the dollar to 14 to the dollar virtually overnight, that's not a bad increase.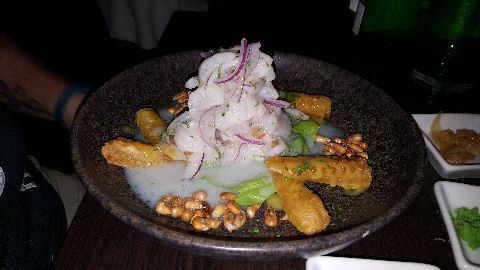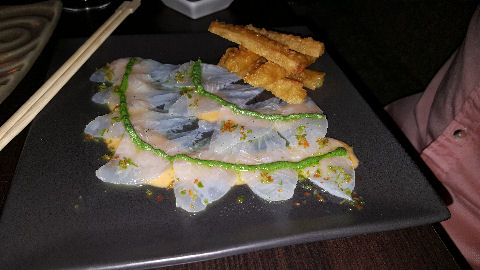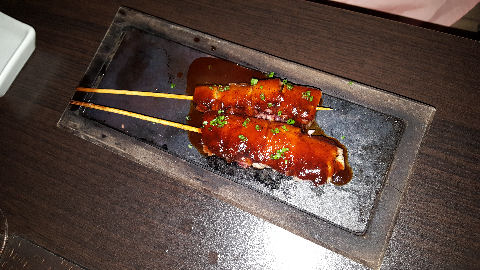 A couple of new friends are in the midst of moving here to BA for, more or less, retirement. They're both big foodies, so this bodes well for having more folk to go out and try things with. We met up with one of them for dinner at Osaka in Puerto Madero, Juana Manso 1164. Now, if you recall, I had a splurge solo day there a few months back, and it ran me around 1000 pesos, and it did again, coming in at about 1100 pesos apiece.
Service, again here, didn't fare so well. In this case our waiter, rather than spending his time hovering around the hostess desk flirting, spent virtually all his time at a table of four young women a couple over from us, and completely ignoring all his other tables. And here, we couldn't get anyone else flagged down, they all have their own sections, and don't seem to help out in between – or maybe they're just tired of taking care of all of his tables for him while he's flirting? And, he managed to screw up our order, not so much as to be bothered sending things back, but enough to be noticeable.
The food, as the last time, was excellent. It's really creative, very interesting, beautifully presented, and kind of skimpy. I'm sorry, but two nigiri sushi, or two skewers of anticuchos, each running around 200 pesos, creative or not, and even with the new exchange rate, is just outrageously expensive. You likely wouldn't pay that in a high end food city like New York or San Francisco for the same. For me, the value just isn't there, good as it is – spending that kind of money and leaving hungry and dissatisfied, just doesn't cut it.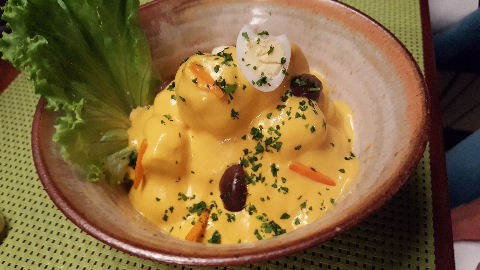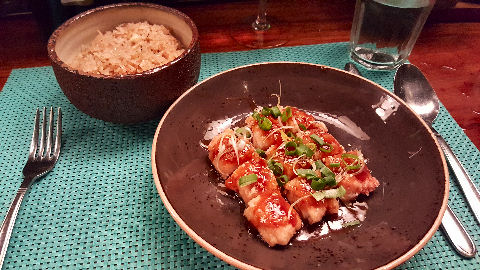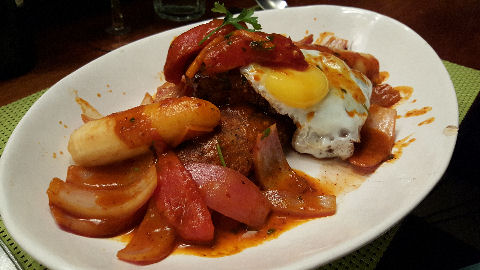 And, a fifth visit to La Mar Cebicheria, Arévalo & Nicaragua in Palermo. Four visits more or less without a hitch – great food, great service, a bit off in the climate control, and that still holds true – while in cold weather they have insufficient heat, here in midsummer, they have virtually nonexistent air conditioning – it's more of a slightly cool fan blowing things around. We'd have actually been more comfortable seated outside on the patio. I also still find their reservations system infuriating (as do many other people, based on comments I've seen on their facebook page and other sites) – they simply don't answer the phone most of the time, and when they do, they claim they're booked for days if not weeks ahead of time. Still, when I did reach someone, she suggested coming in early and seeing if there might be something available.
We did that, and not only was the place basically empty, but it never got overly busy, yet we still got attitude about it (get over yourselves, yes, you're a Gaston Acurio restaurant, and yes, you're popular, but so are plenty of other places). The patio filled up to about half full, and the bar, where we were sat as "the only spaces available indoors" filled and refilled, as people came and went, but at no point between 8pm when we got there and a bit after 10pm when we left, did the indoor seating have more than three tables with people at them. Service was completely inattentive at the bar – we sat for ten minutes before our waiter even acknowledged our existence, as he and the other waiter stood around chatting with, hey, the girl at the cash register, and then another ten before he took a cocktail order.
The cocktails didn't arrive until the same time as our appetizers – we'd wanted them first, and wine with the food, but he brought all of it at once. Bottled water, and the wine (rosé), were as warm as the room, and putting them on ice seemed to be a difficult concept – and we ended up having to serve both ourselves, since he never bothered after first opening them. He didn't know, or didn't bother to tell us that there was no lenguado, sole or flounder, for the ceviche (just for hot dishes), and delivered the 300 peso bowl of fish with lisa, grey mullet, a far lesser quality fish that costs half as much to the restaurant, and then it became "a thing" when we didn't want it. A replacement choice of papas a la huancaina, a simple potato dish with sauce that in most places could be delivered to a table inside of five minutes, took forty. More than half an hour after that was cleared, our main courses finally arrived – a whopping lomo a lo pobre and small fillet of lenguado stuffed with crabmeat and topped with a sickly sweet, gloppy sauce reminiscent of cheap duck sauce, accompanied by a bowl of "fried rice" that was unseasoned and all just stuck together in a lump.
I guess every place has to have its occasional off-night, but had we not had four previous great experiences, this would have been enough to put us off La Mar for good. Topping off at near 1500 pesos for the two of us, it was a disappointing evening (especially as it was our 11th anniversary dinner).
Right now, of all these Peruvian-Japanese upscale places, the best value around is La Rosa Nautica, and we'll likely be sticking with it more in the future.
Has it just become a new trend for the fancy nikkei spots to start treating their diners like crap, because it's the "it" cuisine of the moment? Next year, it won't be, and we'll all remember….