Henry and I just spent a trio of days up in Salta and the area north of there, in the far northwest of the country. It's the first time we've been there (other than passing nearby and along part of the same route when we went to Bolivia a decade ago). Our original intent was a trip to Cafayate, where we had a complimentary stay at one of the wineries lined up, but, when we started looking at the travel time involved between the two, and what lay in store, we decided to stay in Salta and explore from there. Video of the trip, with music, followed by a roundup of the food, coming right up.
On to the food: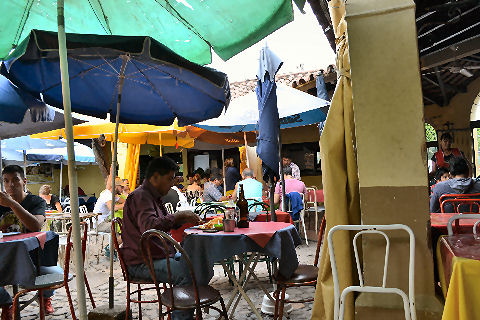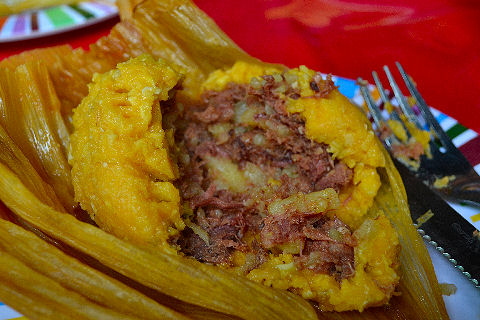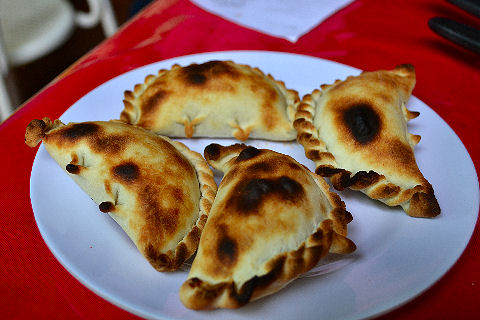 Patio de Empanadas is pretty much just what it sounds like. It's a big open patio area, surrounded by little kiosks all selling empanadas, tamales, and humitas. Selling is the operative word, because if you get within 50 meter of the places the waitresses start calling to you, trying to get you to come in and sit down at one of the tables in "their section". The menus are short and sweet, there's little else to order, just something to drink with your nibbles. The only shame is there doesn't seem to be a way to sit down at one spot and have samples brought to you from more than one hawker – you have to get up and move to the next section. Empanadas Alejandra serves up a mean empanada and tamale stuffed with charqui (stewed beef jerky).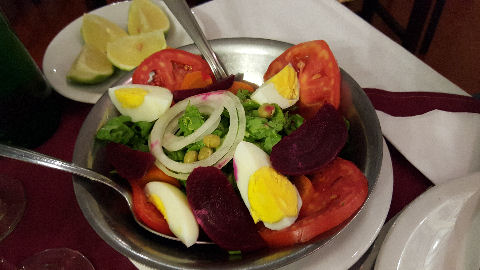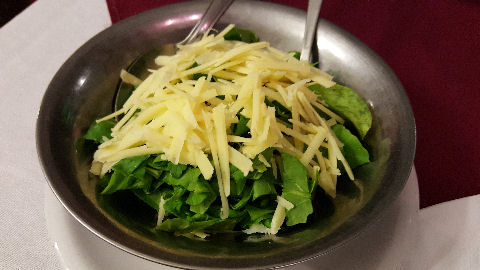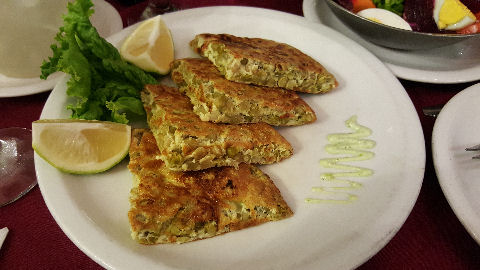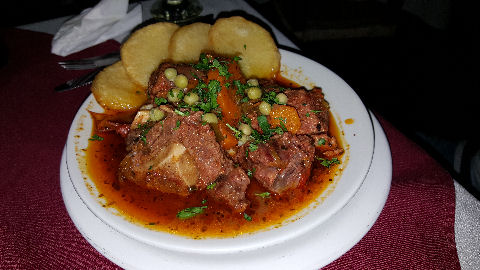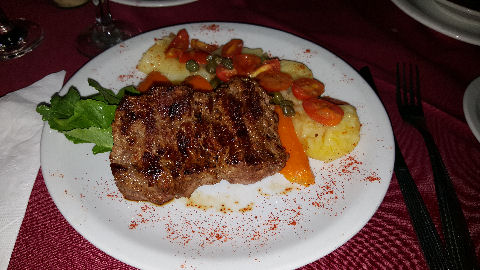 Peña Boliche Balderrama is kind of the king of the folklore show world in Salta, and they put on a great, rolicking, fun show (in the middle of the video above you'll see some clips, including Henry getting up to dance with one of the show's dancers). They also put out some relatively decent food for a place that's catering to around 200 people at a time. Delicious salads, a decent pea tortilla (albeit with canned peas), goat stew, and steaks. 90 pesos apiece for the show, and acceptable, if slightly touristy, prices for the rest – all told for two of us, beverages, tip and all, 900 pesos – about $65 right now.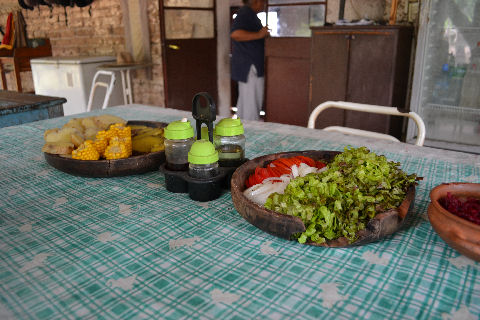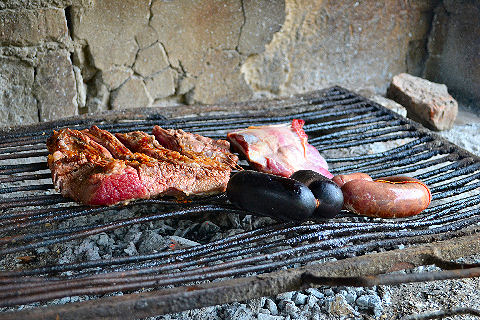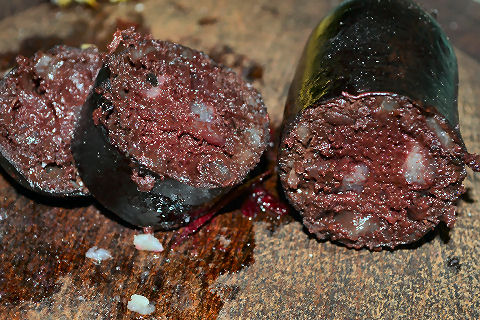 We spent a day in the hills just northeast of Salta with Cabalgatas Gauchas, a family run horseback riding spot where we were treated to about an hour and a half of roaming the hills astride our trust steeds (well, mine was more of a mule it seemed, refusing to do much of anything – the guide, Guillermo, later said he wasn't quite sure why they gave me that horse as normally only he or the assistant guide are ever able to even mount it – so he was impressed that I wasn't tossed to the ground and actually managed to make it through the ride). They also whipped up a little asado for us, although the guy who was supposed to be cooking while we were out riding decided to go watch a telenovela on TV and never got around to lighting the fire. Guillermo took care of it from that point on – it made for a very late lunch, but some of the best homemade chorizos and morcillas we've ever had, great steaks, salads, and vegetables to go with it. We were the only guests that afternoon, so all that was for us!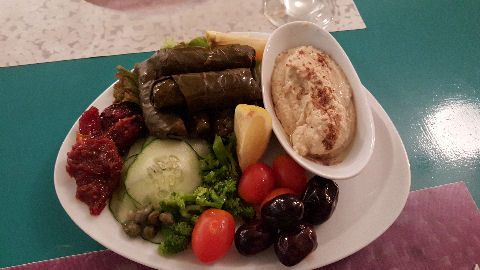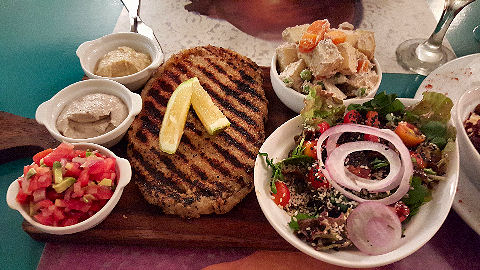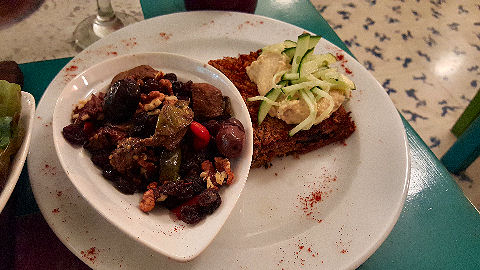 Not long ago someone sent me an article about some of the top vegetarian restaurants in the world. They thought I'd find it interesting that one of them is located in Salta. I did. We decided to give it a shot, figuring that all the rest of our meals were going to be heavy on the meat side of things. Not only is Chirimoya vegetarian, but vegan. Now, the general gist we'd gotten is that they're turning out world class vegan fare focused on recreating the classic dishes of the northwest of Argentina and southern parts of Bolivia and Peru. They're not. In fact, this little family run cafe has a menu that's all over the map, with versions of dishes from Japan, Thailand, the Middle East, Greece, France, Spain, Italy, and more. And to be honest, I have no idea how they made it onto a list of world class eateries. I love good vegetarian, even vegan, food, and this just isn't it. Bland, completely unseasoned dishes, prettily plated, came ambling out of the kitchen after interminable waits (with few customers in the place). Overcooked grain based dishes (mushroom and brown rice stuffed grape leaves so dry you could break them; a lentil and rice "kibbe" with the texture of a desiccated brownie), or the other extreme, an ensalada rusa with nearly raw potatoes. The only really edible things on a trio of plates was the ubiquitous hummus (on all three dishes), though it lacked salt, spice, garlic, really anything but pureed chickpeas with oil; and the fruit based blender drinks (chicha morada for Henry, coconut and passionfruit for me) that didn't arrive on the table until we were almost done with the appetizers. Asked why we weren't eating anything by the sole waiter (during one of the moments he wasn't on his phone, or chatting with friends who dropped by), we told him. He shrugged his shoulders, muttered que pena (what a pain), cleared the plates, brought the bill, and then took another 20 minutes to get around to processing it. Henry swears it was the worst meal of his life. It was certainly one of the worst vegetarian meals of mine.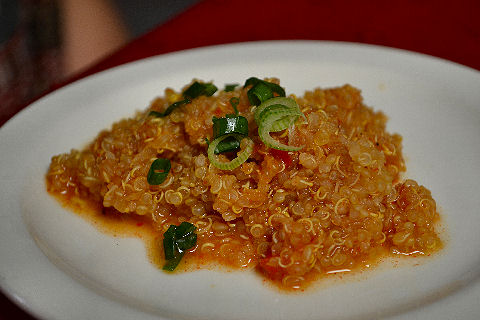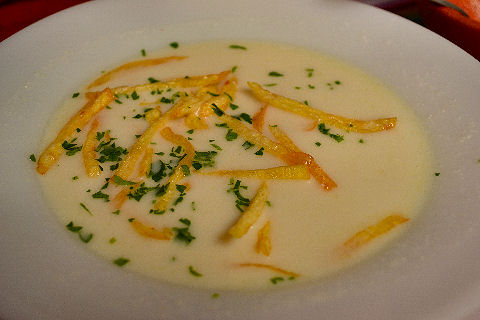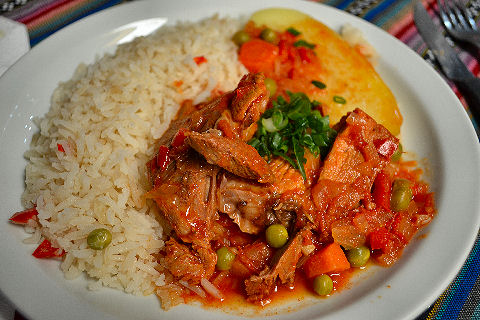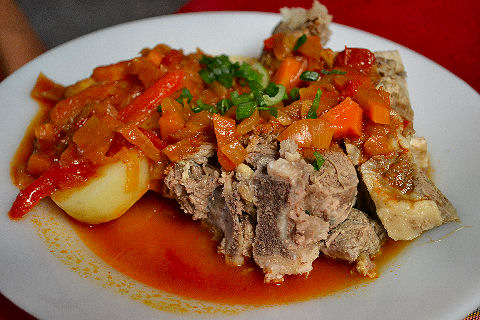 Hired a guide and car for the next day to head up through the Quebrada de Humahuaca, the gorge, or canyon, that runs from a bit north of Salta around Jujuy, and on up to the town of Humahuaca itself. Amazing vistas (checkout that video above), and visits to several pueblos along the way. The guides all try to steer you to El Fortín, a large place with a show for the tourists, and free food for the guides who bring in their clients. We told Freddy we wanted something really authentic, and while he avowed he could steer us to one or another more intimate places in town, even when we offered to buy his lunch at one of them, he was sure we'd find the food at this place to be some of the best in town. It was actually very good (the show sucked, a trio of guys playing folk instruments, badly), with a delicious manjar inca (quinua in a vegetable sauce), sopa de maní (peanut soup), llama stew and braised goat. It's probably slightly more expensive than less touristy spots in town, but at 400 pesos for a three course lunch (we got cheese and honey after the plates above), and a couple of bottles of water, it's still a great deal at under $30 for two.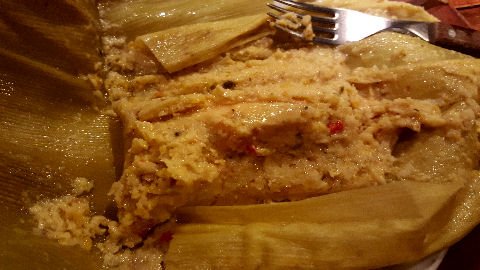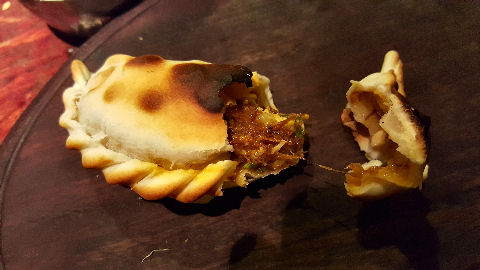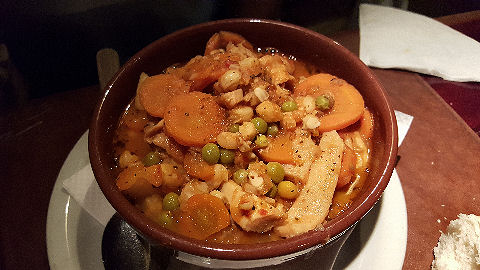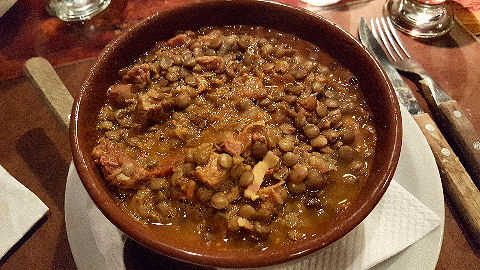 Our guide highly recommended we have dinner at Doña Salta, near to our hotel back in Salta, which he said was his favorite place to take visiting friends and family for a real taste of local cuisine. Excellent humitas, empanadas, tamales, and the four classic stews of Argentina – we tried the lentil and tripe ones. I'd go back and try the two meat based ones another time – locro and carbonada. On request for a little hot sauce our waiter brought us an entire bowl of chopped fresh chilies to add to the mild salsa llawa that is ubiquitous on Salta tables (tomato, rocoto chilies, herbs). All that, a liter of the rather decent Salta dark beer, a couple of waters, and tip, for just barely over another 400 pesos for the night.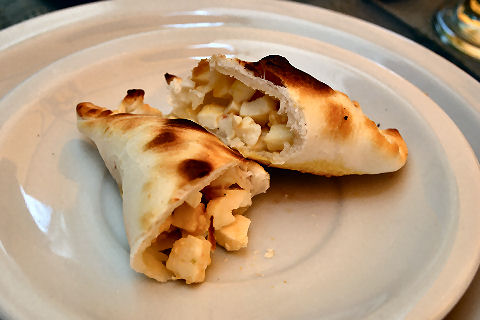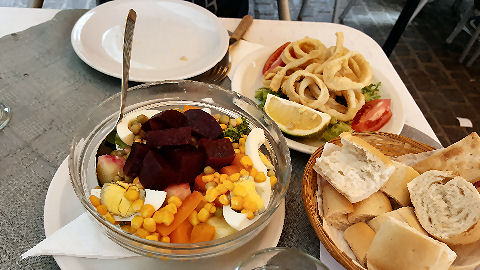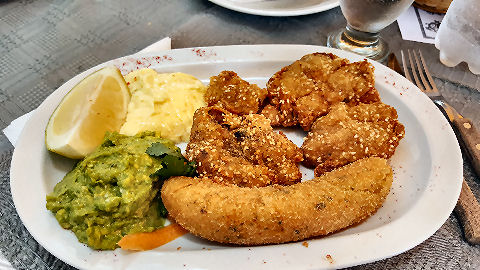 A creative little cafe on the central plaza, where our hotel was also located (the quite excellent and accommodating Hotel Colonial), we grabbed our last lunch at Lo de Juana Manuela after visits to the Archaeological Museum (a must) and the Cabildo Museum (interesting, but not a must). Good salads, goat cheese empanadas, Henry went for fried calamari, I went for fried sweetbreads, which come with a fried banana, quite good guacamole, and an inexplicably huge dollop of unflavored mayo. Excellent hot sauce served on the side – the best one we had all trip. Inexpensive – I think with waters and tip we came in at under 300 pesos, and a lovely spot to watch the plaza from – better at night, as during the day, there are bees everywhere. Everywhere.
All in all, a great little mini-vacation for a few days. Only negatives about Salta – for a city that seems to run on tourism, almost no one takes credit or debit cards (other than local bank ones), which can make dining out a problem if you didn't pack a lot of cash with you. And the places that do take them upcharge you by 10% for the "privilege". It's not that they're not aware that there's a federal law here requiring restaurants and many other businesses to accept credit cards, even international ones, and at no extra charge, they just don't care. When we mentioned it to Freddy, he told us that we should have just stood up and started to walk out of any restaurant that refused to let us pay with a card, and he guaranteed they'd all suddenly remember that they had a terminal for swiping them.