A duo of new spots that have opened up in Palermo. Different cuisines, different experiences. Life in the fast lane.
Not So Wild About the Lotus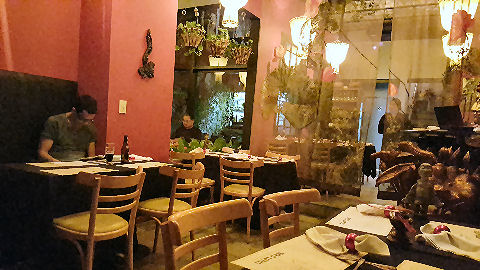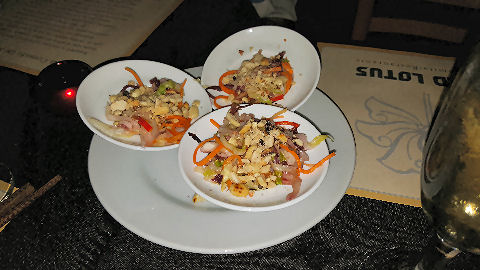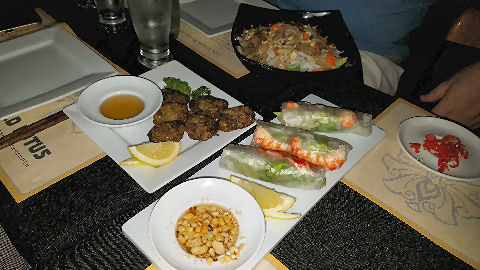 I'd like to say that we were all excited here in the Asian food fan club when word came of the opening of a new Vietnamese restaurant… in Palermo… Wild Lotus, Malabia 1893, off the corner of Plaza Armenia. But the thing is, we never heard about it. It came up one day when a friend who lives nearby to there said he'd passed by it and it looked like it was getting ready to open. So we took a shot one day at lunch, and it wasn't, but we saw the space and we met the owners, long time residents of BA, one from Vietnam, the other from Nigeria, two very dour individuals. It wasn't stated explicitly, but we came away with the impression that this is their first restaurant venture. Especially when they informed us that they were the first and only Vietnamese restaurant in Buenos Aires – not. Green Bamboo has been here for years, and while it's been about seven years since they were here, we had A Little Saigon, and Bistro Vietnam; plus, Cocina Sunae (now open as a regular restaurant, Sunae Asian Cantina, to be checked out soon), Captain Cook, Sudestada, and BuddhaBA all currently offer up Vietnamese dishes as part of their pan-Asian cooking.
We booked via email – they respond to their emails in English, rather than in Spanish, which is odd, even when our side of the conversation was in Spanish (same the second time, and also when they sent a followup email thanking us for the first visit). A trio of us headed off one evening recently to sample a few dishes. The menu is a short one right now with only about half a dozen appetizers and fewer main courses, but with expansions to the menu planned as they pick up steam. Our waitress was charming, and spoke both Spanish and English; one of the owners was there, but he basically never left the table he was sitting at in the back, just stared at the near empty room. There were few people in the place – the three of us, a single British gent, and an Asian couple, at other tables. As one of us doesn't eat pork, we opted for shrimp summer rolls, sauteed beef on rice noodles, and fish cakes. All tasted fresh, all were basically well made, the issue we had was the complete lack of spice. They've clearly bought into the "dumbing it down" approach for local palates – even the nuoc cham, the classic dipping sauce of Vietnam, was nothing more than vinegar and sugar mixed – no chili, no fish sauce, nothing to offend an ostensibly delicate palate. We asked for something hot and got some chopped mild chilies on a plate – it helped, thought not much. The beverage list is minimal, and nothing but usual suspects (other than that they're offering Vietnamese coffee – that lovely sweet beverage blended with condensed sweetened milk).
But hey, it was basically opening week, let them get their act together. So I returned solo a couple of weeks later.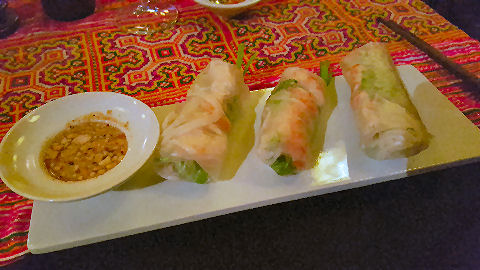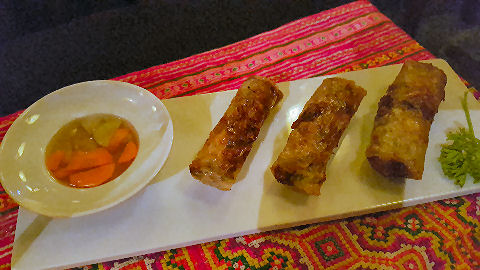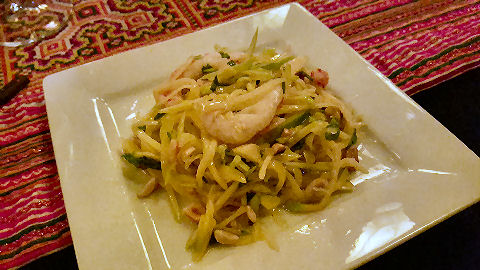 Given the short opening menu, pretty much, I think I've tried all but one appetizer, and the pho, plus a variation on one of the above – the fried springrolls come with two different fillings. So this time around, I gave a shot at the mixed pork and prawn summer roll – decent, fresh flavors inside, but the same problem with the dipping sauce mentioned above – there's just no zing to it, no spice. However, a logistical problem – the rolls are apparently made in advance – if you do that, you have to keep them humid, under a moist towel, or the rice paper wrapper dries out – and one end of all three of these was dried out, unpleasant when you get to that end of the roll.
The fried pork rolls were not crispy, they were just oily, sodden messes, and worse, they were ice cold in the center – I'm guessing they're fried direct from the freezer, and in oil that's not hot enough. The green mango salad was, well, not green. You can't just make a green mango salad and use ripe mango, it's a different texture and flavor – this was just soft threads of sweet, juicy fruit, none of the crunch or "vegetable" character that a green mango would have.
Same waitress, very attentive, friendly, helpful. Same thing with the owners – this time both of them, seated at a table, glaring at the room – this time I was the only person there the entire hour plus that I was in for dinner. Except when one of them got up to look at the computer screen once, where this time there was a manager standing, who never once moved away from the computer, they just sat, and glared. Not conducive to a relaxed evening, nor was it warm and welcoming. That may be the lack of restaurant experience, but someone besides the waitress (who not only covers the room, but shills for the restaurant outside on the sidewalk, and greets and seats people), either the owners (see next review below) or the manager, ought to now and again come out and make the rounds, greet the guests, be warm and friendly. A friend who visited with his family found much the same as we did – he tried the pho and just summed it up as "disappointing", their white wine was served warm, and mentioned the same thing about feeling an unfriendly vibe from the owners sitting there.
As it is, given two visits and rather mediocre experiences, I don't plan a return – I'll be honest, had they made any effort when we first dropped in, or on the two subsequent visits to be friendly and welcoming, I'd probably give it another shot, the food is something that hopefully will improve with time and as they get their act together.
Pimping Pastrami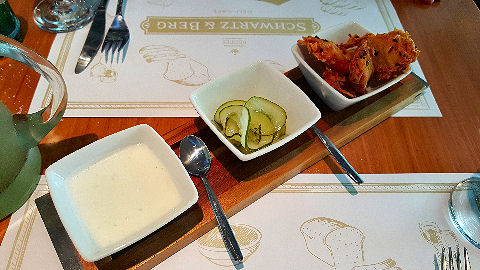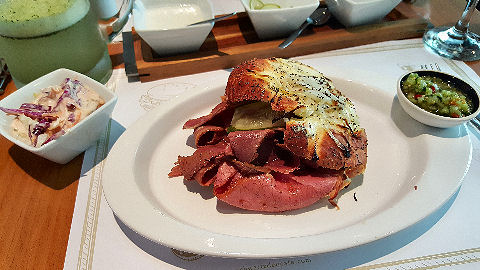 Take a Polish immigrant family from Brooklyn. Send some of their scions to Buenos Aires. Pump a lot of money into opening a deli. Hold your breath and wait for them to come. The latter must be the case, because like Wild Lotus above, there's been no rumbling in my usual food news channels about the newly opened Schwartz & Berg, Fitz Roy 1617 in Palermo. In fact, it was the same person who told me about the above spot, who mentioned that they'd seen or heard about this "new pastrami place". He was out in the countryside the day I decided to check it out, so I grabbed another friend and headed over.
Bright, gleaming counters and walls, lots of airy, well lit space. Good looking staff. A fun looking deli type menu – it's not all pastrami, there are two sandwiches based on it, and plenty of other choices as well. But that's what we were there to try. There were two options, one called the Hot Pastrami, the other the Varsovia (Warsaw). The latter is, according to the menu, their version of a New York style Reuben (corned beef, sauerkraut, Swiss cheese, Thousand Island or Russian dressing, dark rye). I certainly wouldn't make that connection with a sandwich of pastrami, mustard, sweet pickle relish, fried egg, and cheese, though it sounds interesting. One of the owners dropped by the table to chat with us, welcome us, and ask what we thought of the menu (note to owners of Wild Lotus…) – I mentioned the Reuben, he said that locals don't like sauerkraut (I don't know, I see "chucrut" on menus here, albeit usually more German style with sausages). We ordered a couple of hot pastramis with spicy mustard (it comes with a blend of mustard and mayo, which we asked them not to do, just mustard), sweet pickle relish on the side (good move, it was too sweet for our tastes, though other than that, quite good), and a choice of side dish – me coleslaw (excellent), my friend a green salad. Comes on a choice of a pletzlach, or onion roll, almost a bialy, or a ciabatta (nod to the local Italian influences?) – we both went with the former, great choice.
The sandwich came, piled high with what turned out to be delicious pastrami, as good as that at La Crespo, if not possibly better (I'd have to try them side by side to be sure… anyone game for that day?). Neither, honestly, holds a candle to the slow cooked pastrami at Mishiguene, but there's a huge price differential too. It did come with the mayo-mustard combo which we'd asked for it not to, it wasn't a big enough deal to send it back, but a service lapse, especially after we'd said it to both our waiter and the owner, and it certainly didn't ruin the sandwich. The owner sent us a plate of latkes to try – really, really good. He sent extra pickles – like the relish, a bit sweeter than we like, it'd be great to have some garlic dills or something, you know? I ordered a lemonade to accompany my meal – kudos for a) serving a small pitcher of it that's plenty for a meal, and b) offering it either sweetened or not (with sugar on the side), so you can have it to your tastes. All in all, a new, delicious option in the sandwich – salad – wrap world in BA. Even from just one sandwich, latkes and one visit, I'll be back – I can see this becoming a regular spot for lunch on the Lower East Side in Palermo.