I return from a self-imposed two week blogging hiatus, I needed to put my attention on other writing and home projects, and just take a break, refresh, and come back to it. Lots of stuff fixed and/or replaced around the apartment that I've been letting slide!
You know the drill – the good, the bad, the pretty, the ugly…. This time, it's all very casual eats.
In the Company of Burgers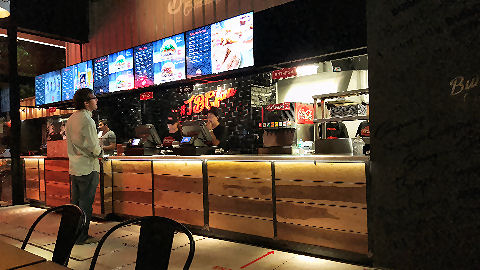 I'm going to lead off with a much anticipated opening in the burger world, The Burger Company, Honduras 4733 in Palermo (and more to come, this is the first outlet of a new chain setup). For months they've been teasing us with amazing burger photos and videos on every social media outlet to be found. They've been promising the moment of opening as approaching oh so soon (then again, I should take that part with a grain of salt – timing is always a mystery here, en un rato, "in a bit" can mean anything from an hour to four or five, and en un ratito, "in a little bit", can mean a few minutes on up to two or three hours, so why should this be any different? But then, I got a message from them on Facebook saying they were opening "the next morning", and decided, along with a local burger fiend friend, to head over for their opening lunch. Only they were still closed, and setting things up… "maybe tonight". That's the way things go, but maybe don't send out messages saying you're open when you're not. Still, I got back there….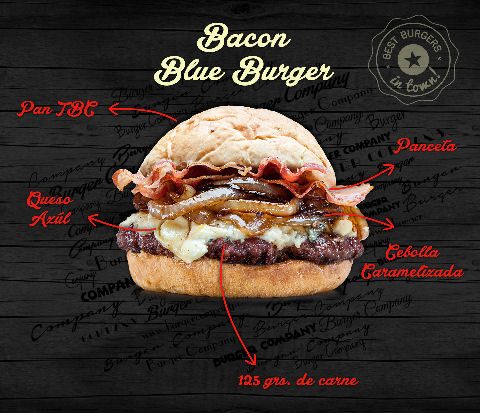 So first off, this is one of the promised burgers. Delicious looking, no? About a 4 oz. patty, so a little small for the new burger craze, but not tiny. Lots of melted blue cheese, a heap of beautiful caramelized onions, and rashers of beautiful crispy bacon, all on a handsome bun – although, why does the top look like it's a smaller diameter than the bottom?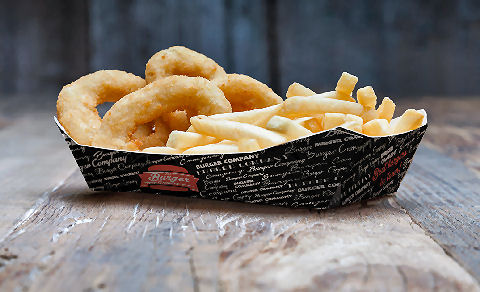 A brilliant idea – why has no one else in the fast food world done this – a combo french fries and onion rings! And look at those beauties. They don't, however, offer any other combos – no burger-fries-drink specials – so the prices can add up quickly – for the three, you'll spend between 150-200 pesos, which, if we were talking gourmet burgers, would be fine, but for fast food is a bit steep.
Now, I'm not stupid, I don't actually expect that what I end up with in a fast food spot is going to look like their advertising, at least not exactly….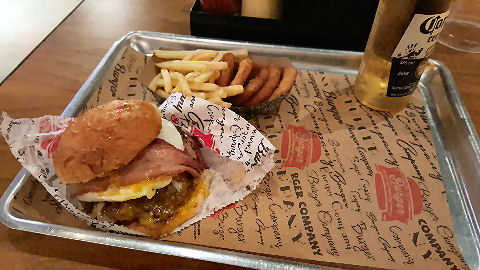 …but I do expect it to be kinda, sorta, almost what's being touted. The burger itself, not bad. Cooked to medium, but still juicy, and seasoned decently. The bun, a mess. First off, really sweet. Like doughnut sweet. And a bit of a problem in construction – whoever made the burger put the caramelized onions on the bottom, below the patty, and by the time I went to pick the burger up the bottom of the bun was a soggy, useless mess – and those onions, not quite so caramelized, just limp and wet. The blue cheese – not the lovely layer of melted cheese, more, two nuggets the size of walnut halves. Those rashers of crispy bacon? One, solitary strip, and draped, barely warmed. I'd asked for a fried egg to be added – and that was decent, with a nice gooey yolk. Flavor? It wasn't bad, it wasn't great. Were it to live up a bit closer to the adverts, it might actually be in the better burgers category, but as is? Not so much. And the fries/rings? The blondest, most under-cooked thin strips of potato imaginable, and hard, crunchy onion rings with no onion flavor, that were so uniform in size they seemed like mass produced frozen ones from the supermarket. And, typical fast food outlet beverage offerings – soft drinks, and a choice between Corona and Stella Artois beers. But the, come on, it's opening week, is it fair to judge a restaurant, even a fast food outlet, on opening week? So I waited a few weeks…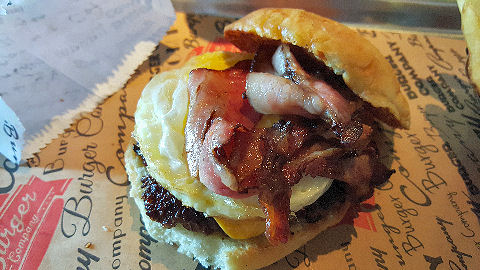 …and went back for another burger and the fry-ring combo. This time the "eggsplosion". Only this time, the egg wasn't runny, it was one of those hard cooked pucks like McD's sticks on your morning breakfast sandwich, so much for the 'plosion part. The bacon, two strips this time, and at least cooked, if not crispy. The bun, just as bad as the first time around – I mean, doughnut sweet, really. The fries, cooked through this time though still underdone and bland, the rings, if possible, worse – like a mealy, vaguely sweet mush inside of hard breadcrumbs. Honestly about the only thing I really like about this place is that they use Heinz condiments instead of the usual sweet, bland local knockoffs. "The Best Burgers in Town"? Not. Peace – Out….
Beer's the Thing…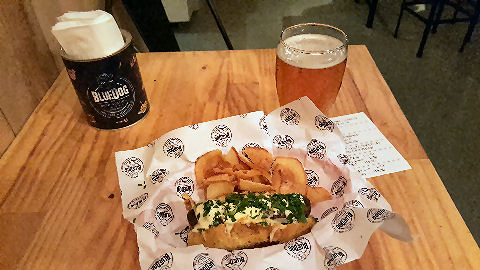 Craft beers, thankfully, are becoming a thing here. Those of us who are from elsewhere with a long standing tradition (or even a short standing one) of the same, are thrilled, because it means there are alternatives to the unholy ubiquitous duo of Quilmes and Stella Artois, that dominate virtually every beverage menu in the city. Enter BlueDog, Gorriti 4758 in Palermo (they're always in Palermo it seems), offering up a dozen selections from local craft brews. A Cheverrey Session IPA seemed like a good choice on my first visit, along with sampling their touted housemade bratwurst. The latter was a little odd. It didn't really taste like any bratwurst I've ever had, basically it tasted like a chorizo with a really crispy skin and a bit more smoke than usual, and I'm not convinced it was done any favors by dousing it in beer mayo and gobs of provolone, all stuck into a chimichurri inflected bread roll. It wasn't bad, it was just, odd. But I'll be back for more beer, and to try something else off the short menu.
Lords of the Wings?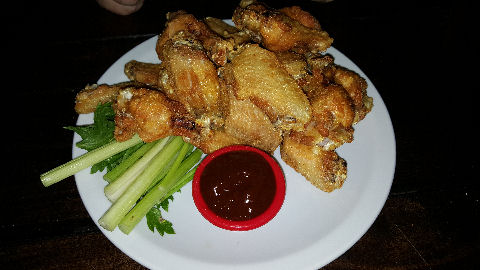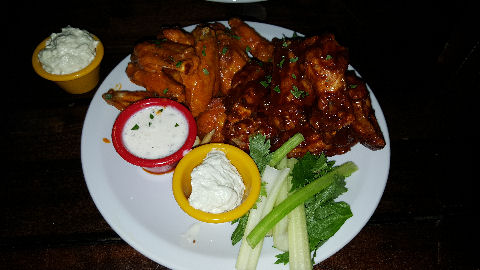 You can never have too many wing places around. The folks at Atlanta Wing Factory have now opened up a sports bar on Gorriti, which I have to get over and review one of these days, and the Chicken Bros. are coming on strong. They don't have their own spot yet, they're been, for awhile, offering up catered wing events and showing up at outdoor markets, and just a couple of months ago made a deal with the team at Magdalena's Party, Thames 1795 in Palermo, to take over the place on a closed night, Mondays. And a great night it is to open too, since all the other decent wing places are closed up tighter than a chicken's … ahem, never mind. [Edit: Starting in early 2017 they took over the Magdalena's Party space as their own, full time.]
Back to Monday nights – offering up plates of 10 or 20 wings, with respectively, one or two sauces from a shortlist of six. There are a few other things on offer – fries, popcorn chicken nuggets, and a weekly special – last night was a chicken parm sandwich, and past nights have offered up Korean style, or "boozy peach" style tacos, and more. A craft beer of the night available by the pitcher or pint (Kingston IPA last night). Simple, direct, easy stuff. Turns out I know one of the "Bros.", Justin, from the BA Chili Cookoffs, one year as a judge, one year as a contestant.
So how do they stack up? First off, big, plump, meaty wings. Available sauced or nekkid with sauces on the side for dipping. Choice of ranch or blue cheese on the side. A few celery stalks scattered on the plate. Ready, Set, Go. Okay – delicious sauces, I tried the chipotle barbecue – smoky, sweet, not a lot of heat, but great flavor, and what the hell, let's go for their extra picante – it's got a kick, and for some, it'd probably be plenty hot, but I'll be honest, I didn't break a sweat, and it's also really buttery tasting – again, delicious, but at least for my palate, not quite so extra picante. The blue cheese is nice and cheesy, the ranch is flavorful, but liquid – you need a spoon to eat it as it slides right off anything dipped into it – and I'm not one to dip my chicken into either, I usually save the side sauce for the celery sticks or carrot sticks, so with just a few of the former, not much dipping going on. Overall? Great fun for a Monday night. Delicious wings. Personally I'd love a spicier option, but that's just me, and I wouldn't say no to a platter of these. The friend I went with said that of the three times he's been, this was the best round, so hopefully that means they're just getting better and better!