Welcome to the 23rd installment of Bite Marks, my roughly every 3-4 week round-up of what we've been eating. Some of it is destined for further exploration, some of it is simply a reminder of the existence of some favorite spots, and some of it will be left by the wayside, never to be revisited. Let's see what we've got in the photo files!
Pampered Afternoon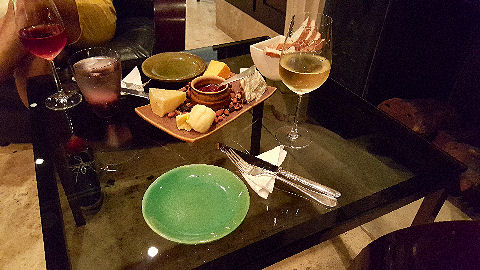 Let's start off a bit on the "luxe" side of things. A friend from Santiago was in town for a couple of days with her husband, and offered to bring me my fix of merquén, my favorite smoked chili from Chile. They were staying at the Park Hyatt – Palacio Duhau, and Henry and I thought we'd take advantage of waiting to meet up with them by dropping into the vinoteca for some cheese and wine. The options are numerous, from flights of either wine or cheese or both that have been selected by the staff, to do-it-yourself options of various numbers of cheeses, and wine by the glass or bottle. We went with a four-cheese plate of, more or less, stinky cheeses (cacciota, aged mimolette, idiazabal, and pyramide), and a couple of glasses of wine. It's not cheap, even with the new devaluation of the peso – that little pre-dinner fête ran us, with tip, almost 700 pesos. Then again, $50 actually is pretty cheap for two top level wines and four rather large portions of cheese that we couldn't even finish (there went dinner), plus accompaniments. It ranks up there with taking afternoon tea in one of the top hotels as a fun, now and then splurge.
Help Yourself!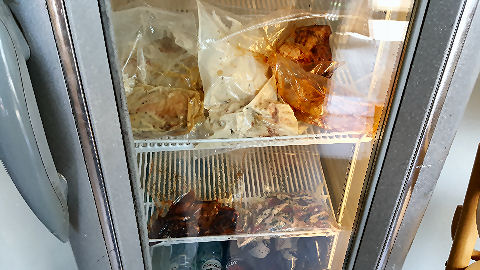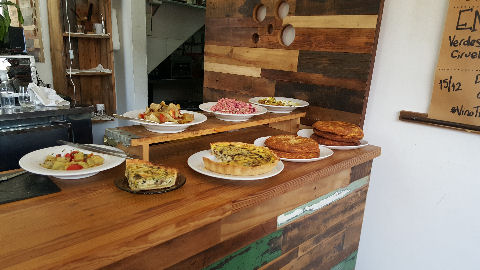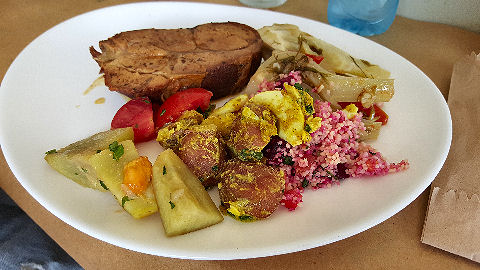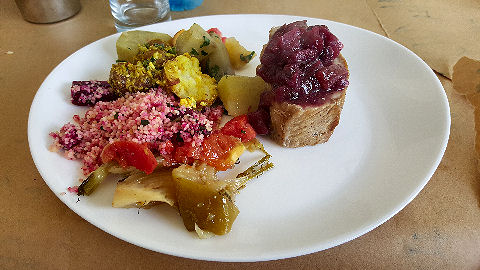 Let's jump to sort of the other extreme in service and presentation. The newly arrived Vinotinto, Julian Alvaréz 1602 in Palermo is not at all what I expected. I had visions of something that would harken back, albeit in a modern way, to the automats of days gone by, something like a small Horn & Hardart, that I remember fondly from my first decade in NYC. Instead, befitting a spot with a sub-moniker "Cocina Andante", or basically, Food to Go, it's mostly a take-out spot, with a half dozen barstools at wall counters to dine in at. It's a simple setup. You go to the fridge. You pick from one of half a dozen main courses that have been vacuum packed and pre-cooked, then chilled and lined up for your perusal. There are no labels on anything, so you either have to ask, or guess. If you're taking it to go, you pay for it, get a side dish if you want to go with it, and head out to heat it up at home – microwave or a pot of boiling water. If you're staying in, they pop it back into the kitchen, presumably to microwave it to ready-to-eat hot, slip it onto a plate, and then the counter guy adds your side dish. We were indecisive about what to accompany with our respective pork shoulder and loin dishes, and he offered a taste of everything. The food is tasty, well prepared, I was impressed, even more so with the side dishes than the main courses. And beyond reasonable – a main course with side(s) for about 60 pesos, or about $4, is a steal in today's economy.
Join the Club!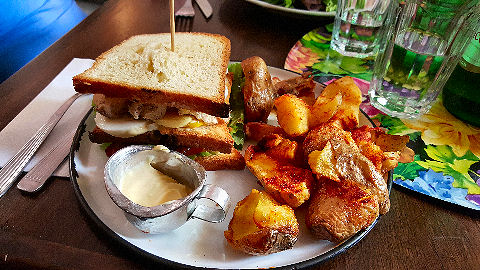 I've been thinking of adding a "Club Sandwich" category to The Great Sandwich Hunt, and so I'll be doing so after this post. Easily making the top of the list of those I've tried is the smoked club sandwich at Malvón, Serrano 789, Villa Crespo. It comes with a double hit of smoke with both smoked chicken and smoked mayo, along with bacon (oh wait, triple hit!), lettuce, tomato, and egg, all on toasted housemade bread. Accompanied by Malvón's signature "broken potatoes" (or salad, if you're feeling virtuous), it's a winner all around.
Stew You!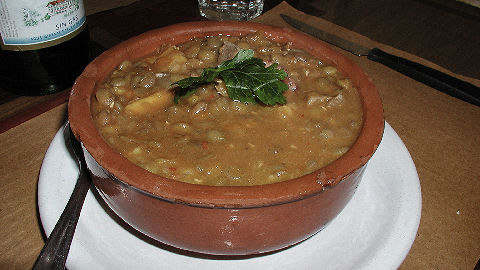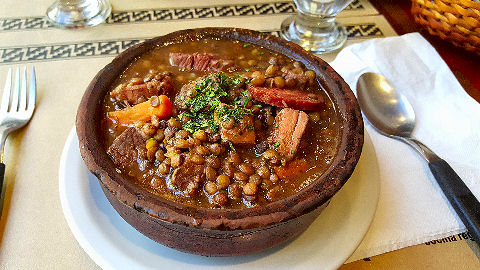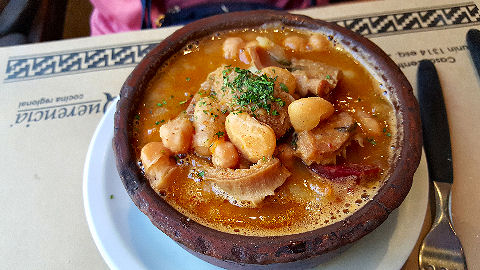 A regular spot that we stop in at here in the 'hood is La Querencía, Junín 1314 (also a branch in Belgrano at Aguilar 2365). We also get delivery from them on a pretty regular basis. I love their empanadas. It was one of the first places I ever reviewed in BA, 10½ years ago (Henry and Viviana are so young in those photos – he and I weren't even a couple yet, I was just visiting on vacation!). At that original visit I wasn't overly enamored of the stews, they were a bit bland and watery. And if you look at the first picture, that was the lentejas, or lentil stew, way back then. The following picture is the way it is these days – massive change. The third photo is Henry's favorite mondongo, tripe stew. Great flavors, beautifully seasoned, and they have a rocking good housemade hot sauce available to add a kick.
Well, it's not My Peru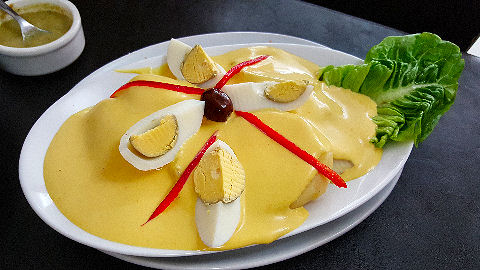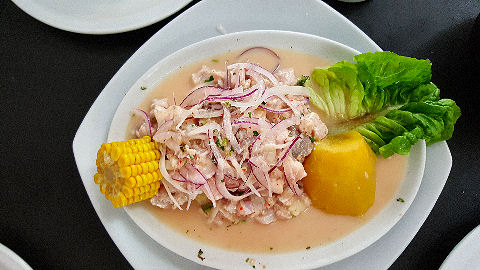 This is one that needs further investigation. Relatively new, maybe a year or a bit more old, Mi Perú, Anchorena 569 on the side of the Abasto, caught our eye the other day enroute to one of our favorites, Solopescados. Henry, me, and Viviana (now all grown up, in her third year of college and everything, studying to be a psychologist), grabbed a table one recent lunch. One waiter, but only a few people in the room. Still, he seemed flustered. That only got worse as the place gradually filled up to near capacity (70+). At some point the manager, who'd just been, well, sitting on his ass, finally decided to start help with delivering food from the kitchen and pouring wine. Clearly they need more waiters (oh wait, there's a sign on the door, they do), but they also need a manager/owner who cares enough to help take care of customers before it becomes a problem. The food that we got, a papas a la huancaina and a simple ceviche, were spot-on delicious, which is the only reason this place bears further visits. The tallarines con pollo never arrived… or it did, but it wasn't the Peruvian dish by that name, but a Chinese stir-fry of noodles and chicken – huge difference, and we declined it, got the bill, and left. I wouldn't normally do that, but given that Henry and Viviana refused to eat it, and it really is a massively different dish (the Peruvian one is spaghetti in a chili-carrot sauce, the Chinese one is a classic stir fry of noodles with soy sauce and chopped up chicken and vegetables), sometimes you do what you gotta do. It also didn't go to waste as the table next to us had just ordered the stir-fry, and the waiter simply moved it over to their table.
Hindu Highlights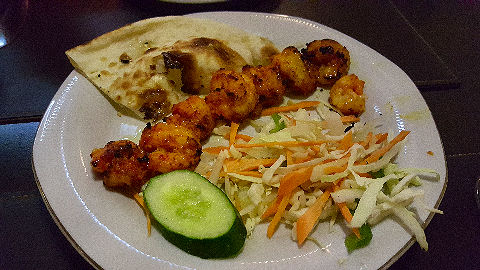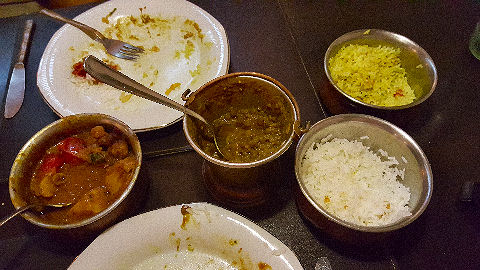 In a city with a dozen Indian restaurants, where for the most part, insipid imitations of the food are served, knowing that there are at least a couple of spots we can turn to for reasonably authentic fare is a comfort. Now, close to home we have Tandoor, which is owned by friends of ours, and I do love it, but it's pricey, and despite promises to never do so back at the beginning, over time, they've toned down the spicing for local palates. I have to admit, after several visits, we're just enamored of the food at Taj Mahal, Nicaragua 4345 in Palermo, which I re-reviewed earlier this year. Maybe it's unfair to mention it again so soon, but so be it, it's become a regular spot to visit. Here, great prawns tikka, and (the aftermath, because I forgot to take a photo at the beginning) of a fiery daal, aloo gobi, and both white and lemon-tomato rice. And when they offer spicy as an option, they mean it – we started sweating just smelling it.
Maybe they meant Fringe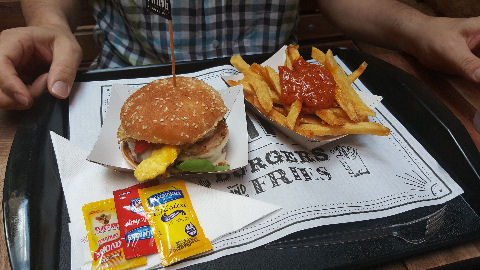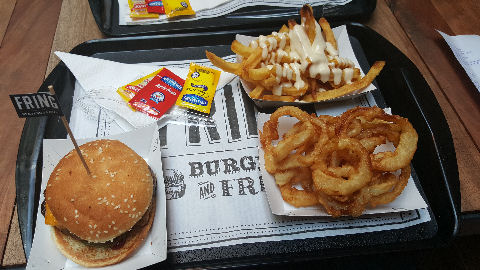 Let's finish up with two spots for burgers. First up, Fring, Nicaragua 4533, on Plaza Armenia in Palermo. As I've noted over this past year, everyone and their brother is opening a gourmet hamburger joint. It's the latest buzz, the new black. And virtually everyone seems to be using the same interior designer – distressed wood planks covering the walls, wooden tables, and faux blackboard menu signs. And Fring is no exception here. However, while everyone out there is also going for bigger, plumper, juicier burgers, with interesting toppings, good (or at least attempts at) buns, and housemade condiments, the owners of Fring have clearly decided to go the opposite direction in everything but pricing. A meager burger patty (maybe 100gm/3oz) that's dense and seasoned with little more than salt tastes like it could have come out of a frozen package in the supermarket (and inconsistent cooking – mine was basically medium, my lunch companion's well into the well done range), the toppings are "sandwich slices" of lunchmeat and cheese from the same – no wait, they're half sandwich slices, you don't even got a whole slice on the burger, and so is the bun, nothing more than a tasteless cottony soft white bun right off the shelf, and packets of ketchup, mustard and mayo tossed on the tray. The fries are okay, though tasting a bit of old oil, the various toppings they come with could use some work – an oily, bland "bravas" sauce, and an aioli that was basically just mayo with a hint of garlic. The best things on our plates were the onion rings we decided to sample, which were actually pretty decent. If the place was cheap, it would be a nice step above fast food, but it's not, the prices are the same at any of the fancier gourmet burger spots. Fail.
The Showgirls of Burgers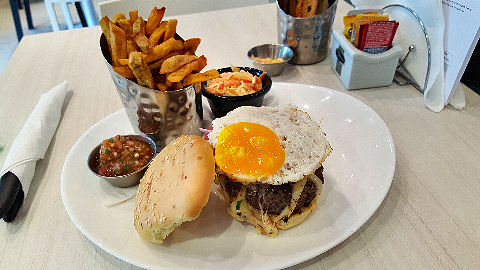 Going a completely different direction is the spanking new Holy Burgirls, Bülnes 1248 in Palermo. It's a small spot, maybe 20 seats. It's done up in gleaming white and fuschia. The menu is brought to your table, and is a fun play on names of female music and film stars, each with their own combo. And the combos are creative! I went with the AmyRehab burger, what I expected to be a mixed, whopping patty of 150gm of beef and 150gm of chorizo, but either I misread it or it's just not clear, it's two separate patties, one atop the other, topped with grated cheddar, red onions, and a perfectly gooey fried egg. Choice of potato or sweet potato fries, with tartare or chili sauce, and a drink, comes with a side of excellent coleslaw, all for just a few pesos more than the burger combos above. Burger beautifully seasoned, cooked to about medium. Fries delicious, and the spicy sauce is spicy. They could use a selection of some really good craft beers to go with the creative menu. But all around, a really good addition to the local burger world, and I'll definitely be back.