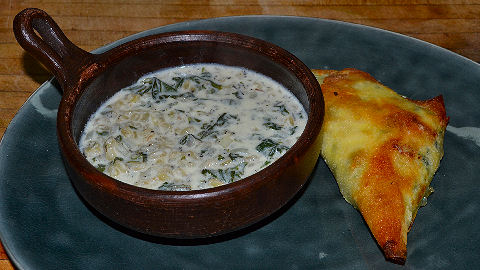 One of the things not many people outside of Argentina know, is that there's a huge Armenian population here. Roughly 100,000 Armenians live here, having arrived in two waves, in the late 1800s and early 1900s, following genocidal periods wrought by the Turks. It's one of the largest Armenian disapora communities in the world. And, we have some great Armenian restaurants here, particularly Sarkis and El Manto (hmmm, time for re-reviews of each, although I eat at both regularly, I haven't written them up again in a decade).
As such, I'm reasonably familiar with the cuisine, and it's a favorite, so I was looking forward to this one. For the bread, I knew right off the bat I was going to go with byorek, phylo dough triangles filled with cheese and greens. The soup, it was a tossup between a trio – Khash, Blor, Madzhoon. The first, Khash, is arguably one of Armenia's true specialties, but it's specifically a winter celebration soup (and it's heading into full summer here) of simmered cow's feet – it's also pretty basic, beyond the feet and a few simple seasonings, there's little in it. Blor is another relatively simple one, generally a bulghur wheat (and sometimes oat) soup with not much more than onion in it, though there's also a version with little meatballs reminiscent of kibbe. Madzhoon was the most interesting, with many variations, and what I liked about it is that it's a bit different from the other soups I've been making, being a hot yogurt based soup.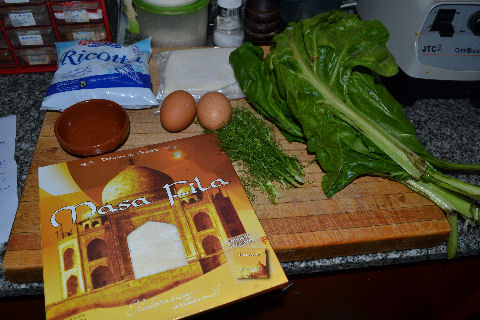 The mise-en-place: phylo dough, ricotta (or fresh farmer's cheese), feta, fennel fronds (I would have also added dill if I could have found any, fresh or dried), parsley, chard (or spinach), eggs, anise liqueur.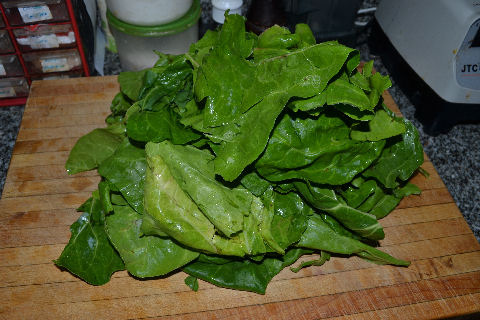 Strip the chard or spinach off its stems, reserve those for other uses. Here I've got the chard leaves for both the byorek and the madzhoon, since both use it. Toss in a pot of simmering salted water and cook until limp, then refresh in cold water to set the color nice and vividly green.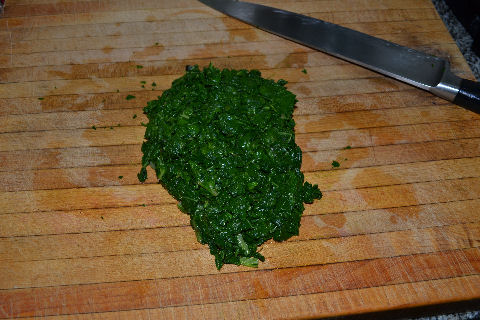 Chop it up. It definitely cooks down! I set aside about 1/3 of it for the soup.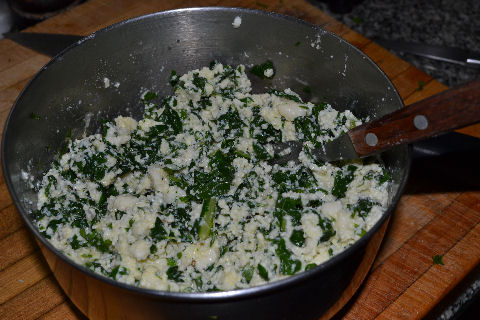 Mix the two cheeses (roughly 2:1 ricotta to feta, in my case 500gm and 240gm), along with a couple of eggs, the chopped herbs, spinach, anise liqueur (arak, ouzo, anisette, even, I suppose, sambuca), salt and pepper to taste.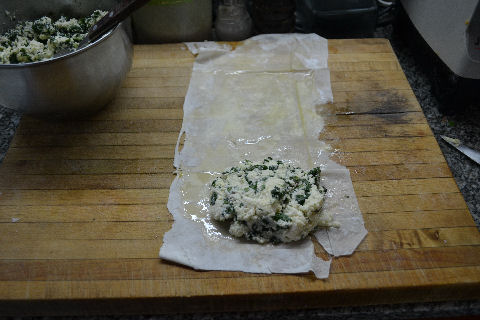 Cut the phylo dough into strips about 6″ wide, and long enough to fold over several times. Brush with a mix of melted butter and olive oil. Place a good dollop of the filling mixture at one end, and then fold up the way you'd fold a flag – alternating first a diagonal and then a straight fold, etc., so that it folds up into a nice triangular pouch that seals in the filling and has roughly 3 layers of phylo all around.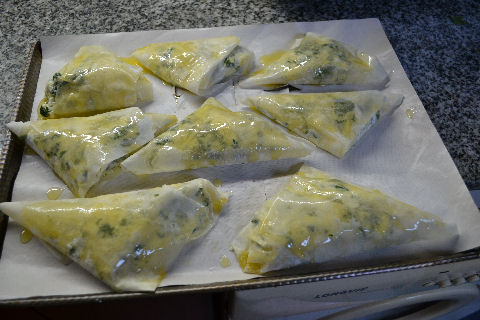 Voila!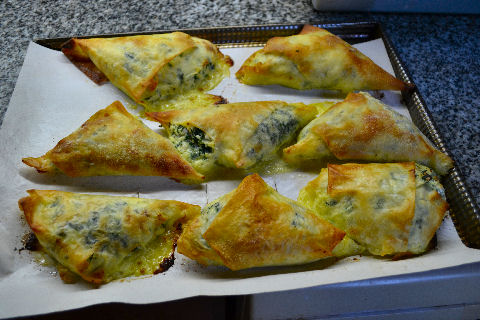 Bake at high heat for about 15-20 minutes until golden brown.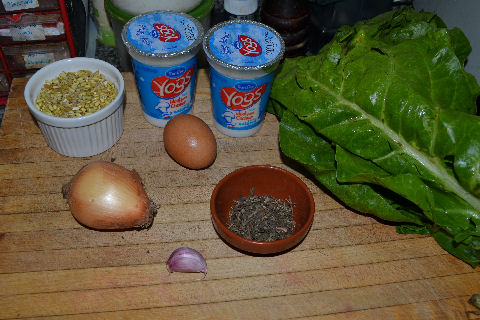 On to the soup, and a selection of wheatberries, plain yogurt, the chard (or spinach), eggs, flour, onion, garlic, water, dried mint, salt and pepper.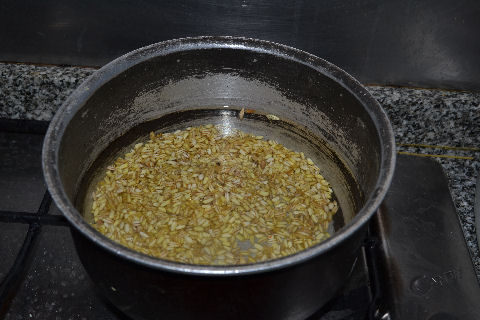 I was making a small batch, because I didn't think this was going to be one that Henry would like, and although it wasn't a favorite for him, he actually ate half of the pot, so, go figure. Simmered ½ cup of peeled wheatberries in about a pint of salted water until almost cooked through, about half an hour.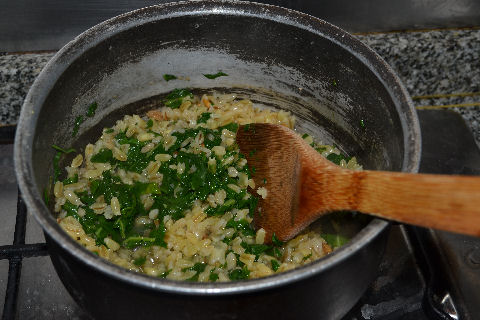 Added in the cooked, chopped chard (roughly a quarter cup) and set aside to keep warm.
In a separate pot, whisked together 1½ cups yogurt, ½ cup water, ½ teaspoon flour, and an egg, and simmered it until it starts to thicken. Don't let it come to a boil or the egg and yogurt will curdle.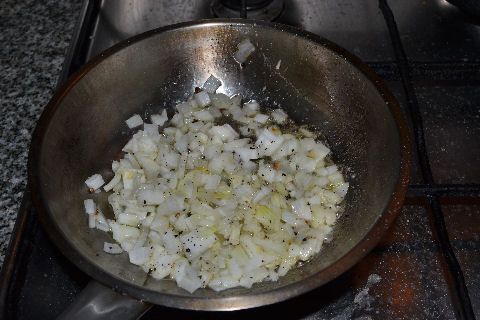 In a small saute pan, saute the chopped onion, garlic, and mint (2 tsp) together until the onions are soft and translucent.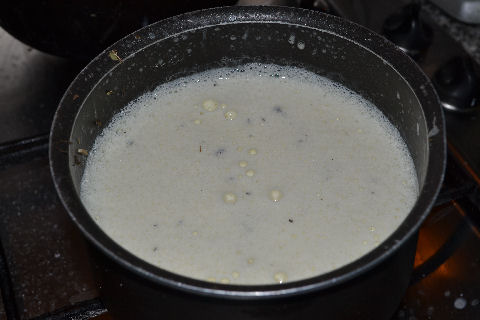 Mix all three pots together, bring back to just barely a simmer, and serve!
I thought this was absolutely delicious. I've had cold yogurt soups before, but this was the first time for a hot yogurt soup, and it works brilliantly. The byorek, too, are delicious. A big thumb's up for this round.
Next time, back to the Caribbean, and Aruba.