I haven't been keeping up with my Heluenis. A few months after my round-up of the various family members and their associated food outlets early last year, the granddaughter of the folk who run the take out spot at Córdoba and Larrea, Cythia, opened up her own spot, along with a partner, Andrea. The idea behind hola Jacoba, Thames 1801, Palermo, is to share the tastes of their childhood with the general public. This is, and isn't cross-cultural cusine – it is, in the sense that there are dishes from both Sephardic (Middle Eastern) and Ashkenazic (Eastern European) traditions, but isn't, in the sense that all the food falls under the general heading, "Jewish food" (albeit, not kosher). This isn't a place for Charles from Boston….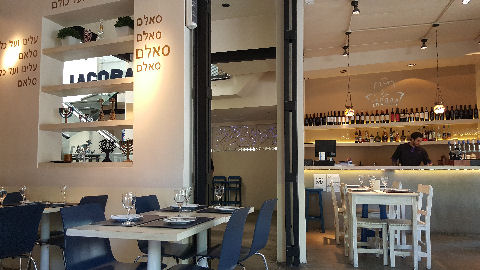 It's a cute room. Light, airy, nicely decorated. My The waiters are casually dressed, they're attentive at the beginning when you sit and when taking your order. They're friendly. They're not overly up on making recommendations (falling into the "it's all good, so whatever you order will be" species). They have a tendency, at least based on two visits, to spend a bit too much time either behind the bar chatting and/or texting on their phones, or upstairs in the kitchen, rendering further interactions into a work project for diners.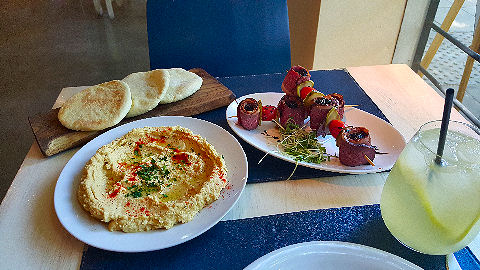 On the first visit, a well-made, though somewhat bland, hummus – where's the garlic, the lemon, the cumin? It was fresh, but tasted of little more than chickpeas and olive oil. Good, housemade pita bread, though interestingly, not "pocket" style (which may be intentional, or may be that they don't cook it in a hot enough oven to create that instant puff). An interesting brochette of their own pastrami, well cured, minimally smoked, with dates and pickles, quite good.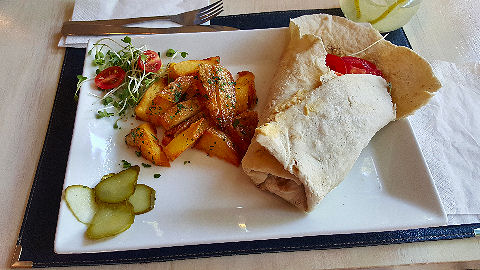 Have to try the shawarma, a new one to add to the list. Pretty good actually – packed with meat, well seasoned with either baharat or allspice, and what more or less amounted to coleslaw. Only negative – no hot sauce, of any kind, available, and no plans to offer one.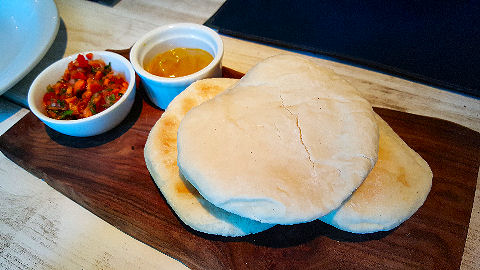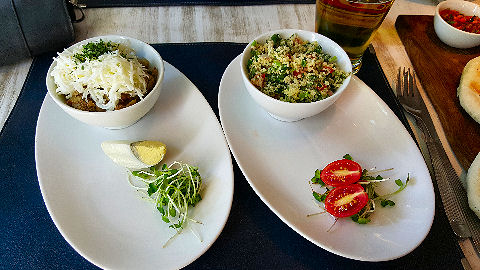 Next visit, the same pita, this time accompanied by a mild mustard, and a lovely little pickled carrot relish, I assume because of the difference in which appetizers it was to accompany (since the first time, the pita arrived solo, or, did those just get left off the first time?). An excellent taboule salad, vibrant and fresh. Less successful, the chopped liver – a bit grainy and dense, almost dry, with way too much grated, overcooked egg, topping it, desperately needing schmaltz, caramelized onions and the simplest, salt and pepper. Also kind of small portions given that they run the same price as the two quite ample appetizers that I had on the first visit. (All the apps run roughly 65-80 pesos, main courses run around 120-150)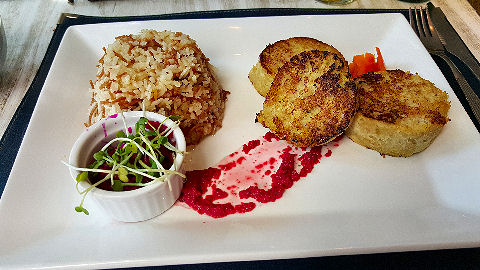 I considered the falafel sandwich, I considered the kafta, and I considered the gefilte fish. The most I could get out of the waiter was that "the falafel is light, because it's vegetarian, the gefilte fish is light because it's fish, and the kafta is a bit heavier because it's meat, and they're all delicious, so order whichever one you want". Yeah, thanks for that help, I wouldn't have guessed…. I went with the gefilte fish. It's… good. It's the baked style gefilte fish that is popular here, it's an abundant portion, but it's kind of bland, tasting of little more than a sort of unseasoned fish mousse. The accompanying beet and horseradish on the plate had no kick, the accompanying beet and cabbage slaw had no flavor but vinegar, and the rice was dry, crusty, and completely unseasoned. This was the only dish that I flat out didn't like. I managed to get some flavor into the fish by dumping that carrot relish over it, but that was about it. The rice I didn't bother with.
So, overall, it's not a place I'm chomping at the bit to go back to, like, say, Mishiguene, but then, it's a different style of similar food, and a way different price point. The room is nice, the service is fine for the most part, or at least typical of local restaurants. The food is for the most part under-seasoned, and inconsistency in size of dishes means you could be very full or not very full, depending on what you order, for the same price. They make a decent, albeit sweeter than I like, lemonade. Their beer and wine selection is paltry – just usual suspects, with no thought towards pairing with the food. Recommended, if you need a fix of your Jewish grandmother's cooking and you're mucking about in Palermo.