You would think, living in Argentina, that this would have been one of the easiest stops in the project. But it's not, because, you see, Argentines don't eat soup. They really don't. They eat stews, and my first impulse, and several people even suggested it, was to prepare locro, easily considered the national stew, if not national dish. But a) I've done that before; and b) as I said, it's a stew.
Now, what's the difference between a soup and a stew? It's a fine line, and a fairly blurry one, no doubt, and one can certainly prepare locro and have it be very soupy. The semi, almost, kinda, sort of official differences between the two are that first off, soups use a stock base and/or condiments added to the liquid, of some sort for flavoring, whereas stews use water, and the flavor comes from the ingredients cooking together over time. Which leads to second off, generally, and again, a blurry line, soups are relatively quick cooking, just long enough to cook the ingredients through in their broth, while stews cook slowly, usually over low heat. Third off, again blurry, stews are generally far less liquid, and can often simply be served on a plate, versus soup in a bowl, and even often are served over something else, usually a starch, like rice, pasta, bread….
So what to do about Argentine soup? And why don't they eat the stuff? My theory is that it's the fault of their beloved national cartoon character, Mafalda, who has, for three generations now, been convincing them that soup is, basically, the root of all evil. And I've had more than one Argentine at one of our dinners, simply decline to even try one of our soups, pushing the bowl away with, "We don't eat soup here."
[Loosely, the theme is, if you loved me as much as I loved you, you wouldn't keep giving me soup.]
I did consider puchero, which ostensibly is a soup – basically beef and vegetables boiled up together. But it's not really served like a soup most of the time. The meat and vegetables are removed from the broth, served on a plate as a main course, and the remaining broth is served either before, after, or on the side, pretty much by itself (sometimes with some noodles or rice thrown in, though usually not), and many people pretty much ignore its existence. But then, one thought struck, and it seems to be backed up by all my Argentine cookbooks. Squash soup. It's the one soup that we do see on menus here – usually in late summer or early fall, but it does spring up, time and again. So, why not? Sopa de Zapallo.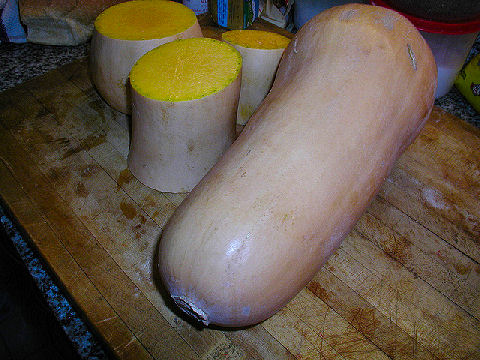 This is a zapallo anco, or zapallo coreano, squash, as they're called here – in the US we'd call it a butternut squash.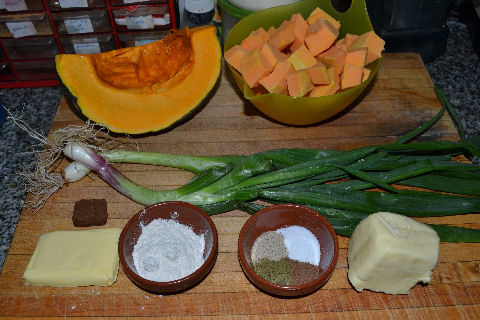 But why stop there, let's add in a second type of squash, here generally called calabaza, a generic term for squashes, though this is what I'd call a kabocha squash. Along with that, some butter, green onions, flour, a beef stock cube (I have no problem using them at times), spices – 1 tsp salt, 1 tsp white pepper, ½ tsp nutmeg, and ½ tsp ground bay leaf, and some semi-soft cheese.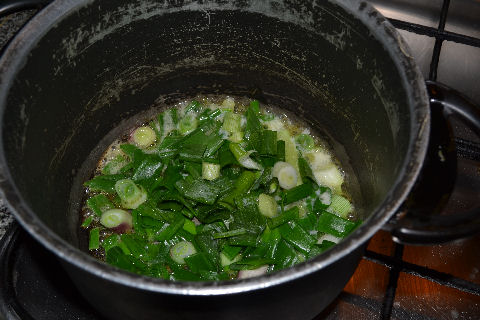 Cook the green onions in butter until softened, just 2-3 minutes.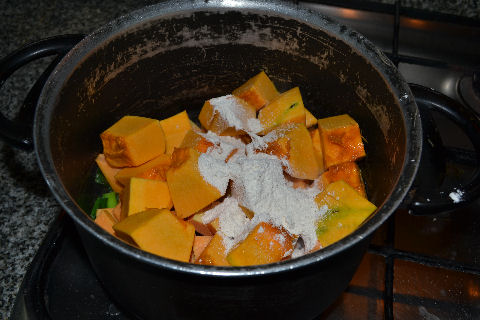 Add the diced squashes and the flour, and cook for about 7-8 minutes until the surfaces and the flour toast a little bit.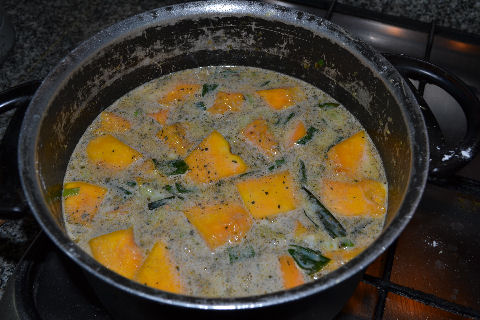 Add the remaining ingredients except the cheese, plus a 2:1 mix of water and milk (for 4 cups of squash cubes, I ended up using a half liter of milk and a liter of water). Simmer together until the squash is completely soft – roughly 20 minutes. Add cheese and let sit for a couple of minutes to melt it.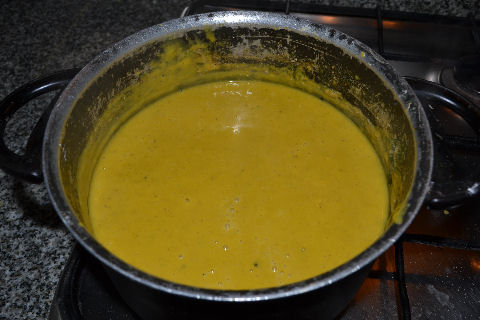 Puree. I used a stick blender, but you could do this in batches in a regular blender or food processor. Adjust seasoning (I didn't find it necessary). Serve, with a grind or two of fresh pepper over the top.
On to the bread. Again, I think everyone, including myself, probably figured that in staying with the general tenor of how this project has gone, I'd make empanadas. But I've made a thousand empanadas before, and really just didn't want to – plus they're going to come up time and again from various cultures. I did consider just making something more offbeat, like a Patagonian mushroom empanada, or maybe lamb and plum, which I find here now and again. But I realized that with the last stop in this series, I'd dropped the whole "filled bread" idea in making plain roti – so why not just look through various Argentine recipes for a really interesting sounding bread? I went with malted figacitas, basically a type of dinner roll. Maybe it's straying too far from the path, but hey, it's my project.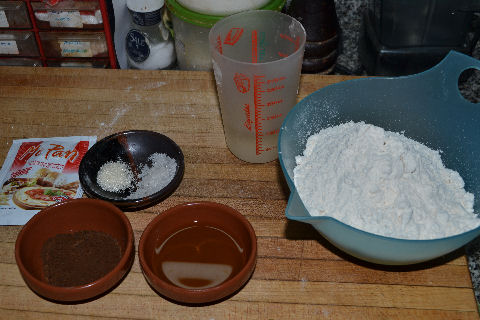 250gm all purpose flour, yeast, 8gm coarse sea salt, pinch of sugar, 25ml good olive oil, 100ml warm water (I actually ended up needing a little more, but that's dependent on your flour), 10gm toasted malt.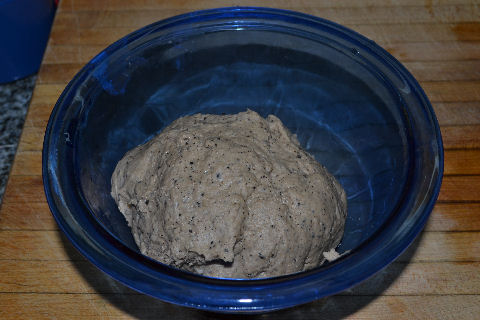 Put about a quarter of the water, the sugar, and the yeast in a bowl to prove the yeast, just until it starts bubbling. Dissolve the salt in the remaining water, and then mix all the ingredients together. Knead until smooth. Cover and set in a warm place to rise, until roughly doubled.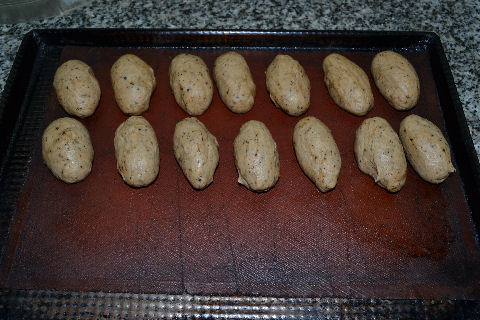 Punch down and form into oblong rolls, each roughly 30gm (1oz) in size. Space so that when they double in size again, they'll touch. Cover and return to their warm, safe spot.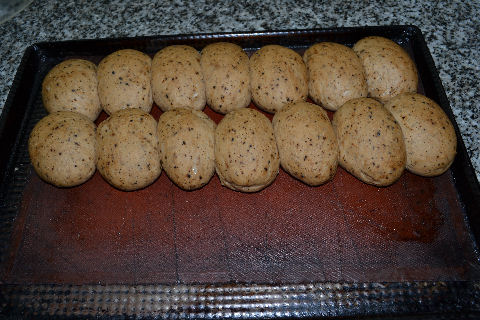 Like this. I then used scissors to cut a little cross in the top, and popped them into the oven – high heat, until browned and done.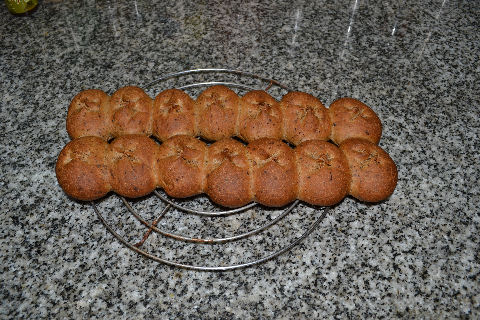 Like this.
Next stop on the soup and bread train? Armenia.