Over time, I've been playing with various versions of vegetable gnocchi that don't involve potatoes. It's not that I don't like potatoes, I love them, but, just to do something different. It's not some invention I came up with – various vegetable gnocchi are out there in the canon of recipes, and as I've been honing down to a favorite version of our cauliflower ones, I've mentioned gnocchi di cavolfiore at least once (and as of today, there are over 32,000 hits on the term on Google, so I'm definite not alone). Here are the versions that have been most successful to date: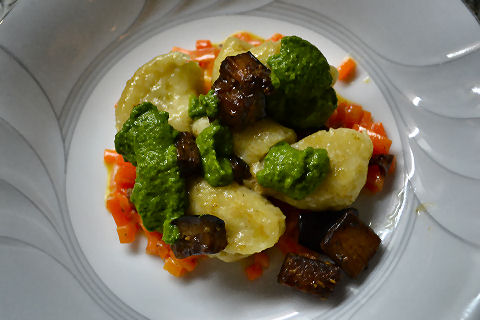 Served over a carrot fondue, with eggplant bacon, and spinach salsa verde.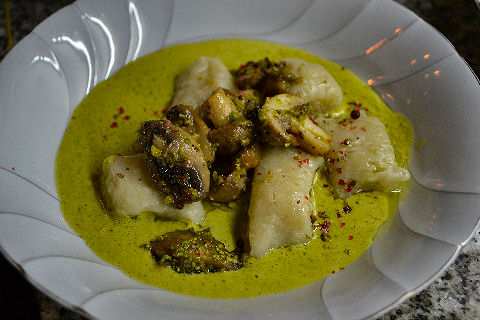 Spicy parsley cream sauce below, a saute of mushrooms with pistachios, green and pink peppercorns on top.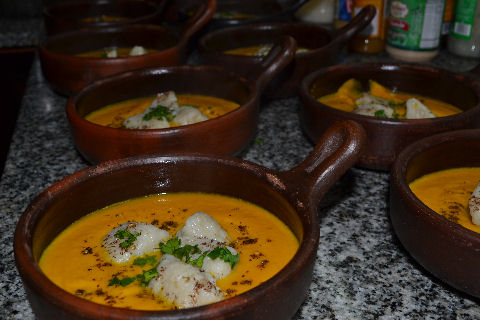 Spicy roasted carrot soup, dusted with za'atar and parsley.
It was the last that gave rise to this tweak to the dish, changing it from a soup to a "pasta" course. It was more serendipitous than anything, one of the evenings, rather than having a bowl of soup with a few gnocchi floating in it for my dinner, I put the gnocchi in a bowl, and just ladled a small amount of soup over them like a sauce. And it got me thinking that if I just thickened it up and maybe made it a little richer, it would make for a really amazing gnocchi dish. So this version of plate by plate will more or less give you either way to make it.
Gnocchi: Blitz the cauliflower florets in a processor until they're more or less "couscous" consistency. Steam them in a steamer until soft, then cool. Squeeze out the excess moisture using a kitchen towel to wrap them up. Mix with about half the volume of flour to cauliflower (one medium sized cauliflower made about 2½ cups of "couscous", and I used just a little over a cup of flour), then mix in a teaspoon each of salt, white pepper, and ground coriander seed. Added one egg, and worked it into a soft, smooth dough. You can see the basic process here on my step by step for zucchini gnocchi, just with different ingredients. Form into long logs, cut into gnocchi, let air dry for a bit, then boil them up.
Sauce/Soup: They both start the same, just depends which direction you want to go. For soup, double the quantities here. Peel and roast three large carrots along with a small red chili, a large leek, and a couple of garlic cloves. If you're going to go the soup route, as I said, double the quantity, place in a pot with vegetable stock, simmer until completely soft, and then puree with cream, season to taste. As a sauce, however, we're adding this base to our classic huancaina, one of our favorite Peruvian sauces. This also both ramps up the heat a bit, plus gives some variety in the chili flavors. Reconstitute an ají mirasol (or use 1 fresh ají amarillo) in water until soft. Place in the blender along with the roasted vegetables, some semi-soft cheese like a port salut, a couple of bread rolls for thickening, and about half a cup of toasted peanuts (or another nut if you prefer, walnuts are also classic, we've also used sunflower seeds when we've had people with nut allergies coming). Top with enough whole milk to cover and puree until very smooth, add more milk if necessary to give a thick sauce consistency.
Za'atar: You can probably buy this spice mixture in many a spice shop. The version I find here only has sesame seeds and thyme in it, so I make my own, as I like to include dried sumac in it, which is, as I understand it, more traditional, and certainly adds a nice flavor – it's basically to taste, but I use roughly equal quantities of the three ingredients. Sprinkle over the dish, and garnish with chopped, fresh parsley, and, voilá!